Remembering The David Arnold James Bond Project: Shaken And Stirred
By Jon O'Brien | March 23, 2022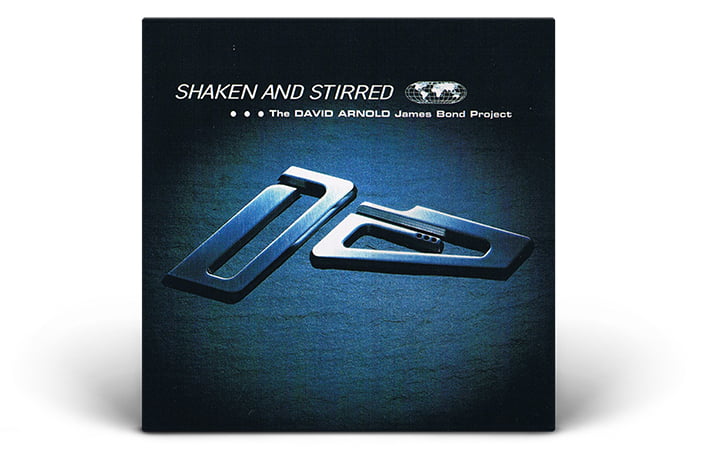 Scoring Tomorrow Never Dies wasn't David Arnold's first brush with 007 – just a few months previously, the composer had assembled an impressive and eclectic list of contributors for The David Arnold James Bond Project…
"Without Bond music, you haven't got a Bond film," David Arnold once told the BBC. The Grammy-winning composer would know, having scored all five of 007's missions from Tomorrow Never Dies to Quantum Of Solace. But he first aligned himself with the ageless secret agent on a star-studded tribute to the contrasting eras of super-suave Sean Connery and unashamedly hammy Roger Moore.  
Arnold insists that 1997's Shaken And Stirred wasn't a concerted attempt to throw his hat into the James Bond ring but simply a fun way of honouring the sweeping, cinematic John Barry arrangements that he grew up listening to.
Whatever the intentions, Barbara Broccoli was impressed enough with its 11 revamps to offer him the soundtrack gig for Pierce Brosnan's second outing: cue the start of the franchise's most musically adventurous, and often most divisive, period (see Madonna's Die Another Day as proof).
Barry himself had actually contacted the producer to recommend Arnold for the film after hearing everyone from drum and bass pioneers to the Godfather Of Punk tackle some of his most famous themes: "He kept the essence of all the original scores," the five-time Oscar winner told the Los Angeles Times. "I think it's a terrific album. I'm very flattered." 
For the most part, it's easy to understand the legendary composer's enthusiasm, none more so than for the opening number Diamonds Are Forever. You wouldn't expect anyone to match the dazzling theatrics of Shirley Bassey and yet the stunning androgynous tones of David McAlmont – who leaned even further into the OTT-ness of it all by sporting a white feathered catsuit for its accompanying promo – deliver just as much gusto.
No stranger to a spot of pomp and grandeur, ABC's Martin Fry also gives the original artist a run for their money – in this case, Tom Jones – on the title track to 1965's Thunderball. As with the project's curtain-raiser, Arnold imbues Barry's signature orchestral sound here with a stronger sense of rhythm.
However, it's only when Arnold teams up with two of the mid-90s' most prominent electronic duos that the beats truly get big.
Firstly, there's the squelchy synths and bone-shaking percussion of Leftfield's Space March, a trancey reworking of Capsule In Space from You Only Live Twice, which still retains the original's foreboding atmosphere. And shortly before spearheading an unlikely chart comeback for Bond regular Bassey with the sublime History Repeating, Propellerheads gave the main theme from On Her Majesty's Secret Service the propulsive treatment, spawning the album's sole UK Top 10 single in the process.
Of course, LTJ Bukem's contribution has an even higher BPM but like much of his output, the DJ's take on The James Bond Theme is at the mellower, dreamier end of the drum and bass spectrum. Good luck in recognising even just a single note from the piece of music that's appeared in all of 007's big screen ventures, though. Moby, who coincidentally reached No.8 with his entirely unrelated version of the same theme just two weeks after Shaken And Stirred's release, would undoubtedly have been a much better fit.
Likewise Radiohead, whose epic rendition of Carly Simon's Nobody Does It Better had been a live favourite for two years at this point. Aimee Mann sounds downright bored on a bluesy, occasionally cacophonic cover that fails to play to her intimate strengths. And Chrissie Hynde also struggles to make her unmistakeable voice heard above the muddily-produced wall of noise on Live And Let Die.
The Pretenders frontwoman's musical hero Iggy Pop thankfully fares much better. Who knew that the man credited with inventing stage diving, crowd surfing and, to some, the entire punk rock movement could step into the shoes of jazz supremo Louis Armstrong so respectfully? Pop's world-weary crooning on Barry's most cherished Bond composition We All Have The Time In The World brings the album to a strangely beautiful close. 
Elsewhere, Pulp's Jarvis Cocker appears to be paying homage to William Shatner's musical oeuvre with a spoken word delivery of Rita Coolidge's Octopussy theme All Time High – the lowest-charting UK Bond entry ever – which treads that fine line between kitsch and spoof. And the highly underrated Shara Nelson turns the least memorable of Bassey's three Bond numbers, Moonraker, into an impassioned, soulful torch song far worthier of gracing the opening credits. 
Yet it's Shaken And Stirred's most unfamiliar guest vocalist that ends up stealing the show. Previously a belly-dancing member of world music collective Transglobal Underground, Natacha Atlas helps transform the first ever Bond theme – Matt Monro's From Russia With Love – into a sultry, seductive affair which cleverly draws on her Egyptian heritage. 
Interestingly, two years later Atlas lent her distinctive warble to a cover of You Only Live Twice, which used the same arrangement as a Shaken And Stirred outtake. Björk, who'd previously worked with Arnold on the dramatic Young Americans soundtrack hit Play Dead, had recorded the Nancy Sinatra classic for the project. But believing it was inferior to the original, she asked for her interpretation to be left in the vaults: a four-track sampler which had already been issued by MGM Music proves that the Icelandic was being a little too self-critical. 
That wasn't the album's only 'what if' moment, though. Sadly, scheduling conflicts also deprived Arnold the chance to bring Blondie's Debbie Harry and Skunk Anansie's Skin together for what would no doubt have been a dynamic duet of perhaps the ultimate Bond theme, Goldfinger.
It's a shame that the record didn't venture any further than 1983, too. Classic Pop would certainly have been intrigued to hear one of the Cool Britannia crowd tackle Duran Duran's A View To A Kill or a post-punk icon take on a-ha's The Living Daylights, for example. Then again, by keeping one foot in 007's earlier years and the other in the modern day, you could say that Shaken And Stirred essentially set the blueprint for the age of Daniel Craig. 
Jon O'Brien
Jon O'Brien is a freelance entertainment writer from Wigan who has written the Forget Me Not and Top 20 features for Classic Pop since 2019 and had bylines in the likes of Esquire, Billboard, Vulture, New Scientist, i-D, The Guardian, GRAMMY.com and Paste. He's also a soccer enthusiast, reluctant runner, King Charles Spaniel owner, garage drummer, Icelandophile and carrot cake connoisseur. The first single he ever bought was Starship's We Built This City, the first album Now That's What I Call Music 6 and his favourite Classic Pop-friendly acts are Scritti Politti, The Sundays and The Bangles.