Classic Pop Presents Depeche Mode
By Neha Baveja | April 5, 2023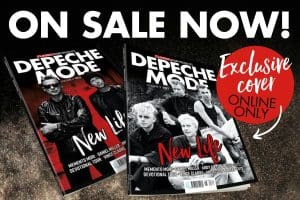 In this second edition of Classic Pop Presents Depeche Mode, we bring the story right up to date. Inside, we examine their superb and moving new album, Memento Mori, and the band's new world tour as well as chatting exclusively with Mute Record's boss Depeche producer/mentor Daniel Miller about a life lived alongside the band.
Of course, the world tragically lost founder member Andy Fletcher last year and, in this special issue, we pay full tribute to one of synth-pop's finest. Elsewhere, there's a look at the early band with and without Vince Clarke, in-depth features on all of the albums that weren't covered in the first edition, as well as deeper dives into three of the band's pivotal LPs, Construction Time Again, Black Celebration and Music For The Masses.
Plus much, much more in this very special edition. Choose between two outstanding covers, one of which is only available to order direct from our shop!
Don't miss out – order your copy today!
Also in this issue…
Two unmissable book excerpts from brand new Depeche book

Halo

, and from Ian Gittins'

Faith & Devotion

We handpick our Top 40 of the group's deep cuts
Take a look at fan-facing documentary My Hobby Is Depeche Mode
Interview with Halo authors Kevin May and David McElroy
We look around the best bits of a mammoth Depeche Mode collection
Plus much more!
Neha Baveja