Q&A with Vuromantics' lead singer Sam Christie
By Classic Pop | February 27, 2018
Classic Pop catches up with Vuromantics' lead singer Sam Christie

You call your music 'northern dark pop'. Tell us more about that…
Pop is such a wide and expensive genre these days that we felt it was important to distinguish we were not seeking to sound like a modern pop act along the lines of say Justin Bieber, Little Mix, Taylor Swift etc…(we're not into that stuff) the term pop carries certain preconceptions so you have to be careful you don't give off the wrong message because you could turn people off before they have even listened to your stuff.
I guess we identify as outsider pop because we try to incorporate the weird and the wonderful, taking influence and trying to capture many of the elements of what made British pop from the 80s and 90s so exciting but we are of course inspired by a huge wealth of influences from more modern music, although these influences tend to be more along the lines of hip hop, funk, dance, synthpop, indie pop etc.
It's strange but people do seem to like to label music so when we first launched the band we called it Dark Pop, I believe it was a local publication who first coined the term Northern Dark Pop when describing our sound and it kind of just stuck, it felt like us.
You released two EPs in 2017. When can we expect a full album?
It's a heated debate within the band; should we go for the full LP?… Or should we continue to deliver EP's for the time being? … Either way, I feel we are able to express ourselves.
We tend to write singles anyway by default but I would certainly relish the opportunity to try our hand at some more experimental semi-indulgent song structures that incorporate some unusual story telling; I feel you that you are given more creative licence to do this on a LP simply because there is more time and freedom within the record.
Sadly on a EP you tend to only be able to do one 'out there' track but on a LP it's not uncommon to find 3 or 4 …or even more so ias a creative that's certainly an exciting prospect, we will have to wait and see what the future holds for us.
In the meantime, there new single Gold and Blue. Tell us a little about it.
Our love for synthesisers really shines through on this one, I guess it's about not letting people dampen your spirit because let's face it; this world will try!
The music video was fun to shoot, we tried to film it all in one take so it's a bit warts and all but we like that, it fits the track; things can be to polished these days, you risk losing the soul of the track, especially using electronic instruments as it's very tempting to make everything perfect, that's the beauty of us using analog synthesisers though as it all still feels very human, just like in the classic pop of old.
As a Sheffield band, what kind of influence has the city had on your music? It has an equal legacy of great synth and guitar bands…
A huge influence of course! It is strange time though as despite the legacy of synth music we have here a lot of what we see coming through is still in the mould of our cities iconic guitar bands, that's probably inline with what we see across the UK as a whole but it does feel like you'd expect to see more synth stuff coming through in Sheffield because of the history we have.
All that being said there are still some worth a honorable mention like 'Promenade Cinema', 'Pilosa' and 'Limit Break' who come to mind if you're a fan of Sheffield synth bands.
Whilst we are on the topic of shout outs I can't ever resist the urge to tell people about our geordie buddies 'Twist Helix' who are simply one of the best synthpop bands in the country right now on the emerging level, you can thank us later once you've looked them up!
In Sheffield we're also seeing a huge amount of urban and world music coming through, genres like hip hop, rap, reggae, fusion etc… in fact it's very possible the next huge Sheffield act could be along these lines which would be fantastic as it helps represent the multicultural melting pot Sheffield has become.
Is there something in water in Sheffield that sparks great synth music? The city has already given us The Human League, Heaven 17/BEF, ABC, Cabaret Voltaire, Moloko…
It's brilliant isn't it; we are very lucky to have such a slick back catalogue as a city, the local pubs on a Friday and Saturday night mutate into a rowdy sing along love fest when the DJ decides to go 'Sheffield' for a power hour of local bangers and I have been fortunate to share the stage with some of these legends myself over the years.
I think our cities history drives you to always try to do better and let me tell you now the local music lovers expect the best for local bands both on record and on stage, they'll tell you straight if something's amiss and we all keep growing as creatives as a result.
I think we probably have some of the most honest music press in the country, check out Reyt Good Magazine for example, it's great for acts to get some creative criticism; ultimately it is healthy for everyone.
Sheffield drives you to do your best work and it is as a whole a supportive scene that does encourage young talent to get out there.
Do you draw on the 80s for inspiration or are you channelling other generations of musicians?
Yes, It's difficult not too our car journeys are often soundtracked by the likes of Talking Heads, U2, Chaka Khan etc but we don't limit ourselves to any particular era; some of the more modern acts we are into are CHRVCHS, Foals, TV On The Radio, Pulp, Future Islands, Har Mar Superstar, Vulfpeck, GUNSHIP, Twin Shadow, Chromeo, Client Liaison & Retro Stefson to name but a few.
What else have you got in store for us in 2018?
After our big headline tour in March we intend to hide away and record, record, record; as much stuff as possible, we'll likely come out of hiding for some shows and festivals in the summer before doing another big tour at the end of the year, who knows maybe we'll have that LP we mentioned or a fresh EP at the least, if a nice support slot on a tour with some of our hero's became available we would jump at the chance, it's a possibility, we often find ourselves talking to the right people so we're sure it will happen one of these days. So keep an eye out for Vuromantics , we'd love to see you at a show and thanks for reading.
Tell us one thing you've never told an interviewer before…
Sometimes when we get bored of playing our own songs we bust out a fierce synthpop cover of Cher's 'Believe' but it won't ever see the light of day so don't request it at shows or we will deny all knowledge but trust me it is fierce!
VUROMANTICS MARCH UK TOUR 2018
THU 01 EDINBURGH SNEAKY PETE'S
FRI 02 GLASGOW THE 13 TH NOTE
SAT 03 NEWCASTLE ARCH SIXTEEN CAFÉ
SAT 10 SHEFFIELD YELLOW ARCH
WED 14 MANCHESTER NIGHT N DAY CAFÉ
THU 15 BRISTOL EXCHANGE
FRI 16 LONDON O2 ACADEMY2 ISLINGTON
Tickets available from www.vuromantics.com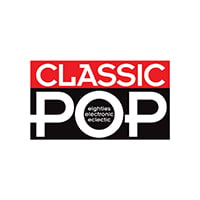 Classic Pop
Classic Pop magazine is the ultimate celebration of great pop and chart music across the decades with in-depth interviews with top artists, features, news and reviews. From pop to indie and new wave to electronic music – it's all here...