The French New Wave: Carpenter Brut interview
By Classic Pop | November 9, 2018
At the forefront of the synthwave movement, Carpenter Brut mines 80s influences and concept albums. "I'm not trying to reinvent anything," he insists. "I just want to make the music I like." Written by Sam Willis.
Before the meteoric rise of acts like Daft Punk in the early 90s, French popular music had remained, by and large, within the borders of France. That changed irrevocably with the French Touch movement, which saw a reinvention of sorts occur when a community of artists wed house beats and vibrant disco loops together and achieved an international resonance. A quarter of a century later, Daft Punk et al are still revered worldwide.
A decade after the beginnings of French house, another identifiably Gallic style of electronic music started gaining international notoriety – synthwave. Instead of taking its reference points from disco and house, however, this style of music is rooted firmly within 80s culture. It expresses a reverence for the films, soundtracks, videogames and cultural lavishness of that hallowed era and reached fever pitch with the wildly popular soundtrack for Danish director Nicolas Winding Refn's 2011 box-office success, Drive.
One of the artists currently taking on that mantle is Carpenter Brut, who released his concept album Leather Teeth earlier this year and is currently on a European and North American tour which reaches our shores in October, with headline shows in London, Bristol and Manchester.
Rock Horror
Leather Teeth tells the story Bret Halford – a mix between Bret Michaels from Poison and Rob Halford of Judas Priest – via the pretence of an original soundtrack for an imagined film 'released' in 1987. It's a dark, chilling and bloody coming-of-age horror film which sits somewhere in between Street Trash, Dead Alive (aka Braindead), The Thing and House.
"I wanted to tell a totally clichéd story, about a geek that nobody notices and who falls in love with the pretty cheerleader who herself is in love with the campus' quarterback," explains Brut, who holds his anonymity in high regard. "The story will go badly wrong and, in the end, the geek will end up disfigured. He will want revenge on all women – those who have never been interested in him. By becoming a hard-rock star, he will be able to approach these women and take his revenge."
"It's the kind of movie we all saw as teenagers," continues Brut. "It's a story in three acts. This first part of the story tells the meeting, the disappointment in love and then the unfortunate accident that will leave him disfigured. The second part of the trilogy will be different; darker, because the main character Bret Halford will transform himself into a serial killer and thus take revenge of all the women he will meet on his way."
Carpenter Brut says that he likes "the idea of starting with a story and creating a universe around it", but is he trying to reinvent the concept form for electronica? "I'm not trying to reinvent anything," he insists. "I'm just trying to make the music I like." Classic concept albums do have, at least, an unconscious influence, with Pink Floyd's The Wall "one of my favourite albums of all time". The visual identities of bands that championed concept albums have also left their mark on his own stage persona. "I always loved bands like Queen and Genesis," he says. "Their visual identity was intimately linked to their music. The theatrical side of music, the cinematographic universe, concept albums – all this has always attracted me. The idea that music can exist beyond notes. In the end, it helps me a lot to compose; I start from a scenario idea, I visualise the film and I compose."
However, specific sonic reference points don't hold much weight for Brut. "I try not to 'parasitise' myself with other music, in order not to be consciously or unconsciously influenced," he says.
Neo Romantic
The real consistent watermark on his music – just like other synthwave compatriots – is 80s popular culture. "The culture of the 80s has always influenced my music since the beginning," Brut says. "I wanted to give a place to 80s glam-rock music… it's extravagant and super-well interpreted. The musicians were often killers, while playing in a totally casual way. I wanted to pay tribute to that carelessness." The "extravagance, casualness and carelessness" of the 80s is a recurring musical theme. "Everything was pushed to the maximum of enthusiasm," he says. "All those things are gone nowadays."
What makes a real mark on the music of Carpenter Brut and other synthwave artists – Kavinsky in particular – are the movies and videogames of the 80s and the aesthetic that came with them. Brut lists Star Wars, Back To The Future, Terminator, as well as Predator, RoboCop, Evil Dead and Street Trash as his favourite moves and Monkey Island, Gods, Speedball 2 and Devil Crush among his favourite computer games. He was finally able to buy a Neo-Geo console at the age of 40, which had always been a childhood dream. Watching the videos for Carpenter Brut's Turbo Killer or Kavinsky's Odd Look, these influences become increasingly apparent; there are vintage Lamborghinis with winged doors, adrenaline-fuelled car chases, bomber jackets, the supernatural and broad strokes of outlandishness.
Metal Heart
This unhinged creativity also informs Carpenter Brut's live shows, which have become notorious and attract hugely diverse crowds. "I like to go on tour and play in front of different audiences," he says. "You realise that every night, the audience is different and that you have to give your best every time. Nothing is taken for granted. Seeing the public react to your music is still extraordinary, an incredible sensation." In particular, metalheads have taken a real shine to him. Brut says that's because "the music is a bit aggressive; my visual universe is reminiscent of metal bands", and cites their openness to musical diversity as a reason for it: "Every time a music is merged between two styles, you will notice that it's often the metal scene that get it. Rap and rock, funk and rock… I think metalheads are more open-minded and aren't afraid, in the end, to open their doors to other musical styles."
Although he clearly loves performing for his fans, he keeps them at arm's length through a guarded anonymity. It allows the listeners, he says, to focus on the music rather than the person, which he thinks should be irrelevant. "I make music, so I find it legitimate that my music comes before my physical appearance or my biography," he explains. "When I go to a restaurant and enjoy a dish, I don't ask to see the chef's face. For my music, it's the same thing. If you like the music, then you don't care who's behind it; whether the artist is blond, redheaded or fits in a medium size."
Music, for him, has always been the focus. He started playing piano and drums at a young age, then "around the age of 20, I became interested in sound. I bought a four-track cassette and then started recording the demos of my friends: notably the French grindcore band Inside Conflict, whose live sound I was also doing. As a result, I continued to record/produce bands and do their sound live as well; Hacride in particular."
Some of the artists he admires are Jean-Michel Jarre, Vangelis, Giorgio Moroder and The Prodigy for their "longevity, and the fact that they have democratised electronic music. I was inspired by their pads, their sounds and the cinematography of their music".
With these 80s touchstones in his music, Carpenter Brut and other synthwave artists who have gained prominence since the turn of the decade – particularly within France – have, wittingly or unwittingly, helped push along a renaissance of sorts in 80s music. A vehicle for this was the 2011 Drive soundtrack, which included Kavinsky's Night Call and College and Electric Youth's A Real Hero. These two tracks play key roles in the makeup of the film, with the former soundtracking the opening credits and the latter used in a romantic montage.
Rewind After Watching
Much like the music inherent in the movie, despite being placed in the present, there is an undeniable stylistic nod to the retro cool of the past. At the time of the release, these French artists were scarcely known outside of their home country, but through word of mouth, the film – and by association, soundtrack – became an instant cult classic. The truly impressive thing about Cliff Martinez's OST is that it stands up as a solid body of work, even outside of the movie.
The more recent Netflix series Stranger Things, this year's Ready Player One movie and even the latest batch of Star Wars films – which invite heavy stylistic comparisons to the original trilogy – are all manifestations of a renewed obsession with 80s culture, especially movie reference points.
"Globally, it was a time of opulence, carelessness, extravagance and casualness. It was also the great period of the blockbusters – Star Wars, Ghostbusters, Rambo etc… I think, at that time, people were not concerned in the same way that we are now with the financial and economic crises and terrorism. Back in the day, people did not live in fear of others, or even fear at all. Today, people are sad, scared and stay at home behind their computers, bitching and moaning."
Retro to Go
The artists in the synthwave scene all popped up around the same time, and nearly all of them have the same nods to a certain style of cinema. Brut says this is "because we have the same film and videogame references, we're all more or less the same age, we're all part of the same generation and the 80s is the period when most of us grew up. The need to pay tribute to all those films, series, videogames that we watched or played when we were kids… those sounds that influenced us in our artistic and musical tastes. I assume it's a conscious or unconscious imprint anchored in us and which one day resurfaces in our art."
It's curious that much of France's recent musical success has come through the medium of electronic music, more so than in any other genre.
"I think in France, we're so bad at pop and rock music that we turned to electronic music out of spite," Carpenter explains. Whatever the reason, France's synthwave scene has succeeded in reinvigorating a style so at home in the 80s for the modern era. Propelled by current cinema, it has retold and reimagined an era in music and culture that was opulent, extravagant and bathed in neon. Perhaps some manic artistic exuberance is just the prescription we need for our troubling times.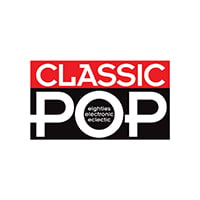 Classic Pop
Classic Pop magazine is the ultimate celebration of great pop and chart music across the decades with in-depth interviews with top artists, features, news and reviews. From pop to indie and new wave to electronic music – it's all here...