A Certain Ratio share new single ahead of new EP
By admin | March 11, 2021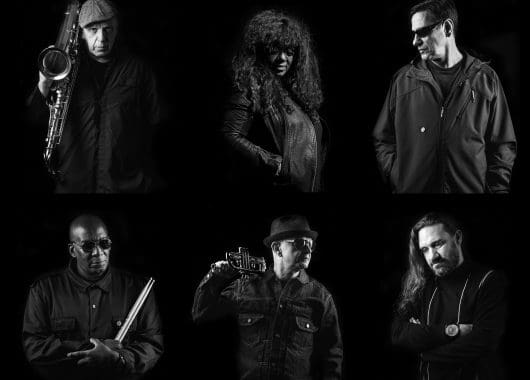 A Certain Ratio have today unveiled their first single from their forthcoming EP. Titled Wonderland, the song has been released ahead of ACR:EPA, out on Mute on 7 May 2021.
ACR:EPA is a four-track collection that centres around studio jams the group made with the late Denise Johnson in early 2020. 
"We're so happy with the results and the outcome and hopefully this release gives an insight into  how much fun and energy Denise would always bring to a session when we recorded together," said the band in a statement.
"Denise was on top form and you will hear in places that she isn't actually singing words because we hadn't written all the lyrics yet. At the end of Down And Dirty (Jam 2) you can hear us cheering in the background as Denise had completed yet another fantastic vocal take and was laughing and saying 'I enjoyed that'. We wanted to keep all her laughter and our response in the track as it has such warmth and it highlights the real Denise, always laughing and smiling and full of passion."
This EP is the first in a series that is set to continue with two further releases. ACR:EPC focuses on collaboration and is dedicated to Andrew Weatherall, who was in part responsible for the band reigniting, and ACR:EPR which they describe as "anything goes".
You can pre-order ACR:EPA here.
ACR are due to appear at the Wide Awake festival in September and later this year, will be continuing their run of dates with a winter tour – starting in Huddersfield on 3 November, with a show at London's EartH on 13 November, finishing at Glasgow King Tut's Wah Wah Hut on 17 November. 
ACR LIVE – 2021
3 September – London, Wide Awake festival, Brockwell Park
3 Nov – Huddersfield, The Parish
4 Nov – Newcastle, St. Dom's Social Club
5 Nov – Manchester, Gorilla
6 Nov – Stoke on Trent, Staffordshire, The Sugarmill
7 Nov – York, The Crescent
9 Nov – Birmingham, Hare & Hounds
10 Nov – Southampton, Engine Rooms
11 Nov – Brighton, CHALK (formerly The Haunt)
12 Nov – Bristol, The Exchange
13 Nov – London, EartH
15 Nov – Preston, The Ferrett
16 Nov – Leeds, The Warehouse
17 Nov – Glasgow, King Tut's Wah Wah Hut
ACR:EPA tracklisting
Wonderland (Jam 6)
Keep It Together (Jam 5)
Down And Dirty (Jam 2)
Feel No Fear (Jam 1)
Photo by Paul Husband and Danny Bird
Comments
comments
admin