Making Sparks: No.1 In Heaven
By Classic Pop | August 13, 2021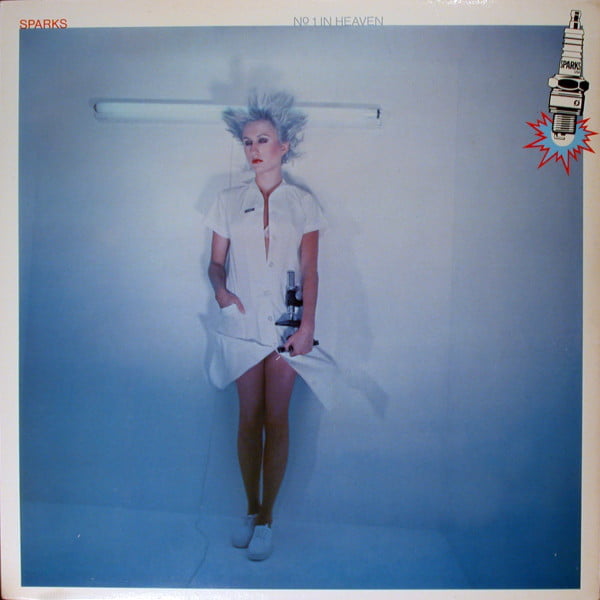 With Sparks: No.1 In Heaven, Ron and Russell Mael delivered an album which, while not performing well commercially, would prove one of their most influential records… By Mark Lindores
A decade into a career which had already seen the eclectic and eccentric Sparks establish themselves as a pair of shapeshifting mavericks whose music transcended boundaries, even the most ardent of the Mael brothers' acolytes were surprised by the band's 1978 electronic excursion under the guidance of disco's principle voice Giorgio Moroder on their eighth album No.1 In Heaven.
Up to now, Sparks had never allowed what was popular or fashionable dictate their own musical direction; their uniqueness was one of their strengths. Nevertheless, Ron and Russell's diminishing popularity as well as their own dissatisfaction with what they were doing (they described their previous album, 1977's Introducing Sparks, as being "bereft of personality") had lead them to an impasse. 
Having previously made everything within a traditional band set-up, they dispensed with all other musicians, leaving just the core duo of Ron and Russell Mael. Since they had developed a fascination with the electronic sounds of Kraftwerk and Giorgio Moroder, specifically Donna Summer's seminal I Feel Love, they decided to explore that avenue for their next, all-important record.
"It was time to approach things in a completely different way," Russell later recalled in an interview with the BBC. "We heard I Feel Love and thought there must be a way to apply that sort of sound and that sort of thinking to what we were doing. It was a real 'What do we do now?' moment. We just said, screw it… we're tired of what we're doing, and we're tired of the area we're boxed into. What if we apply the strengths that we have, our songwriting, our lyrical slant, and the singing style, and apply it in a different framework?"
Being intent on making a move into fresh creative space was one thing; the next step was how to realise it. Sparks had previously played with traditional instrumentation and knew nothing about the technology that would make their electric dreams a reality, but a chance encounter with a German journalist lead them to their enabler – Giorgio Moroder. 
"We'd been doing an interview in LA with a German journalist," explained Ron, "and she said, 'What's next for you guys?' And we said, 'Oh, we're going to be working with Giorgio Moroder on our new album…' and we hadn't even made any contact with him, it was something we wanted to do. 
"She said, 'Oh really, that's great, Giorgio is my good friend!' We went, like, 'Oh, shit'. We owned up and said that we hadn't actually approached him but we would like to work with him, so she said she would introduce us."
The band's manager John Hewlett set up an initial meeting, with both parties curious to see what they could create together. Moroder's only knowledge of Sparks had come from seeing their Top Of The Pops performances of This Town Ain't Big Enough For Both Of Us, and he was intrigued by their unique sound and quirky image. 
"Giorgio was interested in working with us because he'd only worked with these solo, diva-esque singers," Russell reflects. "He was really up for that challenge because he had never worked with a band before and he thought that that could maybe open him up to other ways of working. None of us knew where this thing was going to go. Sometimes you have to put yourself into situations in which you're not comfortable."
Sparks: No.1 In Heaven – The masterplan

 
The first sessions took place at Moroder's Musicland Studio in Munich, where they decided upon a clear direction for the record. Although Russell and Ron had worked with producers such as Todd Rundgren and Tony Visconti in the past, they were initially daunted by Moroder. 
"There was an intimidation factor because he was knowledgeable about electronics; at that time we didn't have any knowledge of that," Russell recalls. "We wanted to use it in a non-club sort of way, which had been the connotation of Giorgio's productions up to that time.
"We were curious to know how using that sort of electronic background would work with Ron's songwriting and my singing. We still saw what we were doing as being a band, but just using a different musical backdrop. And the other thing was he was used to working with Donna Summer who's this great singer, so it was intimidating for someone like me coming from a band world with these stylistic eccentricities."
Now relying entirely on machines, the Maels were fascinated by this entirely new way of making music and the scope for experimentation it afforded them. The only exception to the new high-tech approach was the addition of Keith Forsey, whose live drums gave life to the music. Forsey laid down countless tracks which were then dissected and reconstructed in painstaking detail to provide Sparks with the Moroder magic they desired. 
"I think that's what gave the album less of a robotic feel – it added a bit of humanity to all the electronics because all the drumming was live," Russell later told Sound On Sound. "Keith would just spend 16 minutes hitting a kick drum to a click and then add fills after that.
"Likewise with the Moogs, there was so much trial and error, and so many options while making it. It was like the old telephone operator thing where you're patching two phone calls together – you were patching sounds together. But the whole idea of sequencers back then was kind of primitive."
Sparks: No.1 In Heaven: Beat The Clock
Enthused and more inspired than they had been in years, Sparks continued working with Moroder in Los Angeles, cultivating a record unlike anything they had done before.
"Our reasoning was based more on the electronic sound, and to be honest we didn't really care about doing dance music," Ron says. "That happened as a by-product because the guys would do mixes and we were fine with that, but our reason was just because we were trying to find a different sound… we really just wanted to learn about electronics. 
"The most thrilling albums are those where you go in not having much of a clue what you're doing or where you're going, and where, at least once every 30 minutes, you ask yourself, 'Is this what it means to commit both artistic and commercial suicide?' That was the case whilst making No.1 In Heaven."
Though the music was vastly different to anything Sparks or Moroder had previously put their names to, the musical merging proved to be a true partnership with both retaining their own identities throughout, as the weird tension and idiosyncrasies of Sparks' songwriting vied with Moroder's chunky basslines, spacey synths and disco rhythms.
It wasn't just in the studio where Moroder's influence was felt: having found themselves without a record deal after Introducing Sparks, they separated from manager John Hewlett during the recording and inked a deal with Moroder to release No.1 In Heaven via Virgin Records. 
The public's first taste of the band's bold new sound came with the release of first single La Dolce Vita across Europe in February 1979, which failed to generate interest, despite the Moroder connection.
The following month, No.1 In Heaven and the single The Number One Song In Heaven were released to lukewarm reviews, with pop purists used to the band's rockier output branding them traitors and sell-outs for making what they perceived to be a disco record.
Certainly, all of Moroder's sonic trademarks were stamped across the record's six tracks, but deeper inspection revealed that Sparks' were too, with lyrics about off-kilter subjects such as prostitutes and death firmly intact. 
Although the album was a major stylistic departure, Ron and Russell approached it the same way they did every single one of their albums, which was to make it sound like the listener was hearing a Sparks album for the very first time. For every fan they lost with their new sound, they gained many more.
Although the album only reached No.73, the fact that it charted at all was an improvement. Faring much better was the single The Number One Song In Heaven, which became a Top 20 hit – their first charting single in four years.
"When that album was first heard, some people were taken aback, because we were considered a rock band up 'til then," Ron told Billboard. "It was a really bold and provocative album to do at that time. We were pleasantly surprised that it had as much commercial success, for something that initially was kind of controversial.
"I mean, the audience was really accepting of it, but we were getting a really severe, abusive critical reception, because they thought we were traitors to the whole 'band' thing and were going disco and we didn't see it that way at all. We had, 'How can you guys do this? It isn't rock music? You're traitors to the cause.' We didn't think of it as dance music but just placing what we do over a sound with electronic backing."
Sparks: No.1 In Heaven – The future and the past
While longtime Sparks fans scrutinised the band's new sound with a wary ear, the record opened them up to an entire new audience, many of whom were unfamiliar with the duo's legacy.
Tryouts For The Human Race and Beat The Clock also became hits, making the Mael brothers mainstays on Top Of The Pops throughout 1979. Frustratingly, because of the complicated nature of how the album was created, Ron and Russell were unable to tour with it as it was impossible – at the time – to replicate its sound live.
Now, over four decades since its release, No.1 In Heaven is regarded as a landmark record, not only because of its wide-reaching influence in fusing rock and electronic music (Ian Curtis cited the album as the main influence on Joy Division's Love Will Tear Us Apart), but also in establishing the dynamic of the synth-pop duo. 
"History has been completely rewritten about that album, critically, which is really ironic," Russell says. "It was because there was no standard comparison for it, so it was hard to know where to place it at the time but it struck a chord with the public.
Now, it is critically seen as the bible of the whole 'synth duo' thing. Since that time, it's been proven that that can work, with everybody that followed – Pet Shop Boys, Erasure, where it became okay to not have a traditional band format. It sounds defensive, but a lot of history has been rewritten as to what came first in synth-pop." 
Sparks: No.1 In Heaven –
The Songs
Tryouts For The Human Race
As Donna Summer's I Feel Love had been the catalyst for Sparks choosing to work with Giorgio Moroder, it was important that the album opened with a song which bore the producer's sonic trademark. However, as soon as Russell's vocal starts it becomes clear that the union was equal, with Sparks' DNA as prominent as ever, singing a song written from the viewpoint of… well, a sperm. Despite the offbeat subject matter, Sparks performed the track on kids' TV show Crackerjack as well as Top Of The Pops.
The track was released as the final single from the album in October 1979, reaching No.45. The 12" single contained an extra push for the album from an unusual guest star. "Virgin Records had the wonderful idea to enlist British comic Peter Cook to do two promo spots for the No.1 In Heaven album," says Russell Mael. They stood Cook in front of a microphone and let him riff away on the meaning of the Syndrum bleeps in Tryouts For The Human Race.
Academy Award Performance
Despite its heavily synthesised instrumentation, the structure of Academy Award Performance is more akin to the traditional glam-rock tracks Sparks had released previously. The song also highlights the superb drumming of Keith Forsey, whose rolls and licks give the song extra kick. The song is an obvious influence on acts such as Scissor Sisters, Electric Six and Hot Chip.
La Dolce Vita
An unmistakable disco bassline, analogue synths, multi-layered vocals and a killer hook make up one of the most accessible tracks in Sparks' entire discography. Despite this, the song failed to chart when released as the first single from the album across Europe in countries such as Italy and Germany where disco was hugely successful. Unfortunately for Sparks, the results of their union with Moroder were so innovative and complex that they were unable to replicate them in a live setting until technological advances enabled them to do so over a decade later.
Beat The Clock
The second UK single from the album, Beat The Clock, with its pulsing bassline, stuttering synths and chanted chorus is one of the album's most immediate tracks. Embracing their experimentation with disco, Sparks jumped on the trend for an extended version and released Beat The Clock as their first 12" remix. Entitled 'The Long Version', the remix utilised the drum pattern from the song's midsection and incorporated a new synth line. The 12" single again featured comedian Peter Cook waxing lyrical over samples of tracks from the album as a promo. Beat The Clock peaked at No.10 in the UK, giving the group its third and final Top 10 single.
My Other Voice
A pulsating symphony of harmonies and sound, the digitised snarl of My Other Voice begins as industrial-sounding percussion before a wall of sound gradually builds over three minutes to include robotic voices before Russell's vocal begins. Sounding like the result of a union of Moroder and Kraftwerk, My Other Voice is the pioneering sound of a band unafraid to break new ground. 
The Number One Song in Heaven
The first song from the album to be released as a single in the UK, The Number One Song In Heaven put Sparks back in the Top 20. It reached No.14 in 1979 thanks to an aggressive multi-format release strategy from Virgin Records who released the single in 7" and 12" versions, both in a variety of coloured vinyl releases.
The song proved the band had realised its goal of producing a sound which, rather than jump on the disco bandwagon, was their sound – with electronic backing. It was an obvious precursor to synth-pop, to new wave and the New Romantics, all of which took influence from the song.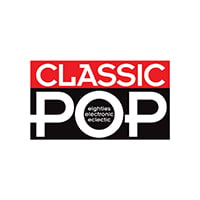 Classic Pop
Classic Pop magazine is the ultimate celebration of great pop and chart music across the decades with in-depth interviews with top artists, features, news and reviews. From pop to indie and new wave to electronic music – it's all here...