Heaven 17 albums: the complete guide
By Steve Harnell | March 7, 2022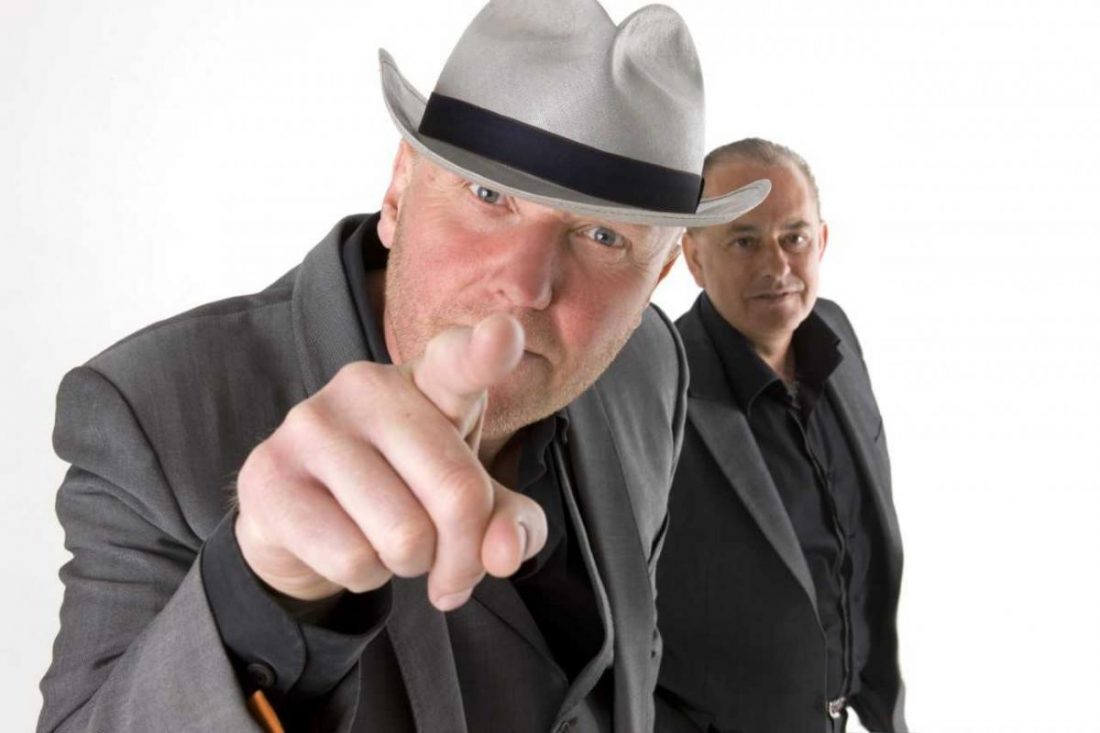 Taking politics to the dancefloor, the albums of Heaven 17 have given The Human League a run for their money as Sheffield's biggest synth-pop act. By Steve Harnell
Penthouse And Pavement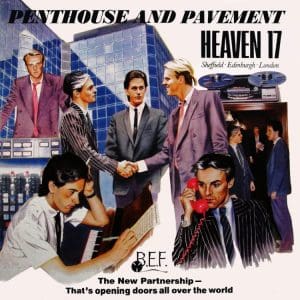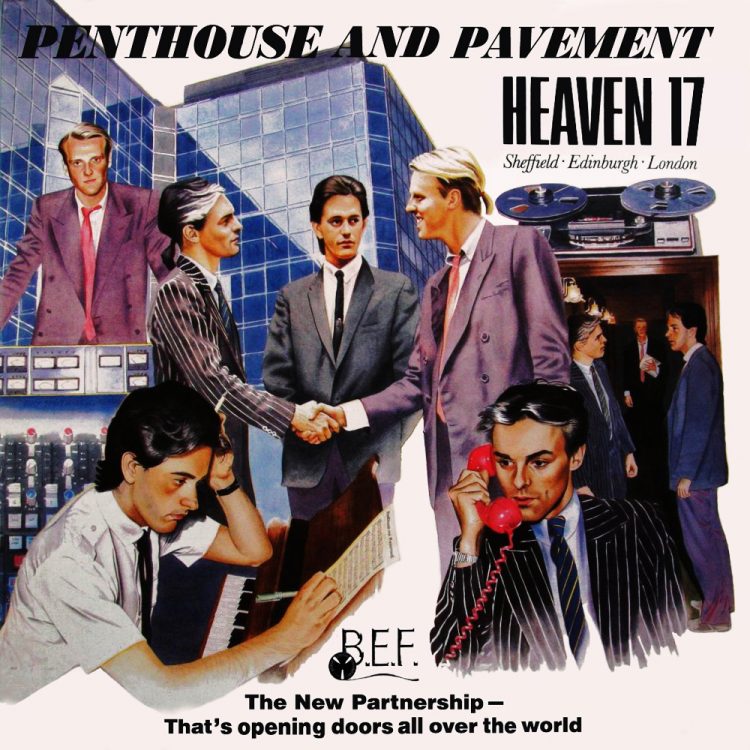 Released 1981
Label Virgin Records
Chart positions UK No.14 US –
There's fire in the belly of Heaven 17's politicised opening statement, as Martyn Ware and Ian Craig Marsh began a new musical life for themselves following their departure from The Human League. Ware later dubbed the genesis of Penthouse And Pavement a "supernova of creativity" and an energy flows through its grooves like lava.
As Philip Oakey moved away from the experimentalism of the League's first two albums and embraced straight-ahead chart-friendly synth-pop, the challenge for Ware and Marsh was clear: could they retain their edginess and still make music for the masses?  
With studio space at the premium in Sheffield, the two bands were forced to record in the same facility – one took the day shift while the other worked nights to avoid each other. It all added to a pressure cooker environment where both prospered. 
Ware, on the hunt for a frontman, immediately contacted old friend Glenn Gregory (he was previously in the frame to front The Human League). Gregory's response was an instant and unequivocal yes. 
Within 10 days the trio had worked up the frantic opening cut (We Don't Need This) Fascist Groove Thang); a perfect encapsulation of their new agenda that merged politics with the thumping energy of the dancefloor.
Both Ware and Gregory's fathers had worked in the Sheffield steel industry and the tough, grinding rhythms of the factory floor – an equal inspiration for Black Sabbath's early work – pulse throughout the most hard-hitting elements on this debut.
Key to the new sound was the fortuitous entry into Heaven 17's orbit of John Wilson – Gregory worked with him at Sheffield's Crucible Theatre. Although predominantly a rhythm guitarist, it's Wilson's extraordinary bass parts that allow much of this material to take flight.
Ray Smith's whip-smart cover artwork seals the concept here; a satirical sideswipe at the soul-sucking vacuity of the burgeoning 80s yuppie culture. The title track and Play To Win explores those themes fully amid slinky electro grooves and choppy funk. 
Wilson steals the show again on Soul Warfare with Steve Travell providing subtle piano accompaniment. Meanwhile, We're Going To Live For A Very Long Time is a neat satire of smug high achievers.
A return to the experimentalism of The Human League on Geisha Boys And Temple Girls expands Heaven 17's sonic palette, the provocative Let's All Make A Bomb bristles with Cold War paranoia. Passions run high here. Political dance music? It just might work you know…
The Luxury Gap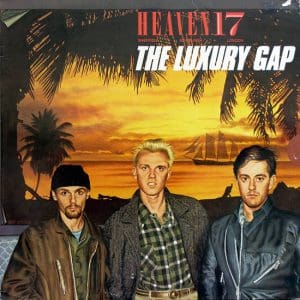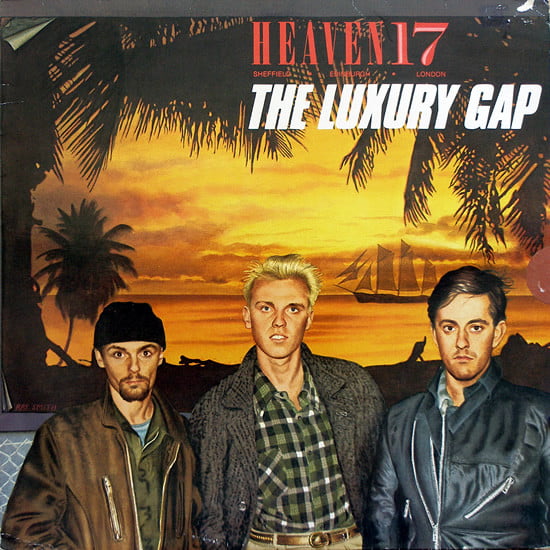 Released 1983
Label Virgin
Chart positions UK No.4 US No.72
After the maelstrom of creativity that birthed Penthouse And Pavement subsided, its follow-up two years later – recorded under the working title of Ashes And Diamonds – was more considered, increasingly refined, but no less passionate.
The Luxury Gap's sonic boundaries expand upon the debut; Ware and Marsh's production skills have clearly become more sophisticated as multiple influences are weaved into Heaven 17's sound.
Crushed By The Wheels Of Industry is the common link between albums one and two; a tough, clanging industrial rhythm underpins the track, a call to arms to reject conformist 9-5 lifestyles ("It is time for a party/ Liberation for the nation now!"). John Wilson returns and his funky guitar provides nuance for a strong nigh-on six-minute opening statement of intent.
Were it not for its politicised lyrics, you'd be forgiven for thinking the lithe soul funk of Who'll Stop The Rain could be Leee John and Imagination;
The Luxury Gap finds Heaven 17 beginning to lean more heavily on contemporary soul music for inspiration.
It's clear, though, that the trio's songwriting chops are evolving in other ways, too. This album includes two of their finest ballads – Let Me Go, which became H17's biggest Stateside hit, and the 20-year age gap love affair tale of Come Live With Me ("Kiss the boys goodbye").
Always conceived of as a studio-based project, Heaven 17 ploughed the money they would have spent in taking a live show out on the road on a string of ambitious videos, highlighting Gregory's dashing blond good looks in the process: "Glenn was a bit of a big head and incredibly charismatic – perfect frontman material," Ware once ruefully admitted when reminiscing about his first meeting with the singer at Sheffield experimental art project, Meat Whistle.
Political and ethical beliefs once more force their way to the surface on the brass-infused Key To The World, a stark warning about credit card culture that remains as pertinent now as it was almost 40 years ago ("My key to the world/ Buying items on your wish list/ It's easier than you think"). The kicker, though, is the emotional distress it brings those of the 'grab it now, pay later' mindset ("Trying to fill the luxury gap has pushed me to the brink").
Nick Plytas adds jazzy inflections to the almost Broadway showtune bounce of Lady Ice And Mr Hex – it's a world away from the icy minimalism and harshness of Ware and Marsh's Human League work. Equally theatrical is the dramatic closer The Best Kept Secret, conductor John Barker's arrangement gives it an impressive orchestral swell. Who knew that Gregory could be so convincing as a torch singer?
Elevating the album to classic status is, in this writer's eyes at least, a contender for best dance track of the 80s; the imperious, grandiose Temptation. Almost operatic in its ambition, Gregory's duet with Carol Kenyon – this is so much more than a backing vocalist contribution – remains a rock-you-back-on-your-heels stand-out moment.
Arguably Heaven 17's most rounded and expansive album, The Luxury Gap would be the biggest seller of their career. A Platinum success on home soil, it also made waves throughout Europe. Ware and Marsh had proved former manager Bob Last wrong, they could conjure up expansive electronic music that could slug it out with the big boys in the charts. 
How Men Are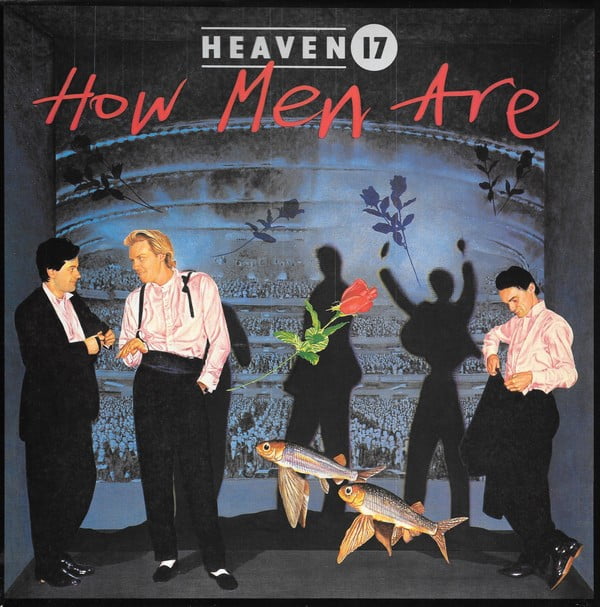 Released 1984
Label Virgin
Chart positions UK No.12 US –
If The Luxury Gap pointed to Heaven 17's increasingly expansive songwriting vision, then its follow-up a year later also marked a significant change. 
While the trio never lost their roots as an electronic act, by How Men Are no restrictions were placed on the amount of acoustic and traditional instrumentation that could be included in the mix.
Their soul influences are dialled up further than its predecessors, none more so than the terrific R&B pop of stand-out Sunset Now featuring the vocal talents of Afrodiziak, the trio comprising Claudia Fontaine, Caron Wheeler and Naomi Thompson. Afrodiziak had previously featured on The Jam's final single Beat Surrender as well as Elvis Costello's Punch The Clock album including the wonderful Everyday I Write The Book. Wheeler, would, of course, be a key component in the success of Soul II Soul at the end of the 80s. 
The trio's vocal blend elevates everything they contribute to here, a stellar signing along with the equally pivotal Phenix Horns Esquire – Earth Wind & Fire's legendary brass section, no less – whose additions give a sleek vintage R&B sheen to several tracks. 
Their upbeat stabs drive the likes of the busily percussive This Is Mine and Flamedown. The former is also a showcase for the band's love affair with their LinnDrum machine and Fairlight synth.
By now a major chart act, Heaven 17 splashed the cash in the studio but in the process rather lost some of the heart and soul from these songs. 
A budget of £200,000 was lavished on How Men Are but Ware later admitted that its 72-track mixes were an over-the-top indulgence. While they sounded technically pristine, the street-smart soul and DIY beginnings of Heaven 17 had been obscured along the way.
Leading the sophisti-pop charge is the dramatic torch song ballad The Skin I'm In, Mo Foster adds Pino Palladino-style fretless bass runs and strings swirl around as Gregory emotes allusive lyrics ("This skin I'm in/ Down to the bone/ Our blood fit for a king").
The straightforward synth-pop of The Fuse and Shame Is On The Rocks, with its woozy synth effects and funky guitars, make for unassuming mid-point cuts but fail somewhat to grab the attention. Gregory's in character for the satirical takedown of the big time charlie of Reputation desperate to win the approval of his peers ("Hey look! I just bought a beach house/ So bring all your friends along"). It's a tragic and shallow existence ("I've got all I ever wanted/ But what I've got, no one wants to share"). There's that rebuttal of capitalism coming through loud and clear again.
How Men Are's grandstand moment is the epic 10-minute multi-part closer, And That's No Lie. For once, the mixing desk maximalism is matched by the material. A returning Nick Plytas' jazzy piano and yet more Afrodiziak soulfulness star once again – their a cappella break during the coda is quite stunning.
Is there a great album buried within the OTT studio sheen of How Men Are? It's hard to say but it's clear that the old adage of 'we'll fix it in the mix' can't always be relied upon to rescue middling material.
Pleasure One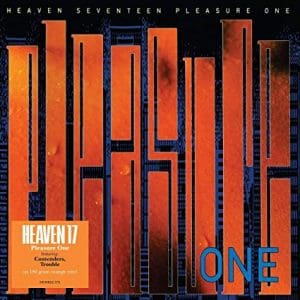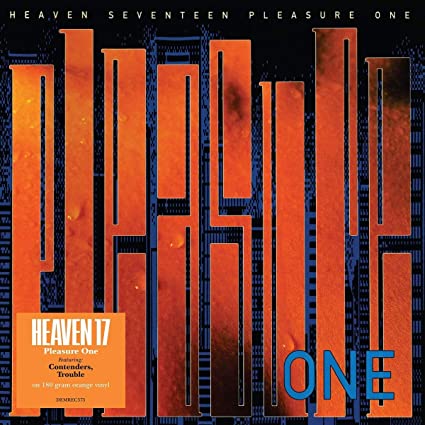 Released 1986
Label Virgin
Chart positions UK No.78 US – No.177
Heaven 17's move towards a traditional band set-up is fully in place on Pleasure One; by now Ware and Marsh had dismissed the doctrine they'd put in place while forming The Human League where acoustic instruments were banned. 
"I realised that while it was taking me two days to program a machine to play a few bars, a good musician could do it in 30 minutes and probably with more feeling. The public won't stand for intellectual twaddle any more. They want instant satisfaction. I think we have come up with a very good intelligent pop LP," Ware told DJ Simon Mayo in 1986. 
The all-conquering Fairlight synthesizer, so unreservedly beloved of the early- to mid-80s electronic sonic adventurers, was mothballed in favour of the Emulator II sampler.  Yet an organic feel pervades much of Pleasure One, from the choppy funk of opener Contenders to the pure pop of Trouble, which even goes so far as utilising a rock guitar solo courtesy of Tim Cansfield. Its tale of breaking away from a suffocating hometown also featured a tasty synth breakdown so the trio hadn't exactly thrown the baby out with the electronica bath water.
"We're not musicians. Technically we can't play a lot of the stuff that's on the albums, but our arranging capabilities have developed and we write a lot more interesting music now. We've got a better grasp of mood and feel," Ware told Music Technology magazine in 1987. "We design the albums for our own pleasure. We regard ourselves as the directors of the film, rather than the actors."
The Phenix Horns Esquire return for the James Brown-infused funk pop of Somebody and choppy rhythms elevate the brassy Low Society.
The dying embers of a troubled relationship are raked over in sophisti-pop cut If I Were You and the controlling lover of Look At Me delves into equally dark affairs of the heart ("I promise not to set you free/ Don't try to run I'm everywhere/
If you escape then I'll be there"). There's a grim cynicism to Move Out's protagonist, too ("It was a purely physical thing/Your mind's OK, but I love your body) – a non-PC lyric that evokes the caveman sexism of Rainbow's All Night Long.
Teddy Bear, Duke & Psycho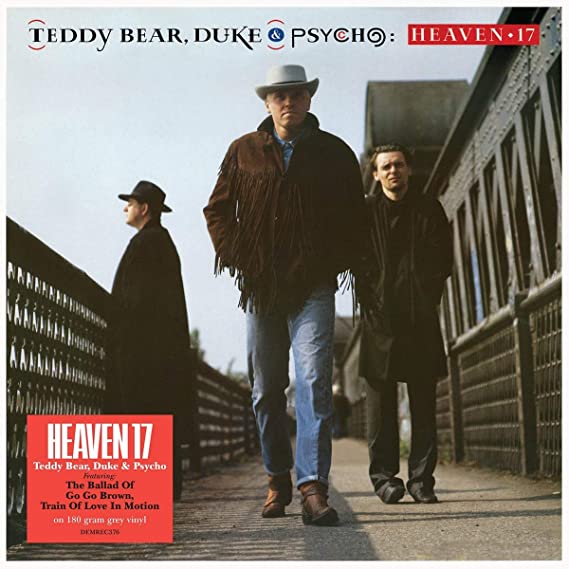 Released 1988
Label Virgin
Chart positions UK – GER No.46
Martyn Ware was on ebullient form when he met the press to plug Heaven 17's fifth studio effort, claiming this was the album they should have recorded in between Penthouse And Pavement and The Luxury Gap. Likening its lyrical content to the second side of their debut LP he added that Teddy Bear… was a back-to-basics return to their original synth template and a retreat from the organic nature of Pleasure One: "We decided that our strength lay in synthetic manipulation. We've actually absorbed the potential of sampling technology more than most bands. We're using it as a replacement and enhancement for real instruments, rather than as a little gimmick that's thrown in."
H17's love of black music remains a continual presence throughout, though. There's a Philly soul flourish to Don't Stop For No One and the funky Snake And Two People, a retelling of the Original Sin story, writhes nicely.
A feisty funk arrangement drives Hot Blood but it's mired in trite lyrics ("I'm six foot two and my eyes are blue"). The wordplay of I Set You Free equally lets the side down and doesn't make the best of a decent mid-tempo arrangement that even throws in a few John Barry-style Bondian references. Train Of Love In Motion is unassuming frothy, almost Stock Aitken Waterman pop fun, that knowingly drops in a self-referential nod to Temptation. Fascist Groove Thang it most certainly is not.
The band have been much more ambitious elsewhere in terms of arrangements but two slight diversions from their trademark sound here bear fruit. In what can only be described as 'electro Americana', wheezing harmonicas and chugging guitars thread their way through story song The Ballad Of Go Go Brown – Sharleen Spiteri and her Texas bandmates were perhaps listening in.
Stick with Teddy Bear… and you'll hear a gem; closing track Responsibility finds Gregory in full-on loverman mode for a sophisti-pop gem that The Blow Monkeys would have killed for.
Bigger Than America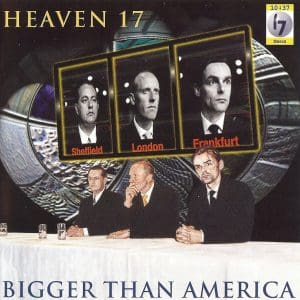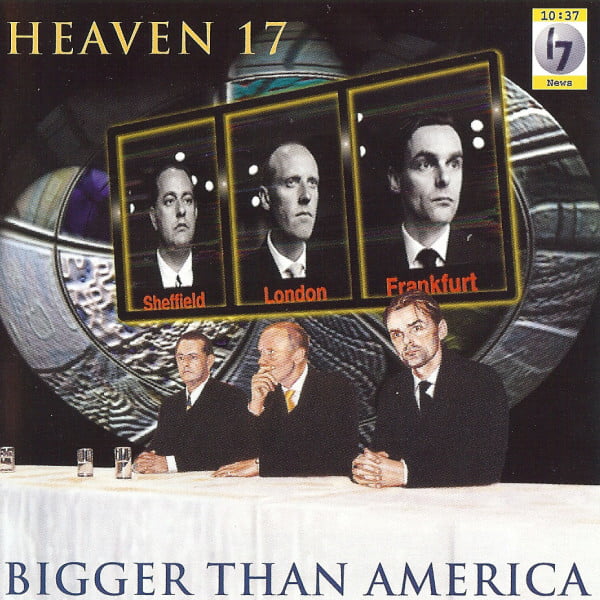 Released 1996
Label Eye Of The Storm/WEA
Chart positions UK – US –
After the commercial disappointment of Teddy Bear…, Heaven 17 dipped out of the limelight in the early 90s. Ware busied himself with a second British Electric Foundation album, the follow-up to 1982's Music Of Quality & Distinction, Vol 1. But buoyed by the success of a Brothers In Rhythm remix of Temptation in 1992 that made it to No.4 in the UK singles chart, the tide began to turn back in their favour. 
It was still another four years, though, before Bigger Than America emerged. An attempt to re-engage with their analogue synth roots, they'd been keeping their ear out for contemporary trends – drum & bass flourishes are added to Designing Heaven while Freak! is a full-on dancefloor banger.
Dive feels like cultured 90s electronica and the glossy Hi-NRG synth-pop of Another Big Idea is an Erasure-esque contrast to Heaven 17's tough-sounding earliest work. 
While the trio are keen to stress they've kept in touch with emerging sounds, there's a nod to the founding fathers of electronica, Kraftwerk, on the social commentary title track. Equally pointed is
The Big Dipper, which mourns the death of the American Dream ("We've been taken for a ride/ America leads the world in teenage suicide"). No mere 'dads at the disco', this was a credible return to the dancefloor that deserved a bigger mainstream audience.
Before After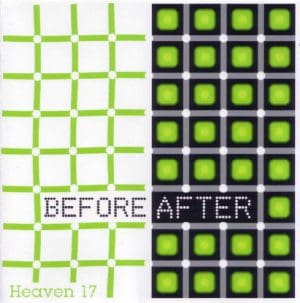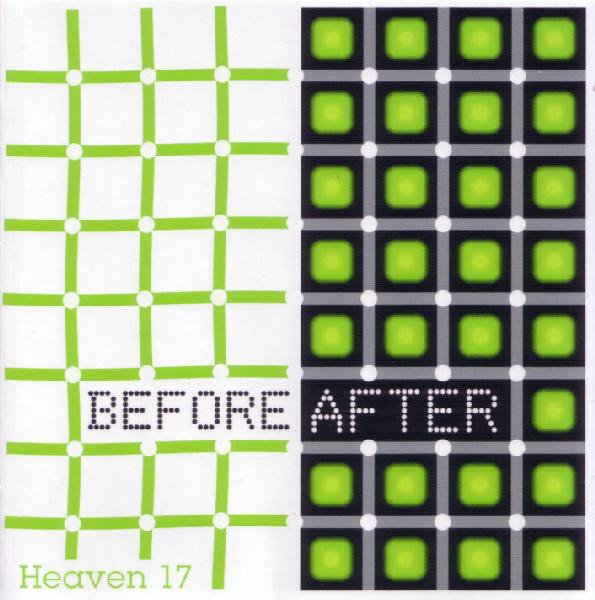 Released 2005
Label Ninthwave
Chart positions UK – US –
After almost a decade out of the studio, Heaven 17 returned to reassert themselves as godfathers of club culture; Before After finds them totally reinvigorated, bursting with ideas and more than holding their own against electronic acts 30 years their junior.
Its freshness belies a rather tortuous birthing process. The band had intended to release a swift follow-up to Bigger Than America but struggled to win record label interest.
A collection of 12 dance-oriented backing tracks were then circulated to music industry contacts but gained little traction. The band duly resolved to ditch all but two and start the project from scratch. But despite working up a new album in its entirety, they were unable to find a home for it, finally releasing it independently on the Ninthwave label. Before After, therefore, rather slipped out unnoticed and hasn't received the attention it deserves.
Opening track I'm Gonna Make You Fall In Love With Me is immediately impactful, a seductive banger and equally arresting are the updated disco thrills of Hands Up To Heaven.
A celebration of the clubbing community, it's a dead ringer in places for Stardust's Music Sounds Better With You but none the worse for that.
The ethereal slice of Ibiza-flavoured pop that is Into The Blue is irresistible and a hard-hitting The Way It Is packs a quantifiable punch.
Not previously given to including covers on their albums, Before After's real curveball is an unexpected and really rather faithful version of Blue Oyster Cult's Don't Fear The Reaper. Gregory plays it totally straight with the vocals while synths replace guitars for the main riff. As Will Ferrell would no doubt concur, just one additional element would have lifted this further… more cowbell.
Given a bigger release, Deeper And Deeper could have been a massive hit among house music DJs. It's a missed opportunity for sure.
They take interesting risks on two closing tracks; a striking synth harpsichord break on What Would It Take works beautifully with its US R&B vibe and a baroque arrangement is pulled off with aplomb on the ballad Someone For Real. Their final album of (mostly) original material has lots going for it and deserves reappraisal.
Naked As Advertised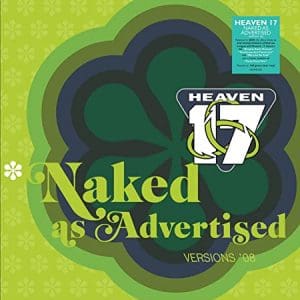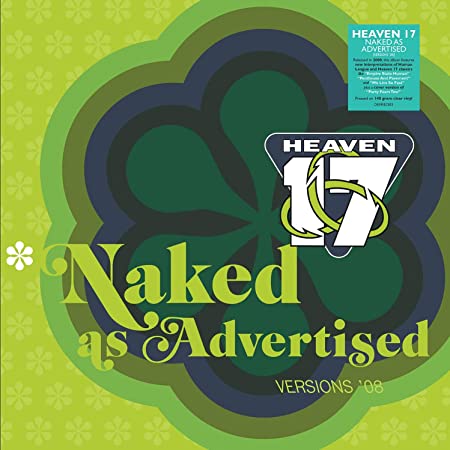 Released 2008
Label Just Music
Chart positions UK – US –
Nope, Martyn Ware didn't record this in the buff after whipping off a posing pouch emblazoned with the Labour Party logo, instead Heaven 17's final studio album to date features reworkings of the band's finest moments plus some intriguing extra-curricular cover versions.
Perhaps there's a sense of settling old scores, but it can't be a coincidence that Naked As Advertised is bookended by two tracks by Ware-era Human League. There's a much lighter touch to this new version of Being Boiled that dials down the doomy gravitas of the original, likewise a cover of Empire State Human veers away from the striking oddness of Philip Oakey's vocals. Much better is a radical piano forte reinvention of The Associates' Party Fears Two, which, of course, includes one of the greatest openings in 80s pop ("I'll have a shower/ And then phone my brother up").
Mixed fortunes await the self-penned material. Geisha Boys And Temple Girls is given a thumping four-to-the-floor house makeover. Although the rough edges of the original are smoothed out here, it's now an unimpeachable club anthem. Likewise, Penthouse And Pavement gets a club refit that hits all the right notes tonally.
They improve on the misfiring first studio incarnation of We Live So Fast, its liquid groove here gallops along at a frantic pace, barely pausing for breath and even finding space to bolt in some drum & bass percussive breaks along the way.
Reinventing (We Don't Need This) Fascist Groove Thang was always a tall order and they fail to pull it off convincingly. It's still just as frenetic but somehow fails to catch fire.
And can you improve on the perfection of Temptation? Well, they give it a damn good shot courtesy of the vocal talents of live band mainstay Billie Godfrey. It's the pop equivalent of taking a spray can to a Picasso but nothing ventured, nothing gained. You could argue it's not a patch on seeing them smash this out of the park at gigs, though.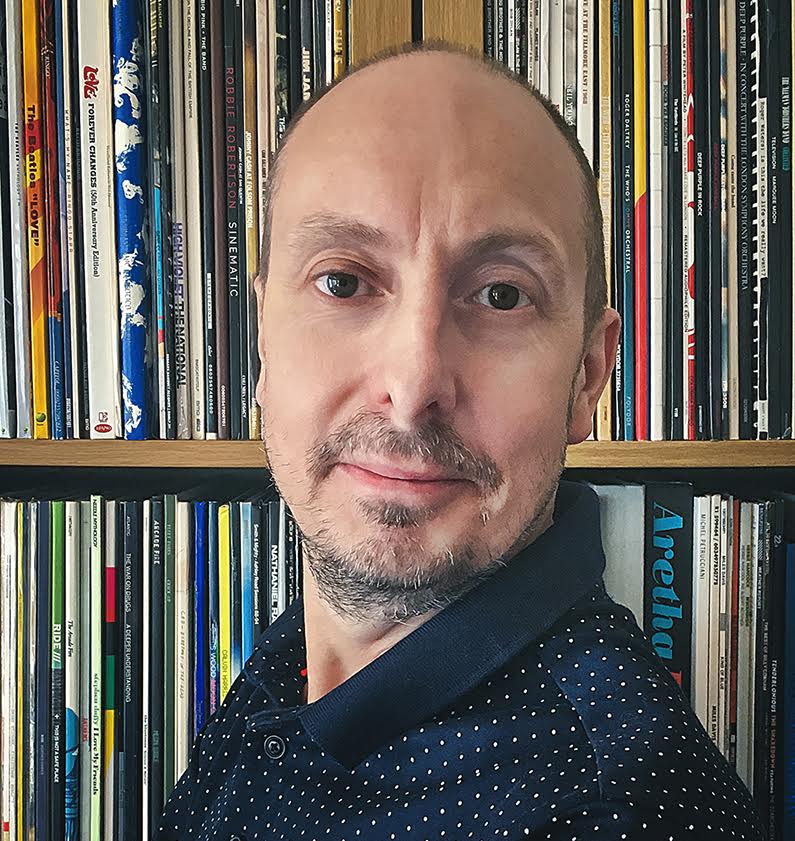 Steve Harnell
Steve Harnell is the Editor of Classic Pop and Vintage Rock magazines. Over the past 25 years he's written about music for magazines and newspapers such as Long Live Vinyl, Record Collector, Total Guitar, Country, Guitar, the Bristol Post and Western Daily Press. During that time, he's interviewed an array of major names including Al Green, John Lydon, Massive Attack and Ian Brown. Apart from his regular work at the helm of Classic Pop and Vintage Rock, he's also edited various special editions of their sister titles, Classic Pop Presents and Vintage Rock Presents.