Soft Cell: *Happiness Not Included interview
By John Earls | March 23, 2022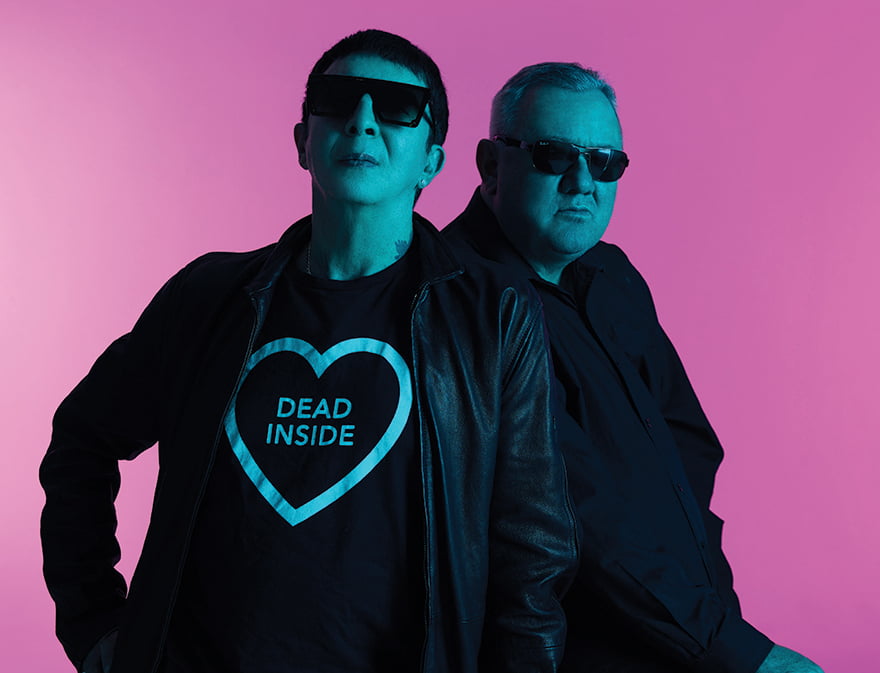 In this Soft Cell interview for new album *Happiness Not Included, we talked to Marc Almond and Dave Ball about how the global pandemic caused them to re-evaluate their belief in each other… and why they're finally ready to embrace being pop stars after 40 years…
In spring 2020, a week into the first lockdown, Marc Almond became seriously ill with COVID. He wanted to go to hospital, but was warned by his doctor: "Don't go. If you go into hospital, you won't come out. If you can see this through, don't go." Marc was struggling for breath and felt "worse than I've felt for a long time", which is concerning for someone who suffered serious head injuries in a motorcycle crash in 2004. 
Nearly 18 months on, Marc is still suffering from Long COVID, admitting: "I haven't been the same since. It's damaged my health quite a lot. Like many people, there's my life before the virus and there's after the virus." The quiet spring helped Marc's recovery – "I was able to be peaceful and the air was very fresh" – and music also helped his recovery.
Part of that was knowing he had some new Soft Cell songs to work on. Shortly after playing their farewell show at London's O2 Arena, selling all 18,000 tickets in the first weekend that they went on sale in 2018, Dave Ball began sending Marc songs for their first new album since 2002's Cruelty Without Beauty, which itself had been the duo's first music together for 18 years.
"I didn't even think of another Soft Cell album at first," Marc insists. "Things are never planned in Soft Cell. After the O2 was over, I thought, 'That's that.' I hadn't expected the amount of love we got. Seeing people light up their phone torches for Say Hello, Wave Goodbye, I saw that Soft Cell means something to a lot of people. But I thought it was done. Then my record label, BMG, asked me: 'How would you feel about another Soft Cell album?'"
Marc was initially uncertain and said it would depend on the quality of material Ball offered. "And Dave gave me a barrage of songs that were really good," he laughs. "I'd said to Dave: 'Make it old-school. Don't think about making it digitised.' I wanted old-school references: analogue synths and old electronic sounds, going back to the music we liked when we first started: Throbbing Gristle, early Kraftwerk, German electronica, Brian Eno's whooshy synths when he was in Roxy Music. It turned out Dave was still brilliant at that, and I thought, 'I really like this.'"
For his part, Dave was delighted to show that Soft Cell still have something to offer, 40 years after Tainted Love launched them on an unsuspecting nation. Marc has told Classic Pop before that his biggest regret about Soft Cell is that the duo turned their back on pop music too early, with standalone smash Torch their last truly great crossover song before they made the brilliant but troubled albums The Art Of Falling Apart and This Last Night In Sodom. It's a theory Dave agrees with.
He reasons: "Soft Cell was a whirlwind of success. Our first singles all went Top Five and we were suddenly pop stars, which we never intended to be. We reacted against that, and not in a great way. Torch should have gone on The Art Of Falling Apart as its big pop hit. I sound like a marketing man by saying that, but I do know what Marc means. With this new album, we've shown we've grown up enough that we can give things a nice tune."
Marc and Dave live just 10 minutes away from each other in South London, but they don't hang out together. "We haven't lived in each other's pockets since we had to, sharing the same housing association block when we were students at Leeds Polytechnic," smiles Dave. "But, when we make music together, we bring the best out of each other. We live separate lives, but there's massive respect."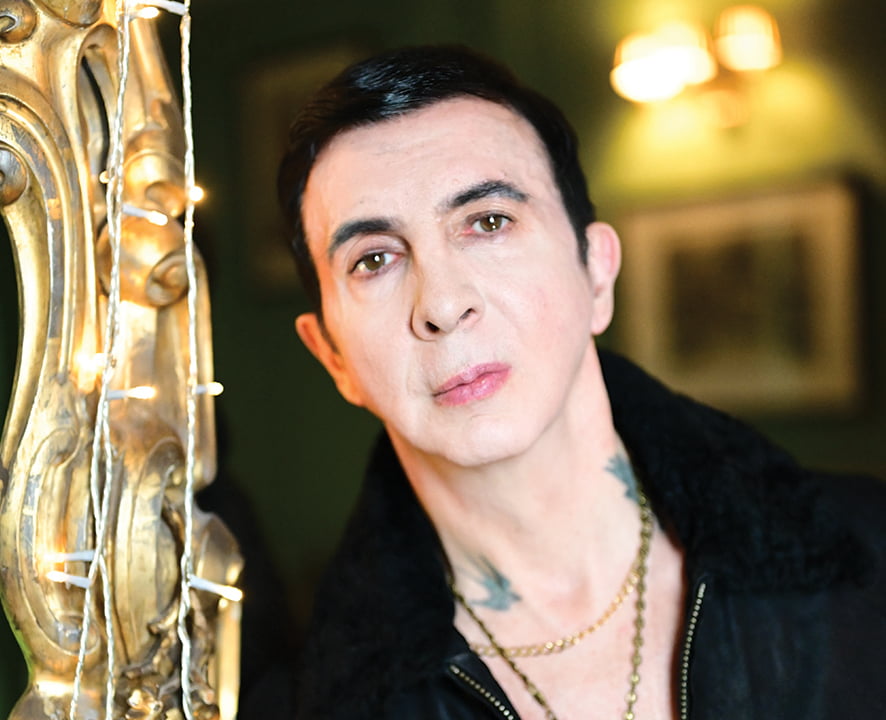 Unprompted, Dave says of Marc: "He's a beautiful singer and one of the best lyricists there's ever been, which is more to the fore than ever on the new album," while Marc states: "Dave is so underrated. As an arranger, the way he uses synths, he's incredible. Dave mixes dark and filmic arrangements with trashy pop, and the heart of Soft Cell has always been blending those two together. I can only write the way I do in Soft Cell because of the music Dave gives me."
Despite that mutual admiration, Almond admits he was struggling to find time before lockdown to concentrate fully on Ball's new tracks demanding his attention. "If I hadn't had lockdown, I don't think I'd have been able to focus on Dave's songs," he admits. "I was having a difficult time, feeling so fatigued and ill. Doing these songs, partly it was recovery therapy." 
When the duo began thinking about making old-school electronic music, there was one strong running theme. "We came up with an idea about the vision of the future we'd had when we were younger and how the reality of that now was somewhat different," says Marc. Dave adds: "We're living in a sci-fi story, which goes back to the first song we ever did together, Science Fiction Stories."
They even had a title for the concept: "We were going to call this album Future Nostalgia," laughs Marc. "Bloody Dua Lipa, honestly! I like her album, but thankfully it doesn't deal with the themes I wanted to explore."
Instead, Soft Cell's sixth album is titled *Happiness Not Included – "a classic Soft Cell title and a totally classic Marc idea," notes Dave. The cover is a sinister image of the abandoned fairground, Pripyat, near the site of the Chernobyl disaster.

It fits perfectly, as Marc explains: "In my own songs, I write from a more romantic point of view, whereas in Soft Cell I have a much more cynical eye with a bit of humour. The album titles we'd thought of were variations on Future Nostalgia, but not as good. Once it was suggested that the song Happiness Not Included became the title track, especially with the asterisk, it was, 'That's it!'"
The album's title track appears as a state of the nation treatise about life in lockdown, before becoming much broader in scope. It's the record's most explicitly punk moment, sharing the energy of Soul Inside or the title track of The Art Of Falling Apart. "I didn't want to start writing about Coronavirus," says Marc. "The song Happiness Not Included is more about life in general, but I am writing in a period where life has been turned upside down and conspiracy theorists are to the fore." 
How does Marc feel about anti-vaxxers? "I understand them, in a way," he accepts. "People are stuck at home, looking for answers, so it's easy to go down a rabbit hole. People like to feel they're anti-government, so COVID? Sure, it's just a big experiment. I don't buy into it, but I understand why people do.
"Seeing 7,000 people in Trafalgar Square on anti-vax rallies scares me, especially with the egotists and narcissists fronting it. They're whipping people into a frenzy, because they've found an audience for their own ego and narcissism. They're high on their own fame, lying to people who are angry and pissed off.
"I have to remember that, in the grand scheme of things, it's a small number of people who are just shouting very loudly. I don't believe Bill Gates has injected cameras into my bloodstream! It's nonsense, but it's a good idea for a dystopian future, that Bill Gates is at home thinking, 'I'm going to watch what Marc Almond is doing today.'"
As you might have gathered, although Marc's health hasn't fully recovered, he's in good spirits when he meets Classic Pop. We're on a sofa in a spacious room at the head office in London's Mayfair of Roland Mouret, the fashion firm who also manage Marc. His voice is occasionally croakier than usual, but otherwise Almond is as reliably excited and funny as ever in conversation, looking trim in a black T-shirt. 
Dave meets us at his local pub. He suffers from COPD and walks with a stick, but is otherwise in fine form. Asked if he ever contributes to Soft Cell's lyrics, Ball says, "I'm good for an occasional one-liner," and that's true of Dave's general attitude. He's dryly hilarious, a self-confessed "man of few words" who has very little time for music industry machinations. But, like Marc, Dave is good for a gossip once we've moved to his traditional local's beer garden: the pub's resident dog is too noisy to stay indoors.
We meet the week after Jeff Bezos and Richard Branson make their vanity trips into space, which clashes wildly with Soft Cell's ideas about what space exploration should be like: the opening Happy Happy Happy is a wonderful distillation of the album's sci-fi romanticism, set to a pulsating fairground ride soundtrack.
"To me, the space romancer in Marc's lyrics is James Bond in Moonraker," Dave states. "I'm not really interested in space travel, or not those wanker billionaires' version of it. They're not even in space! Yuri Gagarin was actually in orbit 60 years ago. Those twats, they're in space for six minutes. Wow! That's like sticking your toe out of the door. They should stick to what they're good at and start paying some taxes."
It's little surprise that Dave suggests one of the main aspects he and Marc have in common is a strong anti-establishment spirit. "We've both been cynical our whole lives," says Dave. "Marc has got even better at singing about his resentments. The world is a pile of shit half the time and we'll write about that. But we can find a nice tune while we're doing so, rather than wrap it in something equally dark.
"That's what I used to suggest to Genesis P-Orridge all the time. I love Throbbing Gristle, but I'd tell him: 'To infiltrate the establishment, you've got to write tunes. If you write outsider music, it's easier for the establishment to keep you outside the door.' People thought Soft Cell were a squeaky little happy pop group. Once they saw what we were really like, that we were a bit odd underneath, they were scared of us. People were a bit nervous of Marc."
For *Happiness Not Included, Soft Cell ended up recording "23 or 24" songs before whittling them down to the 12 on the album. "There are no long songs on this album," notes Marc. "It was good to have that discipline. But Dave is an annoying bugger, as he keeps putting so many hooks in songs that I like them all. I knew we'd have to cut down to 12, but I kept thinking, 'Can we squeeze that one on, too?'"
Marc mentions the "really cool" Vaporise as his favourite to get culled, while both eulogise their cover of X-Ray Spex's The Day The World Turned Day-Glo as a song that needs to emerge, too. There are already plans for an EP of material that didn't make the album. 
Light Sleepers and the closing New Eden are the ballads most likely to become showstoppers in the vein of Say Hello, Wave Goodbye, while Polaroid and Nighthawks are from the same world as Sex Dwarf and Heat as a very deviant brand of pop. 
Polaroid is based on the duo's meeting with Andy Warhol on his TV show. It happened at his new location for The Factory, but was a world away from the vivid drama Marc had predicted. "Meeting Warhol was a kind of nothingness," he sighs. "I took pictures of Andy, he took pictures of me and, as it recalls in the song, he really did say [New York drawl]: 'Gee, it's so good to meet you!' But that was it. It wasn't how I wanted it to be, which was silver foil and Lou Reed. I thought: 'Oh. Is that all there is to meeting Andy Warhol?' I met him a couple of times after that, including one where I was sat next to him while he was reading The Beano, which I guess is a little more Warholesque."
Nighthawks is a magnificent duet with New York performance artist Christeene. "I know Paul – who is Christeene – and we needed some element of him on the album. Christeene is the most in-your-face, transgressive performance artist there is. Featuring him on the album is a way of remembering that Soft Cell's roots are confrontational." 
Soft Cell's Top Of The Pops performance for Bedsitter, with Marc in giant eyelashes, is deliciously outré, even 40 years later. "I was playing around with genders when I was a performance artist," he recalls. "It was transgressive, and I thought, 'How can we most do something like that now?' I wanted those elements in, because a very important part of Soft Cell is to have something that stings you. There's a fantastic Chris & Cosey mix of Nighthawks that will hopefully come out eventually."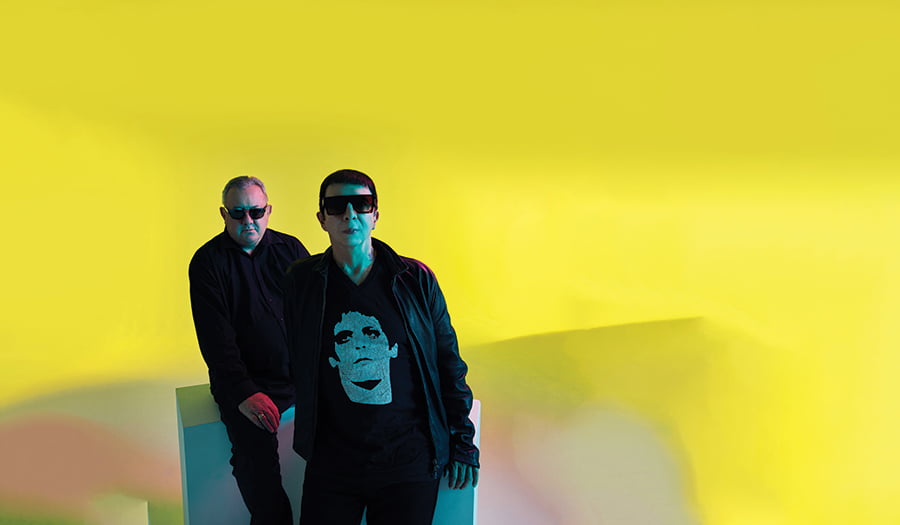 Dave hadn't known Christeene's work, but was open to featuring him. "I'm very much into the idea of working with more people," he suggests. "Initially, Soft Cell was a very isolated two-man job. As I've got older, I enjoy others' input more. Now, Soft Cell is a collective, where me and Marc are the nucleus. Our early work was single-minded and now we're open-minded."
He laughs, realising how pithy that idea sounds. "That's a good statement, isn't it? There's a headline for you. But it is a good tagline for our approach on this album – being open-minded rather than single-minded is how it differs from our music 40 years ago."
A more familiar guest on *Happiness Not Included is Gary Barnacle. His saxophone lit up Torch and is equally evocative on the melancholic Light Sleepers. Gary will be joining Soft Cell's tour, playing his old and new tunes – Dave envisages the show starting with a spotlit Gary playing that swooning sax riff from Torch before he and Marc emerge. 
Still: a Soft Cell tour. Doesn't that go against the "farewell" notion of the O2 concert? "Marc said it was a farewell against my advice," smiles Dave fondly. "He's always been impulsive. Marc said it was 'one final time', but that's like when Sean Connery said he'd never play Bond again. Sure enough, there he was in Never Say Never Again. Though that was a shit film, and I hope this tour won't be.
"The interest has been crazy since the O2 show, and the last two years have been spent considering offers. It's gathered around Soft Cell because, unlike Erasure or Pet Shop Boys, we fucked off early and left. We haven't toured every year, so the demand has got bigger and bigger."
Marc accepts it was a mistake to bill the O2 as a farewell, but his rationale makes sense. "The virus has made me re-evaluate a lot about my life," he explains. "I've said things like, 'I'm never doing that again!' a lot in the past. It's me setting a challenge for myself, of pushing myself on by cutting off old avenues. But now, I think, 'Why do I say these things?' 
"So long as I enjoy it and other people enjoy it, I'll do it. I'm 65 in 2022, so how many more opportunities like this will I have?"
Where Marc is still cautious is finding the energy to perform certain songs in the duo's catalogue. "The Art Of Falling Apart is a hard song to do," he laughs. "Some of our songs are so much about energy and youthful aggression. I'm just not going to be able to do some of those songs again. I talked about doing It's A Mug's Game with Dave and I had to tell him, 'I just can't.' I can barely remember half the words to that song anyway."
Marc cheerfully admits, "I'm into my teleprompter years" of needing an autocue onstage, adding: "Charles Aznavour had five teleprompters on stage, although he was 91 at the time and speaking in different languages. Most of the time, I don't need one, but I feel more confident if they're there."
Neither Marc or Dave have any time for the minority of fans who suggested in response to the tour announcement that it was "a con" because the O2 had been labelled as Soft Cell's final concert. The title track of *Happiness Not Included features a diatribe against trolling on social media, which led Marc to quit Twitter three years ago. "I still have a Twitter account, but I've told my PA: 'Don't give me the password!'" he smiles. 
"I only want social media for positivity. I don't expect people to be sycophants, but my Instagram is a place for creativity and positivity. Anything negative, I don't care how long you've been a fan for, you're gone. Instead, I want to recommend art and songs I like. It's not a place for aggression. If it ever becomes like that, as Twitter did, I'll bow out. When I trailed the tour, one person said they felt cheated. Well, you don't have to bloody come! That was it – gone."
The tour should certainly be a more positive experience than the livestream shows Marc tried performing while he was recovering from COVID. He did "glorified karaoke" from his basement, wanting to keep fans sated and trying to keep himself amused. "I didn't want people looking at my home and thinking, 'Oh, I wonder what books he's got on the shelf,'" he says.
"I looked up 'sparkly curtains' on Amazon and sent off for the sparkliest curtain they had, along with a karaoke microphone, karaoke box and disco lights. But I was singing really miserable songs, like Skeeter Davis' The End Of The World and it was so depressing, I thought, 'I can't keep doing this.' I must have been bloody bonkers. I thought every other musician was doing it, and not many of us were. It was a case of keeping myself sane but, looking back, I'm a bit head-in-hands, thinking, 'What do you look like?'"
The production values will be very different for Soft Cell's tour. With a new album ready – the first since their debut Non-Stop Erotic Cabaret to be made without any troubles in the background – the duo appear re-energised. Having said they're refusing to rule offers out from here on in, are Soft Cell a proper group again? "We're… an entity," laughs Dave. "I don't know if we'll do more, but it's good to have options. We seem to have found a new area, a more lyrical and poetic area. So I'm not ruling it out." 
As for Marc: "I'm dancing as fast as I can. I like making energetic music, so I hope I'm not entering the phase of An Audience With Marc And Dave just yet. It's beckoning in the distance: gentle songs and stories about Seedy Films. But everything is so fluid now. We're a very fluid band. Soft Cell is still a soap opera."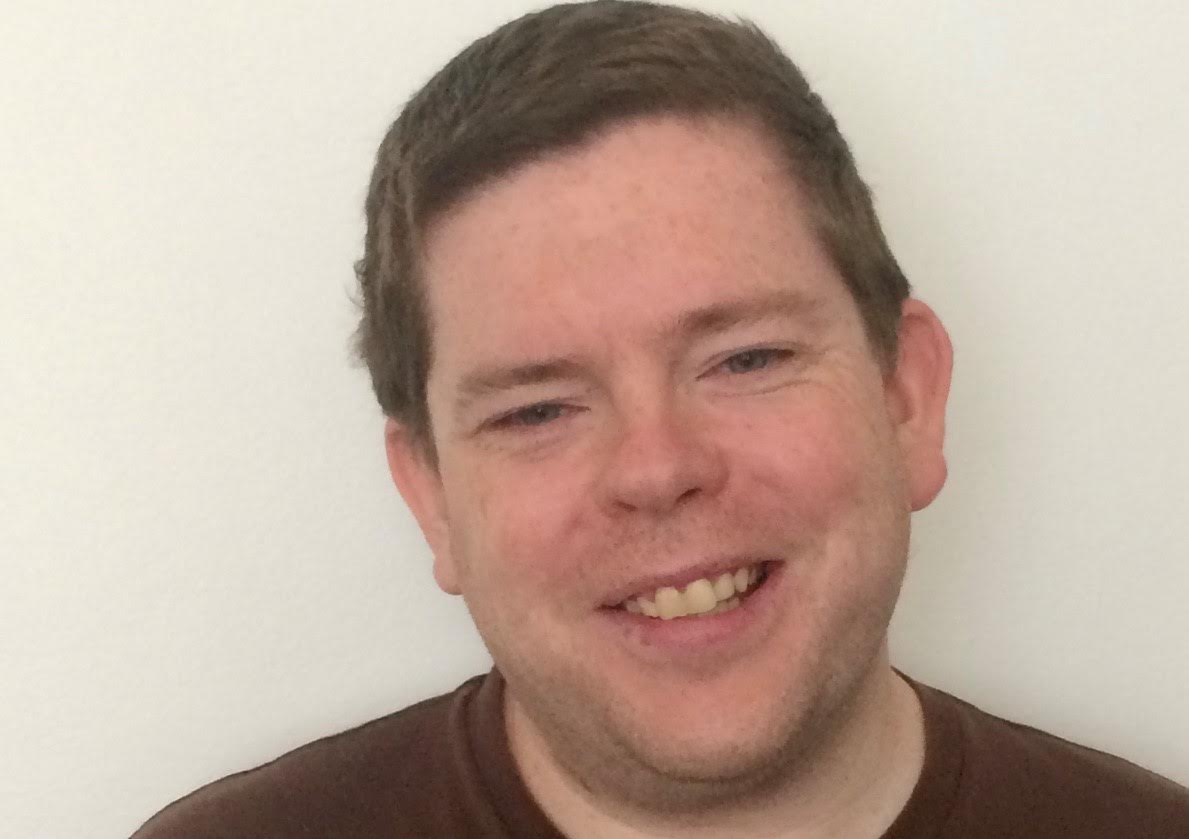 John Earls
Writing for Classic Pop since our first issue, John has been to Adam Ant's house, sworn at by Bob Geldof, touched Johnny Marr's favourite guitar, interviewed Richard Coles on his vicarage bed and serenaded with Last Christmas by Shirlie Kemp. John first specialised in writing about music as editor of Teletext's Planet Sound music column from 2000-09 and now writes about pop for a range of magazines and national newspapers. A Luton Town fan, John also writes about football. His bucket list interviews for the magazine are Grace Jones, Kylie, Siouxsie Sioux and Andrew Ridgeley.