Making Erasure: The Innocents
By Classic Pop | September 13, 2021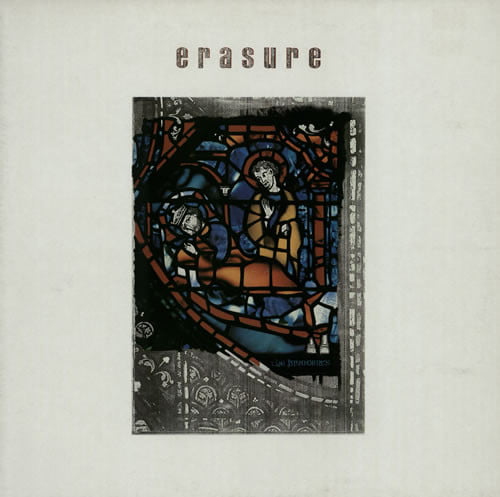 Erasure: The Innocents was the biggie for Vince Clarke and Andy Bell, the one where melodies and lyrics coalesced to form one of the finest pop albums of the 80s. It also zoomed to No.1 and has sashayed onwards to sell more than five million copies…  By Paul Lester
After the very disappointing reception for 1986's Wonderland album, which peaked at No.71 and threw up a handful of singles, Who Needs Love Like That, Heavenly Action and Oh L'Amour, which failed to even come within spitting distance of the Top 40 – Erasure put paid to the well-worn music biz cliché of the 'difficult second album' by producing The Circus, which reached No.6 in April 1987 (although of course this was far from being Clarke's second foray into the studio).
The Circus and its attendant singles, especially the No.2 hit Sometimes, proclaimed Erasure's commercial potential in letters 10 feet high.
"Life got busier for sure after that," said Vince Clarke, while Andy Bell noted how success changed both their lives in ways they could never have predicted; Bell remembers making his first appearance with Erasure on Top Of The Pops, at which point Mute label boss Daniel Miller warned him that he would never be able to take public transport again, which actually turned out to be true – their recognisability increased severalfold by 1987. 
As a result, third album The Innocents was the first Erasure album to be recorded on the back of substantial success.
In the run-up to recording, Bell recalls listening to classics from the disco, white soul and synth-pop realms: Eurythmics' 1983 album Touch, for example, plus "lots of Sylvester and Jimmy Somerville and Helen Terry". Clarke doesn't remember anything particular on his playlist, considering it more important to keep away from other artists lest they overly influence his own work. 
Erasure: The Innocents – Ship Of Fools
Asked how he approached this album differently to its two predecessors, Clarke replies: "I think the approach was the same. We had the songs written and we were just looking forward to getting them recorded."
Most of the material for The Innocents was written on guitar and piano at Clarke's house in Notting Hill, West London. "The songs were demoed on both guitar and piano, then recorded onto a micro-cassette recorder," he says. "I think we wrote at both mine and Andy's homes."
Clarke specifically remembers writing A Little Respect and Ship Of Fools at his home, and that the chords for the latter ("Ooh! They're nice. Oooooh!" was Bell's ecstatic response) only took about a quarter of an hour to get right.
Clarke's memory is of "a heated debate" about the use of the word 'respect', because he believed it had been overused by many previous musicians and songwriters, and he was probably right – but it was to Erasure's credit that they forged ahead, and managed to invest the well-worn term with fresh lustre. 
With Sometimes and the other singles from The Circus doing so well, it might have been expected for the duo to feel the pressure to repeat their successes, but that wasn't the case. Bell insists they were "just having a great time", while Clarke reflects that the only pressure was from themselves rather than the record company. 
Parts of The Innocents were recorded at Blackwing Studios in southeast London, and others at the more upmarket Swanyard Studios in Islington, North London, with Stephen Hague at the helm in place of the previous album's Mark Ellis (aka Flood).
Pushed to describe the atmosphere in the studio, Clarke recollects: "I found it very stressful"; however, he declines to go into further detail.
He does confirm that the difference in the writing and recording of The Innocents compared to its two predecessors lay in the greater involvement of Bell; "We were real partners in the making of the record," he emphasises.
In terms of synths and gadgets they used, among many other things, a Roland D-50, a Pro-1, an EMU drum machine and a Roland Juno 60. Hague, too, was a key figure: Clarke found him "meticulous"; to Bell he was "great – a bit of an old hippy, really."
Erasure: The Innocents – Chains Of Love
Were they drawn to Hague because of his work with New Order and Pet Shop Boys? "No," replies Clarke. "I think Daniel came up with the idea." To what extent did Hague shape the sound and music on The Innocents? "Stephen was very meticulous with the vocals, the editing, the comping, tuning, and so on. He was also very fond of 'block chords'."
Also crucial in the development of the sound was the engineer, Bob Kraushaar, a veteran of sessions by ZTT artists Propaganda and Art Of Noise and, later, Paul McCartney, The Human League and Pet Shop Boys.
Additional flavour was provided by the backing singers – Caron Wheeler, Naomi Osborne and Jane Ayre – and famed brass section The Kickhorns, whose sound was de rigueur for pop groups at the time. 
Hague gave The Innocents a sheen that was slick and commercial but not too glossy or intrusive. He didn't impose his own sound – as, say, a Trevor Horn might have done – and allowed Erasure to dictate the end results. Bell considers it "quite live- and acoustic-sounding" and has deemed it their "most guitar-inspired album" this side of Loveboat [2000] and Union Street [2006].
Was there a deliberate decision to combine acoustic and electronic sounds on A Little Respect, the song which reached No.14 in the States and remains arguably the duo's most recognisable song? Clarke: "I've always loved the sound of acoustic guitar and I think it gave the track an extra bit of energy."
Decisions concerning the track order were mainly the province of Bell. As for the LP title, it was meant to have a quasi-religious quality: Bell explained that "the innocents" was an allusion to the biblical meek due to inherit the earth. Asked who he thought 'the innocents' were, Clarke replied, "Not us, surely."
The artwork was designed by Paul Khera and Slim Smith and featured a stained-glass window from Chartres Cathedral in France, but there was no concept in mind, nor any attempt to tie up the lyrics and the sleeve – although Bell has admitted, cryptically, "There's always a nod to the martyrs in our work."
Erasure: The Innocents – A Little Respect
With arguably Clarke's best-ever melodies and Bell's sweetest singing, The Innocents went to No.1 on its release in April 1988 (and again in January 1989) and soon went double-platinum, with sales over 600,000.Was Clarke surprised by the album's success? "Amazed, more like," is his reply. 
Their best-selling album to date, The Innocents has gone on to sell five million copies worldwide. Clarke, renowned for his lugubriousness, doesn't exactly recall dancing in the streets on hearing that it had reached pole position in the charts, but he does go so far as to admit to feeling "delighted" at the positive outcome.
As for Bell, he said later: "I think you just feel really proud and have to enjoy it while it lasts, because you can't be No.1 forever."
The Innocents tour began at the smaller NEC in Birmingham in April 1988 and wound up at the NEC Arena that December. It was Erasure's longest ever tour, with the biggest venues they had ever played in, including amphitheatres in the UK and US. It was, in Bell's estimation, "quite mind-blowing. We had a huge crew by the time the tour ended. It really was like a big family."
Live favourites from the tour included A Little Respect (although when pressed as to whether he knew he'd created something special when he finished writing the song, Clarke's reply is a curt negative). 
Particularly memorable, concert-wise, though for the wrong reasons, was Erasure's first big show in Orange County, California, during which Clarke ate something dodgy and as a consequence had to spend the entire gig "with a tightly-clenched bottom".
Possibly just as nerve-wracking was the moment they were given an award for Best British Group by Boy George in February 1989 at the legendarily embarrassing Brit Awards that were hosted by the unfortunate Sam Fox and Mick Fleetwood. 
Erasure: The Innocents
Oddly, only three singles were lifted from The Innocents, despite boasting several other chart contenders including Phantom Bride and Heart Of Stone; even extra track When I Needed You could have been upgraded to single status. Perhaps the duo were anxious to release their seasonal Crackers International EP and its lead track Stop!, which hit the stores only a month after A Little Respect was released.
Nevertheless, the feeling in some quarters is that The Innocents had more "legs", singles-wise, than it was allowed to show. Despite that, The Innocents is possibly Erasure's finest hour – and one of the greatest electronic pop albums of the 80s. 
Erasure: The Innocents – The Songs
A LITTLE RESPECT
The album opener – their 10th single, reaching No.4 in 1988 – alluded to Otis Redding's classic, but here it became a demand for respect from a man to his male lover. "Vince said we couldn't call it A Little Respect because the Aretha version was so well-known, but I said, 'Don't worry. I love it when things intertwine,'" said Bell later. 
SHIP OF FOOLS
This poignant ballad demonstrated that Erasure could offer more than just bouncy dance-pop. Co-produced by Dave Jacob, it peaked at No.6 in March 1988. The song was written on acoustic guitar in Clarke's dining room; "I don't think we'd had a ballad before, apart from the mid-tempo The Circus," Bell said later. "I still really love it. It felt like quite a departure."
PHANTOM BRIDE
Released in 2009 as part of a UK-only companion EP to the 21st anniversary edition of The Innocents. The song's ebullience contrasted sharply with the lyric's tale of 'a shy girl from a lonely street', with no resolution to her misery even as the chorus achieves hi-NRG-ish levels of delirium. 
CHAINS OF LOVE
Erasure's US breakthrough, climbing to No.12 on the Billboard Hot 100, with soulful backing vox and a effervescent arrangement. The drum sound came from a tiny Casio keyboard, making it their "first lo-fi loop". Bell calls it "a happy-go-lucky dance song" and was stunned to learn that it was a gay anthem on early US Pride marches. 
HALLOWED GROUND
A sudden, stark contrast – a dolorous affair that reflects on society's ills ('Everybody's intent on killing someone' – someone had obviously been to Basildon). Bell explained that the lyrics, and the music, were inspired by Elvis Presley's In The Ghetto. 
SIXTY-FIVE THOUSAND
This instrumental had an equally unusual inspiration: it was influenced by a 1940 swing standard called Pennsylvania 6-5000 by jazz/big band legend Glenn Miller and his Orchestra. Many fans of the album find this the weak link in the chain, deeming it worthy, at best, of inclusion as a single B-side, but in hindsight it has a certain fizzy charm and idiosyncratic appeal. 
HEART OF STONE
With brass from The Kickhorns, this track was apparently born out of Bell and Clarke's love of 60s Motown acts such as The Four Tops. 

YAHOO!
More horns/backing vocals on "our big gospel tune". The message about the dangers of the Devil and the glory of God is hard to resist. 
IMAGINATION
Inadvertently opening with the same piano chord as Supertramp's The Logical Song and with its allusion to another Motown classic, Imagination is an unignorable toe-tapper about, said Bell, the mind and the "tricks it can play on you". 
WITCH IN THE DITCH
The unusual waltz-time Witch In The Ditch was not influenced by Kate Bush but, Bell has said, a love of The Wizard Of Oz, though Clarke explains it was based on a folk waltz or a "Bavarian drinking song". Ever eclectic!
WEIGHT OF THE WORLD
Vince Clarke considers this one of Erasure's best songs and finest lyrics. There are more soul references and a sense of spiritual uplift through hard times – an Erasure leitmotif. 
WHEN I NEEDED YOU
This was, said Clarke, "An extra from the sessions and available to be used as a B-side." It is almost a tale of two songs: a slow verse and a midtempo, rhythmic chorus. 
RIVER DEEP, MOUNTAIN HIGH
A radical electronic revamp of the 1966 Ike & Tina Turner/Phil Spector classic. It was "a tune that we both loved", and Bell admitted, "I was an absolute Phil Spector fanatic". 
DON'T SUPPOSE
This extra track included on the 21st anniversary edition of The Innocents was, said Clarke, "our attempt at Nashville-style country. We recorded it in a tiny studio whilst on tour in the UK with a local banjo player [Lenny Westleigh]."
THE GOOD, THE BAD AND THE UGLY
Another extra track from the 2009 iteration, this was a synthed-up rendition of the theme of the 1966 Sergio Leone western complete with its haunting Ennio Morricone refrain.
LIKE ZSA ZSA GABOR LOVE IS COLDER THAN DEATH
The final two additions on the second CD of the 2009 reissue, these were written "completely off the cuff in the studio", Bell adding that he loves the humour in the former and that the latter "was an ode to a German film producer".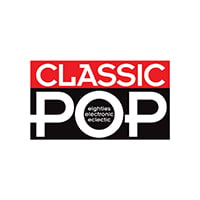 Classic Pop
Classic Pop magazine is the ultimate celebration of great pop and chart music across the decades with in-depth interviews with top artists, features, news and reviews. From pop to indie and new wave to electronic music – it's all here...