Gloria Estefan interview: "We stuck to our guns!"
By Classic Pop | August 11, 2022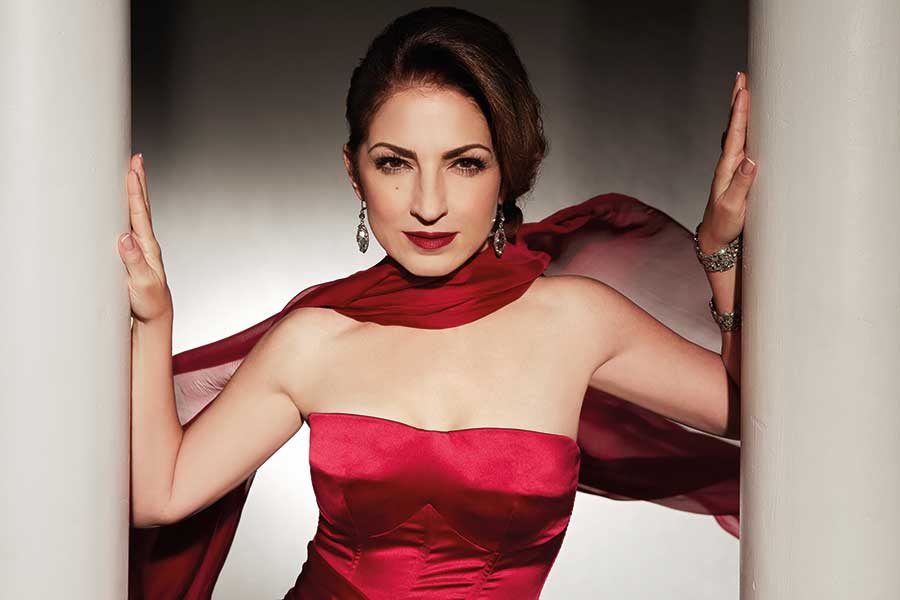 In 2019, the musical On Your Feet!, about the life and career of Gloria Estefan, arrived in the UK. That year, we talked to the singer about how she became a Latin crossover superstar on her own terms… By Simon Button
Classing herself as "a bit psychic", Gloria Estefan recalls telling husband Emilio back in the 70s: "I think we're gonna be famous and I think we're gonna be famous all over the world."
Four decades later, the Miami Sound Machine frontwoman-turned-solo-star adds: "I believed in the music and I didn't know how it was going to happen but I just knew something was gonna happen."
Something did happen. Something huge. With Miami Sound Machine and on her own, Estefan has sold more than 100 million albums worldwide, making her the most successful female Latin crossover artist of all time. She's also notched up 15 Grammy nominations and three wins.
Born in Cuba, she and Emilio started their professional career with an eye on the worldwide market and first hit the international big time in 1984 when Dr Beat – with its infectious mix of Latin rhythms and English lyrics – stormed the European charts. But, she recalls now, it wasn't plain sailing.
"We stayed true to who we were but it was a fight," the 61-year-old singer says when we meet in a London hotel. "What I tell every young artist is, 'They're gonna try and change you'. One time they even told Emilio, 'Lose the singer!' because it was the time of bands with male leads. Yes, Fleetwood Mac had two female singers but they also had a male singer and, yes, there was Madonna and Cyndi Lauper but that was a new thing in music."
Not only did record companies encourage Emilio to ditch Gloria, at least professionally speaking, they also wanted him to get rid of the horns and the percussion section.
"But we said, 'This is who we are' and we fought to stay true to that. I'm proud that we were able to manoeuvre our way into the business without compromising. We stuck to our guns and learned that we're our best cheerleaders."
Based in Miami, where she has lived since her family fled Castro's regime when she was just two years old, Gloria is on this side of the pond to promote On Your Feet!, the jukebox musical about her rise to superstardom that played to packed Broadway houses from 2015 to 2017 and has a seven-performance run in Leicester this June before conga-ing its way to London.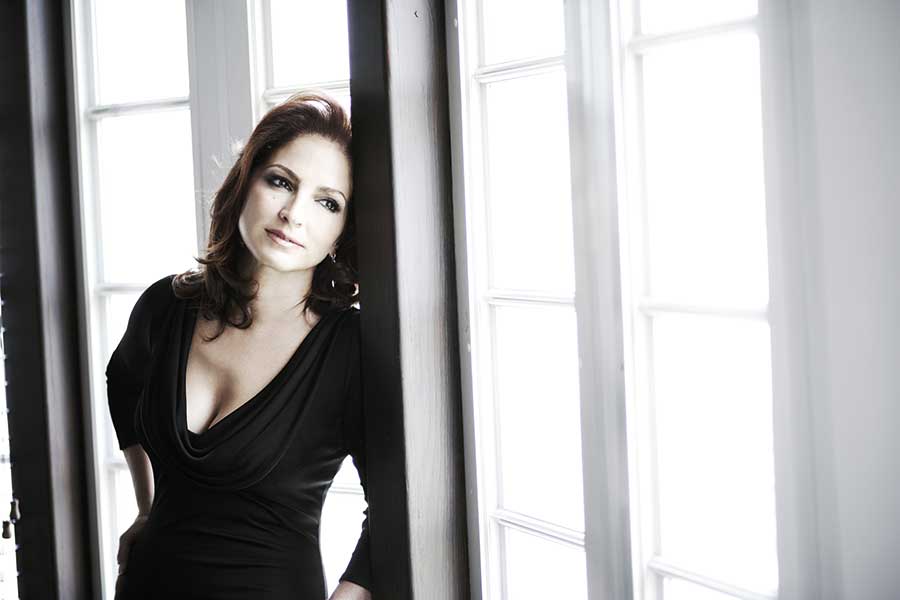 Dubbed as The Story Of Emilio And Gloria Estefan, it charts Gloria's childhood, her meeting the man who would change her life personally and professionally, their phenomenal crossover success and, of course, the bus crash that could have killed a less determined woman's career.
I saw it on Broadway and found it to be a lively, fun show that, while a bit by-the-numbers dramatically, earns its exclamation point thanks to through-the-roof energy levels and one great song after another (the title track, plus Rhythm Is Gonna Get You, 1-2-3, Oye Mi Canto etc).
Has any dramatic license been taken with the script? "No," Estefan insists. "It's all true, although maybe not always at the moment you see it happening on stage," she laughs. "The only thing that's not true is Emilio having a six-pack, as he does in the show."
A very funny lady, as proven by the song parodies she sang on The Graham Norton Show (example: Anything For You refashioned as an ode to gluttony called Anything For Food), she deadpans: "The six-pack's in there somewhere, but washboard abs he does not have."
Havana nights
Gloria Fajardo was 17 when, in 1975, she met 22-year-old singer and musician Emilio Estefan Gomez. She'd been singing from a very young age, usually drawing on the catalogue of the Spanish actor-singer child star Joselito.
"I was just four or five years old and I'd memorise his records and sing them," she recalls. "I was actually quite shy but music was my love and it would transport me. The old Cuban standards were always playing in our house and I sang as soon as I could talk."
Music figured large in the Fajardo family. Gloria's mum Amelia performed in school shows and even won a contest to do the Spanish dubbing for Shirley Temple's films, although Amelia's father insisted that she follow an academic route instead. Gloria's own father had two brothers who sang and played guitar.
"So I guess music was in the gene pool, then I started listening to the British Invasion. I remember pulling into a laundromat parking lot with my mother and hearing Ferry Cross The Mersey. My hair stood on end and I didn't want to get out of the car, I was so enraptured."
She later realised how that moment sowed the seeds, somewhere in her subconscious, for her trademark melding of musical genres. "That song really is like a Bolero in its rhythm. British bands were listening to a lot of Latin music and The Beatles had recorded Besame Mucho."
(Interesting sidenote: Estefan owns the very microphone Paul McCartney sang into when the Fab Four recorded the song for their EMI audition in 1962.)
"All that mixing of sounds had a huge impact on me," she adds, "and when I joined a band at age 17 I had all this musical vocabulary to draw from."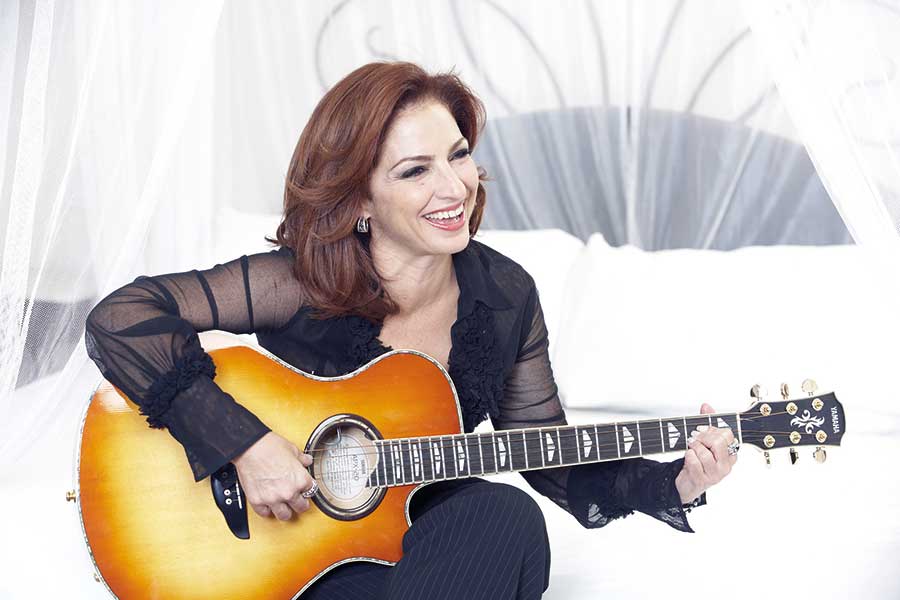 Said band was Emilio's. Gloria had been singing in church and at weddings and Emilio, who was fronting the Miami Latin Boys and who'd heard about her talent, tracked her down when she was performing with her cousin Merci. Suitably impressed, he asked them both to join the band, name-changing it to Miami Sound Machine in the process.
A couple of years later they began cutting records for a Miami label, then snagged a deal with CBS International. The plan was always to be bilingual (those early albums were sung in half-English and half-Spanish) but CBS International felt they were better suited to the Latin market and ordered a series of Spanish-only long-players.
None of them charted but Gloria and Emilio had wisely insisted on an option in their contract allowing them to record songs for an album in English. They exercised that right on their fifth CBS long-player A Toda Maquina, sneaking in I Need A Man and Dr Beat and securing healthy sales in Latin America.
Shake your body, baby
Re-recorded for Miami Sound Machine's first English-language album on Epic, 1984's Eyes Of Innocence, Dr Beat didn't make the US singles charts but was a smash around Europe and peaked at No.6 in the UK, propelling the album to a respectable No.20.
Follow-up Primitive Love was poised to do even better, with the Estefans having what they believed to be a sure-fire hit in the form of the very catchy Conga. They'd written it when they were travelling from Holland to England as part of the Dr Beat promotional tour and when they got home they began performing it in their live shows even before they'd recorded it.
"And people were reacting to it as if it was already a hit so we knew we were onto something," says Gloria.
The bosses at Epic weren't so keen. They felt the Primitive Love title track was a better choice of single so Gloria and Emilio circulated Conga to DJs and radio stations themselves, patiently waiting for it to catch on and eventually it did, cracking the US Top 10 and nabbing the top spot in Canada.
But in the UK Black Lace had stolen their thunder with Do The Conga and the single stalled at a miserable No.79. Follow-up Bad Boy reached a much-higher No.16 but then Falling In Love, a moderate Stateside hit with its catchy 'Uh-oh' refrain, cratered at No.89.
Gloria was worried Conga had gotten them pigeonholed as a novelty band, but they had an ace up their sleeve – an album called Let It Loose in the US and Anything For You around the world, mixing upbeat tracks like Rhythm Is Gonna Get You with ballads like Can't Stay Away From You and Anything For You.
They'd only used real drums before but experimented in the studio with percussion sounds. Gloria remembers dropping a huge book onto the studio floor, recording the sound and looping it. It was a fusion of all their influences, with the singer saying: "When you listen to Rhythm Is Gonna Get You, for example, it's a unique sound with a Latin sensibility mixed in with Afro-Cuban rhythms translated into the sound of what was happening at the moment."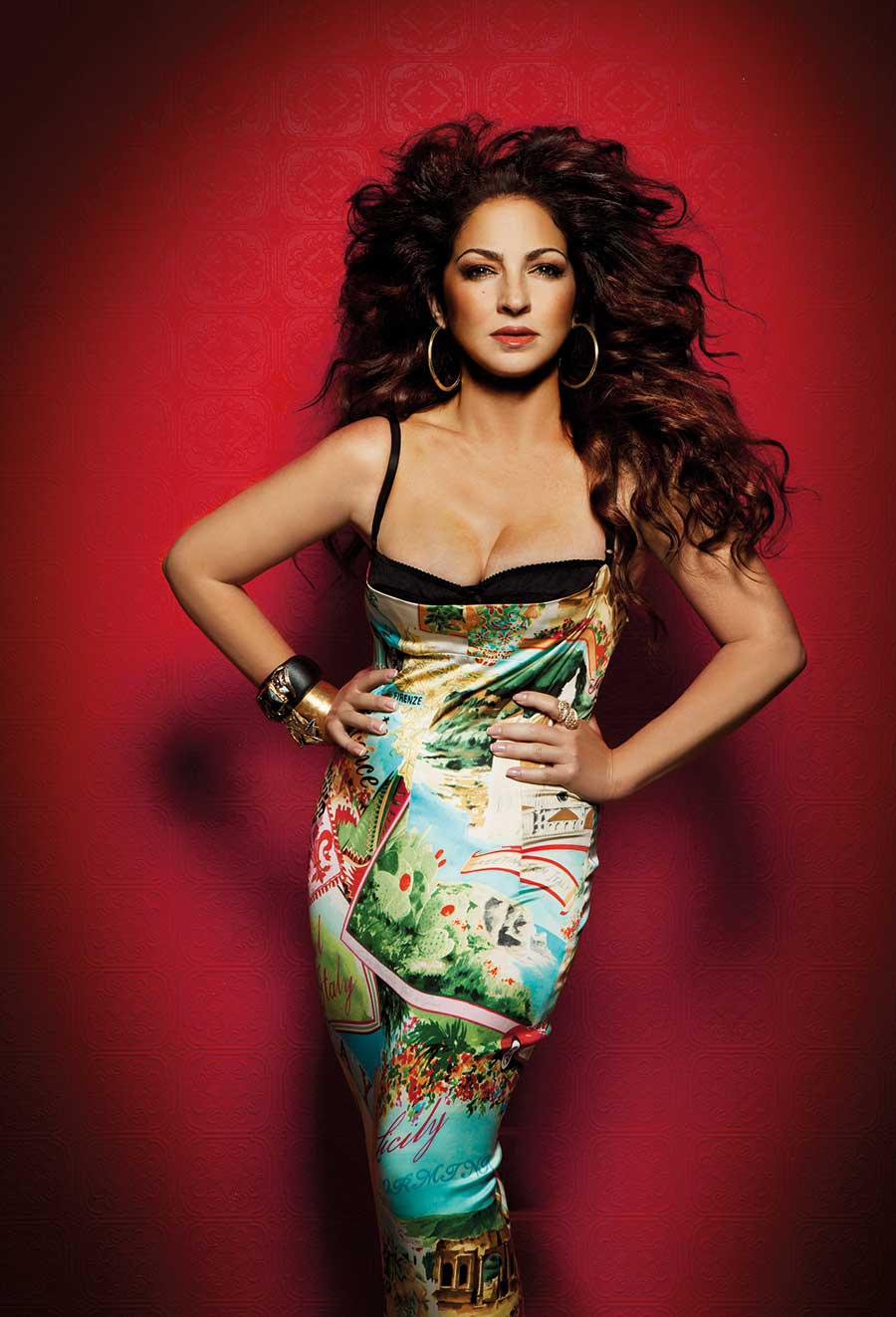 It worked a treat, hitting No.1 here and No.6 in the States and going on to sell eight million copies. Gloria Estefan was now a star, with Emilio having opted to rebrand the band as Gloria Estefan And Miami Sound Machine, then simply Gloria Estefan.
All of which makes it sound like he doesn't have much of an ego. "Exactly," Gloria smiles. "That's why we've been able to have a successful marriage and a successful career."
With Emilio having produced records for the likes of Ricky Martin and Jennifer Lopez, his wife adds: "He does what's best for the artist and that's why people love working with him. With a lot of producers you have to get past their ego but he finds what's special about them, he finds amazing music and then he makes it happen for others. He doesn't need the accolades."
Seemingly just as humble herself, the singer says: "I didn't want him to add my name to the band because we were successful and I was happy with my bandmates, but he was like, 'People are identifying with you, they think you're beautiful and sexy, they need to know your name.'" The original band had begun to dissipate anyway. "So Emilio said, 'We need to focus on you.'"
Married with children
The sex symbol thing didn't sit easily with Gloria at first. "That was tough for me," admits the woman who was a mother to son Nayib and would later add daughter Emily to the fold. "I never hid the fact I was married and had a kid, and growing up I never felt sexy at all.
"But I learned to embrace what people felt was sexy and that seemed to stem from allowing people to see who I was and how music made me feel. I think that's a sexy thing, when someone is confident and you can tell they believe in what they're doing."
Released in 1989 as the first album under the Gloria Estefan moniker (although Emilio and the Miami Sound Machine musicians were name-checked in the liner notes), Cuts Both Ways went to No.1 in the UK and No.6 in the US.
A more accomplished mix of Latin-influenced pop (Oye Mi Canto, Get On Your Feet) and ballads (Here We Are, Don't Wanna Lose You), it wasn't fashioned as a blockbuster follow-up.
"It was more organic than that," Estefan says of an album that went on to sell more than four million copies. "But we were aware there's a certain momentum that you need to take advantage of. If you let yourself rest on your laurels for too long people forget, but we were out on the road, we were excited, we were writing new music and wanted to grow and evolve.
"The tricky thing is that the business wants you to continue with more of the same. Our biggest challenge when we put out Conga and it was so massive was that we wanted to release Bad Boy second and the record company went, 'But it sounds completely different.' We went, 'Exactly' and talked them into it.
"Then we wanted to release Words Get In The Way and they went, 'But it's a ballad!' But we thought, 'If we don't take this risk now we're gonna be locked into this dance thing.' After that song became huge it freed us up but, yes, every time you create something you can't let it paralyse you. You have to move forward and that's what we did with Cuts Both Ways."
Out of the darkness
Estefan was on top of the world, then in 1990 whilst on the US leg of the Cuts Both Ways tour, she was critically injured when another vehicle smashed into the tour bus during a snowstorm. "We were at the peak of our career with a sold-out world tour and the album was selling massive amounts. I lay down on the bus to take a nap, forcing myself to sleep, then we got rear-ended."
Gloria was thrown from her seat, fracturing her spine in the process. Does she remember it happening?

"Oh hell, yes. I don't remember the moment of impact but I remember being on the floor of the bus trying to get up and I couldn't. I kept hoping I'd faint."
She had to have two titanium rods permanently implanted into her back to keep her vertical column stable and underwent nearly a year of physical therapy. But, having grown up taking care of her wheelchair-bound father, she battled through it.
"I didn't care about getting back on stage. I just wanted to be independent and walk again. I said, 'If I end up in a wheelchair I'll figure out a way to deal with it, but I am gonna fight my hardest for that not to happen.'"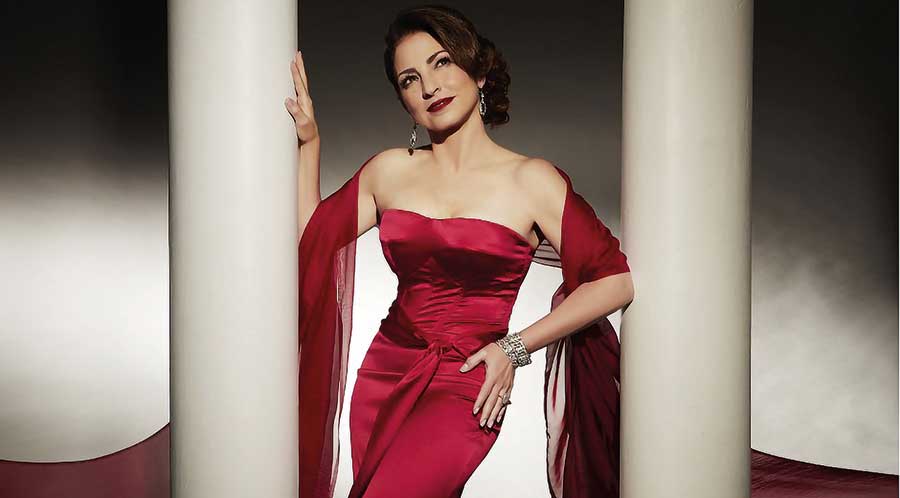 Fans flooded her with letters. "And they kept throwing the song Get On Your Feet back in my face," she smiles. Determined not to let them down, she soldiered on and took the US top spot with comeback single Coming Out Of The Dark.
Accompanying album Into The Light made No.5 over there and No.2 in the UK, and a fully-recovered Gloria went back on tour to promote it, recalling now: "Oh my god, being back on stage was euphoric. It was how I imagine climbing Mount Everest would feel."
Her subsequent CV has been a varied one. She's covered such artists as Neil Sedaka and Carole King on Hold Me, Thrill Me, Kiss Me and showcased a more sophisticated sound on Destiny (notable for official 1996 Summer Olympics anthem Reach).
She also made a triumphant return to her Spanish-language roots with 1993's Mi Tierra, which shifted an astonishing eight million copies worldwide.
"I knew the fans were ready to listen to where one side of our music came from," she says of the bold artistic choice. "We did new songs as if there we were writing in Cuba BC – Before Castro – when artists were free to express themselves."
Never one to be pigeonholed, Estefan went disco for gloria!. "It was almost like me saying, 'You saw me go one way with Mi Tierra, now I'm going all the way to the other side with a disco album, like a giant party.' Musically I'm those two things and everything in-between."
Her last album, 2013's The Standards, saw her tackling such classics as Good Morning Heartache and What A Wonderful World. Next up? An as-yet-untitled reimagining of the hits with Brazilian rhythms. "It's been so great being back in the studio and I'm super-excited about it," Gloria says, promising there'll be four new tracks on the album, too.
"It's got the first-ever Spanish version of Here We Are, 30 years after the original."
She smiles. "And here we still are."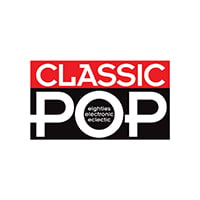 Classic Pop
Classic Pop magazine is the ultimate celebration of great pop and chart music across the decades with in-depth interviews with top artists, features, news and reviews. From pop to indie and new wave to electronic music – it's all here...