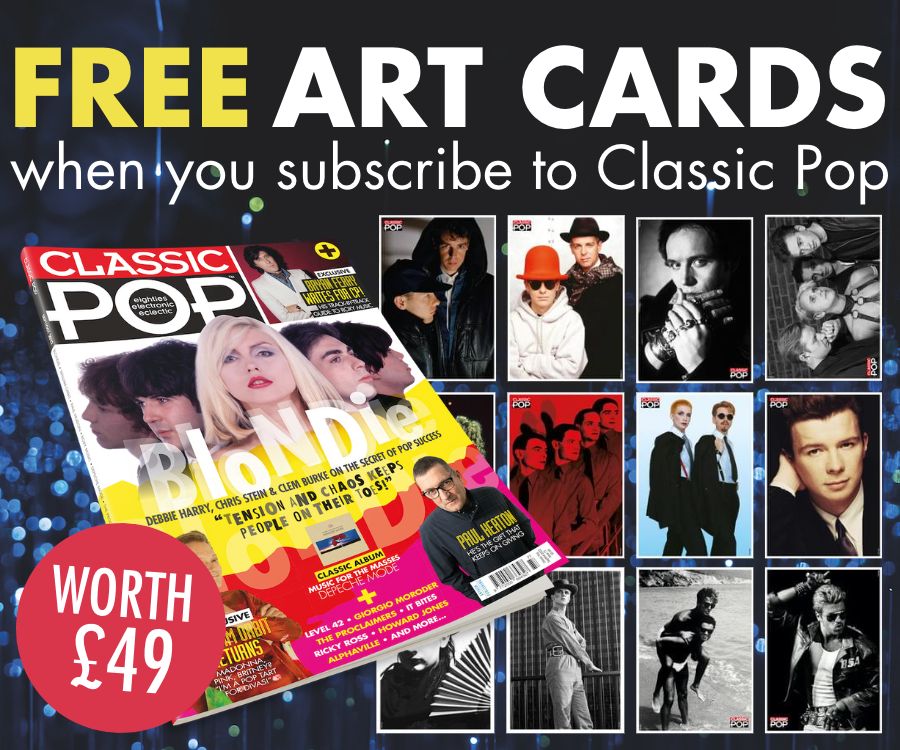 Subscribe to Classic Pop today and we'll send you 7 FREE sets of exclusive Classic Pop art cards, worth £49. Enjoy iconic images featuring Depeche Mode, Pet Shop Boys, George Michael, Adam Ant, The New Romantics, and more!
On top of that, you'll also save 30% off your subscription, get access to our digital archive, and receive exclusive shop-wide discounts. Trust us, you don't want to miss out on this deal.
Subscribe today to get your free welcome gift.
Why subscribe?
FREE bundle of 28 art cards, worth £49
Save 30% off your annual Classic Pop subscription, paying just £24.99
Get every issue delivered to your door and your device
Gain access to every issue of Classic Pop ever published via our digital archive
Receive exclusive discounts on all Classic Pop and Classic Pop Presents magazines
SUBSCRIBE TO CLAIM YOUR FREE GIFT ➔
If you're an overseas reader, you can also get huge discounts on our digital-only subscription – no delays, no damaged copies, just pure pop excellence.
Terms & Conditions: The saving is calculated from the UK cover price. The free gift is only available to UK annual continuous card payment orders and the minimum subscription term is 12 months. We also have savings for our overseas readers. There are 6 issues of Classic Pop published in a year. The free gift will be sent to the person paying for the subscription. Gifts are subject to availability and we reserve the right to substitute the gift with an alternative of similar value if stocks become exhausted. Offer code: X22CLPWEB. Offer ends: 31st December 2022.
Rosie Pankhurst