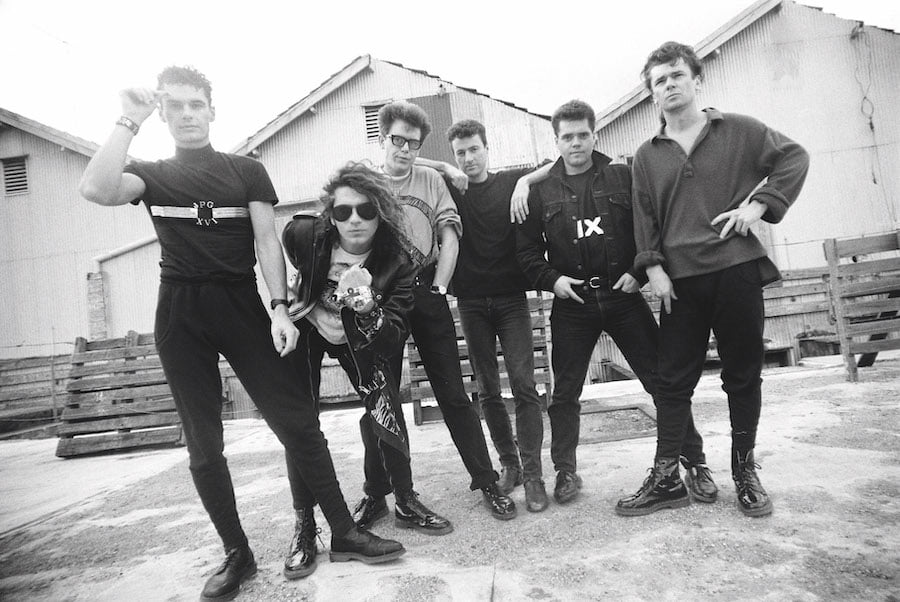 INXS marked 30 years of Kick in 2017 with a remastered version of their sixth album. That year, we met founder members Andrew and Jon Farriss to talk about the project… By Rudy Bolly
"Sometimes you kick, sometimes you get kicked," sings Michael Hutchence somewhat prophetically on the title track of INXS's career-defining sixth studio album.
Incredibly 30 years young, Kick transformed a bunch of aspirational pub rockers into Australia's first superstar pop band and, in Hutchence's case, set him on a path of celebrity that would ultimately end in tragedy.
Kick returned this winter lovingly remastered as a three-disc set featuring demos, remixes, rarities and much more. For brothers Andrew and Jon Farriss it's a little surreal to still be talking about a record they made four decades ago. "Weird is one word mate," Andrew chimes in broadest Aussie.
"Funnily enough, it all seemed a bit strange to me at first but when I saw the reaction to the 30th anniversary across the world I felt excited about it. The response has been positive. It's not so much a trip down memory lane for me, it's a real milestone." 
That musical milestone has been lovingly cut at half-speed over two 180g LPs for audiophiles to spin at 45RPM. But the real new sensation, excuse the pun, is a new super surround sound version of the album mixed in Dolby Atmos by producer Giles Martin and engineer Sam Okell.
"Giles described it as listening at the centre of a horseshoe, and when you sit in a theatre-type environment you get an image of the music that's quite incredible," says chief songwriter Andrew excitedly. "I heard things that I hadn't heard before and I was there when we recorded it!

"So for me Giles did a lot. And also the work that was done by the mastering team at Abbey Road with respect to the vinyl. I couldn't believe listening to the test pressing. I put it on and was astonished."
Musical milestone
This isn't just another anniversary gimmick aimed at rinsing fans; played on the right audio technology the new Atmos mix allows listeners to feel as if they are positioned slap bang in the middle of INXS.
Even so, drummer Jon was trepidatious: "I was a bit nervous because the album has always been mastered, built and created by the genius Chris Thomas (Kick's producer).
"But we're going into a different type of audio experience with Atmos, it's something you've never heard before and I was really blown away. You are immersed inside this dimension of music, it's really amazing."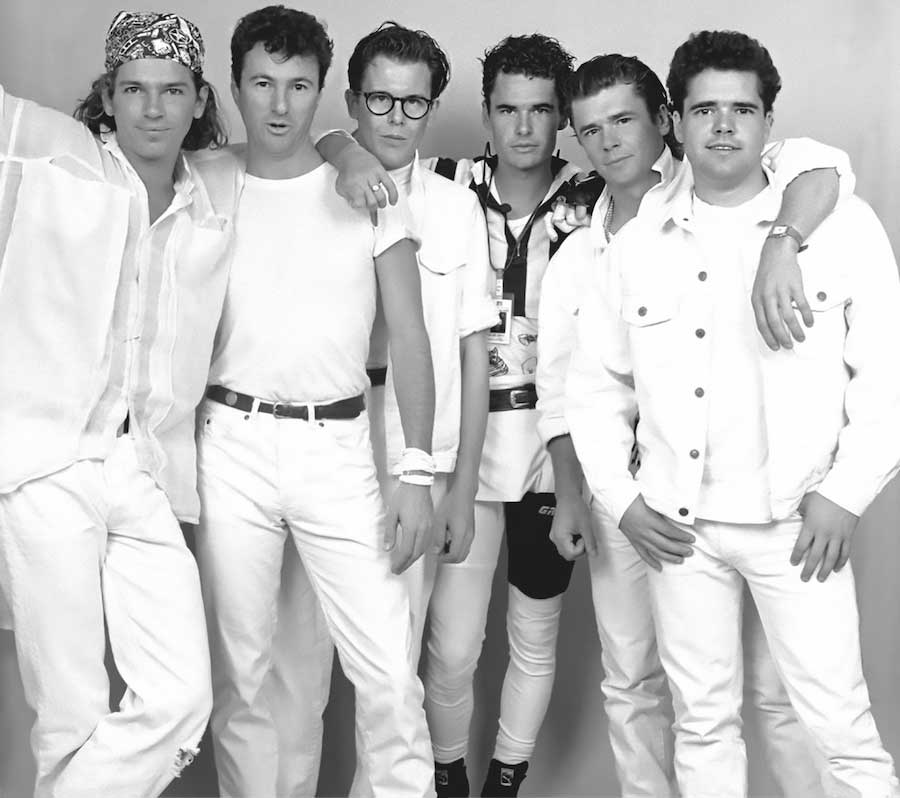 It's quite a feat because Kick always sounded good, possessing a sonic clarity that was way ahead of its time. It arrived in 1987, the year when digital technology began encroaching on the old analogue guard. 
Jon explains: "Everything led up to that release through the collective years of our lives, collecting inspiration and resources from everything we had heard as a band.
"When we dialled in that funk element to Kick we were really purring along with a great balance of funk and rock. Calling All Nations – I love that song – it's got a little hip-hop thing in there, too.
"An edgy rap element gliding through the verses. Michael and I loved rap, I was really getting into Run-DMC and Public Enemy around that Kick period. It definitely bled through to some of the recordings." 
It wasn't just contemporary sounds that the band were referencing. Jon continues: "Motown has always been a huge inspiration to me. For example, Michael and Andrew wrote New Sensation but if I hadn't turned that chorus into a Motown chug-along it would be a very different chorus, it would have plodded."
The end result was too far out-there for their record label who hated Kick so much they offered INXS manager Chris Murphy $1 million to scrap it. Such scepticism seems short-sighted, especially listening to the visceral hooks of opening track, Guns In The Sky today. 
"It's difficult to explain 30 years on,"sighs Andrew, perhaps still a little bitter. "But back then, particularly in the US, you had a lot of hair metal bands that wore Spandex and leapt around a lot. And they all had the same sort of sound with the lead guitar screaming away.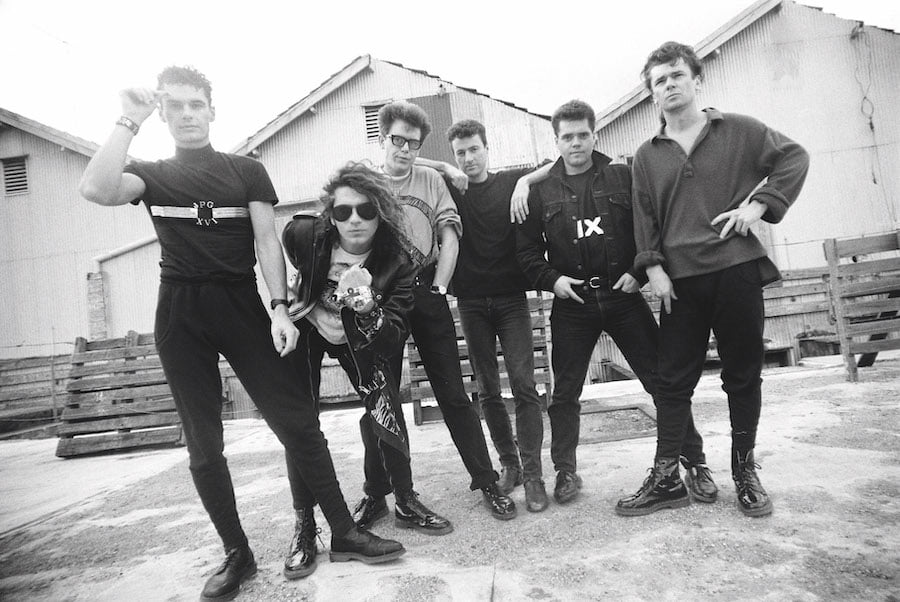 "They all conformed to this idea of what rock was really supposed to be or not supposed to be. The label and US radio in particular adhered to this, the formats or genres were very segregated and so the labels were nervous about any of their artists deviating from the main radio programming or making things awkward.
"From a corporate point of view, I have some empathy when they listen to Kick at first." 
Six albums into their career the band weren't paying too much attention to anybody at the record label. "Finishing the album, we knew we loved it," admits Jon." It was sweet revenge that we were right and the record company was wrong." 
Unique new sound
INXS began recording Kick in January 1987 at Rhinoceros Studios in Sydney, their second LP with Chris Thomas. Significantly, they had already scored a Top 5 US hit the year before with the more groove-driven What You Need from their Listen Like Thieves album.
Andrew recalls: "There was a lot going on in the corporate sense that made it a confusing period for us, in some ways it was a slow burn. It didn't start off as a really big album, but we knew the gunpowder was primed after having that Top 5 US hit.
"We began to get a much clearer vision that it wasn't up to record companies, or magazines or anyone else to tell us what type of music we could or couldn't put on a album. 
"It wasn't anybody's business other than ours. So we said let's stop worrying what the hippest band in 1987 is doing, let's start worrying about what is coming in the future and use what kind of technology exists to create a future sound."
Record stores may have filed INXS under rock, but the band had always pushed boundaries. Two years earlier they sought out Nile Rodgers and Daryl Hall to record Original Sin and their eclecticism was forging a unique new sound.
"Michael and I were experimenting with loops, samples and we would try to figure out what it was that made it funky or hip. And then replay it live." 
Even Jon was encouraged to drop the drumsticks: "Early on we would have electronically-driven percussion but it was difficult to get equipment that you smacked with a piece of wood to last very long. Eventually, they figured out how to create triggers. In those days I was pioneering that stuff, trying to capture or integrate original recordings into samples.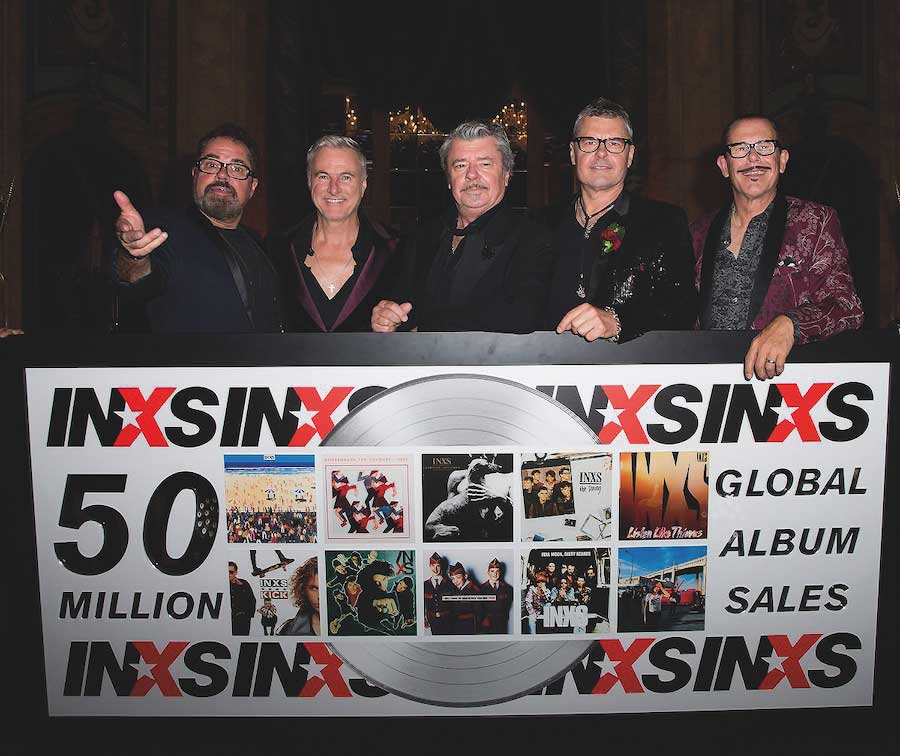 "And that was right when drum machines started to expand and you could get into the parameters of the thing, assign Midi note numbers, oscillate sounds. By custom designing rhythms I could then play my nuanced stuff live on top and massage the feel around the robotic elements of programming.
"Tracks like Mediate and the way it comes out of Need You Tonight – that track was a great example – all rhythm."
Need You Tonight arrived late into the sessions. After a few months recording in Sydney, INXS were called back on to the road for a series of shows.
It was an opportunity for Andrew and Michael to write more music, but the inspiration for Need You Tonight's famous hook arrived in the back of a Hong Kong cab. Andrew kept the meter running for 45 minutes while he rushed back to his hotel room to record it.
"I became a maniac," he admits, reflecting on those times. "I pulled the phone out of the wall and basically lived in one set of clothing for two weeks at a time and did nothing but write music all day and all night. I was absolutely obsessed."
Rocking the mainstream
It was Andrew's songwriting partnership with Hutchence that would elevate the band into the big league. The pair met at high school – Andrew rescuing Michael from a fight goes the INXS mythology – and their closeness helped develop an intuitive way of writing music.
"I think we trusted each other and we didn't argue, he would never say: 'that sucked'," explains Andrew.
"Michael and I really agonised over our writing. Not because we were hung up about a chart position but because we wanted to put good stuff out there and worked hard on it. I remember with Never Tear Us Apart saying: 'I have this idea for a song' and played the chords to Michael, he just said: 'what's that?' I replied: 'I dunno'.
"And that's how it started, not a lot changed from what we did there to what you hear on the radio. That record meant a lot to Michael and me."
Andrew and Michael's songwriting connection largely came at the expense of the rest of the band who, up until that point, had contributed their own compositions. 
"There are six people in INXS and one of the greatest things we did as a band was to recognise how to keep emotions stable and not let them interfere with progress," says Jon who would later write INXS classic Disappear.
"As a songwriter, I could say I was disappointed that we all didn't contribute more to albums, but there was a synergy between Michael and Andrew and we were cool with that. I'm writing my drum parts and integrating my role, and I was happy to fulfil that."
INXS wanted to make a pop album, one that was full of potential singles and Kick delivered precisely that. Aside from the five hits, album cuts like Wild Life, Calling All Nations and Tiny Daggers could easily have become singles.
Jon agrees: "We loved all those tracks. It's great to hear the album as a performance because that's what albums used to be, they were created like a finely crafted automobile. It was put together with every thought, even the spaces between, all of it was a trip."
Need You Tonight made No.1 in the US, and was followed by huge Top 10 hits Devil Inside and New Sensation which rotated constantly on MTV. Andrew said: "Our manager Chris called to congratulate me when Need You Tonight went to No.1.
"'You must be very excited', I said: 'yeah it's great', then I put down the phone and I remember feeling really strange about it all; like, 'oh fuck I'm going to have to do this again and again, that's what is expected now'. That was really daunting because I don't think INXS ever saw ourselves as chart sluts."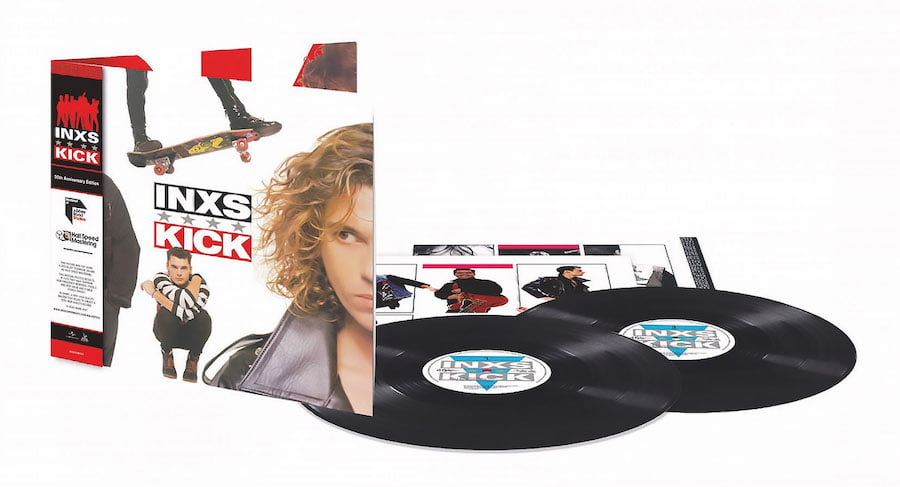 The charts were less welcoming in the UK where those early singles struggled to crack the Top 30. "We used to get critiqued in the UK. We used to read the indie mags and they would say: 'they're crap and they're Australian," says Andrew.
"I think we met some resistance because it's like entering the colosseum and they're the emperor – they had their thumb somewhere between up and down. I think we made a conscious decision to focus on Australasia and North America where we were getting successful." 
Band of brothers
After originally stalling at No.58, Need You Tonight was reissued a year later in 1988 via a remix by Julian Mendelsohn and finally hit No.2. With the UK belatedly on board, Kick became a huge hit. INXS quickly established themselves as a stadium draw and in Hutchence had an alluring, charismatic frontman to rival the greats, even Mick Jagger. 
Andrew reveals: "I can't speak on behalf of Michael, but I've always liked The Rolling Stones as a band. We bumped into them here and there over the years and always got on great with them.
"Michael definitely had his own charisma but I know for a fact that Mick used to call him. Before Kick we came up with an idea for the What You Need video shot with a rotoscope.
"We took the film to our local chemists and they developed the video for nothing, then we sequenced that whole thing together. Mick called Michael to ask: 'how the fuck did you do that?' because that technology didn't exist. So Mick was looking at Michael.
"Bono used to call us up, too, and say: 'what are you guys doing in the studio next?' We were all borrowing from each other."
INXS hits may have been all over the radio, but it was images of Michael Hutchence which adorned the walls of teenage girls.
"Michael wasn't that particularly comfortable with girls screaming outside buses," Jon said. "We tried to get past that because we didn't want to be a teeny rock band. So we tried consciously to look ugly."
But that wasn't quite so easy for Michael. "I think he was always a girl magnet," recalls Andrew. "I think maybe guys felt threatened."
Away from INXS, with the exception of guitarist Tim Farriss who is still recovering after severing a finger in a boating accident, the brothers are still making music. Jon has performed with Ringo Starr and released a single with former cricket legend Viv Richards titled Smokin' Joe. Andrew has turned to country.
"I'm passionate about my writing. I've been in Nashville for the last five years working with people completely out of my comfort zone. They really go for the song, they aren't concerned with the pop aspect or commercialisation. I enjoy that."
A true band of brothers, INXS remain bigger than any one member. Jon agrees: "Michael wanted the music to be special and remembered. I can turn the radio on and hear INXS all the time." Andrew adds, "Great things can be achieved as long as you do it together." 
Want more from Classic Pop magazine? Get a free digital issue when you 

sign up to our newsletter

!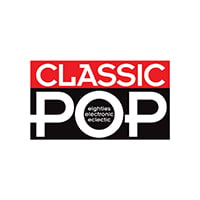 Classic Pop
Classic Pop magazine is the ultimate celebration of great pop and chart music across the decades with in-depth interviews with top artists, features, news and reviews. From pop to indie and new wave to electronic music – it's all here...