Classic Album: Eurythmics – Sweet Dreams (Are Made Of This)
By Mark Lindores | September 11, 2019
Stifled and frustrated by their time in The Tourists, Dave Stewart and Annie Lennox packed their bags to form Eurythmics and with a new sound and a new image, their second album, Sweet Dreams, brought them success beyond their wildest dreams…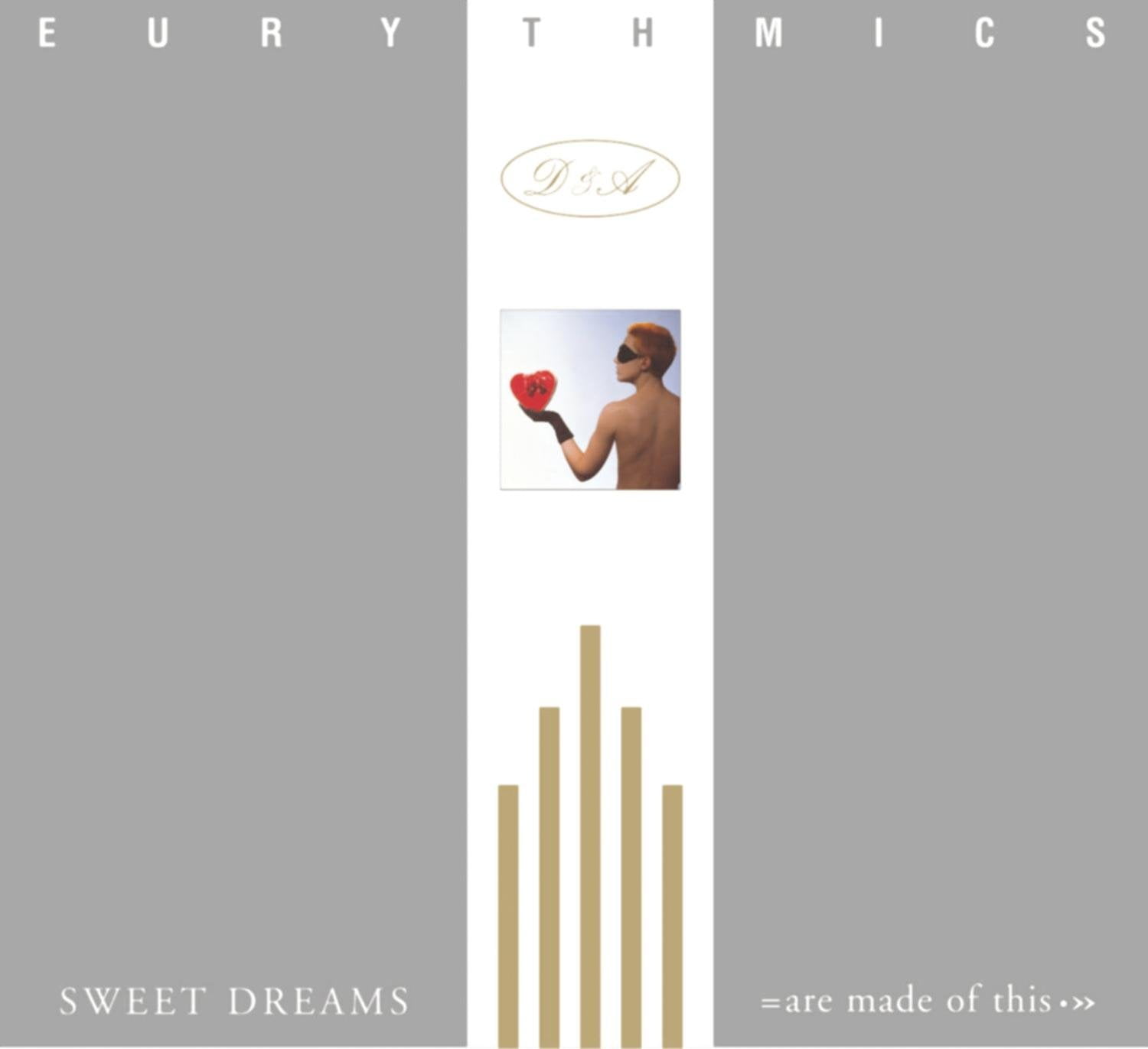 She was working as a waitress, not in a cocktail bar, but in a London restaurant, when Dave Stewart first met Annie Lennox.
Following their initial meeting, the pair became inseparable: as both lovers and members of pop outfit The Tourists. Their time in the band, formerly known as The Catch, proved to be a frustrating experience with no creative input into the group's direction. When the collective imploded, Lennox and Stewart decided to continue on their own as Eurythmics and  signed to RCA Records.
While Annie and Dave decided to end their personal relationship, the duo would go on to release their debut album, 1981's In The Garden.
The record revealed a band struggling to formulate its own musical identity and failed to establish a fanbase. It was not a commercial success and, after crisis talks with their label, Dave managed to secure a personal bank loan (he was so convinced Eurythmics were on the cusp of success) to finance a second album.
In 1982, starting from scratch and unable to afford time in a studio, Dave and Annie rented a room above a picture framing shop in London's Chalk Farm, where they ensconced themselves with a range of new synthesisers and samplers to devise a new sound.
"On In The Garden we'd been to Germany to record with Conny Plank, and we'd come across something which was underground, electronic, odd and that'd left a really big impression on us," Dave says. "So, when we came back to England, we had this sound that very much had its roots in Germany and we added that to our English pop sensibility.
"That was how we came up with the Sweet Dreams ethos –  cold, European, hard, tough-sounding synthesisers with a soulful voice. I had decided to put the guitar down and try something I didn't know how to play. Keyboards were completely alien to me and I thought something new would come out through that."
'We were clear early on from starting Eurythmics that we wanted to turn the knobs ourselves and experiment and see what happened'
Without the time constraints of having booked studio time and with the latest equipment at their disposal, the duo experienced a major boost in creativity.
"We wanted control over what we were doing, rather than a team of people coming in and telling us what they thought we should be doing," Annie told the BBC in 2009.
"We were really inspired by the notion of being able to do everything ourselves because technology had come down in price and size and we could literally record in one room. That was as significant then as what the internet is today, because up until that point, things weren't affordable and we'd have to go into a recording studio and be constantly looking at the clock and aware of huge amounts of money literally ticking away. Whereas with a little synthesiser, a drum machine and other little bits of equipment, we were free to experiment for as long as we liked and try new things."
"One of the main things we learned from our time in The Tourists was that we wanted to record ourselves," Dave says. "It's easy to be quite shy and afraid to say what you think to producers and sound engineers about how you think things should sound.
"So, we were clear early on from starting Eurythmics that we wanted to turn the knobs ourselves and experiment and see what happened. I was messing about with synthesisers, a sequencer and a four-track cassette recorder, and I experimented, making these icy cold, soulful synthesised backing tracks, and that's how things like The Walk came about."
Unlike previous experiences in the studio, both in The Tourists and on In The Garden, the sessions for what would become the Sweet Dreams (Are Made Of This) album were laidback, stress-free and fruitful, helping the duo establish the musical rapport they would revert to for the remainder of their time as Eurythmics.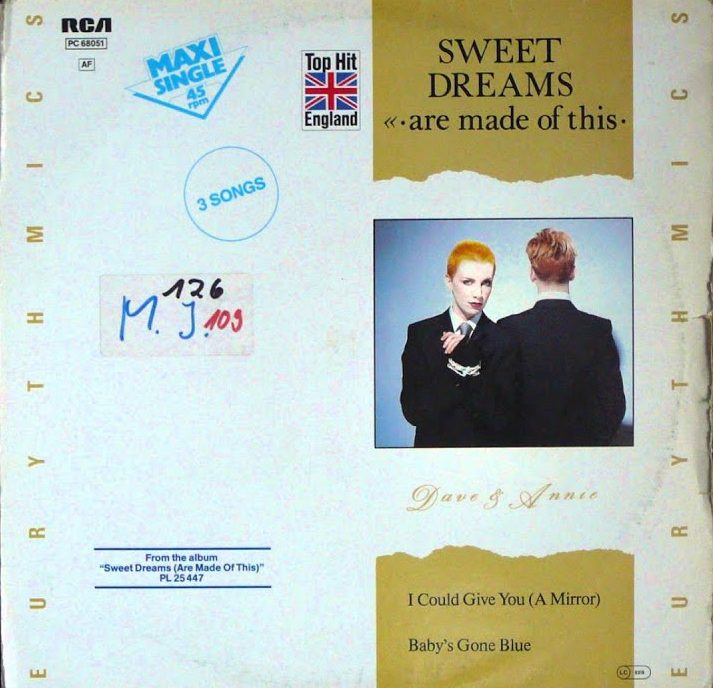 After Sweet Dreams (Are Made Of This) shaped the direction of the rest of the songs on the album, Dave and Annie were on a creative roll, using the sparse electronics as a foundation on which they added stabs of brass, multi-tracked vocals and synthesised soundscapes.
As the duo continued working on the record throughout 1982, This Is The House and The Walk were released as singles, though both failed to reach the Top 40, unsurprising as they received little promotion outside of their gigs.
A glimmer of hope arrived with the release of their fifth single, Love Is A Stranger in November 1982, which crept into the charts at No.54. Although its chart position was a disappointment, the song had benefitted from being released with a striking video, alerting Dave and Annie to the power of an exciting new medium.
"I was just like a kid with a paintbox," Annie recalls. "At first, I didn't get the concept of videos and didn't really understand what they were all about but once I grasped it – it was so exciting. All of a sudden, we had the control and the means to make these mini movies and because we shot them on a shoestring budget we had to be imaginative and innovative. It was fantastic."
Adopting a similar DIY ethos to their videos as they had with their music, the duo indulged their love of abstract art and art-house cinema. They incorporated these influences into their videos and ensured that they would stand out when viewed alongside the more straightforward, performance-based, clips at the time.
"We approached making videos in a surrealistic, filmmaker's way and that was what broke America for us," Dave explains. "MTV had just started and all these videos would be on, then Sweet Dreams would come on with me and Annie with a cow… There'd be some farmer in Texas watching, thinking: 'What the hell is going on here?' and we really benefitted from that because it was really unusual for the time.
"A lot of people had assumed Annie was black, particularly in America, until we arrived there and they were shocked and stunned to discover she was a skinny, white girl. And that's what came to define us."
Released as a single, Sweet Dreams (Are Made Of This) was make-or-break for Eurythmics. After three underperforming releases, the label didn't want to release a fourth, let alone a song with an unconventional structure and lacking a chorus. Feeling that the song would be a hit, based on how organically it had been written and recorded, Dave and Annie persuaded RCA to put it out just after the album in January 1983.
Boosted by strong radio support and heavy airplay of the video, which featured a sharp-suited Lennox with close-cropped orange hair, on music TV channels, the song gave the duo its breakthrough hit. The single reached No.2 in the UK and helped propel the album to No.3. Lennox's empowered look helped her become the poster girl for the new wave of pansexual pop stars bringing androgyny to the mainstream.
Alongside the likes of Boy George and Grace Jones she was celebrated in style bibles such as The Face, i-D and Blitz. She was particularly thrilled to be featured on the cover of Newsweek in the US alongside the Culture Club frontman, as it gave her the opportunity to explain that her striking image extended beyond a mere fashion statement and the meaning behind it.
'I was prepared to go all the way with it, pushing it, because I felt that I had nothing to lose'
"I felt that by wearing a man's suit, standing beside Dave and cutting my hair in an aggressive way, that I was making a statement about being equal to a man," she says. "I didn't want to be perceived as a sex object, there was more to me than that. I wanted to take the old clichéd tradition of female singers being sexy and pretty in a dress, passive and submissive, and do something with it. In my head that's what was happening.
"I decided I was prepared to go far with the exploration of persona and performance and music and see where that would go. I was prepared to go all the way with it, pushing it, because I felt that I had nothing to lose."
While Sweet Dreams (Are Made Of This) brought Eurythmics international fame, they faced the challenge of maintaining their momentum and threw themselves into work on their next album. With their lo-fi approach meaning that they could write and record while on their Sweet Dreams Tour, they completed Touch in just three weeks and released it in November 1983.
One year after its release, the Sweet Dreams era reached a controversial conclusion when Annie took androgyny to the next level by performing at the 1984 Grammys in male drag, complete with Elvis-style quiff and sideburns to an audience already reeling from Boy George's announcement that America: "Knew a good drag queen when they saw one".
While his proclamation dented Culture Club's career in the US, the Eurythmics would go from strength to strength, achieving the kind of success that dreams are made of.
---
Eurythmics – Sweet Dreams (Are Made Of This): the songs
1 Love Is A Stranger
Still very much finding their way around recording with electronic instruments such as keyboards, samplers and drum machines, Dave and Annie found that the new technology they were using was also informing their songwriting both lyrically and structurally, hence both Love Is A Stranger and Sweet Dreams not having traditional choruses.
Based on a simple drum pattern with an eerie short riff, Love Is A Stranger is driven by Annie's vocal which veers effortlessly from the sinister description of the dangerous, destructive and overpowering effects love can have before the almost timid, broken refrain of: "And I want you, so it's an obsession."
Released as Eurythmics' fifth single in November 1982, the single peaked at a disappointing No.54. Following their big breakthrough, it was re-released five months later and became their second Top 10 hit, reaching No.6.
2 I've Got An Angel
According to Dave Stewart, he and Annie experienced a creative boom while recording the album. A fine example of how innovative their output was during the sessions was I've Got An Angel. Approximately five years ahead of its time, the tribal beat, yelps, prominent synths and euphoric refrain of "I've Got An Angel" could easily have been the soundtrack to a sweaty warehouse party or a club in Ibiza during the early days of the rave scene.
3 Wrap It Up
A radical reworking of Sam & Dave's 1968 hit, Wrap It Up is reimagined as a dance-inflected, electro track, which amps up the funk aspect of the song. Annie's voice is complimented by guest vocals from Scritti Politti's frontman Green Gartside.
4 I Could Give You (A Mirror)
While the name and sentiment of the track owed a debt to The Velvet Underground and Nico's I'll Be Your Mirror, the execution of the song is pure synth-pop. The dance beat and irresistible synths bring to mind hat other pop duo that effortlessly blended electronica with a red-haired diva with a killer voice – Yazoo.
'I didn't want to be perceived as a sex object, there was more to me than that'
5 The Walk
The Eurythmics' greatest hit that never was, The Walk is an early highlight of their discography. The simple electronic backing track gently supports a cavalcade of musical ideas. The duo experimented with distorting voices to such an extent that Annie sounds male at certain points – complementing her androgynous appearance.
Produced by Stewart with The Selecter's former bassist Adam Williams, The Walk incorporates a brass fanfare and a saxophone solo to further stamp its avant-garde credentials.
Though it failed to chart, The Walk would have undoubtedly given them another big hit had it been released post-breakthrough.
However, the prolific duo had already started work on their Touch album and were keen to release new material after Sweet Dreams (Are Made Of This) and Love Is A Stranger established them.
6 Sweet Dreams (Are Made Of This)
As is the case with many songs that embed themselves into our brains and become classics, Sweet Dreams… was an exercise in spontaneity which surfaced within a matter of hours.
Writing about the composition of the track in his autobiography, Dave Stewart recalled that he had been experimenting with a new drum machine and, after programming it, couldn't get it to stop. The sound of it woke Lennox who had been asleep in another room. Immediately inspired, she began playing a riff on a keyboard to the beat, while Dave played another keyboard until they were practically duelling.
With the track complete, Annie returned to her room and wrote the lyrics within an hour. She said: "The song was an expression of how I felt: hopeless and nihilistic."
Feeling the song was too dark, Dave added the: "Hold your head up, moving on. Keep our head up, moving on," lyric as a mantra to lighten it (whenever they play the song live, they always end on that lyric as a statement of hope).
The combination of the song and its iconic video kicked off an extraordinary run of success worldwide for Dave and Annie, reaching No.2 in the UK and No.1 in the US.
7 Jennifer
The track opens with pulsing synths, and Annie's stunning vocal repeatedly asking of the whereabouts of "Jennifer" (with her orange hair, green eyes and purple dress). With the sound of crashing waves, it's revealed that she is mysteriously "underneath the water," although we never find out how she wound up there… but the haunting nature of the song evokes sinister circumstances.
8 This Is The House
This Is The House begins with a Spanish passage meant to sound like a Teach Yourself Spanish cassette, recorded on their eight-track home studio. While the song reflects their transition into electronic-based pop, the song features a prominent bassline from Andy Brown and trumpet on the chorus which sets it apart from other synth-based artists at the time. Dave Stewart said that while the album is synthesiser-based it also features sounds created by household items, including milk bottles. The single was commercially unsuccessful and failed to chart.
9 Somebody Told Me
This slow-burner features a spurned-sounding Lennox at its core. The singer vents over swirling synths about a lover that has done her wrong, before the chorus reveals that: "Somebody told me something about you"… we are left wondering what she has discovered to leave her so bereft.
10 This City Never Sleeps
Brooding and hypnotic, This City Never Sleeps borrows its name from New York, but is also inspired by Dave and Annie's time living in squats and a single room in a shared house.
With its sampled noise of the London Underground, the track conveys the claustrophobic feeling of being constantly surrounded by people. Along with Jennifer, this song alerted film producers to Eurythmics' ability to create tension and atmosphere in their music and saw them offered film soundtracks and scores – an opportunity they took with 1984.
This track achieved notoriety after it was featured prominently in a graphic scene starring Kim Basinger in 9½ Weeks.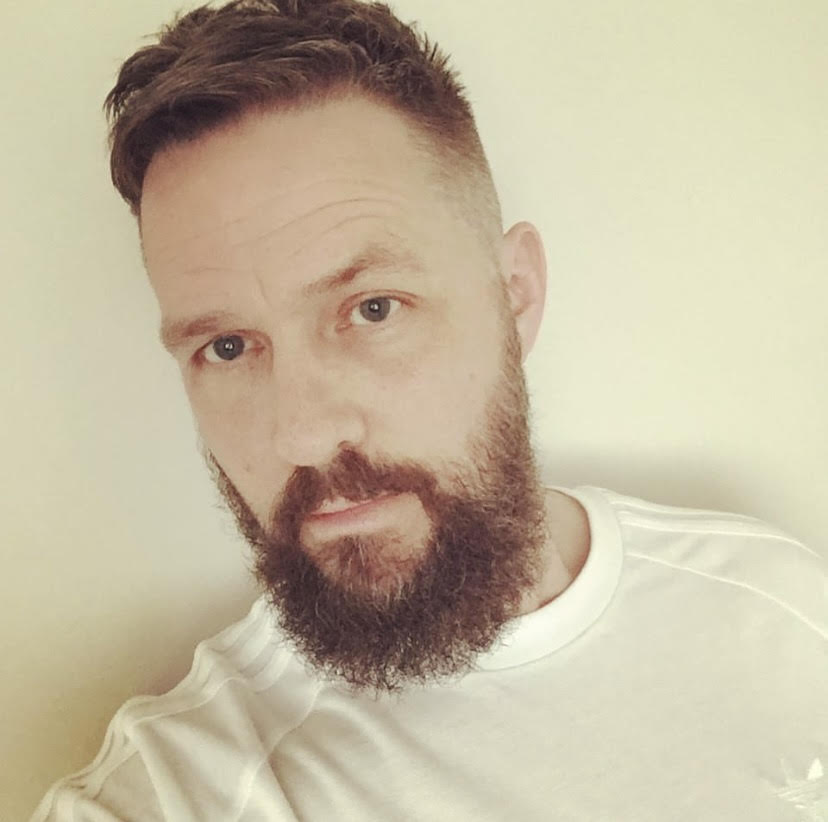 Mark Lindores
Raised on a diet of Smash Hits and Number One mags (literally, he used to save his school lunch money to buy them), Mark Lindores never entertained the idea of doing anything other than writing as a career. After writing for publications including the British and Australian editions of Vogue, Mixmag, Attitude, Total Film, Clash, Notion and Metro, he chanced upon the launch issue of Classic Pop in 2012 and, thrilled with the discovery of a magazine that featured his favourite artists, pitched an idea for issue 2 and has written for the magazine (and Classic Pop Presents) ever since.