Ultravox to release 40th anniversary box sets of the Vienna album
Chrysalis will release a deluxe edition of Ultravox's Vienna album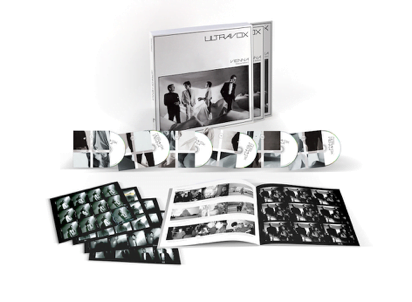 Originally released in July 1980, Ultravox's fourth album Vienna was their most successful, scoring them a No.3 UK album chart spot and cementing new vocalist and guitarist Midge Ure as a key player.
To celebrate its 40th anniversary, Chrysalis Records are reissuing Vienna as a six-disc set featuring the original album, a 2020 Steven Wilson Stereo Mix, rarities, rehearsals, a live concert from St. Albans, and a DVD surround sound disc. The box will also feature new sleevenotes by all four band members, unseen photos from the album cover shoot, as well as photos from Midge Ure's personal collection.
The limited edition vinyl box will comprise of four clear vinyl LPs, including a half-speed master of the original album and the full St. Albans 1980 gig.
The boxed set will be available from 9 October, preceded on 29 August by a special Record Store Day 12″ reissue of Sleepwalk.
A vinyl box set will also be available exclusively from the official band store.
The CD box set track listing is as follows. All tracks marked with * are previously unreleased:
CD One: Vienna [Original 1980 Analog Master]
01. Astradyne
02. New Europeans
03. Private Lives
04. Passing Strangers
05. Sleepwalk
06. Mr. X
07. Western Promise
08. Vienna
09. All Stood Still
CD Two: Vienna [Steven Wilson Stereo Mix] *
01. Astradyne
02. New Europeans
03. Private Lives
04. Passing Strangers
05. Sleepwalk
06. Mr. X
07. Western Promise
08. Vienna
09. All Stood Still
10. Waiting
11. Passionate Reply
12. Alles Klar
13. Herr X
CD Three: Rarities: Singles/B-Sides/Live
01. Sleepwalk [Early Version]
02. Waiting
03. Face To Face [Live in St Albans 16/8/1980]
04. King's Lead Hat [Live at The Lyceum 17/8/1980]
05. Vienna [Single Version]
06. Passionate Reply
07. Herr X
08. All Stood Still [Single Version]
09. Alles Klar
10. Keep Talking [Cassette Recording During Rehearsals]
11. All Stood Still [12" Mix]
12. Sleepwalk [Soundcheck, The Lyceum 17/8/1980]
13. All Stood Still [Soundcheck, The Lyceum 17/8/1980]
14. Vienna [Live Video Version, St Albans City Hall 16/8/80] *
15. Sleepwalk [Live Video Version, St Albans City Hall 16/8/80] *
CD Four: Cassette Recordings During Rehearsals 1979/80 *
01. Astradyne
02. New Europeans (Instrumental)
03. Private Lives (Instrumental)
04. Passing Strangers (Instrumental 1)
05. Sleepwalk (Version 1)
06. Mr. X
07. Western Promise
08. Vienna
09. All Stood Still (Instrumental 1)
10. Sound On Sound
11. Animal
12. Sleepwalk (Version 2)
13. Sound On Sound (Instrumental)
14. Passing Strangers (Instrumental 2)
15. All Stood Still (Instrumental 2)
CD Five: Live in St. Albans 1980 (2020 Mix) *
01. Astradyne
02. New Europeans
03. Passing Strangers
04. Quiet Men
05. Face To Face
06. Mr. X
07. Western Promise
08. Vienna
09. Slow Motion
10. Hiroshima Mon Amour
11. All Stood Still
12. Sleepwalk
13. Private Lives
14. King's Lead Hat
DVD: Vienna
Vienna album – Steven Wilson Mix *
Comments
comments