Depeche Mode: Ultra singles collection coming soon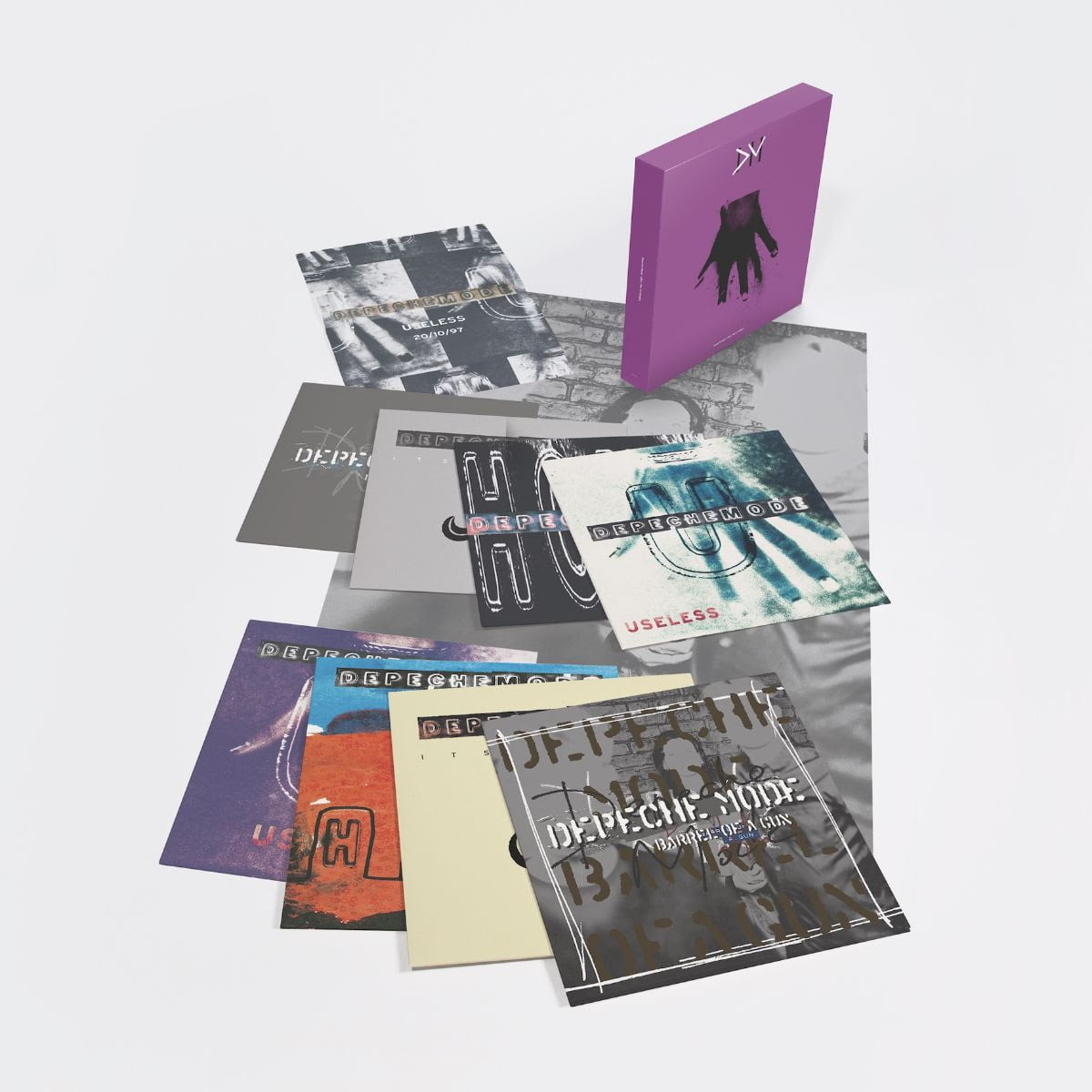 Sony Music Entertainment's Depeche Mode 12″ vinyl singles project continues with the release of Ultra | The 12″ Singles on 10 September 2021.
Ultra | The 12″ Singles, a collector's edition deluxe boxset, contains eight 12″ vinyl discs presenting four singles – Barrel Of A Gun, It's No Good, Home and Useless – with key B-sides, mixes and live recordings contemporaneous to Depeche Mode's ninth studio album, Ultra, originally released 14 April 1997.
Three of the 12″ vinyl discs* in Ultra | The 12″ Singles are comprised of tracks first released on CD singles throughout 1997. Each of these new 12″ discs features artwork reflecting the original CD single releases, now expanded to 12″ vinyl for the first time.
Sony released the first two boxsets in the Depeche Mode 12″ singles series – Speak & Spell | The Singles and A Broken Frame | The Singles – in August 2018 with the second batch – Construction Time Again | The 12″ Singles and Some Great Reward | The 12″ Singles – arriving in December 2018. Sony released Depeche Mode's Black Celebration | The 12″ Singles and Music For The Masses | The 12″ Singles on 31 May 2019. 2020 saw the release of Violator | The 12″ Singles in July and Songs of Faith and Devotion | The 12″ Singles in October.
Each boxset in the series contains the singles from each Depeche Mode album on audiophile-quality 12″ vinyl, with audio mastered from the original tapes. The artwork for the exterior of each of the box sets draws on iconography inspired by the original releases, while the vinyl sleeves themselves feature the original single artwork.
The Depeche Mode 12″ Singles Series will continue over coming years, with plans to release boxes containing the singles from each of the band's albums in similar deluxe audiophile-grade collector's editions.
Ultra | The 12" Singles
Barrel Of A Gun (12BONG 25)
A Barrel Of A Gun
A Barrel Of A Gun (Underworld Hard Mix)
B Barrel Of A Gun (3 Phase Mix)
B Barrel Of A Gun (One Inch Punch Mix (V2))
B Barrel Of A Gun (Underworld Soft Mix)
Barrel Of A Gun (L12BONG 25)
A Painkiller (Plastikman Mix)
A Painkiller
B Barrel Of A Gun (One Inch Punch Mix)
B Barrel Of A Gun (United Mix)
*It's No Good (12BONG 26) (12″ vinyl pressing of original CD single)
A It's No Good (Hardfloor Mix)
A It's No Good (Speedy J Mix)
AA It's No Good (Motor Bass Mix)
AA It's No Good (Andrea Parker Mix)
AA It's No Good (Dom T Mix)
It's No Good (L12BONG 26)
A It's No Good
A Slowblow
B Slowblow (Darren Price Mix)
B It's No Good (Bass Bounce Mix)
Home (12BONG 27)
A Home (Jedi Knights Remix (Drowning In Time))
A Home (Air "Around The Golf" Remix)
AA Home (Meant To Be)
AA Home (Grantby Mix)
*Home (L12BONG 27) (12″ vinyl pressing of original CD single)
A Home
A Home (The Noodles And The Damage Done)
B Barrel Of A Gun (Live)
B It's No Good (Live)
Useless (12BONG 28)
A Useless (The Kruder + Dorfmeister Session™)
AA Useless (CJ Bolland Funky Sub Mix)
AA Useless (Air 20 Mix)
*Useless (L12BONG 28) (12″ vinyl pressing of original CD single)
A Useless (Remix)
A Useless (Escape From Wherever: Parts 1 & 2!)
A Useless (Cosmic Blues)
B Useless (CJ Bolland Ultrasonar Mix)
B Useless (Live)
Comments
comments