Making Spandau Ballet: Journeys To Glory
Spandau Ballet: Journeys To Glory was the band's debut album, peaking at No.5 after its release in February 1981. Guitarist/saxophonist Steve Norman talks to Classic Pop about its making… By John Earls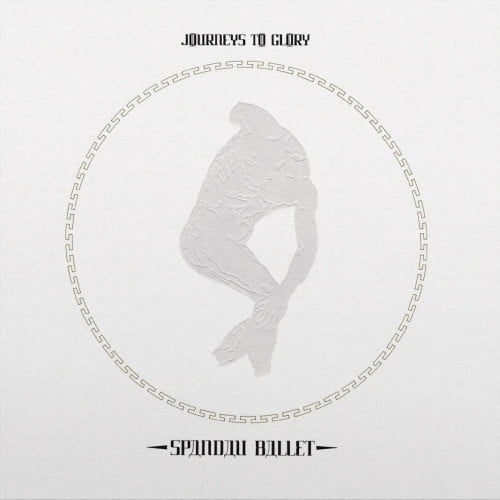 Although barely out of their teens when their debut album Journeys To Glory was released in February 1981, Spandau Ballet had already chalked up nearly five years of various school bands and near misses. Punk wannabes Roots started with Gary Kemp, Steve Norman and John Keeble, friends at Dame Alice Owen School in Islington.
They mutated into The Cut and The Makers, before Gary's younger brother Martin finalised the line-up on bass and another name change to Gentry in 1978.
"We didn't feel like we were close to anything," admits Steve. "We didn't have a record deal, and that was the most important thing in our world. We felt isolated and despondent."
A friend, Steve Dagger, had recommended they go to Shagoramas, because it was about the only club in London playing the glamorous music Gentry were into. Too fed up to explore pastures new, by the time they finally went to a Bowie night uptown in autumn 1978, Shagoramas had become Billy's.
"Meeting Steve Strange and Rusty Egan was a massive boost," says Steve. "As soon as we hit Billy's, the despondency lifted. We could see we weren't alone – there were young guys just like us, feeling just like us. It gave us back our gang mentality." Billy's also influenced the music Gary and Steve were writing. Only one early song, the charging Confused, made it on to Journeys To Glory. 
Steve feels Rusty Egan's influence on 80s music has been overlooked.
"I'm a big champion of Rusty," he says. "I always like to remind people what a true pioneer he was in bringing electronic music to the UK. As soon as we changed our name to Spandau Ballet, we went from playing rock to four-on-the-floor dance music. That changed everything for us, and it's largely down to what Rusty played at Billy's and then the Blitz. He'd mix in German electronic music like Can, Neu! and Kraftwerk with proto-electronic music from a couple of years earlier – Bowie's Berlin era and Iggy Pop, whose Funtime was massive. 
"Rusty was a massive influence, not just on us, but from everyone of that period like Ultravox and Boy George. Everyone tends to give Steve Strange the kudos, which I understand as Steve was a master of the visual side of that scene. But Rusty Egan shouldn't be overlooked."
As important as the new electronic music was, Gentry began making friends with future cultural commentators including Robert Elms and Dylan Jones. Robert suggested they change their name to Spandau Ballet after he visited Berlin.
"I should emphasise how important our mates from those times were," Steve acknowledges. "Graham Smith, who went on to do Spandau's artwork, was brilliant for showing us the importance of art. For the clothes, everyone knows the big designers of that time like Chris Sullivan and Willie Brown. Simon Withers too, who also helped out on our lighting."
Rather than have Spandau play every gig offered to them, Steve Dagger decided to keep his charges away from the gig circuit. This was a nod to the Blitz's infamously exclusive admittance policy, and also helped foster intrigue among record companies. One of the few shows Spandau did play was the Blitz's Christmas party in December 1979.
"It's funny how we've become known as the house band of the Blitz," says Steve. "We only played there twice! The show I remember most from that time was at Toyah Willcox's warehouse. Our 'support act' was a screen at the back that showed porn films. Those porn films were still on while we were playing, just to keep everyone watching us. There was a buzz around us, once we'd got our feet firmly in the door at the Blitz."
The buzz led Spandau to be interviewed by Danny Baker on Janet Street-Porter's ITV culture show 20th Century Box in the summer of 1980 – which in turn produced an offer to hone their craft at a two-week residency at a club in St Tropez, Le Papa Gayo, where Spandau played two sets a night, with Sundays off.
"There were 15 people in two rooms," says Steve. "The conditions were pretty unsavoury, but it was fantastic practice. I took down all the tacky paintings and hung my show clothes on the wall, two or three different outfits as a statement: 'I'm here to work, so these are going on the wall.' That was a fantastic time."
As well as nascent versions of Confused and Age Of Blows, Spandau covered Iggy Pop's Funtime and John Barry's theme to On Her Majesty's Secret Service at the residency.
Recording Spandau Ballet: Journeys To Glory
Chrysalis eventually signed Spandau on October 10, 1980 – Martin Kemp's 19th birthday. By then, recording sessions for their debut album had begun, partially inspired by the Yamaha CS10 synth the band bought to enhance their new dance direction.
"Literally just before we began recording, Gary wrote a new batch of tunes," Steve recalls. "Before that, there would always be new songs from both of us. This new batch sounded really relevant to us – songs like The Freeze and To Cut A Long Story Short. I'd lost confidence in my songwriting, but Gary's new songs – helped by the synth we'd bought – reflected the sounds we were listening to. As a band, that's all we ever did, reflect what we were playing. It's why Spandau are so diverse, as we've got the funk of some artists and the rock of others, and obviously Journeys To Glory has a lot of electronica."
Spandau began recording at The Manor in rural Oxfordshire the month before signing to Chrysalis. Although their engineer was future 80s production king Hugh Padgham, the sessions were uncomfortable for the few days Spandau were there, the band not used to being stuck out in the countryside.
"I think we might have got the keyboards to The Freeze done there," is Steve's summary.
Far more successful was the move to Trident Studios in Soho once the Chrysalis deal was signed. It was where The Beatles made Hey Jude; Queen and Elton John recorded there in the 70s and, most significantly for Spandau, Trident was the birthplace of Ziggy Stardust And The Spiders From Mars for David Bowie.
"The sound of all the legends must have been in all the walls," laughs Steve. "The place had such an energy to it, it makes you raise your game. Really, we wanted to be close to home. All our mates from the Blitz were able to hang out at Trident. We had huge characters like Chris Sullivan, Bob Elms and Simon Withers there, helping to gee us along."
The album's producer was another Blitz face. At 31, Richard James Burgess was a decade older than his charges, but was also a novice as a producer. Dividing his time between establishing himself as a producer and frontman for Landscape, Richard had befriended the band at the club. 
"Richard would be at the Blitz in a bright red PVC onesie, looking like something from Space 1999," jokes Steve. "He'd always want to go down the ramp the Blitz had, feet first, ever so smoothly in all that PVC!" 
With everyone being newcomers, experimentation was encouraged.
"Richard was a lovely guy and a fantastic producer who'd try anything once," enthuses Steve. "What he struggled with, on a technical basis, was Tony's voice, because he sings so loudly it was too overpowering for the equipment. And Tony isn't a one-take singer – he likes to try vocals lots of ways, to develop how a song could sound."
This reached a peak when Richard led Tony out to another studio at Trident. Steve recalls: "Through the glass partition, we could see Tony laid down with two mic stands and a carpet laid over him, so he looked like he was in a tent. It was to keep the sound in. Tony did one take – and, as he finished singing, a puff of smoke came out. As the smoke billowed everywhere, Richard just went 'How was that, then?' It was one of the funniest things I ever saw in a studio – and it was a great idea, like Tony Visconti would come up with."
While the album was being finished, Chrysalis released first single To Cut A Long Story Short in November. It reached No. 5, though the band weren't surprised by its success.
"Once Gary had the riff for To Cut A Long Story Short, it felt so right," Steve insists. "There was never any doubt it was going to be a hit, because Story wasn't just about the song or even us as a band, it was about that whole movement. It's why The Makers and Gentry hadn't been successful – so much of success is down to the planets aligning."
The eight songs for Journeys To Glory were finished at the start of 1981. Of its running order, Steve explains: "We were never a band to front-load our albums and say 'All the singles have to be at the start.' It's the same with our concerts not starting with the biggest hits. The shows – and our albums, right from the start – are about energy; having peaks and troughs."
The title, taken from a Robert Elms essay about Spandau, was also a natural fit. "None of our album titles felt a struggle," ponders Steve. "True was nearly called The Pleasure Project. That apart, we had our titles early on."
Released in February 1981, just 10 days after recording at Trident ended, the album also reached No. 5. "Some of it has dated," admits Steve. "But on the best songs, I think 'Jeez, that's groundbreaking!' It was an exciting time – and it's an exciting album."  
Spandau Ballet: Journeys To Glory – The Songs
Steve Norman reflects on the tracks that made up Spandau Ballet: Journeys To Glory 
TO CUT A LONG STORY SHORT
"I can't imagine To Cut A Long Story Short never having been a hit. That song failing? It's something we didn't think was possible in 1980, and I can't imagine it now either! There's something about the arrogance of youth in Story: you can hear that our attitude is 'We're here now, and if you don't like it, get out of the way.' If I had to pick two Spandau songs as my absolute favourites, it'd be Story and Chant No 1. They're just undeniable, unstoppable."
REFORMATION
"I really like Reformation. It's obviously a song that gets overlooked by most people in this country, but Spain and Portugal were the first two countries outside the UK to get Spandau. Over there, they tend to go for Reformation and Mandolin more than To Cut A Long Story Short and The Freeze. I really liked revisiting Journeys To Glory on the last couple of Spandau tours, and Reformation still sounded great then, as there's a lot of energy to it."
MANDOLIN
"This is the song I think of when I talk about any songs on Journeys To Glory that have aged a bit. Tony's voice is really exaggerated and over-the-top here, but he's acting in it. There's a lot of Bowie in Mandolin and it's a great little tune at its heart. I fall in and out of love with some songs, so maybe Mandolin will become relevant again. I thought Heaven Is A Secret was twee for ages, but I'd like to see that one back in the set now, as it was so right for its time."
MUSCLEBOUND
"We got stuck in the Lake District filming the video for Musclebound. It was my 21st birthday on the last night, but by that stage we were all so fed up that only Martin really celebrated with me. He didn't thank me on the coach home… me and him with evil hangovers. Maybe that's why Martin hates the video so much – he looks great in it, so it can't be that. You wouldn't have dwarves in a video like Musclebound does now, but that was very much of its time."
AGE OF BLOWS
"One of the lesser songs on the album. I don't want to get Gary into trouble, but he was obviously influenced by Warszawa on Bowie's Low album. We all were! You can thank Rusty Egan for Age Of Blows, because it's the Blitz club all over. I think it was always going to be an instrumental, I don't recall Gary ever saying he had a lyric for it. Really, I think Age Of Blows was written as an excuse to test out the Yamaha CS10 and see what it could do."
THE FREEZE
"Looking back, I'm not really surprised The Freeze didn't turn out to be as big a hit as To Cut A Long Story Short. It doesn't have a chorus, for one thing – my guitar acts as the chorus. The Freeze is such an arrogant song that it didn't really need a chorus, and I like that about it. It's from the same camp as To Cut A Long Story Short, of our certainty about ourselves at that time. It's another of those songs you can only write when you've suddenly found a tribe of like-minded, disillusioned teenagers."
CONFUSED
"The oldest song on the album, Confused is the only song to survive from the period before we first went to Billy's. It's the first unstoppable song that Gary ever wrote, I think. It had to be, because so many other great songs came along after Confused, but it always earned its place in our shows and on the album. It's the song that, when we first got to Billy's, would make you think we belonged there."
TOYS
"Toys had to be the last song on the album, because it's the closest on there to a ballad! I remember when we were recording Toys that I suddenly had my feet on the monitors, rocking out, despite wearing a kilt. Like The Freeze, there's not a sung chorus on this one. There was a lot of space in the song for me to add guitar to it. I felt like a rock god when we were making it, even though I immediately knew we weren't."
Comments
comments