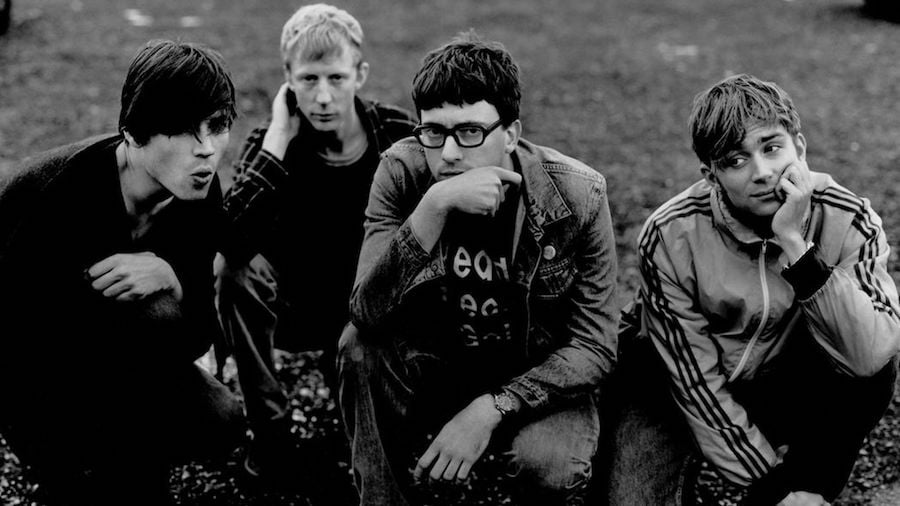 Led by the versatile songwriting of Damon Albarn and dynamic guitar skills of Graham Coxon, the albums of Blur offer up an embarrassment of riches. Classic Pop takes a look at their studio output, from 1991's Leisure to 2023's The Ballad Of Darren…
---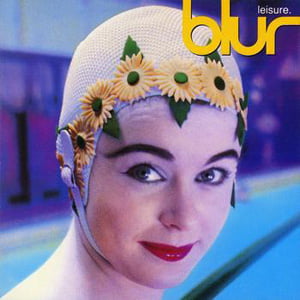 Released 26 Aug 1991
Label Food
Chart Position UK No.7
It seems laughable now at over 30 years' remove that when Blur first emerged they were viewed with suspicion as baggy bandwagon jumpers; Happy Mondays-lite interlopers intent on rinsing the last drop of action out of the fashion for Funky Drummer rhythms.
But while Damon Albarn's versatility as a songwriter over the past three decades has often been viewed as dilettantism – he can flit effortlessly between pure pop to punk, music hall to cultured balladeering – the quality of his work has been astonishing. When the public sat up and took notice of There's No Other Way, firing the band into the Top 10, Blur were seen as yet another addition to the current roster of dance-rock bands. But they were so much more than Mondays wannabes and head and shoulders above the likes of The Farm, Flowered Up, Inspiral Carpets and The Mock Turtles.
Leisure has at least two trump cards; Albarn's singular ability as a songwriter and the immense talent of guitarist Graham Coxon – along with The Stone Roses' John Squire and The Verve's Nick McCabe, he's the pre-eminent six-string technician of his era.
Albarn dislikes only two albums in his career, Leisure, which he describes as "awful" and The Great Escape ("messy"). He's wrong about Blur's debut, though. While it has a little filler, there are enough standout moments here to make this one of the best opening gambit LPs of the decade.
Despite four producers having a hand in Leisure, it still feels coherent; no doubt down to Albarn and Coxon's assured hands on the sonic tiller.
The woozy psychedelia of opener She's So High impresses and the funky Bang finds Coxon and drummer Dave Rowntree locking down a spectacular spiralling groove. Alongside classic single There's No Other Way, Sing hinted that this quartet were capable of something rather special, head and shoulders above knocking out indie disco baggy floorfillers; the dark piano-led epic boasted an ambition that far exceeded the material around it.
There's instrumental grit behind parts of Slow Down as Coxon cranks up the overdrive settings on his amp; Albarn's innate melodic tendencies given a striking counterpoint with the guitarist's predilection for throwing My Bloody Valentine-style distorted guitars into the mix – at the time Coxon would check out Syndrome, the Oxford Street basement club favoured by Creation and 4AD bands.
Meanwhile, Bad Day is another blatant attempt to write in a baggy style, and Rowntree recycles a similar beat on High Cool. But Albarn's flair for melancholy is exploited on Birthday; a gentle sting in the album's tail.
Frontloaded with the best material, this is far from the full flowering of Blur's genius but it's a strong signifier.
They breezed into the Top 10 with it, but like Leisure's cover star, were about to take a dive into deeper waters.
---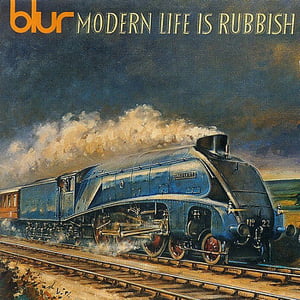 Released 10 May 1993
Label Food, SBK
Chart Position UK No.15 
It takes a lot to dent the confidence of the supremely self-assured Damon Albarn but the relative failure of 1992 non-album single Popscene (No.32 in the UK) was a Doc Marten to the bread box.
A disastrous booze-soaked US tour also prompted a radical rethink of the band's musical direction and precipitated a new and wholly Anglocentric songwriting approach.
Keynote track For Tomorrow – Damon penned it at his parents' home in Colchester one Christmas Eve – speaks of Primrose Hill and getting lost on the Westway as backing singers coo away enticingly and strings add elegance to the band's most ambitious arrangement to date.
Albarn is by now entering his 'character song' writing phase; Colin Zeal the first of countless examples – at their best he enjoys an ironic detachment, at their worst they employ a rather sneering tone that reflected badly on the band (see The Great Escape for more).
Blur's winning way with an instantly memorable pop hook comes into its own on the irresistible Star Shaped and album centrepiece Chemical World, which includes a remarkable gradually-evolving crazed coda that leaves our heads spinning.
Blue Jeans, meanwhile, is a rare glimpse into Albarn's personal life; a simple tale of shopping in Portobello Market that may also have been an insight into his relationship with Elastica's Justine Frischmann who he'd been dating since 1991.
The wonderful Sunday Sunday evokes lazy wasted weekends but with an added dose of generation gap culture clash: "You meet an old soldier and talk of the past/ He fought for us in two world wars, and   the England he knew is now no more."
Coxon's crashing riffs power Advert and Coping while his use of Bowiesque heavily strummed acoustic guitar on several tracks adds a new dimension to Blur's sound. Miss America impressively recasts the spooked solo years of Syd Barrett into the modern age.
All three singles culled from the record were Top 30 hits in the UK but hardly set the world alight. That said, if Modern Life Is Rubbish wasn't the gangbuster smash record Blur were after, it at least gave them enough momentum for one more crack, and they used that opportunity wisely…
---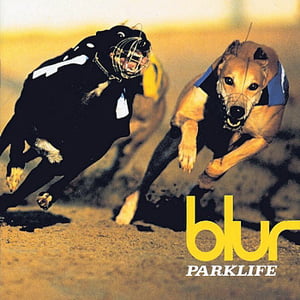 Released 25 April 1994
Label Food, Virgin
Chart Position Uk No.1 
The mainstream breakthrough album embraced by the critics and public alike, Parklife defined an era and went on to sell five million copies.
Released less than three weeks after Kurt Cobain's suicide, this was the set text in Britpop before its initial wide-eyed innocence descended into bloated coke-fuelled chats in the Groucho Club.
Thankfully, Blur ditched the working title of Soft Porn and instead created a faux homage to working class life; even if they were well-to-do townies. Like Modern Life… there's an abundance of material here as the band pinball from joyous indie disco bangers (Girls & Boys and the title track), melancholy ballads (To The End, This Is A Low – the latter only finished when Albarn came up with lyrics on the last day of recording sessions) and the gonzo punk fun of Bank Holiday and Jubilee. There's an almost Reginald Perrin poignancy to Tracy Jacks; the tale of a civil servant who goes missing.
The title track now feels totemic, and there was a feeling at the time that Blur were stretching out ahead of the competition with this album centrepiece into unchartered pop waters – Phil Daniels' instantly quotable spoken-word sections were memorised by a generation.
Such was the band's unwavering bravado, they even let Alex James have a crack at singing on the stargazing Far Out. The Debt Collector also showcased a band never afraid to stretch out (or look back) to new sonic horizons.
The hit singles tend to steal all the glory here, but there's a depth to Parklife that rewards deeper listening including Coxon's gloriously atonal guitar solo on London Loves (he'd go on to knock out many more over the course of the band's lifespan). Even a throwaway track like the 80-second closer Lot 105 can't help but raise a smile.
This is quite simply the sound of a band still in love with the possibilities of music-making.
---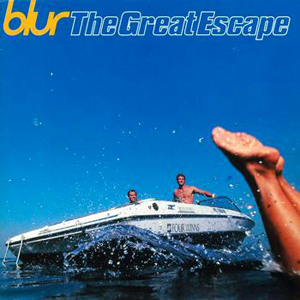 Released 11 Sept 1995
Label Food, Virgin
Chart Position UK No.1 and US No. 150
With Albarn feeling distanced from real life by his pop fame and Coxon increasingly marginalised, forever trying to force his alt-rock tastes on material here, The Great Escape was doomed from the outset. Add to that the continual distractions of picking up awards for Parklife meant that recording sessions lacked focus.
Under pressure to make Parklife Vol.2, Albarn moved away from soul-baring songs to concentrate on character studies (Charmless Man, Mr Robinson's Quango, Dan Abnormal). The patronising tone of many of them added weight to accusations that Blur were aloof piss-takers – the mirror image of Oasis' everyman authenticity. Country House won the battle with Roll With It but they lost the war when compared to (What's The Story) Morning Glory?.
A love of The Specials feeds into the brassy Fade Away but everything else is put in the shade by stellar standout The Universal, a grandiose sweeping ballad.
Only poignant closer Yuko And Hiro ("We are never together, I'll love you for ever), most likely about relationship struggles with Frischmann, finds Albarn returning to a more honest songwriting style.
---
Released 10 Feb 1997
Label Food
Chart Position UK No.1 and No.61
Blur's own Achtung Baby where the band rip up everything they ever knew and start from scratch; a scorched earth policy which marked a breathtaking reinvention. Ironically, their volte-face saw them transform into the kind of US-influenced alt-indie rock band they'd previously kicked so vigorously against on their preceding Anglocentric trilogy. Graham Coxon's love of Pavement finally won through, ushering in with it a much grittier sound, rough around the edges.
This Year Zero policy to their history (even the album title suggested that they were beginning all over again) coincided with their best collection of material to date. Blur spins all over the map, but, despite its experimentalism, hits the bullseye every time.
Pleasingly, their fans went with them for the ride, too. It topped the charts in the UK and Song 2 helped break the band in the States, shifting a healthy 700,000 copies of the LP.
Despite struggling with a drink problem, a re-energised Coxon is in inspired form throughout and Albarn returns to a more personal style of songwriting, eschewing the character-based material for the most part.
Coxon claimed he wanted to "scare people again" with his music and after previously finding little in common with the guitarist's lo-fi tastes, Damon admitted in an interview with Select magazine: "I can sit at my piano and write brilliant observational pop songs all day long but you've got to move on."
Recorded in London and Reykjavik, where Albarn now had a home, the band built up songs from jam sessions for the first time rather than the disciplined studio performances they'd previously undertaken.
Beetlebum, the first taste of the album, displayed a subtle reinvention; Coxon's sly guitar riff and Albarn's woozy vocals and lyrics, alluding to the latter's experiences smoking heroin. Blur's central pairing were in a dark place in their personal lives but managed to turn that into wonderful art.
Blockbuster second single Song 2 remains one of the greatest 120 seconds of unadulterated joyousness in modern music; its gonzo ubiquity at the time meant they were known as 'The Woo-Hoo! Band' in the States for a while.
Coxon's unconventional soloing style sparkles in Country Sad Ballad Man and his guitar sounds more like a squealing electric drill for Movin' On.
Meanwhile, the heavily treated guitar tones of M.O.R usher in a trademark chorus that hinted the band hadn't wholly given up their attempts at crowd-pleasing moments.
The heady, intoxicated fug at the heart of Blur is best evidenced in the haunted dancehall dub of Theme From Retro and crepuscular spoken word Essex Dogs. Coxon gets his own dazed showcase in the slacker strumalong You're So Great,  foreshadowing the off-kilter pop of Coffee & TV.
In the main, Blur sound like they are working in an all-consuming vacuum here, satisfying themselves rather than chasing hits. Only the Space Oddity-era Bowie homage Strange News From Another Star wore its influences brazenly on its sleeve.
As a fully-rounded musical statement, this was far superior to Parklife and its predecessors.
---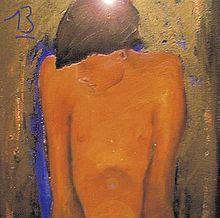 Released 15 Mar 1999
Label Food, Parlophone
Chart Position UK No. 1 and US No. 80
Splintered relationships gnaw away at 13, but somehow Blur still manage to mine gold from the emotional fall-out.
For the first time in their history, the band recorded an album without the assistance of producer Stephen Street, unanimously opting to bring in former Madonna collaborator William Orbit to push them into new sonic terrain.
Moreover, though, the pre-eminent break-up that drives 13 is the one between Albarn and Justine Frischmann, drolly dubbed by journalist John Harris the "proto-Posh and Becks for the indie-rock constituency."
In the No Distance Left To Run documentary Albarn confided: "That relationship just absolutely crashed. I mean, it really was a spectacularly sad end."
Damon channelled the heartbreak into some of his most remarkable songs to date, particularly career-high ballad Tender, arguably his greatest achievement as a songwriter. All at once he managed to conjure up something with a nursery rhyme-like simplicity, allied with a gospel-infused sense of testifying joy – he's broken yet defiant, temporarily wounded yet looking optimistically for new love on the horizon: "Come on, get through it… Love's the greatest thing that we have/ I'm waiting for that feeling to come." It's a song of hurt, but also one of hope.
Inter-band relationships were at an all-time low. Despite Coxon winning the argument over the band's sonic direction on Blur, his erratic behaviour and anger at his own role within the four-piece meant recording sessions were often fractured affairs with one or more members staying away.
"There was a battle between Damon's more experimental direction, and Graham's punk one, and Graham prevailed. If that tension had been growing on previous LPs, it came to a head here," Orbit told Uncut magazine.
The creative tensions between Coxon and Albarn resulted in some of the guitarist's most extraordinary contributions, he sounds like he's sawing his amp in half on Bugman as Damon drops in a Sun Ra-referencing refrain in its coda ("Space is the place").
Swamp Song lives up to its murky name, the band exploring dark sonic landscapes; equally brooding is the funereal dirge Battle, with drummer Rowntree supplying dubby beats.
There's a skewed take on trip-hop for Trailer Park and yet more bold experimentation with the seven-and-a-half-minute epic Caramel.
But the startling parting shot here is the heart-breaking ballad No Distance Left To Run, Damon's bereft yet philosophical goodbye to lost love Justine: "When you see me, please turn your back and walk away/ I don't want to see you, 'cause I know the dreams that you keep is wearing me." Albarn reportedly broke down in tears as he recorded his vocals on the track. Alongside Tender this is where he achieved true greatness as an emotive songwriter. His arched character studies far inferior to these soul-baring gems. As a heart-rending sugar-free ballad writer, Albarn has few equals among his peers.
---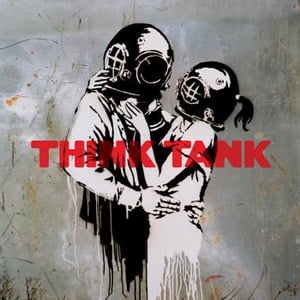 Released 5 May 2003
Label Parlophone
Chart Position UK No. 1 & US No. 56
The runt in the Blur litter. After years of rancour, Graham Coxon finally leaves the band amid much acrimony. On the finished album, he's heard on just the one track, the mournful lump-in-the-throat Battery In Your Leg.
Think Tank eventually becomes an album of defiance – could Blur actually make a record without the input of their mercurial guitarist? The end result was a compromised success; arguably much of the record sounds more like Gorillaz than Blur (Albarn's cartoon side project broke worldwide in 2001, much to the chagrin of his old bandmates).
Man of the moment, superstar DJ Fatboy Slim was drafted in to produce the airhead fun of Crazy Beat and gimmicky Gene By Gene, but the high points are mostly found elsewhere.
Recording sessions really took flight when the band decamped to Marrakesh; there's a wonderful easy-going North African charm to LP highlight Out Of Time, the fabulously-titled freewheeling funk of Moroccan Peoples Revolutionary Bowls Club and wiry Brothers And Sisters. Albarn sensibly avoids trying to take on Coxon's role as guitarist for the most part, filling the void with an array of electronica textures and nuanced production flourishes.
Only the obligatory punky thrash of We've Got A File On You attempts to rock up a storm. Instead, much of Think Tank's finest moments are muted, such as the hope-filled Ambulance, the yearning Good Song and plaintive Sweet Song.
Often overlooked when considering the band's history, Think Tank is certainly worthy of reappraisal.
---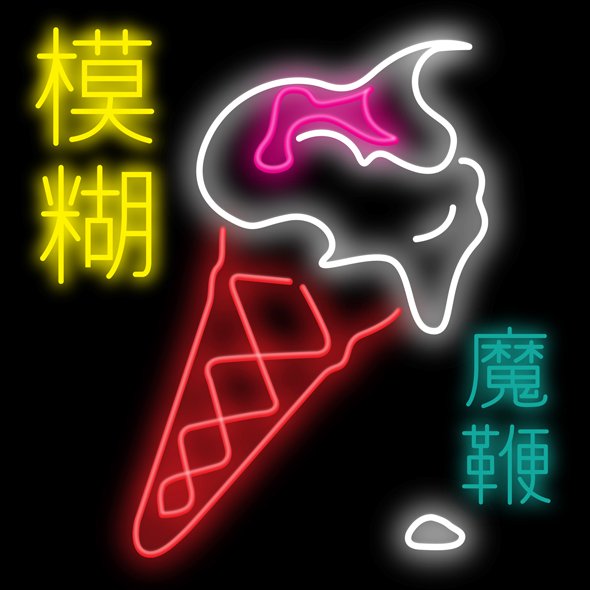 Released 27 April 2015
Label Parlophone, Warner Bros.
Chart Position UK No. 1 & US No. 24
AKA The Redemption of Graham Coxon. When organisers cancelled the Tokyo Rocks music festival that Blur were due to play at in May 2013, the band were stranded in Hong Kong for five days.
They spent that time remarkably productively, though, holing up in a studio and cutting 15 rough tracks of brand new material.
These remained untouched for 18 months before Coxon decided to revisit them with producer Stephen Street. Further secret sessions were completed with Alex James and Dave Rowntree before the finished backing tracks were presented to Albarn as something worthy of making into a full album. Damon then returned to Hong Kong for further lyrical inspiration and vocals were laid down in January 2015.
Despite its piecemeal creation, The Magic Whip was an absolute triumph on every level. Belying its title, opener Lonesome Street is prime, upbeat melodic Blur and New World Towers another of Albarn's introspective top-drawer ballads.
The wonky Ice Cream Man brings in some of the Far Eastern influences and the integration of electronica into Thought I Was A Spaceman feels like a bold new direction for the band.
Meanwhile, with My Terracotta Heart they revisited the kind of bruised beauty that Damon mined so well on his Everyday Robots solo album.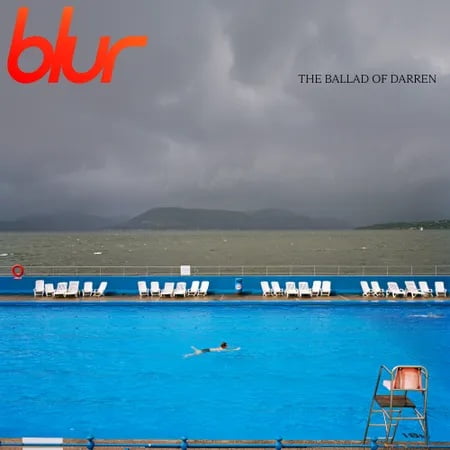 Released 21 July 2023
Label Parlophone, Warner Bros.
When Blur's comeback album was announced in May 2023, it came with the best and worst of the band. You might not have yet finished chortling at the album's risible title – but are equally unlikely to have stopped playing The Narcissist, Blur's most moving single since Tender back in the last century. 
The Narcissist is the blueprint for Blur's most cohesive album since, er, Blur. They've rubbed along just fine since first reforming in 2009 but Damon Albarn and Graham Coxon's restless exploration in their own projects hasn't allowed for diarising proper studio time to see what can result from their bonhomie until now.
The Magic Whip had its moments, but often resembled the hastily assembled scrapbook it started life as. Think Tank barely featured Coxon, so has a huge asterisk against it.
Here, then, is the first chance to hear how Blur have grown into the older men they always resembled on To The End and The Universal.
Similar beauty arrives on Goodbye Albert and Avalon, the former a bittersweet plea for tolerance resembling Squeeze, the latter atypically confessional from Albarn, as he sings of never quite being able to find happiness among all his adventuring, over sumptuous horns and Coxon's guitar breaking hearts.
It's not all melancholia, as recent warm-up concerts proved by starting with the feisty St Charles Square. To a racket recalling On Your Own, Albarn's worries of something "living under the floorboards" are heightened by his bandmates recreating a cartoon punch-up behind him.
A more controlled dynamism comes in the shape of Barbaric, a summery bop where Alex James and Dave Rowntree get to show off as indie's finest rhythm section once more.
There hasn't really been a Blur album like this before, with grace and tranquillity to the fore, an ease to their unity with enough unexpected moments to prevent them becoming staid.
It's not all perfect – Russian Strings is as perfunctory as its title and Coxon's acoustic guitar is so lovely on The Everglades (For Leonard) that everyone forgets to write a tune around it. However, you can forgive that on an album that ends with the majestic The Heights, which confidently suggests a ballad as beautiful as No Distance Left To Run is coming, especially when Albarn sings "This one's for you," before Coxon detonates skronking feedback all over the shop and it ends abruptly after just three minutes. Relaxed men of a certain age? Sure: but only to a point. John Earls
---
Live LPs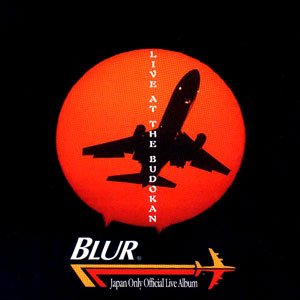 Live at the Budokan
1996
Up until their run of high-profile reunion shows, this was the only officially released Blur live album. Recorded during 1995 to support The Great Escape, this catches the band at the apex of their Britpop fame. Raucous fun with a plethora of great melodies to boot.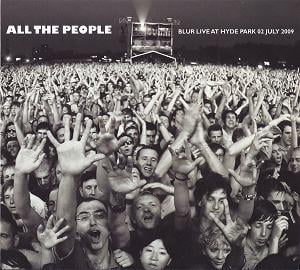 All the People: Blur Live at Hyde Park
2009
One of a pair of live albums for Blur's celebratory London reunion shows, reaction to the band's comeback was an extraordinarily emotional affair. All the hits are here plus some deeper cuts for the Blur faithful to embrace.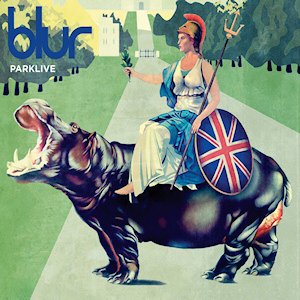 Parklive
2012
Blighted by Hyde Park's notorious noise restrictions, this sound board mix is a vast improvement on the experience of being there in person. A companion show to London's 2012 Olympics Closing Ceremony, Blur assert their national treasure status here with an emotive show.
---
Compilations & Remix LPs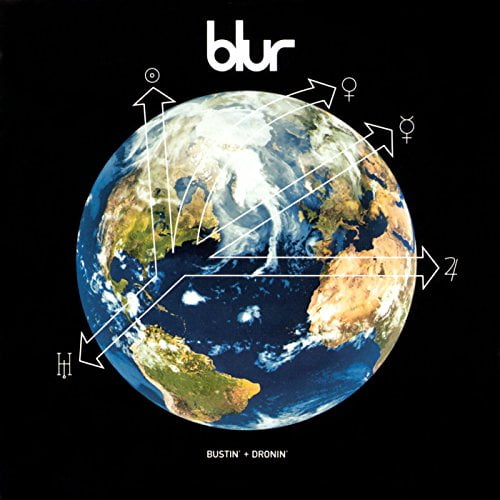 Bustin' + Dronin'
1998
An A-list crew of producers duff up the already skewed world of Blur's masterpiece self-titled album from 1997. Released just over a year later, these are often radical reworkings of the originals; Adrian Sherwood adds dubby atmospherics to Death Of A Party and William Orbit reinvents On Your Own as wired synth-punk. Moby turns Beetlebum into the kind of electro blues he was immersed in at the time and, boldest of all, Sonic Youth's Thurston Moore recasts Essex Dogs as an experimental effects-laden guitar rock art installation with Damon's isolated vocal providing extra drama.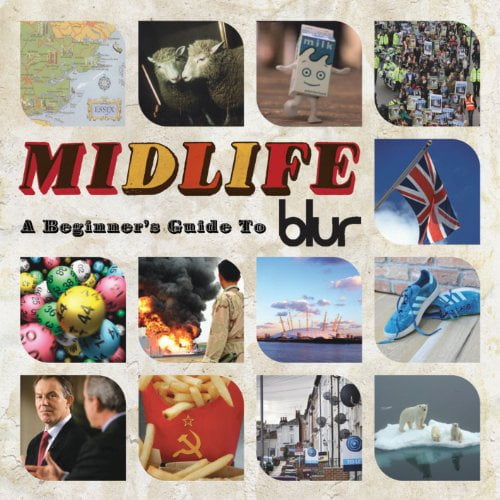 Midlife: A Beginner's Guide to Blur
2009
You can't really go wrong with the faultless 15-track Blur: The Best Of released in 2000 but this compilation nine years later adds a little more depth and subtlety to their illustrious story. It goes off-piste for the wistful Blue Jeans and darkly atmospheric Death Of A Party; Popscene – the song that almost derailed their career – remains a bristling clatter. It also brings the story almost up to date with the inclusion of Think Tank standouts Out Of Time and Battery In Your Leg. However, you'll have to put your dancing shoes away, baggy banger There's No Other Way fails to make the cut.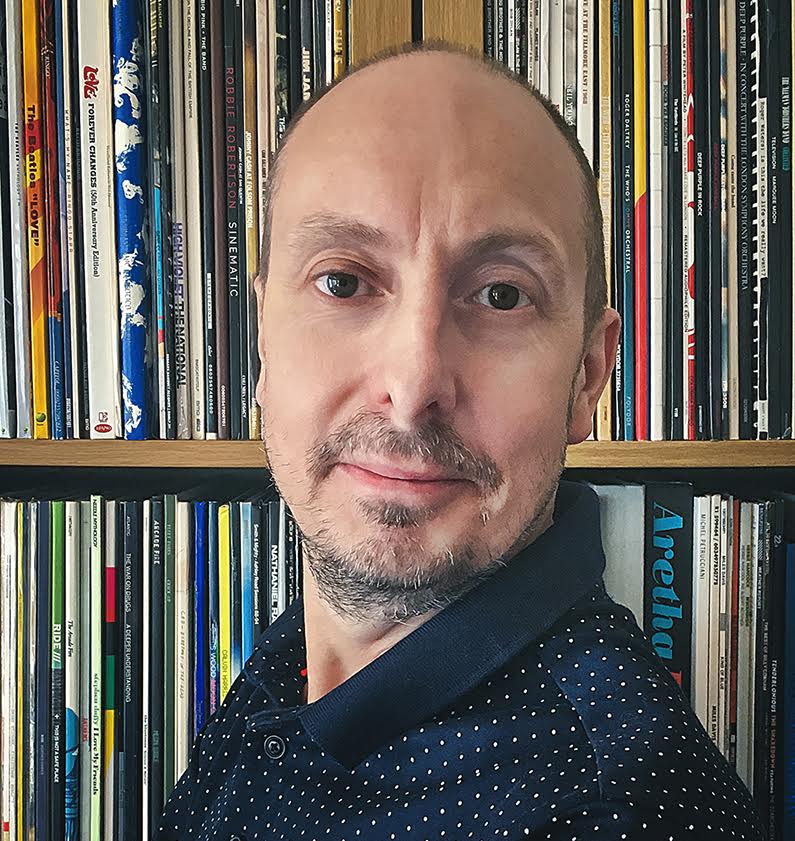 Steve Harnell
Steve Harnell is the Editor of Classic Pop and Vintage Rock magazines. Over the past 25 years he's written about music for magazines and newspapers such as Long Live Vinyl, Record Collector, Total Guitar, Country, Guitar, the Bristol Post and Western Daily Press. During that time, he's interviewed an array of major names including Al Green, John Lydon, Massive Attack and Ian Brown. Apart from his regular work at the helm of Classic Pop and Vintage Rock, he's also edited various special editions of their sister titles, Classic Pop Presents and Vintage Rock Presents.