The Godfathers Of Pop: Bruce Watson interview
By Classic Pop | September 17, 2018
Douglas McPherson chats to Bruce Watson about Big Country…
Born in Canada but brought up in Scotland, guitarist Bruce Watson formed Big Country with vocalist and lead guitarist Stuart Adamson in 1981. With an engineered guitar sound that often resembled bagpipes, the group found nationwide fame with hits including Fields Of Fire (400 Miles), In A Big Country, Chance, Wonderland and Look Away. Following Adamson's death in 2001, Big Country reformed to mark the band's 25th anniversary in 2007. They released an acclaimed album, The Journey, in 2013, and continue to tour extensively, with Watson's son Jamie now in the line-up.
Big Country's 1995 album Why The Long Face has just been reissued. What are your memories of that album?
It's one of those albums that we're not really remembered for, although we actually toured it quite a bit. That was when we went out with The Rolling Stones on the Bridges To Babylon Tour in Germany and Europe. It's quite different from how people think of Big Country. It's not the typical Big Country sound and the military drum stuff that we had in the early days. It's more of a straightforward rock album.
The deluxe reissue of Why The Long Face also includes your 1999 live album Eclectic. What prompted you to make an album of covers like Big Yellow Taxi and The Night They Drove Old Dixie Down? 
It was fashionable at the time for everyone to do cover versions and we thought if everyone else is doing it then we should as well, but we thought let's do something different and do it with guests. We had Steve Harley, Kym Mazelle, Carol Laula and Keith Emerson's son Aaron. We took a whole squad on tour around the UK. I think there were 20 of us on the road.
Eclectic has an acoustic, quite country sound. Was Americana a big influence on Big Country?
Not really. We came out of that whole punk thing. Stuart had been in the Skids. So we were from a more punk, new wave and even heavy rock background. I think the name Big Country confused a lot of people, especially when we went to the US, because they thought we were a country band, when we were actually quite heavy. But I think as you get older you explore other music that you might not have tapped into before. In the case of The Night They Drove Old Dixie Down, I'd heard of The Band when I was younger but didn't know much about them until I did a bit of research and got heavily into them.
How did you meet Stuart Adamson and form Big Country? 
I'd wanted to be a musician since I was young. We were just schoolkids when the punk thing came along. Me and my mates formed a band and opened for the Skids – that's how I came to know him. When we put Big Country together we wanted to do a twin guitar kind of thing, but didn't want be like Thin Lizzy, Status Quo or Wishbone Ash, even though we loved those bands. We thought: 'Those bands are blues-based, so instead of doing that, let's not bend guitar strings. Let's just play clean melodies and harmonies'. Also, we were using a lot of digital effects that were coming on to the scene at that time.
What came first, the band name or the song In A Big Country?
The band came first and that song was quite a surprise, because we always wrote songs musically first. Stuart would take away the music on cassette and come back the next day with lyrics. When he said this one is In A Big Country, we never expected Stuart to use the band name in a song title. It was a moment of genius.
After Stuart's death, did you think that Big Country would ever play again? 
No. The band broke up before Stuart passed away and we thought that was it anyway. So after Stuart passed away we were all doing our own thing. What happened was, fans were regularly organising conventions and meet-ups where they'd get together and play Big Country stuff. We were always invited. Sometimes we'd go individually or maybe a couple of us. It just got to the point where people were wanting to hear Big Country again. Then in 2007, me and my son Jamie got to participate in a Skids anniversary. We did three shows in Scotland and people were saying if Bruce can get involved in a band that he wasn't involved with in the first place, then surely he can come out and do some stuff with a band that he was – so that's what we did.
Why The Long Face is out now. Visit bigcountry.co.uk for further information on the band's upcoming tour dates.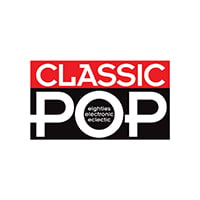 Classic Pop
Classic Pop magazine is the ultimate celebration of great pop and chart music across the decades with in-depth interviews with top artists, features, news and reviews. From pop to indie and new wave to electronic music – it's all here...