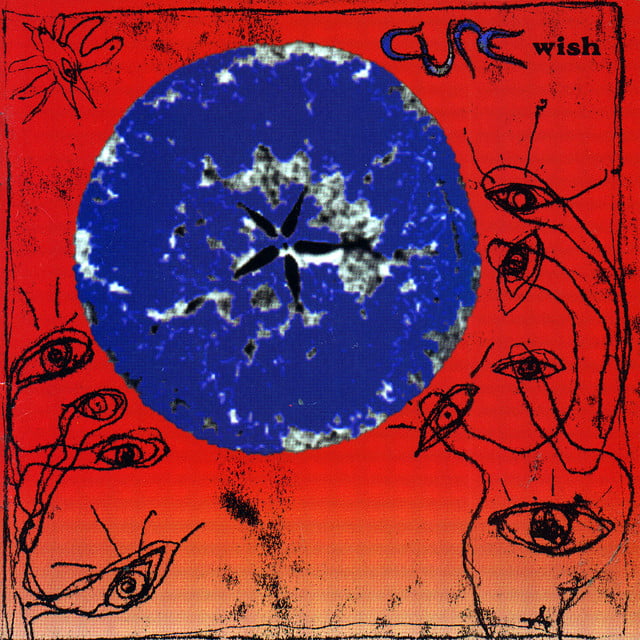 Following the release of Disintegration, The Cure survived a turbulent three years to return with possibly the most Cure-like record in their discography – Wish… By Dan Biggane
Hidden within the liner notes of Wish is a pertinent quote from To A Skylark, written by the Romantic poet Percy Bysshe Shelley. "We look before and after, and pine for what is not; our sincerest laughter with some pain is fraught; our sweetest songs are those that tell of saddest thought…"
The British Romantic poets of the 18th and 19th centuries often reflected on how the essence of childhood innocence is timeless and has no limits. It is fitting, perhaps, that one of pop music's greatest dreamers and visionary poets, Robert Smith, would make such a connection on his band's landmark ninth studio album.
By 1992, The Cure could challenge anyone for the crown of biggest group on planet pop. From their stark, icicle, non-image early days of 1979 debut Three Imaginary Boys, its follow-up a year later Seventeen Seconds, 1981's Faith and Pornography (1982), to the epic, effervescent, technicolour vibrancy of The Top, The Head On The Door and Kiss Me, Kiss Me, Kiss Me, Smith and co. had continued to push boundaries and amassed a legion of devoted charcoal-eyed followers along the way.
However, it was with 1989's grandiose masterpiece, Disintegration, that many believed the band had reached the pinnacle. Charting at No.3 in the UK and at No.12 in the US, the album spawned several hit singles including Lovesong, which peaked at No.2 in the States. Surely the only way to go was spiralling down after such an ambitious but decadent delight?
Frankly, things didn't look too promising at that point. Having unceremoniously dumped founding band member Lol Tolhurst during the creation of Disintegration, and subsequently losing his replacement Roger O'Donnell after a turbulent world tour, Smith repeatedly threatened to call time on the group.
The singer tinkered with several of the band's biggest hits for 1990's remix album Mixed Up and called on long-term guitar tech Perry Bamonte to play keyboards. 
Completed by Porl Thompson on guitar, Simon Gallup on bass and drummer Boris Williams, The Cure regrouped and entered the studio in September 1991 with a newfound sense of purpose. At Oxfordshire's The Manor they set about making, intentionally or not, not, the most Cure-like Cure album of their career. 
"When we did Disintegration there was an entirely different atmosphere than the one we had doing this new stuff," Smith told Melody Maker, in March 1992. "It was really pretty savage compared to this."
There's little doubting that Disintegration reflected the mood within camp Cure, as it is the sound of intense isolation and absolute despair. It has been suggested that Smith's depression prior to that recording came about on his 29th birthday and the realisation that he would soon turn 30.
Hitting that milestone, where many artists had created their rock'n'roll 'masterpieces', was something of a concern for Smith who withdrew from his bandmates, adopting a "monk-like" approach to writing, and poured out his agitation and anxiety in solemn passages of pitch-black poetry. 
The singer would later state that Wish would have sounded totally different had they recorded the same songs at the time of Disintegration. Smith said: "I feel immeasurably more comfortable about it all now than I did three years ago, there's much less pressure." 
However, it was making Never Enough for Mixed Up that made him want to be a "guitar band" again. Smith admitted, to US magazine Pulse in June 1992, that "Porl Thompson's always been very guitar-oriented, he's probably been constrained by the way I've liked things to be very minimal. But for Wish everyone played out a bit more." 
Having arrived at the studio with a box full of ideas written over an 18-month period, Smith suddenly found The Manor crystallised his thoughts. He revealed to US journalist Dave Judgement that the band's original plan was to release two albums – "a moody one and a poppy one".
Smith said: "The first ['Higher'] would be guitars and aggressive, while the second ['Music For Dreams'] was slow, atmospheric and purely instrumental. The band was contributing so much more to the tracks, I've actually sat back and let them play, which is a really excellent feeling."
As focus gravitated towards 'Higher', the working title changed: "I had the idea for a song which is now called End," Smith continued. "It was about seven minutes long and it got faster and swelled to an excellent, cacophonous conclusion. So, I had it in my mind that the title would be 'Swell', and it would be the last track on the album, which would also be called 'Swell'." 
As ideas transfigured, 'Swell' became Wish and it is that amalgamation of light and dark which makes the album so satisfying. With cartoon caricatures of the band, courtesy of Bamonte's pen, stuck to the walls alongside photocopies of Emily Dickinson poems, The Cure made the ye olde worlde setting of Richard Branson's Tudor mansion studio feel like home… and they certainly felt more comfortable as a band than they had for many years.
Having enjoyed The Manor's facilities, which included a go-kart racing track and full-sized snooker table, as well as a number of hilarious cycle cycle rides to local hostelries, the relaxed atmosphere surrounding the camp seemed to act as a conduit for The Cure's collective creativity. 
The Stud Brothers, arriving in March 1992 for Melody Maker, could see that the last six months of recording had been rather enjoyable. "The fun thing," Smith said, "is something people always miss out on with us. It's been brilliant making this album, but even as far back as Faith or Pornography we were still having a good crack."
Wish is littered with numerous moments of pure, unadulterated, pop joy. Singles High and Friday I'm In Love both fizz with an optimistic sense of fun and frivolity, while Doing The Unstuck opens with a very 'unCure-like': "It's a perfect day for letting go / For setting fire to bridges / Boats / And other dreary worlds you know" before joyously demanding: "Let's get happy!"
That said, a palpable sense of lost innocence, childhood and time, which connects with the Romantic ideologies of poets Blake, Wordsworth, Keats and Shelley, still remains a tangible thread which informs many aspects of the record. 
"Knowing that real childhood is gone is about loss of time," Smith acknowledged. "People always misinterpret that and think I'm worried about getting old but it's not that, it's about knowing that you're running out of time. They're two different things."
Perhaps it is no coincidence that Wish was released on 21 April 1992, Smith's 33rd birthday. Debuting at No.1 in the UK and No.2 in the US, where it was only kept off the top spot by Def Leppard's Adrenalize, the album was universally praised by the rock press.
Reviewing for the NME, David Quantick wrote: "Wish makes you talk about how Smith is a master of rock writing, an eclectic pop talent… the 12 songs here are, almost without exception, bold displays of genius. Every kind of Cure music is in here, done better than ever." Nodding in agreement was Andrew Smith who, writing for Melody Maker, boldly exclaimed: "The Cure have never sounded better. Nothing has ever sounded better." 
A sentiment echoed again by Select's Dave Morrison, who claimed Wish was "an emotional landscape full of style, imagination and grit." 
"That the Cure can still be bothered to try to come up with classic pop songs is remarkable enough," penned Vox's Keith Cameron, "that they should succeed so emphatically suggests Robert Smith, British pop's unlikely Mr Dependable, will be around for some time to come." 
Said "Mr Dependable" would go on to deliver further moments of brilliance on albums Wild Mood Swings (1996), Bloodflowers (2000), The Cure (2004) and 4:13 Dream (2008), but it's arguable that The Cure never quite created another album as complete as Wish. 
Reflecting with US mag The Network Forty in the summer of 1992, Smith said: "I think there's real diversity. This album actually sounds more like The Cure than anything we've ever done."
But Classic Pop wonders, like many of you must do, too, what could an artist as successful as Robert Smith possibly "wish" for? Well, Susan Corrigan posed the question back in May 1992. Unsurprisingly, his response was: "I wish I could freeze time… to know how to stay the same age, or to age only when you decide to grow old. 
"To be any age at all whilst retaining knowledge and intelligence from other ages. Or leap over tall buildings, fly, stop trains, lift lorries…"
As Wish turns 30 and The Cure prepare for a mammoth European tour, fans await news of the much-anticipated deluxe, remastered version rumoured to include the rare instrumental cassette EP Lost Wishes, as well as more information on new music… but as Smith said in 2020: "I'm too old to commit to idiot things… wait and see!"
Returning to Shelley and that "we look before and after, and pine for what is not" line, the trouble with regular folk is that we're always lamenting the past and pondering the future. We pine for the things we once had or can't have… yet! 
The Cure: Wish – the songs
OPEN
"I really don't know what I'm doing here/ I really think I should've gone to bed tonight," is our introduction on this ice-hedelic display of spirally, hypnotic hooks. An introvert's frosty toast to social situations, Smith admitted to Vox's Martin Townsend in May 1992 that inspiration came from the anxieties of meeting lots of people. "It's easy to say 'Yes'," he explained. "Afterwards you regret it. I've certainly used drinking to get through some of those things – it's a way of numbing yourself to a lot of the more sordid aspects of what we do." 
HIGH
Hitting the giddy heights of No.8 in the UK Singles Chart and No.1 on the US Billboard Modern Rock Tracks Chart, Wish's lead single is a buoyant slice of pop brilliance from Smith and co. While our poetic charmer "bites his fingers through", knowing he let the girl slip away, we avoid a Disintegration-styled descent into darkness by wistfully skipping away on a saccharine-sweet melody – and the listener doesn't mind one little bit. 
APART
Following the spirited, shy coyness of High, we suddenly find ourselves lost in a shadowy sea of hopelessness. Sombre swathes of sorrow wash over us as we sink deep into Disintegration territory. Smith whispers in the third person as our lead protagonist laments the loss of a love they thought would last forever. The "we" of the story senses time drifting mournfully away as sublime strings pull them further from where they want to be.
FROM THE EDGE OF THE DEEP GREEN SEA 
"With From The Edge Of The Deep Green Sea I'd thought of a guitar part and that remained right to the end, although the rest of the song changed around it," Smith remarked to Rock World in June 1992. A towering album highlight, it is that infectious guitar part and unrelenting beat which taps straight into the UK's baggy scene of the early 90s, highlighting just how in tune and contemporary the band are… while always remaining recognisably Cure-sounding. In an absorbing tale of "love in vain", as another desperate relationship breaks down, Smith conveys absolute exasperation with his haunting trademark howl.
WENDY TIME 
The Cure get funky on this fruity number which tells the tale of one desperate lady's advances. Talking to Simon Reynolds, Smith revealed that this song is the first time he used the word 'man' in relationship to himself. He said: "Five years ago, the line in question would have been 'the last boy on Earth'. I've always been worried about doing music past the age of 30. The vulnerable 'little boy lost' side of my image is gradually disappearing." As for why it is called Wendy Time, well, Smith disclosed to American rock magazine The Network Forty: "Only Simon [Gallup] knows, and he won't tell us."
DOING THE UNSTUCK
"It's a perfect day for doing the unstuck/ For dancing like you can't hear the beat/ And you don't give a further thought/ To things like feet/ Let's get happy!" chirps an enraptured sounding Smith in this positive ode to joy. Reviewing for Melody Maker, Andrew Smith wrote: "Swimming in wide-eyed wonderment, a tangible sense
of relief that pleasure can still be this simple in the complex world we reluctantly inhabit as adults." Discussing the song with Pulse in June 1992, Smith offered: "I think there should be moments in everyone's lives where they take that risk and say, 'Oh fuck it'…" 
FRIDAY I'M IN LOVE
When The Cure (or The Kew-ahh!" as The Who's frontman Roger Daltrey had it when crowning them Best British Group at 1991's BRIT Awards ceremony), exclaimed "Let's get happy!", we should have been prepared for this dayglo burst of cheeriness. "We didn't want it to be the first single and we don't think it's the very best introduction to an album like Wish," Smith revealed to the Melody Maker in March 1992. "It's a funny song and it'll probably be funnier for non-Cure fans 'cos they'll go, 'That's not The Cure.' It's tainted by the idea that we're doing it as a pisstake rather than being genuinely happy." Interestingly, the aforementioned Daltrey told Q in 2018, that the song would be one of his Desert Island Discs: "It would help get you through the week, wouldn't it? When you're getting bored of pulling your willy."
TRUST
From the heavenly wonder of Friday, we are brought crashing down to earth with the majestic melancholia of Trust. Built round a solemn piano, Smith mournfully admits: "There is no one left in the world that I can hold onto," and his pain is palpable. "Trust is like a double-edged sword," the singer informed Vox in May 1992. "Trust itself is different from 'to be trusted', but it's good to have blind trust. Like if you're standing on the edge of a cliff and you're about to fall backwards, it's nice to think there's more than one person in the world that would actually catch you."
A LETTER TO ELISE
Released as the third and final single from the album in October 1992, the explicitly sentimental A Letter To Elise has a dreamy Disintegration eloquence to it. Letters To Felice, a book collecting some of Franz Kafka's letters to Felice Bauer, had a huge influence on songwriter Smith. When asked to name a key author on his teenage years by French publication Rock & Folk in August 2003, his answer was Kafka. He said: "For the first time, the narrator's voice was mine… His influence on my writing is huge, A Letter To Elise is directly inspired by his Letters To Felice."
CUT 
Shards of bitter wah-wah and ferocious feedback slice through Wish's angriest moment. With its howling: "You don't feeeel anymore/ You don't caaare anymore/ It's aaall gone…" listeners can't help but wonder if this one is directed towards Lol Tolhurst who got his marching orders during the making of Disintegration. Talking to the NME in April 1992, Smith stated: "Money's never been a motivating factor for the group, that's one of the reasons why Lol went. He actually began to think of the group as a licence to print money." In 1994, Tolhurst sued the frontman over royalty payments and claimed joint ownership of The Cure name. He eventually lost after a long legal battle.
TO WISH IMPOSSIBLE THINGS 
Following Cut's vicious moment of metallic malevolence we find ourselves revelling in a more numbing, reflective place. "To Wish Impossible Things is specifically about relationships," Smith told Simon Reynolds on the album's release. "The notion of three wishes, all through history, has this aspect where, if you wish for selfish things, it backfires on the third wish. But wishes never seem to take in the notion of wishing for other people. In all relationships, there are always aching holes, and that's where the impossible wishes come into it."
END
Sensational closer End proves to be the most complex track on what is arguably The Cure's most serpentine album. "Please stop loving me/ I am none of these things," implores Smith repeatedly throughout as the song swirls to epic proportions. "I guess I'm addressing the idea people have of me – this sort of semi-mythological being," Smith told US journalist Gene Sandbloom two months after its release. "It's a feeling where people are put in a position where they're loved and they almost become a caricature of themselves… it's almost being forced to live a lie."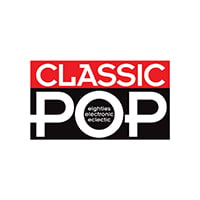 Classic Pop
Classic Pop magazine is the ultimate celebration of great pop and chart music across the decades with in-depth interviews with top artists, features, news and reviews. From pop to indie and new wave to electronic music – it's all here...