The Lowdown – Whitney Houston
By Classic Pop | December 6, 2022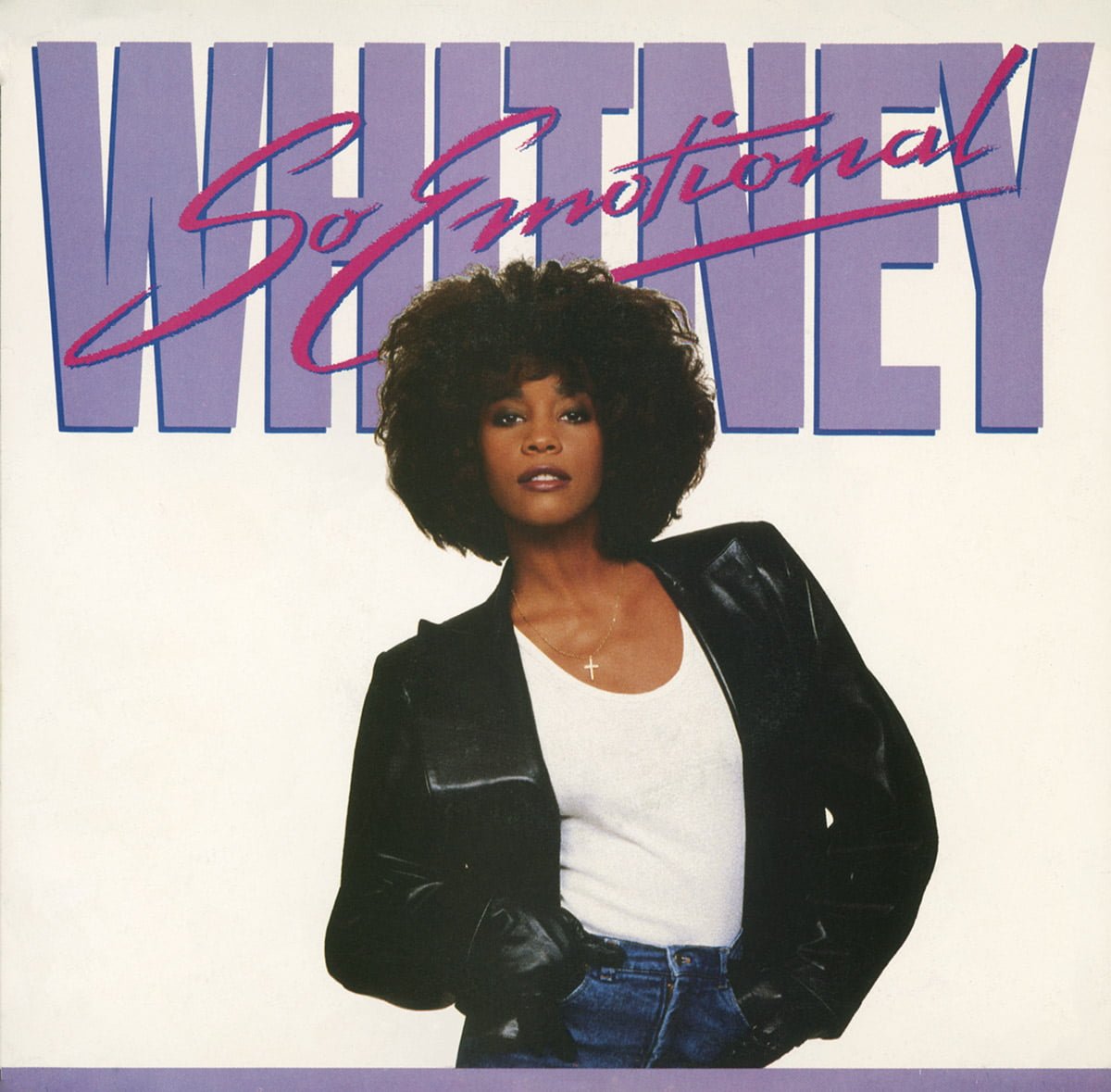 She was the original 80s pop diva, with some of the biggest singles of the decade, but Whitney Houston died alone at the age of 48. Classic Pop charts a mighty musical legacy. By David Burke
Whitney Houston was born to be famous. Daughter of gospel singer Emily "Cissy" Houston and first cousin of soul sensations Dionne and Dee Dee Warwick, she made her singing debut aged 11 before the congregation at the New Hope Baptist Church in New Jersey.
After flirting with a fashion career, Houston got her big break when she signed to Arista Records in 1983. 
Two years later, following the release of the album, Whitney Houston, The New York Times hailed her "an exceptional vocal talent". Record buyers concurred, as Houston clocked up three No.1 singles and scooped her first Grammy Award [Best Female Pop Vocal Performance] the first of many – for Saving All My Love for You.
The difficult second album proved anything but, with four singles from 1987's Whitney all claiming top spot in the Billboard Hot 100, and I Wanna Dance With Somebody (Who Loves Me) bagging Houston her second British chart topper. 
She made a seamless transition from the 80s into the 90s, with further hits like I'm Your Baby Tonight, All the Man That I Need and the track that will forever be associated with her, Dolly Parton's I Will Always Love You.
"I was blown away," said Parton. "The way she took that simple song of mine and made it such a mighty thing, it almost became her song."
Houston performed I Will Always Love You on the big screen in The Bodyguard, where as a first-time actress she held her own alongside Oscar winner Kevin Costner.
A turbulent marriage to Bobby Brown, and increasing drug dependency, led to erratic behaviour that undermined her girl next door image and adversely affected her career in the new century. 
She eventually split from Brown in 2006, telling Oprah Winfrey that the estranged couple would lace marijuana with rock cocaine, as "doing drugs was an everyday thing".
On 9 February, 2012, Houston joined Kelly Price on stage in Hollywood to sing Jesus Loves Me. It would be her final performance.
Two days later, she was found unconscious in her suite at the Beverly Hilton Hotel, submerged in a bathtub. Paramedics were unable to revive her. The cause of death was drowning and the "effects of atherosclerotic heart disease and cocaine use".
The must-have albums
WHITNEY HOUSTON, 1985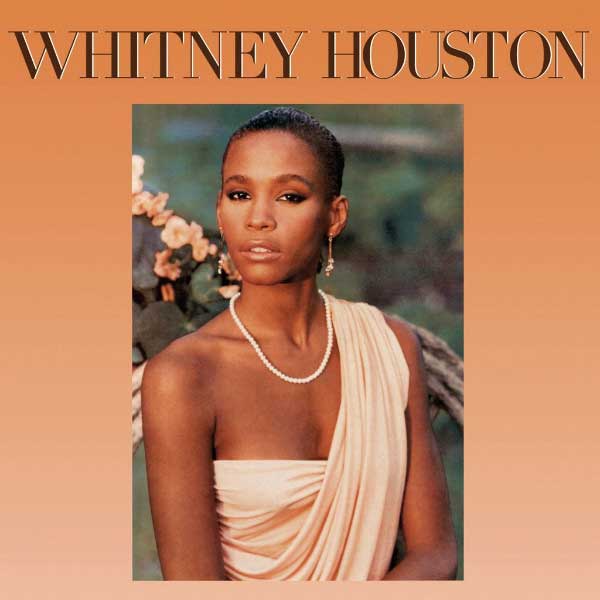 Arista chief Clive Davis had a hard time finding producers to work on Whitney Houston's debut album. 
Despite elaborate showcases by the singer in New York and Los Angeles, several passed on the opportunity to shape Whitney Houston, before Jermaine Jackson, Michael Masser, Narada Michael Walden and Kashif signed up to the project.
Jackson produced three tracks, Masser four (including Saving All My Love For You and Greatest Love Of All), while Walden did How Will I Know and Kashif You Give Good Love. 
The whole thing took two years to record, and spawned a trio of Billboard chart-toppers in the aforementioned Saving All My Love For You, Greatest Love Of All and How Will I Know.
The critics loved it, too, with The Globe And Mail lauding "some of the loveliest pop singing on vinyl since the glory days of Dionne Warwick", and Rolling Stone calling Houston "one of the most exciting new voices in years". 
She was, Don Shewey wrote: "headed for stardom, and if nothing else, her album is an exciting preview of coming attractions". He wasn't wrong. 
WHITNEY, 1987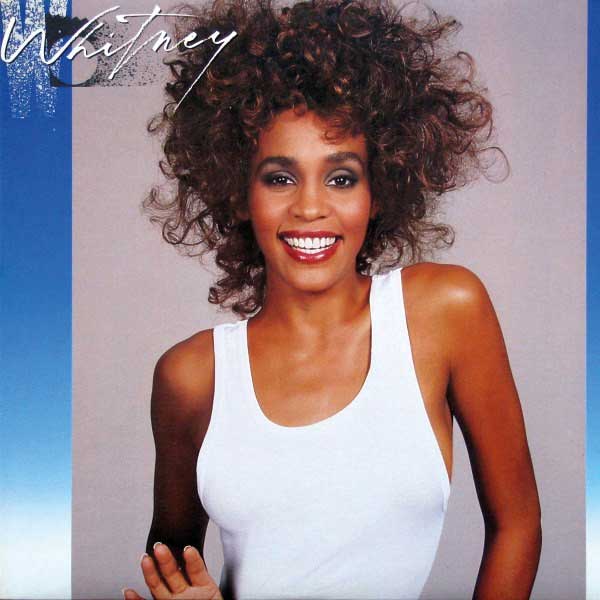 If Whitney Houston spectacularly launched the career of its subject, the follow-up, Whitney, sent her into the stratosphere. 
Not only did it enter the Billboard chart at No.1, staying there for 11 weeks, but it also made history for Houston, with its first four singles – I Wanna Dance With Somebody (Who Loves Me), Didn't We Almost Have It All, So Emotional and Where Do Broken Hearts Go – claiming pole position in the US, the first time any female artist had achieved that feat.
"She got to the studio and took one day to rest. Once she'd done that, she was ready," said Narada Michael Walden (who co-produced with Michael Masser, Jellybean Benitez and Kashif) of the sessions. So Emotional was recorded at Right Track Studios in New York, where Houston's powerful vocals caught the ear of Mick Jagger.
"He was recording next door and he had to come in and witness it," recalled Walden. "He started jumping around, as he does, and he just couldn't believe the sound." 
Walden credited the success of Whitney to Houston's inherent understanding of R&B, adding, "The rhythms and the melodies, that's what makes the thing live."
I'M YOUR BABY TONIGHT, 1990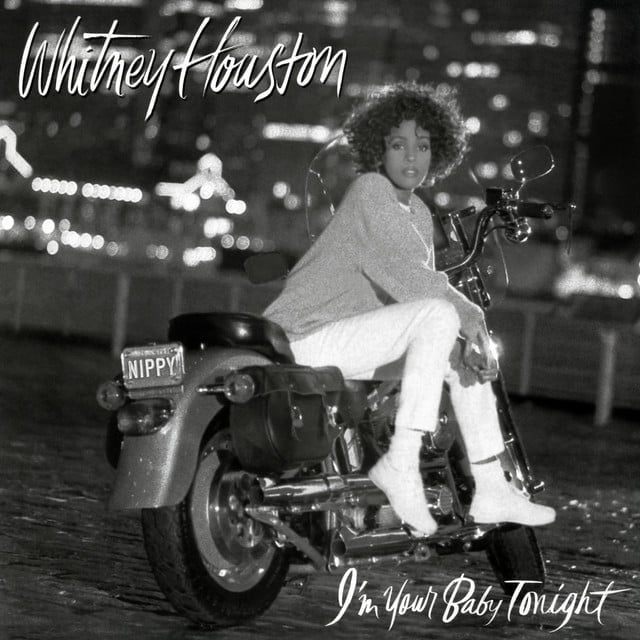 Houston returned to the studio with her record label concerned that she was failing to connect with her black audience. 
Houston herself baulked at such concerns, declaring: "I don't sing music thinking this is black, or this is white. I sing songs that everybody's going to like." 
While her previous two albums had featured material mostly picked by Arista, Houston asserted greater control over the content of I'm Your Baby Tonight. 
Walden and Masser were retained as part of the production team, now expanded to include LA Reid, Luther Vandross, Ricky Minor and Stevie Wonder.
"We wanted to come up with something that was different than anything Whitney had sung, so we approached it from that angle. We wanted to give her a new direction, and pick up where we felt she was lacking. We felt like she needed more of a black base," said Reid. 
The result is a funkier collection, what Rolling Stone described as: "a case study in how much Houston can get out of her luscious and straightforward vocal gifts within a dancepop framework". 
THE BODYGUARD, 1992
In The Bodyguard, Houston made her big screen bow as Oscar-nominated singing superstar Rachel Marron, object of a stalker and recipient of several death threats, who hires Kevin Costner's former Secret Service agent to protect her. 
On the soundtrack album she delivers an astonishing, career defining performance on a version of Dolly Parton's I Will Always Love You. Just like on I'm Your Baby Tonight, Houston had carte blanche as executive producer.
She initially wanted to record Jimmy Ruffin's What Becomes Of The Broken Hearted as the theme song, but plumped for Parton's composition upon learning that it would be used in the film, Fried Green Tomatoes.
There's also a stonking rendition of the Ashford and Simpson-penned I'm Every Woman (a 1978 hit, of course, for Chaka Khan), the big ballads, I Have Nothing and Run To You, and a consummate pop take (with Bebe Winans) on the spiritual, Jesus Loves Me – recognition of Houston's gospel roots. 
She then passes the baton to other performers, among them Lisa Stansfield, Curtis Stigers and Joe Cocker. 
And the rest…
THE PREACHER'S WIFE, 1996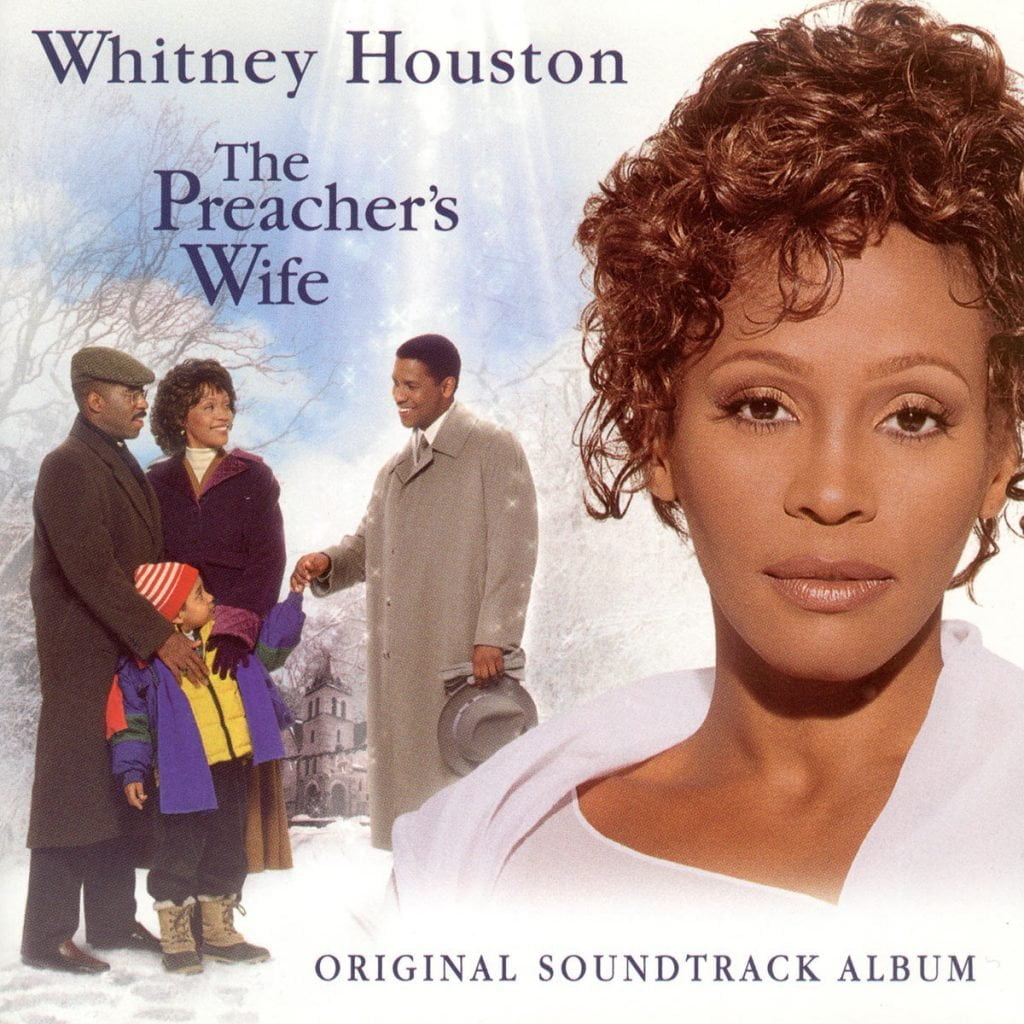 Houston's second soundtrack album in four years accompanied her starring role in Penny Marshall's romantic comedy.
The Preacher's Wife not only gave her another US Top 5 hit single (with a version of The Four Tops' classic I Believe In You And Me), but also went on to become the biggest selling gospel album ever, logging 26 weeks at No.1 on the Billboard Top Gospel Albums chart, and a remarkable 117 weeks on the chart altogether.
It finds Houston reconnecting powerfully with her formative self as a soloist in the junior gospel choir at the New Hope Baptist Church in Newark, New Jersey, proving that you can take the girl out of gospel but you can't take gospel out of the girl.
"For the first time in her 12-year recording career, Houston sounds genuinely moved by her material," wrote People magazine of the album.
MY LOVE IS YOUR LOVE, 1998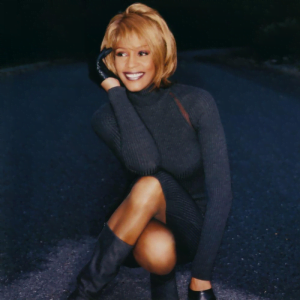 The first proper Whitney Houston album in eight years – excluding the soundtracks The Bodyguard and The Preacher's Wife – is an eclectic mix of R&B, hip-hop, urban dance, reggae and the inevitable big balladry.
Once again, production duties were shared among a collective, including The Fugees' Lauryn Hill and Wyclef Jean, and rapper Missy Elliott.
The standout tracks are My Love Is Your Love itself, Heartbreak Hotel (featuring Kelly Price and Faith Evans) and When You Believe, a two-hander with Mariah Carey that appeared in the animated movie, The Prince Of Egypt, and won the Best Original Song Oscar.
Rolling Stone described it as "easily her most consistent album ever", adding that "the former ingénue has some grown-up scars now, singing the marital blues with a bite in her voice that she's never come close to before".
JUST WHITNEY, 2002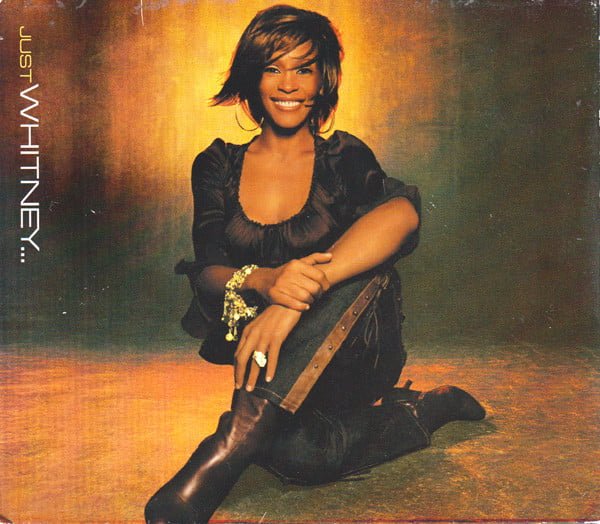 Having inked a new $100 million contract with Arista, Houston's objective on Just Whitney was to make "a very soul-oriented album", something she believed radio was missing. Antonio 'L.A.' Reid was drafted in as executive producer, overseeing a team including the returning Babyface and Missy Elliott, and Houston's husband, Bobby Brown. 
"We really wanted to re-establish a core urban base for Whitney," said Reid. "We made records that were black pop for years. And now that same black pop doesn't work well." 
It doesn't quite work out, largely because the soul element is diluted by R&B and dance. But Houston was happy with the end result.
"This album for me is about surviving, raising a family, being a wife or girlfriend, and all the challenges that go with those things," she asserted. 
I LOOK TO YOU, 2009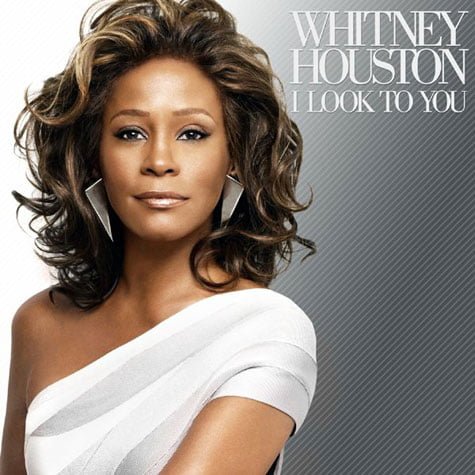 I Look To You was Houston's final studio album, seven years after Just Whitney. It came out of a turbulent period in her personal life, including divorce from Bobby Brown and a custody battle over their daughter.
"That makes it real," she told journalists. "The changes that we go through, the transitions that we go through, the tests that we go through, being a mother, becoming a single mother.
"It all had its ups and downs, but for the most part, I kept my faith and I kept my head up. I took my time. All the triumphs and the ups and downs and stuff, it's all incorporated on the album, and hopefully not only does it inspire me, but inspires a whole lot of people."
I Look To You debuted at No.1 on the US Billboard 200. However, her Million Dollar Bill single, written and co-produced by Alicia Keys, only just about made it onto the Billboard Hot 100.
Whitney Houston – the essential singles
SAVING ALL MY LOVE FOR YOU, 1985
The story goes that Michael Masser – who co-wrote Saving All My Love For You with Gerry Goffin – heard Houston perform another of his songs, Greatest Love Of All, at a club in New York, and offered her this one, previously covered by Marilyn McCoo and Billy Davis Jr.
"This is going to make women cry – it's a woman's song," Masser told the singer. Her mother, Cissy Houston, wasn't keen for her daughter to sing about adultery. But Houston herself felt she could bring personal experience to the track. 
"I was going through a terrible love affair. He was married, and that will never work out for anybody," she confessed years later.
Whatever about its muddy morality, Saving All My Love For You is four minutes of pure romance. Goffin wasn't wrong when he called it "a great tune that could have been written in the 30s".
HOW WILL I KNOW, 1985
George Merrill and Shannon Rubicam (Boy Meets Girl), actually wrote How Will I Know for Janet Jackson, who passed on it while recording her Control album.
The track then found its way to Houston – and, after some revision by Narada Michael Walden, followed Saving All My Love For You to the No.1 spot in the US.
"I said: 'The song's only half done. Will it be OK if I mess with it?' So I rewrote it," recalled Walden. "And it was all because when I met her, she was just mind-blowing. All that range and power and beauty and sex appeal coming at you with a kind of confidence you've never known before."
Cissy Houston contributed backing vocals. According to Gerry Griffith of Arista: "Clive Davis heard it and gave it a 10, which is outrageous for him, because he doesn't like anything!" 
Rolling Stone described the song as "perky synth-funk".
GREATEST LOVE OF ALL, 1986
Love it or hate it – and it is that divisive – you can't deny the profundity of the lyric and the spiritual uplift of the melody that coalesce on this vocal tour-de-force.
It was written by Michael Masser and Linda Creed as the main theme of the 1977 Muhammad Ali biopic, The Greatest, and performed on the soundtrack by George Benson. However, when Houston got hold of it, she made the song her own.
It was originally released as the B-side of You Give Good Love in 1985, but transformed into an A-side the following year because of unprecedented radio airplay. The New York Times hailed Houston's performance for its: "forceful directness that gives its message of self-worth an astounding resonance".
Houston won the American Music Award for Favourite Soul/R&B Video Single, and was nominated for Record of the Year at The Grammys.
I WANNA DANCE WITH SOMEBODY (WHO LOVES ME), 1987
When Houston scored a US No.1 single with How Will I Know, she returned to the same writers – Merrill and Rubicam – in search of another hit.
They obliged with this feelgood anthem. "I pictured somebody single wishing that they could find that special person for themselves," Rubicam explained. 
Narada Michael Walden was drafted in as producer, though he did take some persuading. "It reminded me of a rodeo song with Olivia Newton-John singing," he said. "But for Whitney it didn't seem right. I felt the song needed a much more funkier feel.
"I slept, dreaming about it, woke up in the morning thinking about it, wondering what to do. So, we just jumped in the water and a magic record was born. Houston just knocked it out and then I knew we had a good record."
DIDN'T WE ALMOST HAVE IT ALL, 1987
The second single from her second album saw Michael Masser join forces with Will Jennings on the writing credits and gave Houston her fifth consecutive American No.1. 
It almost wasn't the case, as Arista had initially plumped for her version of The Isley Brothers' For The Love Of You, only to change their minds in favour of original material.
Good job, too, for as LA Times editor Robert Hilburn judged it a blockbuster "with the kind of big, emotional finish that will make Liza [Minnelli] and hundreds of other singers wish they had been given first crack".
Like Greatest Love Of All the previous year, it received a Grammy nomination for Song of the Year.
I WILL ALWAYS LOVE YOU, 1992
It was Kevin Costner, Houston's leading man in The Bodyguard, who suggested she record Dolly Parton's 1974 country hit for the soundtrack, much to the bemusement of Clive Davis. 
But Costner, who also produced the film, was adamant… "This is a very important song in this movie," he recalled. "I didn't care if it was ever on the radio. I said: 'We're also going to do this a cappella at the beginning. I need it to be a cappella because it shows a measure of how much she digs this guy – that she sings without music'."
He called it right, as Houston went to No.1 everywhere, making I Will Always Love You the best-selling single ever by a woman.
Only for the brave
COULD I HAVE THIS KISS FOREVER, 2000 (With Enrique Iglesias)
Houston underwhelms in trying her hand at a Latin crossover. The pair recorded the song in separate studios, a remoteness audible in the absence of any charisma. 
WHATCHU LOOKINAT, 2002
An ill-advised riposte to media snipers who were "tryin' to dirty up Whitney's name", this Bobby Brown and Muhammad 2G-produced misfire (co-authored by Houston) should be filed under 'Instantly Forgettable'.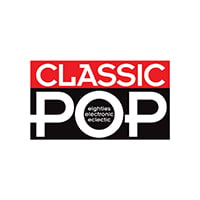 Classic Pop
Classic Pop magazine is the ultimate celebration of great pop and chart music across the decades with in-depth interviews with top artists, features, news and reviews. From pop to indie and new wave to electronic music – it's all here...