Album By Album – Whitney Houston
By Mark Lindores | September 5, 2022
Whitney's powerful pipes and model looks saw her become a true music icon…

Whitney

 

Houston, 1985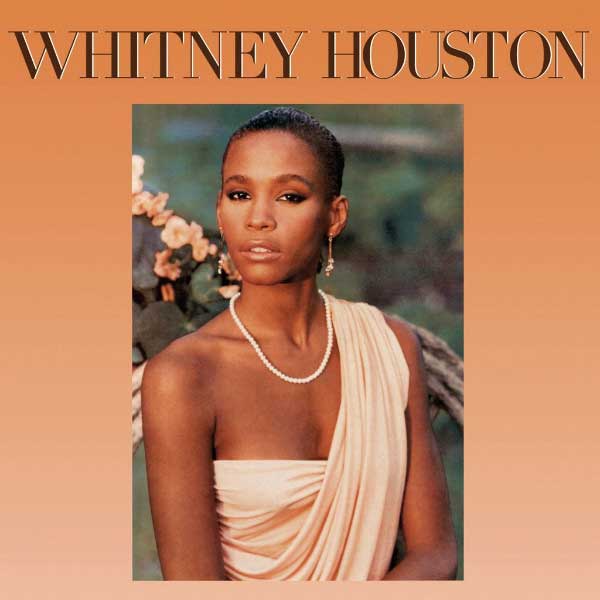 When you consider that Whitney Houston's discography contains some of the greatest love songs of all time, it seems only fitting that her 1985 self-titled debut album was released on Valentine's Day.
Two years in the making, the record took 13 months to hit No.1 in the US, where it sporadically spent a total of 14 non-consecutive weeks and not only launched Whitney's career but redefined the meaning of the term pop idol, introducing mainstream audiences to a vocal style more in tune with gospel music than the charts.
Discovered supplying backing vocals for her mother – revered gospel singer Cissy Houston – in a Manhattan nightclub in 1983, the then 18-year-old teen model had grown up singing in church – and it showed. 
With the ability to deliver standards, ballads and pop songs, Whitney encapsulated everything that Arista Records boss Clive Davis was looking for as a figurehead for the label. He signed her on the spot after hearing her rendition of George Benson's The Greatest Love Of All.
Ploughing thousands of dollars into the project, Davis enlisted the cream of writing, production and session musician talent to ensure that the material was equal to his protégé's immense gifts.
When songwriters were reluctant to give their work to a new artist, he chose covers, confident that Whitney could take any song and make it her own.
Aside from the aforementioned Greatest Love Of All (Whitney's personal favourite of all her songs), the smoky, jazzy ballad Saving All My Love For You had previously been buried on a 1978 album by married duo Marilyn McCoo and Billy Davis Jr and Hold Me, a tender duet with Teddy Pendergrass, originally appeared as In Your Arms on Diana Ross' Silk Electric LP in 1982.
Even dancefloor anthem How Will I Know was originally written for and rejected by Janet Jackson. 
Those songs, along with her debut solo single You Give Good Love and majestic ballad All At Once, form the basis of this timeless debut.
Shifting more than 22 million copies and spawning three US No.1 hits (Saving All My Love For You, How Will I Know and The Greatest Love Of All), this remains one of the most successful LPs of all time.
Whitney, 1987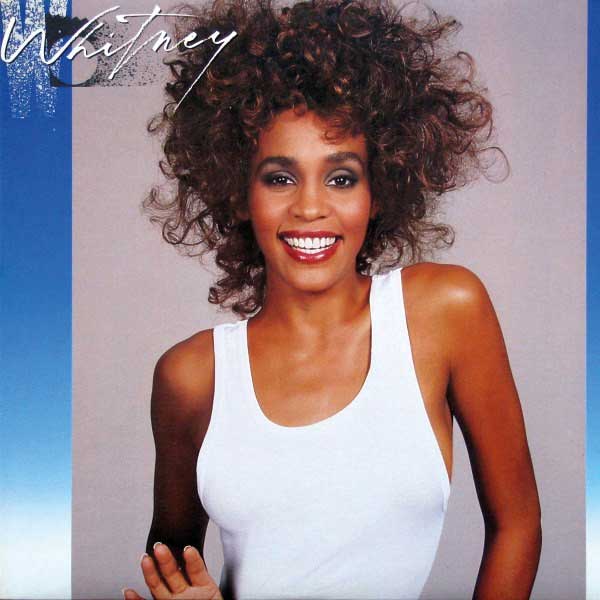 Due to the enduring popularity of her debut, which Arista was maximising by sending Whitney out on the road to establish a live presence – including gigs opening for Jeffrey Osborne and Luther Vandross alongside her own headlining tour – Houston's follow-up album was purposely delayed so as not to cut short its predecessor's sales and to allow her to come to terms with the fame its success had brought her. 
Eventually released in June 1987, Whitney is very much a polished and poppy continuation of her debut due to it being crafted largely by the same team of writers and producers that had worked on that record.
Her status had ensured there was no shortage of material or willing contributors, but Clive Davis stuck with the same team out of loyalty due to them seemingly taking a risk by working with Whitney when still an unknown artist.
Narada Michael Walden, Michael Masser and Kashif all returned on production duties along with Madonna collaborator John 'Jellybean' Benitez – the only newcomer. 
With Whitney known primarily as a balladeer, Clive Davis was keen to push her towards a younger demographic and sought out strong uptempo material worthy of being singles.
Lead 7" I Wanna Dance With Somebody (Who Loves Me) is a classic dancefloor anthem while So Emotional introduced a tougher element via its powerful synths and electric guitars.
Love Will Save The Day showcases Whitney's ability to take standard pop fare and elevate it while the utterly joyous Love Is A Contact Sport is a delight and a lost Whitney classic – she was spoilt for singles choices from this album.
Michael Masser proves to be a perfect songsmith for his muse, co-writing the album's best ballads, Didn't We Almost Have It All and You're Still My Man, with Where Do Broken Hearts Go maintaining the high standard. 
Despite a mauling from critics, who branded it "formulaic", "soulless" and "safe", Whitney broke multiple records, entering charts at No.1 around the world and selling over 20 million copies. In the US, four of its five singles reached the summit, giving her a run of seven consecutive chart-toppers there, breaking a record set by The Beatles.
I'm Your

 

Baby

 

Tonight, 1990
After the extraordinary run of success with her first two albums, Whitney took a well-earned break to mentally adjust to the scrutiny and immense fame.
In the midst of a media backlash against her wholesome church-girl image (something that she also felt trapped by) and speculation about her relationships with personal assistant Robyn Crawford and actors Eddie Murphy and Robert De Niro, Whitney was experiencing her first taste of the downside of success. 
It wasn't just her personal life under intense scrutiny. She was subject to increasing criticism from the Black community, accusing her of betraying her roots for commercial success and branding her a sell-out, which came to a head at the 1988 Soul Train Awards when she was booed by her peers.
Deeply wounded by the reaction, it marked a turning point in her career with Whitney feeling a compulsion to reconnect with the Black community for her third LP. 
I'm Your Baby Tonight largely eschews the pop and glossy ballads of the first two albums, instead favouring a swingbeat sound and more R&B-focused material. Unfortunately, it's a patchy collection which pales in comparison.
The introduction of LA Reid and Kenneth 'Babyface' Edmonds, who had written and produced all of Bobby Brown's hits, is the album's saving grace, providing the title track, the feisty My Name Is Not Susan and beautiful ballad Miracle.
Two more highlights arrive in the form of a pair of productions from the returning Narada Michael Walden – the sensual Anita Baker-esque Lover For Life and All The Man That I Need, a song previously recorded by Sister Sledge, reworked to become a signature Whitney ballad. 
Elsewhere, there are no real standouts and duets with Stevie Wonder and Luther Vandross are crushing disappointments given the calibre of talent involved. 
With sales of 10 million copies, the album sold significantly less than Whitney's previous efforts and was branded a disappointment. Unfazed, Houston was already working on a project which would prove she shouldn't be written off just yet.
The Bodyguard, 1992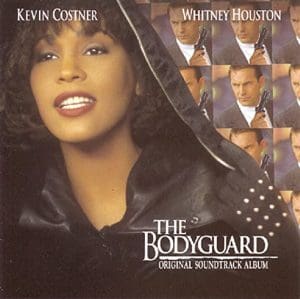 A pivotal moment in Whitney's career, not just because it soundtracked her first foray onto the big screen in The Bodyguard, but also because it saw her assume the role of a leading lady behind the scenes, too.
When the press picked up on the fact Houston was billed as co-executive producer of the album as well as receiving a writing credit for Queen Of The Night and for the vocal arrangement of I Will Always Love You, she was keen to dispel the myth that she'd always been a puppet to the Svengali-like Clive Davis, with him making all the decisions in her career and stipulated that they very much worked as a team.
Recorded concurrently with the shooting of the movie, the recording studio served as a sanctuary for Whitney, who claimed that she was "terrified" and "daunted" while acting for the first time. 
The recording studio was familiar to her and, presented with timeless songs with "great melodies and meaningful lyrics" – something Houston felt was missing from music at the time – she excelled. 
Aside from I Will Always Love You, a last-minute replacement for a cover of Jimmy Ruffin's What Becomes Of The Brokenhearted after Paul Young released his version on the Fried Green Tomatoes soundtrack, Houston recorded three more ballads and two dance tracks.
I Have Nothing, an epic standard co-written and produced by David Foster, reaffirmed Whitney's position
as pop's premier powerhouse – the comparisons to newcomer Mariah Carey were relentless – with the emotive Run To You soaring to similar heights.
A remake of Chaka Khan's I'm Every Woman provided a full-circle moment for Whitney as her mother sang background vocals on the original and Queen Of The Night was a funk-filled floorfiller. Jesus Loves Me was a preview of the gospel sound that Whitney would go on to explore further on The Preacher's Wife.
Although the album includes songs from other artists, including Lisa Stansfield and Curtis Stigers, Houston's six contributions saw her credited as the album's main artist, earning it the title of all-time best-selling LP by a female artist in history with more than 45 million copies sold.
The Preacher's

 

Wife, 1996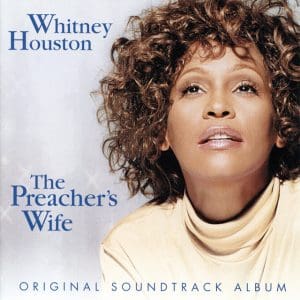 Though The Bodyguard was adored by audiences worldwide, the film was panned by critics and the jury was still out on Whitney's acting skills.

Her second attempt, Waiting To Exhale, in which she starred opposite Angela Bassett, received a much warmer reception and Houston once again sustained her music career by performing on the soundtrack, scoring three huge hits in Exhale (Shoop, Shoop), Why Does It Hurt So Bad and Count On Me. 
Like The Bodyguard, the soundtrack to The Preacher's Wife, a movie in which Houston starred opposite Denzel Washington, functions as a Whitney album.
A powerful declaration of love for the music on which she was raised in Newark's New Hope Baptist Church, The Preacher's Wife earned the singer some of the best reviews of her career as critics praised her engagement to the music, with Whitney also taking on production duties alongside Mervyn Warren. 
Vocally, the album is a masterclass in melisma, the popular gospel singing technique where a single syllable is performed with a series of different notes, introduced into pop music by Whitney and adopted by a generation of subsequent balladeers including Mariah Carey and Celine Dion, not to mention countless TV talent show auditionees.
Houston soars on I Love The Lord, Who Would Imagine A King is a regal delight and when she lets loose on the vibrant I Go To The Rock and He's All Over Me, it's as carefree as we ever heard her.
For all its gospel grandeur, however, the album's highlight is the spiritual synth-pop of Step By Step, a reworking of an Annie Lennox song which originally appeared on the B-side of her single Precious in 1992.
For Whitney's version, Annie wrote new lyrics and contributed gorgeous background harmonies. 
Peaking at an impressive No.3 in the US and with global sales of more than six million copies, The Preacher's Wife remains the biggest-selling gospel album of all time.
My Love Is

 

Your Love, 1998
After devoting most of the 90s to her film career, the release of My Love is Your Love – her first studio LP in eight years – was a welcome release for fans and more authentic to Whitney's personality than any of her records had been before.
Incorporating R&B and hip-hop beats, the tougher sound suited her perfectly and was as on-trend as she ever was. Her most consistent, well-rounded effort, My Love is Your Love is arguably her best album. 
Despite a diverse set of collaborators, including the likes of R&B hitmaker Rodney Jerkins, The Fugees' Wyclef Jean
and Lauryn Hill, Missy Elliott, veteran songsmith Diane Warren, producer David Foster as well as long-term collaborator Babyface, My Love is Your Love has a cohesion to it – and that comes from the singer herself.
She veers effortlessly from feisty on It's Not Right But It's Okay to flirtatious on If I Told You That, beatific on the Bob Marley-esque shuffle of the title track, scarred lover on Heartbreak Hotel and defensive tough talker on In My Business.
Fans of the old-school balladeer are also well catered for with a string of stunning tracks, I Learned From The Best, Until You Come Back and You'll Never Stand Alone. 
When You Believe, the Oscar-winning inspirational duet with Mariah Carey, silenced those recurring feud rumours.
Just Whitney, 2002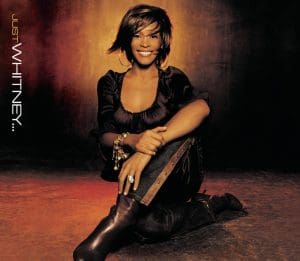 Coming off the back of the career-rejuvenating My Love Is Your Love era, a hugely successful greatest hits compilation and a renegotiated record contract that was worth $100 million, the expectations for Whitney's fifth studio album were huge.
However, with her long-term mentor Clive Davis replaced at Arista by LA Reid and Houston's personal problems affecting her deeply, the much-delayed Just Whitney's prospects were looking bleak by the time it was finally released in December 2002.
In one of the most ill-judged PR moves in music history, Whitney agreed to an hour-long interview with esteemed news anchor Diane Sawyer to address the speculation about her health and drug abuse.
With Houston appearing at her worst – coming off as erratic, defensive, intimidating and arrogant, the interview was a disaster and while the album it was intended to promote was soon forgotten, Whitney's boasts that she was too rich to smoke crack (as "crack is wack") and her request to see receipts for the $700,000 she had reportedly spent on drugs still live on as internet memes.
The interview shattered once and for all the veneer of the polished pop diva that had been carefully maintained for almost two decades. 
Public image aside, the music fails to match the highs of her previous work, too. Rare glimmers of greatness appear in the form of the sumptuous, Isley Brothers-sampling One Of Those Days, Try It On My Own is a beautiful ballad that only Houston, even with her slightly raspy tone, can deliver, and a stunning cover of Debby Boone's You Light Up My Life dares you to doubt her capabilities. 
Combative first single, Whatchulookinat is the Diane Sawyer interview in song form, while the defiant theme continues in Unashamed and Tell Me No. 
Ultimately, Just Whitney suffers from too much forgettable sub-standard R&B fare such as Dear John Letter, Things You Say and Bobby Brown duet My Love, which wastes her talent. 
After peaking at No.9 in the US it swiftly dropped from the charts while in the UK, due to it receiving no promotion, it stalled at No.76. Shifting 2.5 million copies, the decline from My Love Is Your Love's sales of 10 million was staggering.
One Wish: The Holiday

 

Album, 2003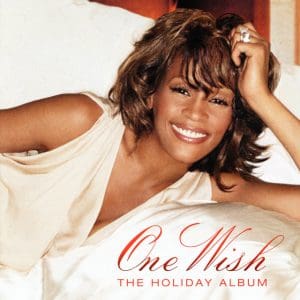 An obvious exercise in reparation of Houston's public image and an attempt to recapture former glories after the disappointing Just Whitney, 2003's One Wish: The Holiday Album was no doubt inspired by the annual popularity of Mariah Carey's Merry Christmas collection. 
Following the formula of that album, One Wish consisted of traditional standards such as Have Yourself A Merry Little Christmas, The Christmas Song, Deck The Halls, Silent Night, Little Drummer Boy and Joy To The World alongside Who Would Imagine A King from The Preacher's Wife.
While Whitney obviously nails the standards, a handful of lesser-known tracks drag the album down and the record lacks a modern classic such as Carey's enduring All I Want For Christmas Is You to give it replay value.
The decision not to include newly-written material was misjudged and the obvious song choices exist in countless forms making this an unnecessary release.
Also, given the arrests and rumours of drug abuse and domestic violence that continued to engulf Whitney and Bobby at the time, the public was not checking for traditional, wholesome family Christmas fun from Mr and Mrs Brown in 2003 as the disappointing 500,000 sales confirm.
I Look To You, 2009
Given that Whitney was presented to the world on The Merv Griffin Show in 1983 performing the song Home from musical The Wiz, it's somewhat poignant that while promoting
I Look To You in 2009 she referred to reuniting with Clive Davis as "coming home" for what would be her final LP.
After divorcing Bobby Brown and reportedly kicking her drug habit, Houston talked of being happy, healthy and optimistic for the future in an interview with Oprah Winfrey – a marked contrast to her face-off with Diane Sawyer in 2002, and being proud of her new album, and deservedly so.
I Look To You marks a real return to form, bearing the hallmarks of everything people loved about Whitney.
A contemporary sounding record, she reverts to the formula of My Love Is Your Love by enlisting current talent such as Alicia Keys for the retro-sounding R&B of Million Dollar Bill, Norwegian production powerhouse Stargate for the gorgeous country-tinged Call You Tonight, Akon for the hip-hop shuffle I Got You and Danja for the cool electro-R&B Nothing But Love and For The Lovers. 
In fine voice throughout, if a little huskier and battle-worn, her rich tone complements the spiritual title track and empowerment anthem Salute – both standouts unfortunately besmirched by the involvement of the now disgraced R Kelly.
"Don't call it a comeback," she sings on the latter, though it's hard not to, hearing her so engaged and reflective on the anthemic I Didn't Know My Own Strength, a trademark Whitney ballad from trusted long-time songwriting collaborators Diane Warren and David Foster.
Entering the US charts at No.1 (her first since The Bodyguard) and No.3 in the UK, I Look To You felt like a victory lap, propelled by the wave of goodwill from the public who were delighted to have Whitney healthy and back to her best. 
Having seemingly beaten her demons, few could have predicted her tragic death that shocked the word just a couple of years later in February 2012.
Whitney

 

Houston

 

Live, 2014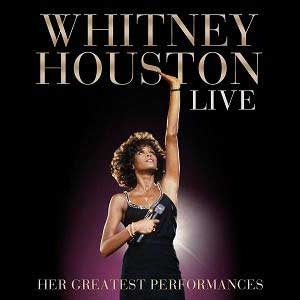 Although Whitney's obvious talent was never in question, one of the major criticisms that dogged her throughout her career – particularly her early years – was that her recordings were too pristine and failed to capture the grit and spontaneity of her live performances which
drew from her gospel upbringing. Having once said that she never sang a song the same way twice, her talent for changing arrangements or adding vocal runs and riffs make Whitney Houston Live an integral addition to her back catalogue.
From her very first TV performance of Home, the posthumous LP takes in such memorable performances as One Moment In Time from the 1989 Grammys, The Star-Spangled Banner from the 1991 Super Bowl (still regarded as the definitive version), her cover of Leon Russell's A Song For You from 1991's Welcome Home Heroes concert for army veterans and her showstopping musicals medley from the American Music Awards in 1993. 
Offering an unfiltered take on Whitney's unprecedented range, Whitney Houston Live solidifies why she is regarded as the greatest vocalist of her generation and serves its purpose in shifting focus from the tabloid tales to her once-in-a-lifetime talent.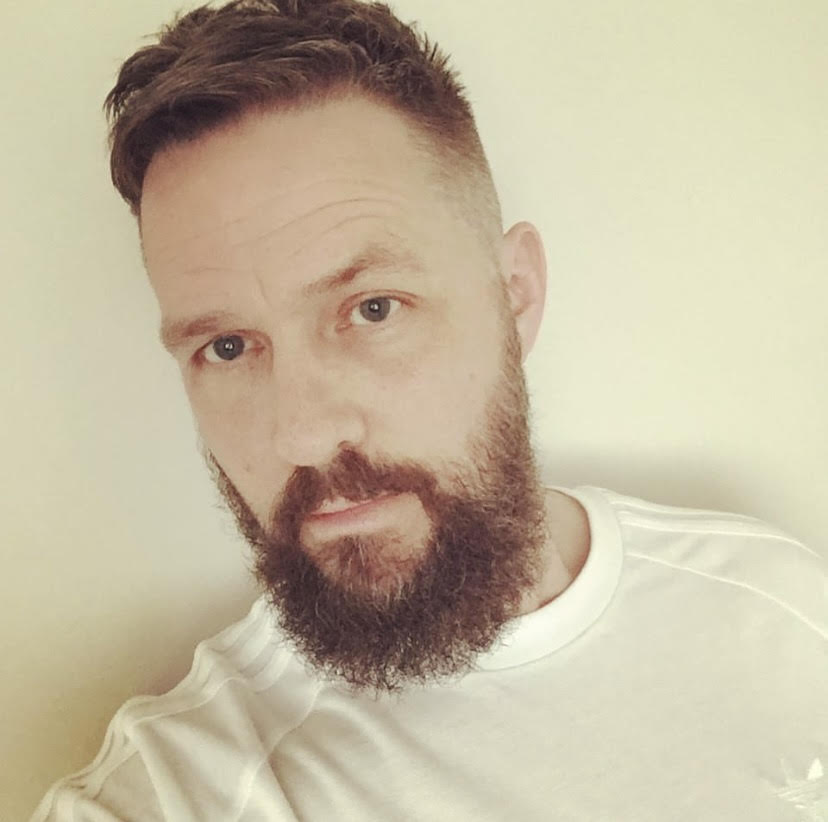 Mark Lindores
Raised on a diet of Smash Hits and Number One mags (literally, he used to save his school lunch money to buy them), Mark Lindores never entertained the idea of doing anything other than writing as a career. After writing for publications including the British and Australian editions of Vogue, Mixmag, Attitude, Total Film, Clash, Notion and Metro, he chanced upon the launch issue of Classic Pop in 2012 and, thrilled with the discovery of a magazine that featured his favourite artists, pitched an idea for issue 2 and has written for the magazine (and Classic Pop Presents) ever since.