Tears For Fears remember The Seeds Of Love
By John Earls | September 16, 2022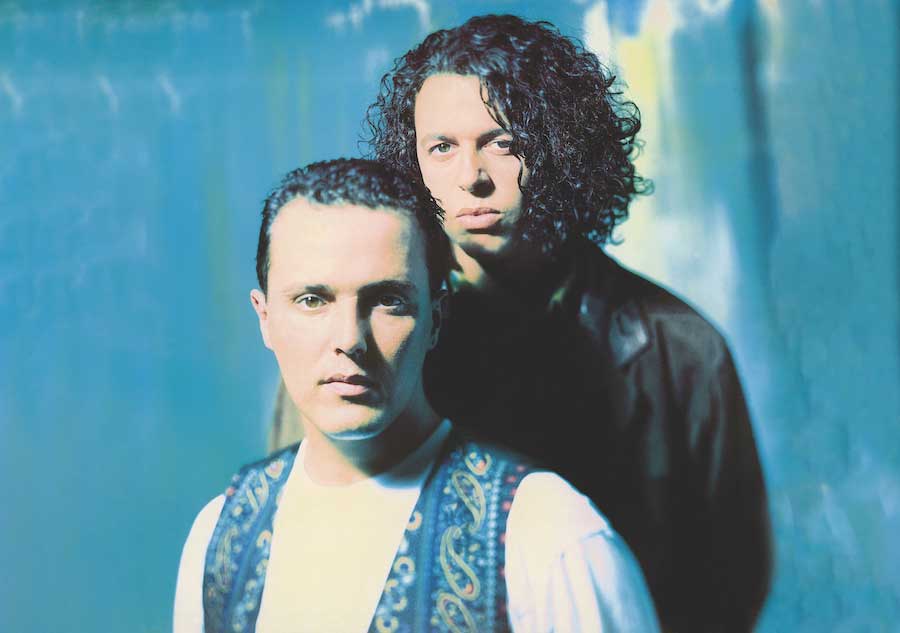 In 2020, Tears For Fears released a boxset of their 1989 classic, The Seeds Of Love. That year, we caught up with them as they reflected on their last masterpiece of the 80s…
"Me and Curt are in a way better place than we ever were. I don't think I'm as selfish and as egotistical as I was at my peak." Roland Orzabal can barely finish his thoughts on the current status of his relationship with Curt Smith for laughing at his past intensity.
After nearly 40 years, Tears For Fears are still regarded as a benchmark for earnest, troubled pop dynamics – Roland is generally thought of as the intense visionary, Curt as the gifted singer sometimes struggling to get his creative voice heard. 
Yet the pair have remembered why they work so well together and are finally back to being the mates who began their first band Graduate as teenagers in Bath. Their most recent British tour last year saw them joke with each other and their audiences.
One reason they changed management companies earlier this year was to better co-ordinate the release of new music. If they're not quite Morecambe And Wise just yet, it's a delight to witness them being so chilled about each other.
"I appreciate a lot more now what Curt is very good at," Roland admits. For his part, Curt notes: "Writing with Roland is much like it's always been – other than we're both less precious now, which makes it a little easier."
It's a good job life in Tears For Fears is currently a breeze, as the pair are talking to Classic Pop about The Seeds Of Love – the psychedelic and bluesy classic whose four-year genesis fractured the band, when Curt quit before the LP's accompanying tour.
Asking the pair to look back on such an infamously frazzled LP really will test their relationship, yet Roland in particular is self-deprecating about his single-mindedness in the era. 
Talking about the decision to start the album with the thoughtful epic Woman In Chains rather than the mighty pop of Sowing The Seeds Of Love, Roland recalls: "Everyone else wanted the record to start with Sowing The Seeds Of Love.
"I didn't agree – and I don't know why I didn't! I got so focused on the details that the running order caused a major argument.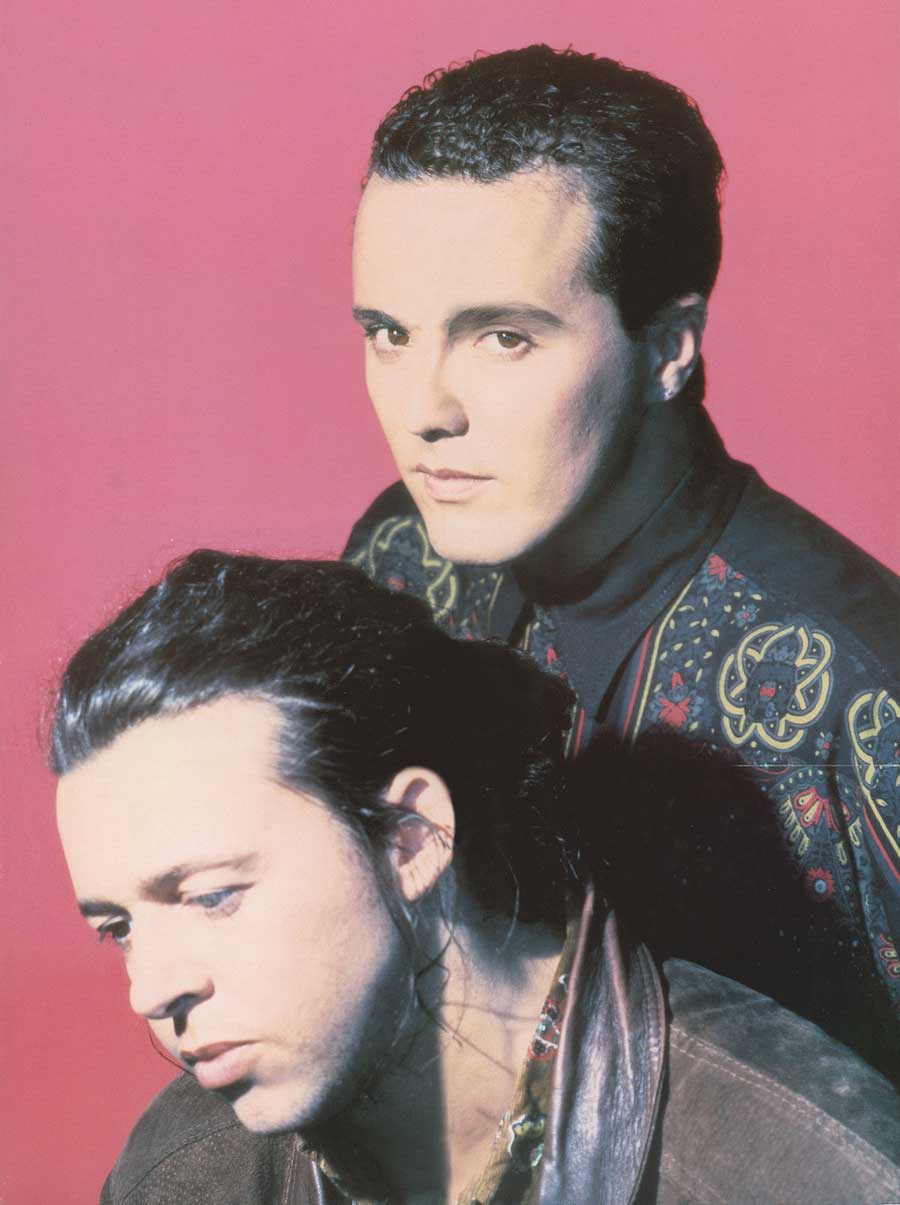 "Woman In Chains is the album's best work and putting that song on first gave people something to think about. But I don't know why I was so insistent, and it led to a massive stand-off between me and our record label boss Dave Bates."
It's a story that sums up the intensity of a record where Tears For Fears were following the gargantuan success of Songs From The Big Chair. That album led to them outselling Michael Jackson in the US and spawned the classics Shout and Everybody Wants To Rule The World.
But its tour was the start of the fissures appearing in their relationship.
"Whatever we did after The Big Chair would have needed a long time," insists Roland. "The touring schedule for that album and its massive success gave me a hangover, and I think Curt, too. We weren't in a hurry to get back out there. That wasn't a good career move, but you can't live your life thinking like that. 
"We'd toured around the world for eight months, and the technology meant we had to play backing tracks on a Revox tape machine, assembled in a way that we couldn't change our set for those eight months. That drove us both mad.
"Whatever came next needed to get away from that, and we decided to go on a journey for the next record."
Curt agrees, explaining: "We were coming down from a long tour, so we needed space and time to work out what came next. That wasn't easy, as the record company wanted new music quickly to capitalise on the success of Songs From The Big Chair."
Even if the duo had wanted to rush back into the studio, personal upheaval made it impossible. "On the personal side, I was going through a divorce, which added to the stress," says Curt. "Suffice to say it wasn't the easiest of times, but luckily some good music came out of it." 
Roland, meanwhile, was persuaded by his wife Caroline to move from Bath to London so that she could study at art school.
"I was a West Country lad, and any idea of moving somewhere else was pretty frightening," says Roland, who now lives back in the area. "The move took me away from my comfort zone and I thought, 'What the hell are we doing, moving to this big, scary place?'"
For the first six months, Roland and Caroline lived in a maisonette in Bayswater – a West London suburb long since gentrified, but which in the late 80s was "a big, bad, noisy, dirty and polluted world. For those first six months, I was a nervous wreck."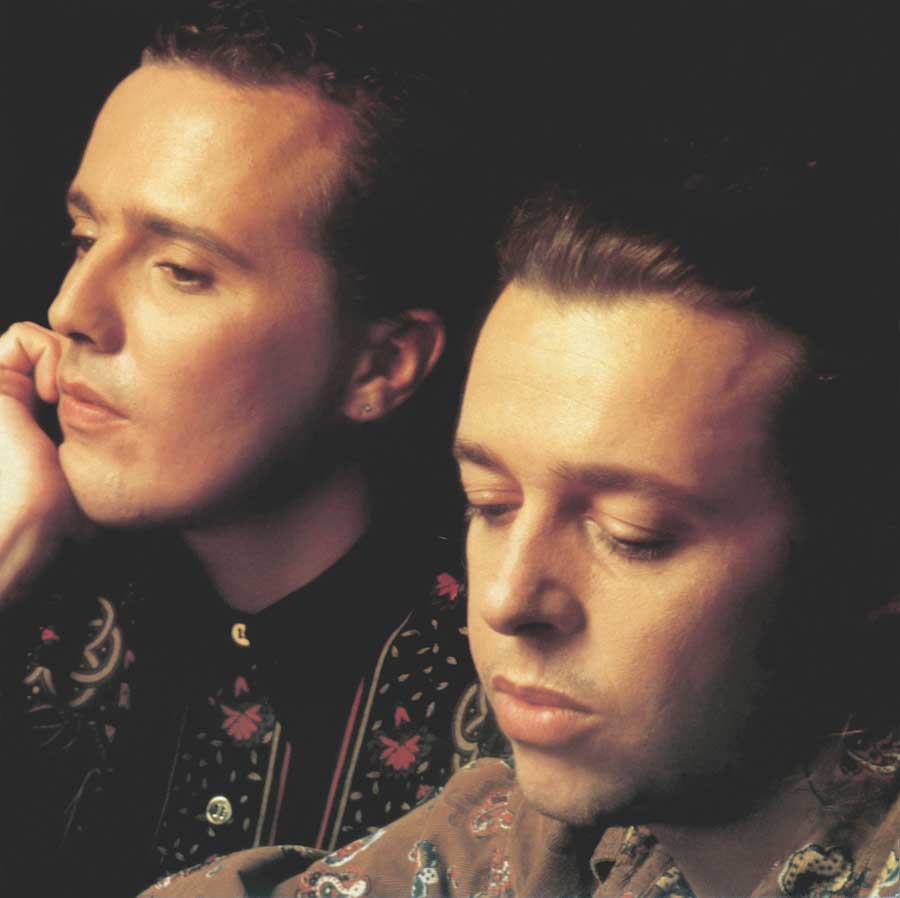 Caroline's art school was based in affluent Belsize Park, where she spotted a far nicer house. "We paid cash for it," notes Roland matter-of-factly. The couple's new home had space for a recording studio on the top floor, where Roland's red grand piano was installed.
"I have memories of a huge crane lifting the piano into the top floor of the property," laughs Roland. "Having a red piano in the sky was a very rock star moment!"
Finally comfortable in the capital, The Seeds Of Love began to take shape – albeit slowly. "It became apparent quite early on that the project was never going to be simple," says Curt with considerable understatement. Part of the problem was that Tears For Fears no longer had any obvious peers to compete with.
"We weren't the same people that had made Songs From The Big Chair," Roland believes. "Curt and I were getting older. In the early 80s, we could see men who looked like us on Top Of The Pops. We'd look at Depeche Mode and The Lotus Eaters and get pissed off at how good their singles were.
"You had people like Trevor Horn being so bloody good that it'd send us into a rage. We'd try to go one up on them – not very successfully at times, but we had peers to compete with." 
By the time of their third album, Stock Aitken Waterman were beginning to control the charts.

"The guys on Top Of The Pops no longer looked like us," he smiles. "TOTP and Radio 1 were both changing, going very ultra-pop. I love and respect Kylie, but she wasn't who we wanted to compete with."
Chris Hughes, the producer of Tears For Fears' first two albums, proved influential in shaping The Seeds Of Love's sound. "Being a bit older, Chris introduced us to older music," Roland recalls. "He was pushing the 70s on us, bringing in albums by Steely Dan and Little Feat. We thought, 'These are the people we should be aiming at.'" 
Chris, formerly known as Adam And The Ants drummer Merrick, had made his name as a producer on the duo's debut album The Hurting. But the pair believe his involvement sums up just how long The Seeds Of Love took to make.
"We were treading water for a long time," Roland admits. "We were hiring Chris Hughes as producer and firing him, re-hiring him and falling out with him again."
Curt adds: "Chris came back partly due to record company pressure and partly to do with our own comfort level with him – even though we were trying to get away from that comfort." The producer finally left, but remains good friends with the duo. "Chris is Mr Pragmatist," says Curt.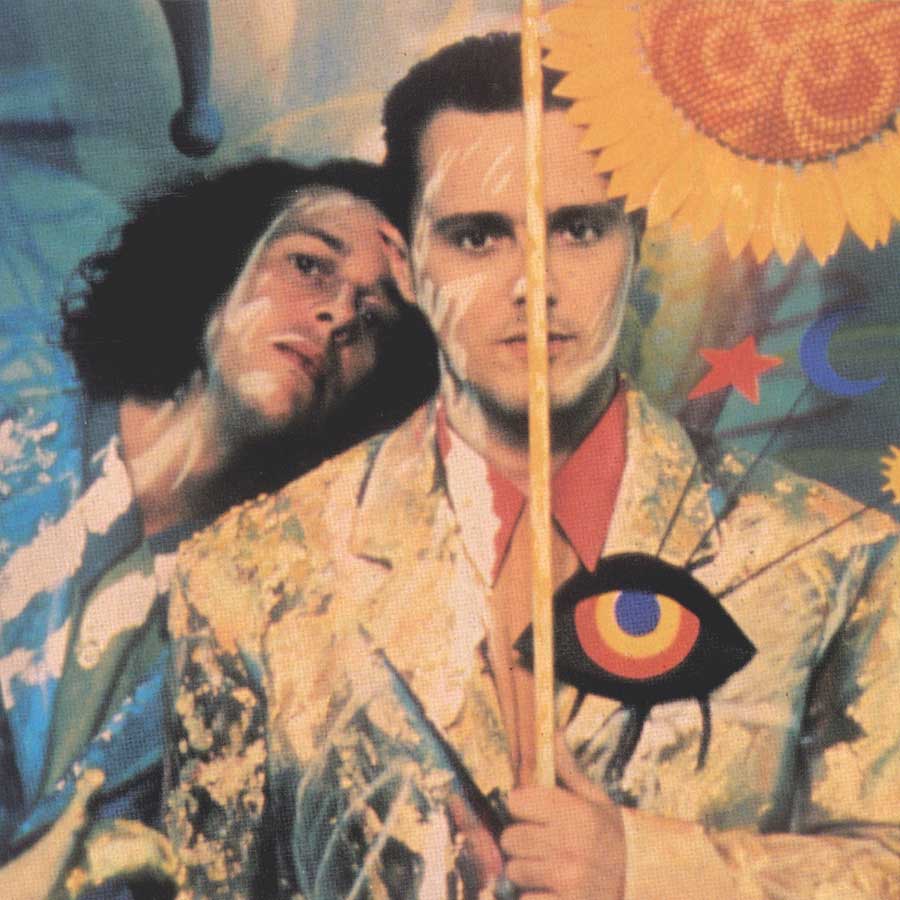 "If you see things differently to him, he's happy to step away." Roland continues: "It's important to remember Chris is a drummer, so he's pretty thick-skinned! Hiring and firing was no big deal to Chris. To talk practically, Chris was in demand as a producer, so he could go straight on to work with someone else.
"Ultimately, we were the only people who could deliver that record, because we had a vision for it. It just took a hell of a long time to get there!"
Co-writer Ian Stanley also left, his demands to become an official member of the band rejected.
Instead, engineer Dave Bascombe stepped up to become co-producer. "Dave is as easy-going as they come," Curt offers.
"He was perfect for the album, because the last thing we needed on that record was more intensity." Roland agrees, calling Dave, "The calm to our storm," but is quick to point out the producer – who also worked with Depeche Mode and Erasure – was more than simply a peacemaker.
"Dave made decisions very quickly, and everything sounded great once he made those decisions," he enthuses. "He's also a maths and technical genius, a human ProTools long before ProTools was around."
The received wisdom around The Seeds Of Love is that it started to become a Roland Orzabal solo album. Soon after Curt's separation from his first wife Lynne, he fell in love with Frances, a publicist at EMI in New York.
The couple are still married and live in Los Angeles with their two daughters. The practicalities of a transatlantic romance proved a bigger pull to the singer than trying to progress on a tortuously slow album.
"As I started to fall in love with New York and Frances, I realised there was more to life," says Curt. "The search for musical perfection didn't do it for me and I went off in search of a new feeling." 
But Roland is quick to praise his bandmate's involvement. "It was a tough time for Curt," he says. "I was on a mission at that time and very single-minded, but Curt was incredibly important in putting The Seeds Of Love together. He was there 99% of the time.
"But it was easier when Chris was producing and Ian was still involved, as the band hierarchy was simpler. Once we started taking over everything, it became trickier for Curt, both personally and politically."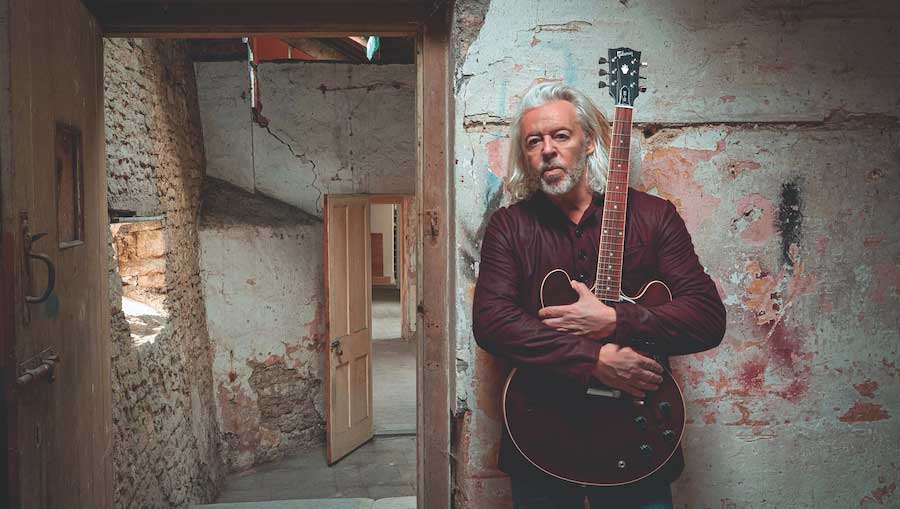 Therapy helped shape the album's message. Tears For Fears are famously named after an aspect of primal scream therapy – and, by a bizarre coincidence, The Association Of Primal Psychotherapists established its first British office near Roland's house at the same time as he and his wife moved to London.
"Looking back at the timing, you do wonder if some things were meant to be," laughs Roland. "While Caroline was at art school, I'd do primal therapy three times a week.
"It was a 25-minute walk to their office, and that walk gave birth to a couple of cracking songs. Woman In Chains came out of the experience of therapy, of talking about my feelings of my mother being a stripper who was abused by my father.
"Standing On The Corner Of The Third World was part of those same emotions. That song wasn't difficult to write."
Alongside the personal, politics became more explicit, too. "I'd been obsessed with my personal journey in our early days," reflects Roland.
"In my late twenties, I became more politically aware. I'd grown up under Thatcher and wasn't a big fan. By The Seeds Of Love, I believed Britain badly needed a change. Reading books on Marxism, I started to think, 'Wow, this is amazing!'"
Despite those moments of inspiration, it wasn't until thinking of a female voice for Woman In Chains that the album finally slotted into place.
Curt and Roland had seen Oleta Adams while touring Songs From The Big Chair, when she sang at their hotel in Kansas. "We were feeling a little disillusioned and overworked," recalls Curt. 
"We were wondering about that tour if this was really what we had signed up for. When Oleta started singing with effortless passion, it reawakened our belief that music can actually convey something bigger than ourselves." 
Roland calls her performance that night "a eureka moment". Oleta was the obvious choice to bring Woman In Chains to life. "We hadn't forgotten Oleta," insists Roland.
"But I didn't have any clue how or if we should include her on the album, until I wrote Woman In Chains. As soon as I wrote that song, my mind went ping: Oleta! She was really the key to unlocking the album."
At the end of 1987, Roland and Curt flew to Kansas to persuade the soul singer to join their album. Eight years older than Tears For Fears, Adams was dubious. "I don't think Oleta was sure what we were trying to do," says Roland.
"I'm not sure she realised these two English pop guys really were serious in wanting to work with her, or how we could make it work. But we did. Once Oleta was involved, we thought, 'Wow, finally we now have an album!'"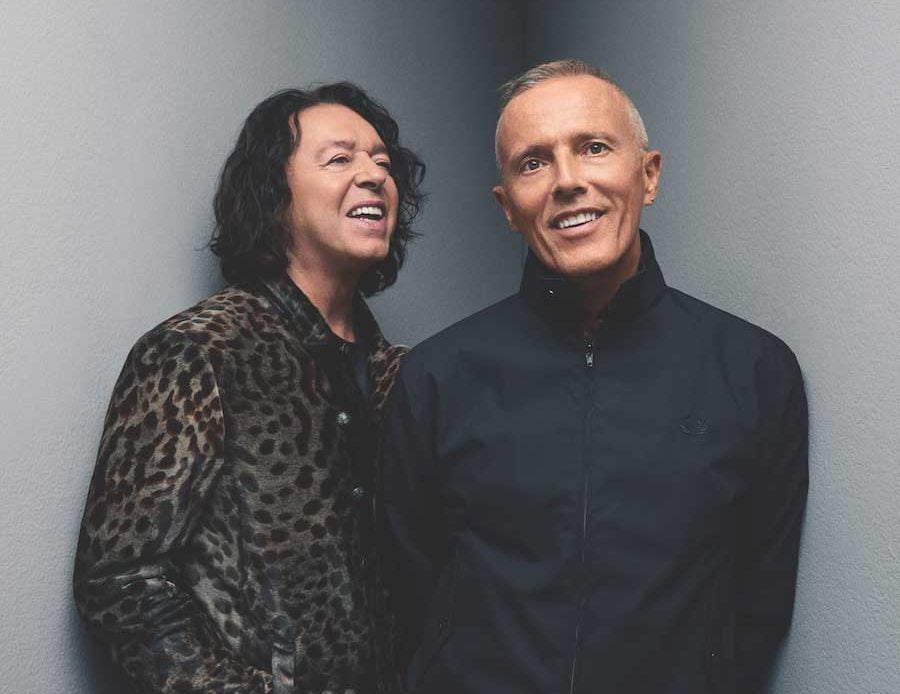 Oleta also joined the imperious groove of Badman's Song, while the band tried to work on Rhythm Of Life, which would eventually become Adams' debut solo single in 1990.
"We just couldn't make Rhythm Of Life fit our album," says Roland. "It's a soul song more than a Tears For Fears song, Oleta did it justice better than we could."
Alongside Woman In Chains, the other final song written for The Seeds Of Love would prove to be its calling card. Although no longer working on the album, Chris Hughes had advised the band that the record was lacking singles. Within weeks, both Woman In Chains and Sowing The Seeds Of Love arrived.
"My happiest personal memory of the era was getting to know and love New York," says Curt. "Musically, it's making Sowing The Seeds Of Love. That song was always a joy. There was something light-hearted and magical about the track that made it stand out." 
It was created after Roland messed around with the beat of The Beatles' I Am The Walrus. "The verse is, in a sense, a minor chord version of Walrus," Roland explains.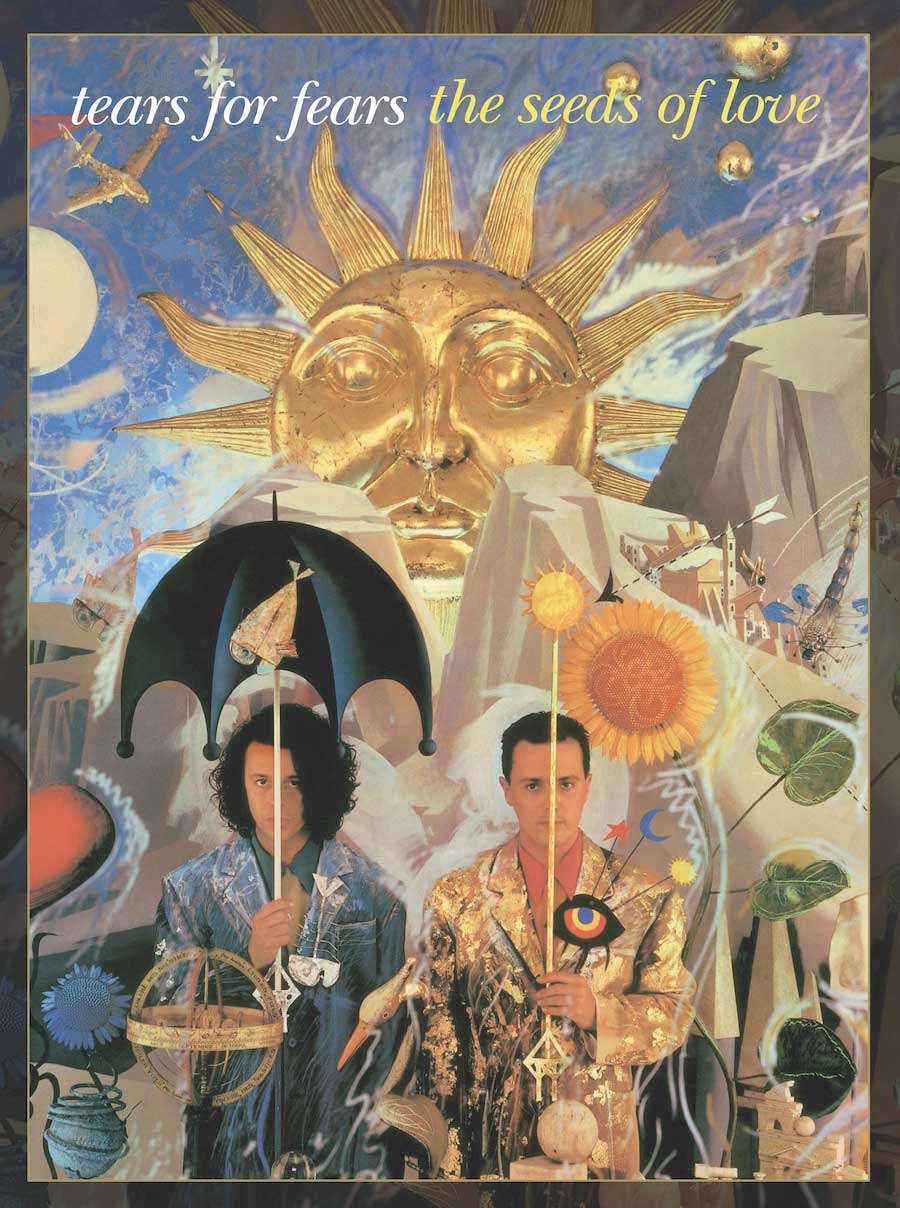 "The song goes minor key, minor, minor, until it's obvious to change it up for the chorus. So the structure was simple, but I didn't have anything for the chorus for a long time other than the line, 'Anything is possible when you're sowing the seeds of love.' Then I played it to Curt. He just started singing the backing vocal from nowhere, which was obviously way more than a backing vocal. As soon as Curt began singing, I thought, 'That's it!'"
Released in August 1989, the single's perfect mix of Beatles psychedelia and childlike wonder could be seen as the first great Britpop single.
"I think The Beatles would have something to say about that!" counters Curt, but it's a notion Roland is happier to consider. "It's a very interesting point," he muses.
"Living in London, my antenna was working well, as I could sense the coming zeitgeist. It wasn't just Britpop, rave culture is in that song, too, a throwback to the hippy era as well as a Dylanesque protest song." 
Sowing The Seeds Of Love was only kept off No.1 in the States by Janet Jackson's Miss You Much – still a disappointment after Shout and Everybody Wants To Rule The World had topped the charts there. "It was a bad and difficult situation with our record company," recalls Roland.
"During The Big Chair, the US label respected Dave Bates' brash personality. What he did worked. But there'd been a change of personnel, and they couldn't wait to get rid of him. Their tactics were underhand. If Sowing The Seeds had got to No.1, they'd have had to put more weight behind us.
"Our single was No.1 in sales, but Janet beat us on airplay. Which was…" There's a big sigh before Roland moves on. "When we toured The Seeds Of Love in the States, Curt went round the local record stores, many of which didn't even stock our album. It was pretty bad."
The live shows were, if anything, more hard work than the mammoth haul of the Big Chair run. "I made the mistake of announcing I was leaving before the tour," admits Curt. "That made it a little tense, let's say."
Now admitting he should have waited until after the tour before announcing his intentions, at the time Curt treated the tour as one big party. He and most of the live band wore tour T-shirts calling themselves "The BBC" – short for The Bad Boys Club. In the other camp were Roland, Oleta Adams and Oleta's husband, drummer John Cushon.
"Having the two camps was pretty uncomfortable," says Roland. "Curt was looking to do something with his life beyond Tears For Fears, and there was nothing I could do. It wasn't just Curt, it was band members who also had their own way of making things work."
The new boxset edition of The Seeds Of Love turns the album from its original eight songs into a 51-track epic, as well as featuring Steven Wilson's stunning 5.1 mix of the LP.
"Steven has done an absolutely amazing job," says Roland. "Some of the original mistakes on the album were fashion-based from the time, like having way too much reverb. Steven has dialled all that back brilliantly."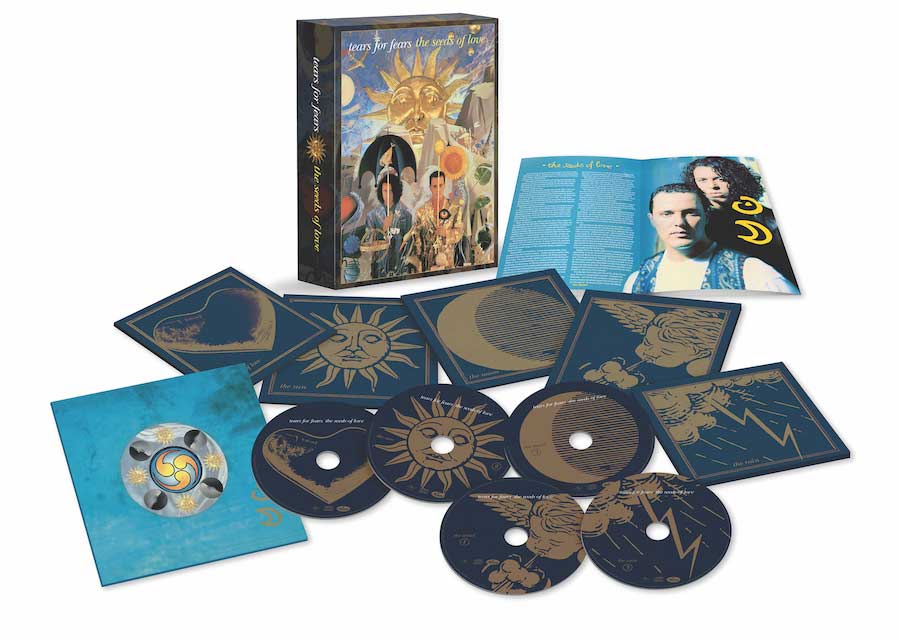 Curt cites "the jam sessions from Townhouse Studios" as his favourite extra, where musicians including drummer Manu Katché and bassist Pino Palladino work on the album for a freewheeling half-hour. That Curt picks live studio work from The Seeds Of Love sessions is indicative of his reservations about the album.
In the boxset's sleevenotes, he criticises the LP for sounding "sterile…too pristine." He explains now: "That's caused by the search for perfection, rather than feel."
But Curt is happier with how the songs have grown over the years in Tears For Fears' live shows, adding: "Because they rely more on feel, the tracks work wonderfully well now in concert, especially Badman's Song."
Roland, meanwhile, is still delighted by the album, saying: "Maybe we went too far on that massive journey, but I'm a little bit in awe of what we achieved, especially on the first three songs on the album. It's a major achievement, the point at which we went beyond the 80s and moved away from our peers. I'm seriously proud of The Seeds Of Love."
It may be a decade-and-a-half since Tears For Fears' previous LP Everybody Loves A Happy Ending, but the journey to their next record is progressing more smoothly. "We're rarely in the same location, so it's slow," admits Curt.
"But it's constant and I believe we're not too far from finishing." Work resumed on the album in October, with Roland flying over to LA. "We'll hopefully finish soon," says the man whose vision drove The Seeds Of Love into becoming so toweringly ambitious.
"We hope to get the album out next year." Tears For Fears have plenty more seeds to sow just yet.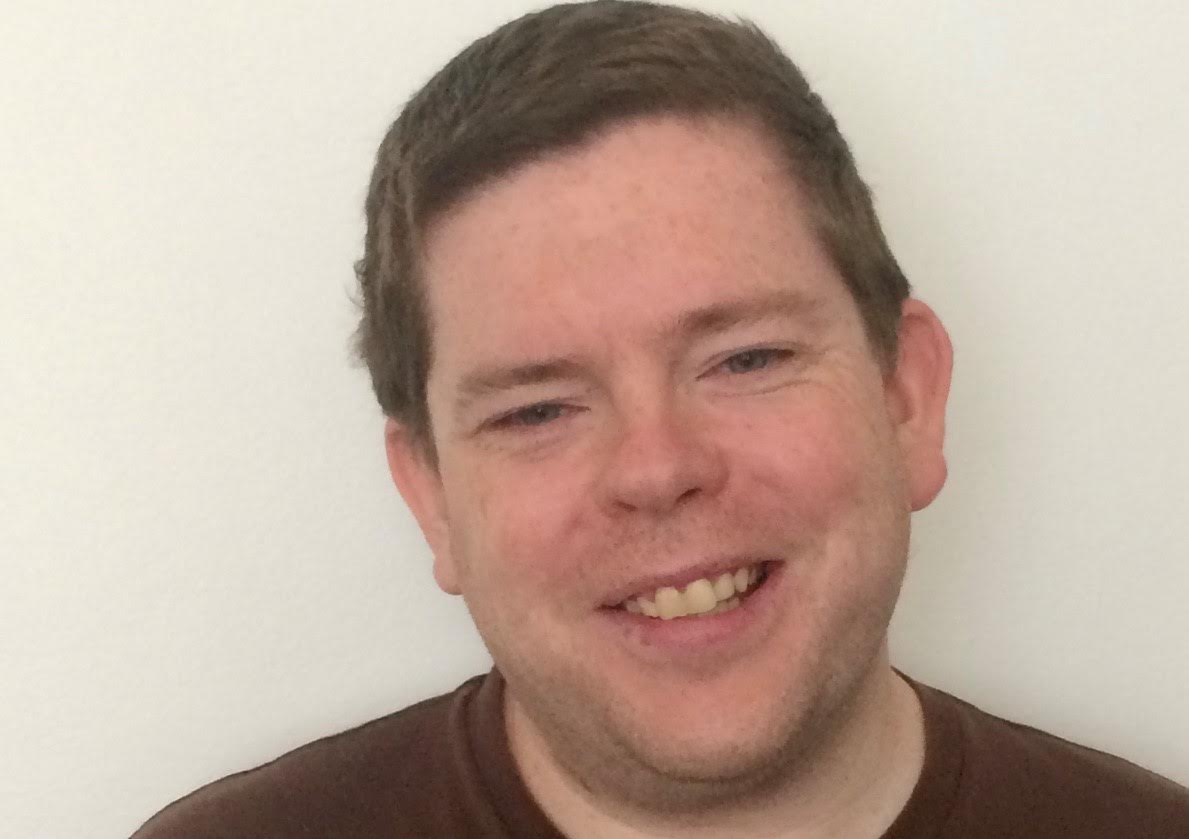 John Earls
Writing for Classic Pop since our first issue, John has been to Adam Ant's house, sworn at by Bob Geldof, touched Johnny Marr's favourite guitar, interviewed Richard Coles on his vicarage bed and serenaded with Last Christmas by Shirlie Kemp. John first specialised in writing about music as editor of Teletext's Planet Sound music column from 2000-09 and now writes about pop for a range of magazines and national newspapers. A Luton Town fan, John also writes about football. His bucket list interviews for the magazine are Grace Jones, Kylie, Siouxsie Sioux and Andrew Ridgeley.