Kim Wilde interview: Close encounters of the Wilde kind
By Classic Pop | October 18, 2022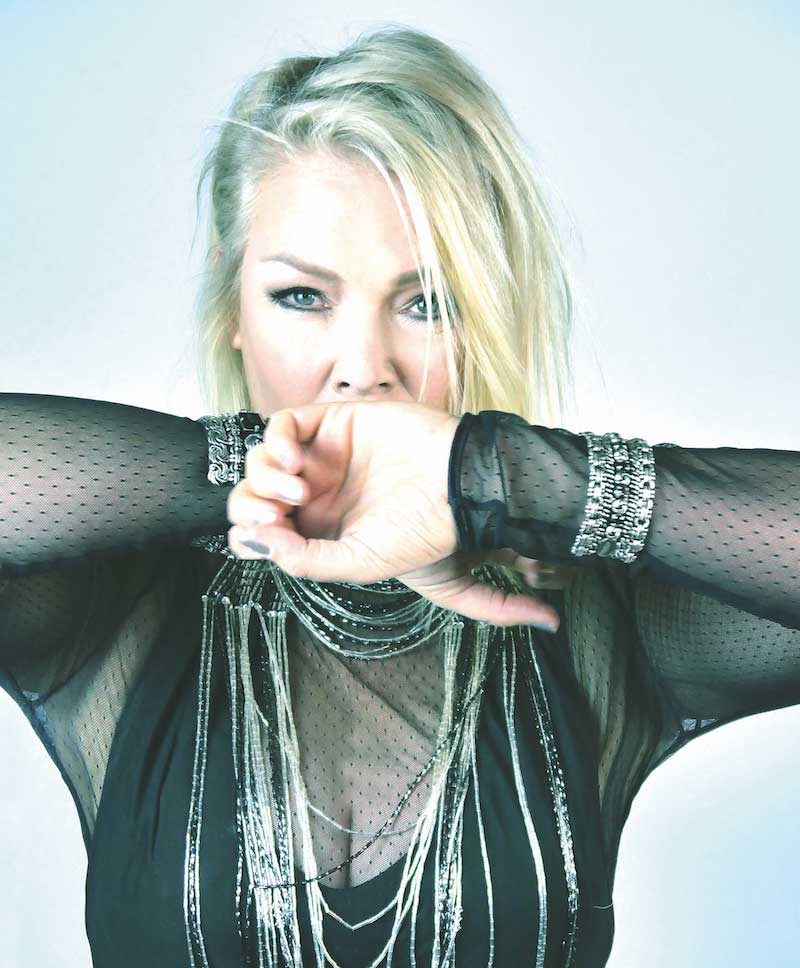 In 2018, the great Kim Wilde discussed alien lifeforms, Kraftwerk, Michael Jackson and horticulture with us… By David Burke
Kim Wilde, together with brother Ricky – her producer, co-writer and all round creative foil – have long incubated an aspiration to make the perfect pop album. 
"That's the Holy Grail of what we've been doing," she tells Classic Pop as Here Come The Aliens – her first collection of original material since 2010's Come Out And Play – was being readied for release.
"That's what this album is all about – trying to give it a good shot and make this as perfect a pop album as we can, to contribute to what's already there."
The siblings might just have done it, you know. For Here Come The Aliens is a sublime sonic synthesis of 80s diversity and daring, with allusions to many of Wilde's contemporaries on virtually every track, whether it's Duran Duran (Yours 'Til The End), New Order (Addicted To You) or The Cult (Rock The Paradiso).
But don't go thinking this is a nostalgia-fest – on the contrary, Here Come The Aliens is a thoroughly modern record with thoroughly modern concerns.
Not least on the pulsating opening track, 1969, which recalls the moon landing while positing that the extraterrestrials might be coming to kick us off the planet for making such a hash of things.
"I wouldn't blame the aliens if they came down and flung us all off the earth, but I have a strong, positive faith in the human race, in spite of the terrible things that I observe. I'm a great believer in the human race. I'm still holding a flag of hope out for us, that we can learn from our mistakes and we can clear it up," says Wilde.
The truth is out there
Let's be clear – when she talks about aliens, it's not in an abstract way. Wilde is unequivocal that there are other lifeforms inhabiting the cosmos. She's seen the evidence – a UFO sighting near her Hertfordshire home in 2009.
"I've thought about it pretty much every day since. I'm always looking up at the sky to see if anything else unusual is going on up there. 
"We were sat outside in the garden, me and my husband and one of my close friends. We'd spent the evening in A&E with our little boy, who had suspected swine flu. So it wasn't a night on the piss and suddenly noticing lights after the second bottle of Pinot! 
"We put our child on the sofa, to keep an eye on him, and went outside. It was still dusk but there was some low cloud. I noticed a very bright light coming up from the south east at the bottom of our garden, which faces on to fields, and some helicopters. I thought: 'Here we go, they're chasing someone'.
"Then the helicopters went over our roof, disappeared, and it all fell quiet. Then I'm sat there and I saw this incredibly bright light still shining on a slightly different path, behind clouds in the way that the moon shines behind clouds. I noticed it was unusual that it would be there. 
"I got my friend to come down to the field and we looked up to see what it was. We thought it was perhaps a light from nearby Knebworth House, or someone was pointing lights into the sky, or even letting off Chinese lanterns.
"But it didn't tick any of those boxes. It was silent and huge, and it stayed there for a minute or two before zooming over from an 11 o'clock position, then to a one or two o'clock position.
"It stayed there for a little while, then zoomed straight back to 11, then did this two o'clock, 11 o'clock vibe, with a smaller one following it. 
"We couldn't actually see them, but the light they made was so bright and it was such a bizarre thing to see in the sky. I thought I was going mad. I'm so glad, in retrospect, that there were two other people who saw it. It was inexplicable and extraordinary.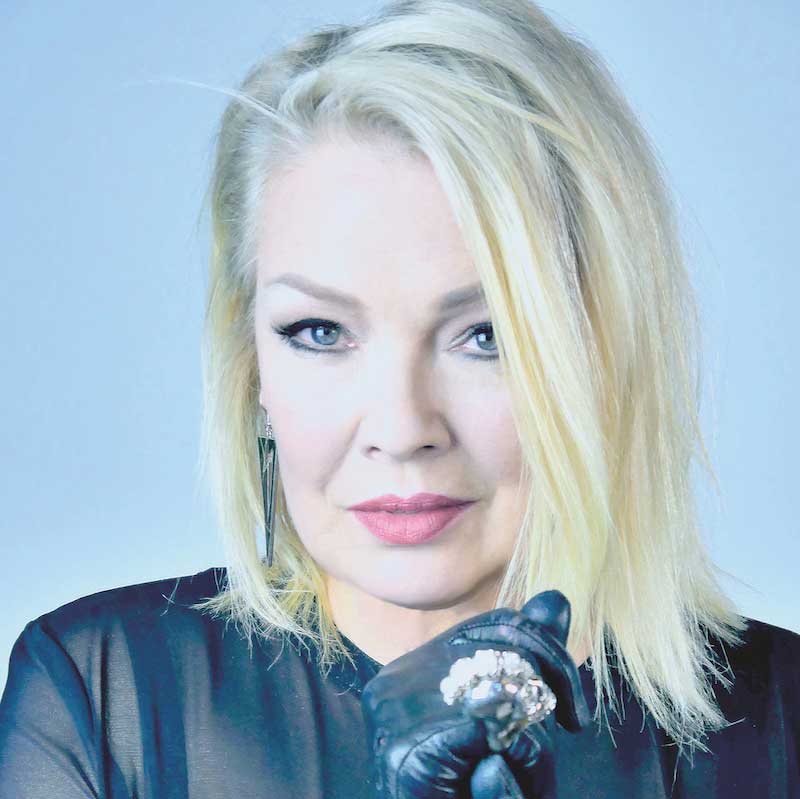 "That was on the Friday, and on the following Monday the story had made the local paper – someone else had seen it and had managed to take a photograph of a sphere in the sky. Then I met other people locally who also saw something up there that night.
"It was observed by quite a lot of people. It was an astonishing thing to see, and it still astonishes me. I had a very strong sense that it wasn't a dangerous thing – it was a benevolent feeling I had. I felt it was watching us."
Her fascination with the galaxy comes from her father, an avowed space buff. And it was he who exerted perhaps the greatest influence on her musically. But then he is rock'n'roll icon Marty Wilde. 
"It wasn't only hearing him sing and play at home that inspired me, but him enthusing about music. We weren't a religious family, but we had music, which really was our religion. We were a little fanatical about it.
"Dad was always buying vinyl and bringing it home. Not only did he have his collection from his rock'n'roll days, but he had ears for whatever was going on in the present.
"He was the first person to bring back Kraftwerk's album and put it on for us, and it drove my mum into the kitchen, wailing: 'Get that bloody stuff off!' 
"He's still really on it. He loves pop music. He'll say to me now even: 'Have you seen Sigrid? She looks really interesting. She's this 21-year-old making great pop music. What do you think?'"
It's a family affair
As a young girl, she would go on the road with Marty, subconsciously assimilating the techniques that made him such a consummate live artist – indeed he's still playing to packed houses in his late 70s.
"I'd stand on the side of the stage and watch him entertain, in his element being with an audience, making them laugh and singing songs from his heart. Of course, he has had a massive impact on me.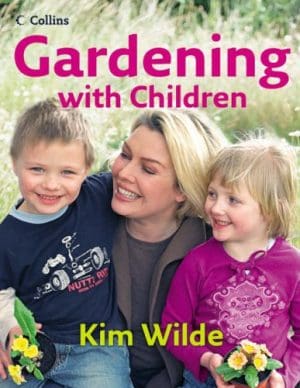 "His talent as a performer has come into its own in the latter part of my career. The last 20 years, when I've been mostly performing – unlike the 80s, when I was mostly pouting and making videos and doing TV – have been the most rewarding.
"I've noticed in my stagecraft that I've borrowed and learnt an enormous amount from my Dad."
And then there's Ricky. A child star at 11, he was signed to Jonathan King's UK Records label and released the single, I Am An Astronaut, covered by Snow Patrol in 2006.
"I think I was envious of him at the time," Wilde admits. "But he didn't feel comfortable with it. He was still at school, and he got bullied.
"It led to him leaving school the moment that he could. He joined my dad's band, learned how to become a musician and started songwriting. The rest is history.
"We grew up experiencing to all the same things, listening to the same music, being inspired in the same ways by our father and by mum [the former Joyce Baker, a member of musical ensemble, The Vernon Girls].
"And as we turned into teenagers we became very close and started writing together. Until that point we weren't particularly close, because he was my irritating little brother and I was the older sister. 
"He started writing and I roped myself in as a session singer, which was really all I was interested in doing. I knew how to harmonise – my mum and dad taught us that from a young age. They would always harmonise to songs on the radio, never singing the melodies, always singing the counter melodies.
"They would practice together with us on Everly Brothers tunes. I've done that with my daughter. It's such a personal thing, music. The fact that Ricky and I are on the same page is a minor miracle. It's been a gift to both of us.
"There have been times when it's not worked so well, times when life took us in slightly different directions. But the energy, the spark, and the passion for it, in both of us, never went away.
"It might have just gone on holiday for a little bit, but now it's returned with a vengeance.
"I wouldn't want to make pop music the way I do now if it hadn't been for him being my brother. I love working with him. He's so inspiring, talented and humble. We have a lot of mutual respect and we push each other to try to be the best – we hold the bar high."
The fame game
It was Ricky and Marty who penned Wilde's seminal 1981 hit, Kids In America, which peaked at No.2 in Britain and reached a high of No.25 in the States. The track guaranteed her pop immortality, despite her conflicted relationship with it over the years.
"By the time I got to 36 I was so over that song. I felt it was holding me back. I'd been living with it since I was 20. I had put out an album called Now & Forever, which was a more soulful expression of my musicianship, and no one was remotely interested. I'm still really proud of it – it's one of my favourite albums. 
"I did feel like Kids In America had set a path for me to which I needed to return. But, I didn't want to return to it, so I kind of walked away from the song when I got married. I thought at that point I'd never sing it again."
The instant fame that Kids In America brought Wilde was mitigated by the fact that she still lived at home – and that
meant being protected and helped keep her grounded.
"My parents were running the show, making sure that I wasn't getting taken advantage of, financially or on any other level.
"They were there watching things, making sure stuff was sorted out, and they did a bloody good job of it. 
"My mum and dad at that time had had two children, so I'd be going home from Top Of The Pops and changing my sister's nappy!
"If I ever looked like I was floating skywards, they always had a knack of knowing how to bring me back down to earth. 
"I never got into music because I wanted to be famous, so I was always a little bit uncomfortable with the fame part. I think that shows in quite a lot of the pictures and videos – sometimes you can see a person who's playing at it and not believing it."
Celebrity, however, was an unavoidable by-product of the success wrought by further hits such as Chequered Love, Water On Glass and Cambodia, a chart-topper in the United States with her version of The Supremes' You Keep Me Hangin' On and a support slot on Michael Jackson's Bad World Tour in 1988. 
And then came a breakdown around the time of her 30th birthday.
"I hadn't had any time out. From 20 to 30, I'd literally just been on the road solidly. So I was stressed out. I was very anxious. Those words, they didn't really exist back then – anxiety, mental health issues, all those things that are, thank God, being talked about now.
"I was very ambitious, I was very young. I didn't realise there was a difference between going to Australia to work and thinking it was a holiday. I thought they were the same thing. So I didn't ever take a break.
"I was also a bit lonely. I didn't have anyone to snuggle up with. I had a few boyfriends. I didn't stop feeling like that properly until I met my husband."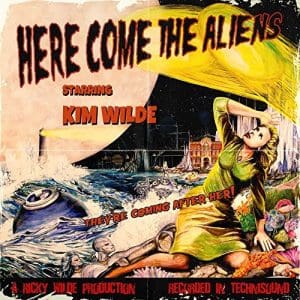 She fell for Hal Fowler when they were both appearing in a West End production of The Who's rock opera, Tommy.
"The day I met him all the pieces of the puzzle suddenly fell into place. That's not to say life then became perfect.
"Life is always going to throw curveballs and it certainly threw lots my way, but nonetheless, meeting him was the single best thing that happened to me at the time it did. 
"I was desperate for that kind of life. I'd already started taking steps out of my public life. The future became a mystery again, and that was so exciting.
"I changed my name on my chequebook and my passport – all of a sudden I became Mrs Fowler. There was a great feeling in that. I wasn't Kim Wilde any more – I was Mrs F!"
The couple plumped for a pastoral life in rural Hertfordshire, where they raised two children (Harry Tristan and Rose Elisabeth), and Wilde became a celebrated gardener.
Then, in 2003, Anyplace, Anywhere, Anytime, a duet with German vocalist Nena, did good business in Central Europe. She signed to EMI Germany and revived her career at home. 
"I was asked to go and do a tour with The Human League, Altered Images and Heaven 17. I thought: 'Gosh, I'll get to spend a bit of time with those guys'. I've got all their records in my vinyl collection. The Human League were a huge inspiration to Ricky and I. So I went on tour with them and I've never looked back. 
"I was amazed that the public were chuffed to see me again and didn't mind that I was a Hertfordshire housewife and mum of two.
"I feel I've earned it all now. I'm a few years from 60. There's no point in being modest about it anymore. I'm going to celebrate it, and I want to say thank you to everybody by being the best I can be. I also want to make our contribution to pop music the best it can be.
"We're so proud to be part of it and represent it in some small way. I'm so proud to be a pop singer and to have survived with my sense of humour intact and my life, actually." 
Want more from Classic Pop magazine? Get a free digital issue when you 

sign up to our newsletter

!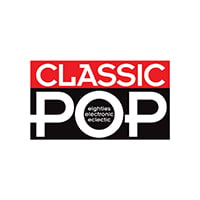 Classic Pop
Classic Pop magazine is the ultimate celebration of great pop and chart music across the decades with in-depth interviews with top artists, features, news and reviews. From pop to indie and new wave to electronic music – it's all here...