Simple Minds interview: "We wanted to be underground and alternative but we just couldn't help ourselves"
By Paul Kirkley | January 20, 2023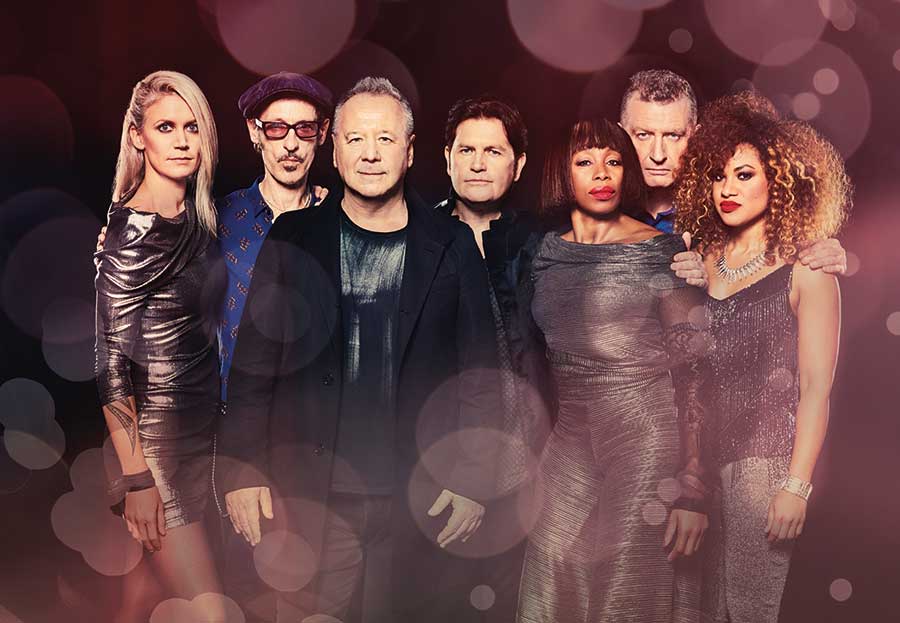 Despite being forged from personal loss amidst a global pandemic, Simple Minds' latest album, Direction Of The Heart, aims to shine a positive light in dark times – AND It might even be their new New Gold Dream explains Jim Kerr and Charlie Burchill…
Jim Kerr and Charlie Burchill have spent a lot of time in each other's company over the past 55 years.
But in 2020, the lifelong friends and musical fellow travellers found themselves hunkered down in splendid isolation in the Sicilian hills, working up songs for Simple Minds' next album in a shuttered and deserted hotel (proprietor: J. Kerr) high above the town of Taormina.
Shop Simple Minds CD & vinyl on Amazon now
"Of all the places to be locked down," smiles Kerr, when Classic Pop catches up with the pair two years on. "It was kind of mystical. The view we had was of Mount Etna, which has a brooding, incredibly powerful presence.
But also kind of benevolent. Etna's almost bang in the centre of the island – when it's throwing this stuff up into the air, it's not just flames, it's this ash, which makes the place incredibly fertile – Sicily was the breadbasket of the Roman Empire.
"Sorry, this is me getting a bit hippy-dippy," he says, checking himself. "But every day, Charlie and I were looking at that, and at the sea. It's just an amazing place – you're nearer Africa than you are Rome. So you wake up and everything's covered in red sand from the desert. As I say, it's a mystical place."
Burchill's memory of those weeks is slightly less romantic. "It was a bit like The Shining," he laughs. "We were in this empty hotel… for a lot of the time it was just me, on my own in the hotel. So yeah, slightly Shining vibes. But we had a great time, and a lot of the songs for the album were written there."
The story of Direction Of The Heart, Simple Minds' 18th studio LP, actually begins a year earlier, in the spring of 2019, when Kerr was back living in the band's hometown of Glasgow, so that he could be close to his dying father.
"Although we weren't going to give up hope, we knew the writing was on the wall with Dad's situation," says Kerr. "He knew what was in store, but the last thing he wanted was people freaking out. He wanted life to go on as it was."
So Jim did what he's done so many times in his life – he called up Charlie, who flew over and the pair set to work writing songs.
"Dad would be like, 'How's the work going?'" he recalls. "We were down the road, so while he was still mobile, he'd pop into the studio and…" Kerr's eyes prickle at the memory. "Sorry, I'm getting a wee bit emotional. But he'd pop in, and he'd shout upstairs, 'Write me a fucking hit!'"
Buy Simply Minds Direction of the Hear LP now on Amazon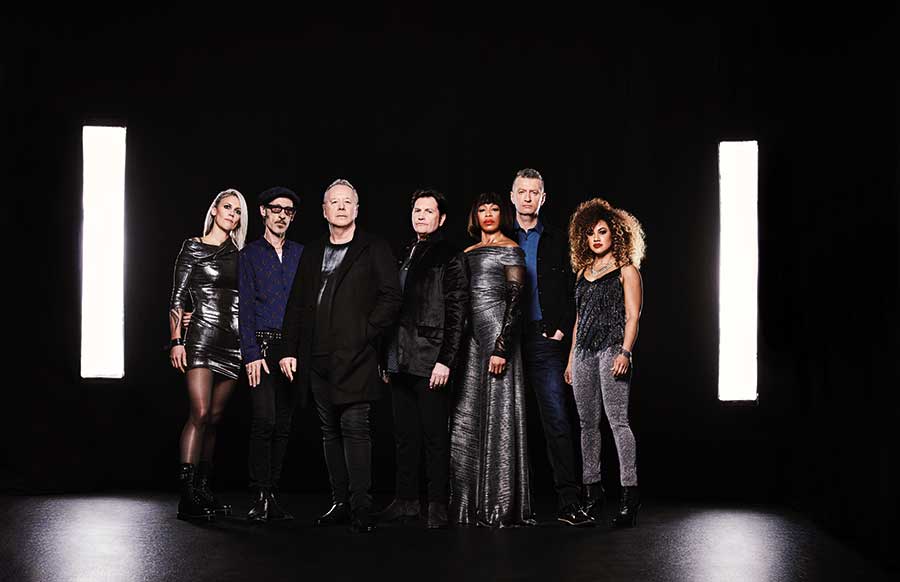 It says a lot about the two men's friendship that, having followed his frontman to a new life in Sicily, Burchill would then drop everything to fly back to Glasgow to be there for him.
"Yeah, it's a bit sad – even when we have downtime, we end up in the same place," Burchill continues. "But I'd have been there anyway – because Jim's dad, Jimmy, was ill."
"In a funny way, Charlie was even more emotional about Dad than I was," says Kerr. "We'd grown up in the same street, he knew my dad, and as we got older they became great friends.
"My dad made Charlie laugh a lot. Charlie's own parents had already passed, and for us, they represented a certain Glasgow that we knew was dying out. Literally. So Charlie wanted to be around."
Rummaging around in his dad's attic during those six months, Kerr discovered a collection of Simple Minds press cuttings that his parents had accumulated.
"They were very proud, not just of me – but of the whole band," he says. "They were proud of our crew, they were proud of our fans… Though they might not have been able to put it into words, I think they could feel that, with Simple Minds, it's an uplifting thing. It's a positive thing."
Recorded in Hamburg with a production team including Andy Wright (Massive Attack) and Gavin Goldberg (Simply Red), Direction Of The Heart upholds that positive tradition. Reflective but ultimately hopeful, it's an album designed to shine a light in dark times.
Kerr points to opening track (and recent single) Vision Thing, written partly as a tribute to Jim Snr, as an example of the emotional "sweet spot" where they like to operate.
"Lyrically, it came out of an incredibly sad situation, but it's also a celebration of life. Musically, it has that bounce that gets people moving when we play it live."
"I wasn't quite sure how Jim would be after the death of his father," admits Burchill. "Because they were so close. But he was very positive, actually. It was almost like he'd been energised, in a strange kind of a way."
The album's light-in-the-dark sentiment, and the troubled times it emerged from, remind Kerr of an earlier Simple Minds classic.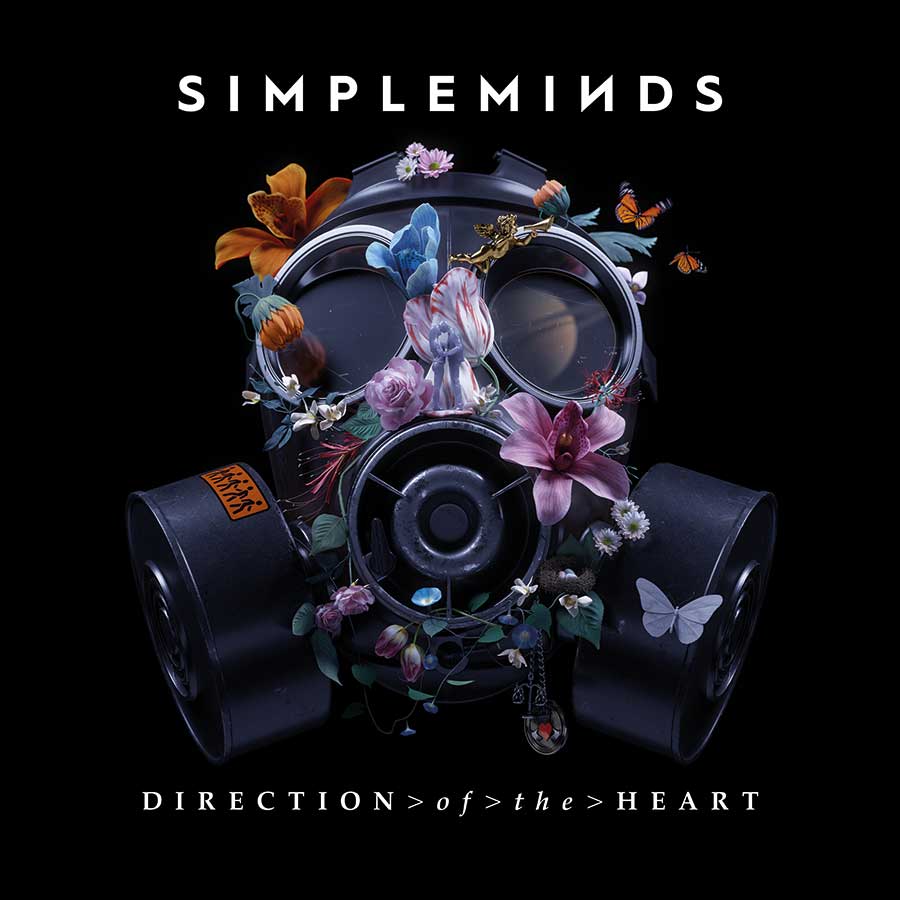 "This autumn is the 40th anniversary of New Gold Dream, and that was described as a very optimistic record," he says of an album that rang with talk of promised miracles and glittering prizes. "But if you look at the times it came out of… things were on fire. And Glasgow was on its knees.
"In the industries that had made the city so proud, they were closing the gates. It would be a few years before Glasgow started to believe in itself again. The word reinvention hadn't been invented."
Simple Minds, of course, are masters of reinvention, from the electro-futurism of I Travel and Love Song to widescreen anthems like Alive And Kicking and Sanctify Yourself. Direction Of The Heart straddles both poles, with big melodies and big sentiments ("first you jump, then get wings") wedded to songs mostly up in the 120-130 BPM range.
"Quite a few of them are really fast," says Burchill. "It wasn't a conscious thing – it would be difficult to write with a tempo in mind. We just looked at these songs together and thought, 'This is the record'."
From the first grabby hooks of Vision Thing, the LP is shot through with those signature chiming Charlie Burchill guitar riffs. "They come very easily," nods Burchill. "But often they pass me by, and it's Jim who'll pick up on something. He'll say, 'That's a killer riff', and I'll think, 'Is it?' That's happened many times with us."
Indeed, it happened in 1977 when Jim and Charlie wrote Act Of Love – the song that opened their very first gig, and which has finally made it onto an album a mere 45 years later (albeit radically reworked).
"In those days, we were just thinking about the next gig, not daring to dream about making it big," says Kerr. "But when I heard that song, I thought, 'Fucking hell, if Charlie can write those riffs, maybe we do have a chance'.
"For the first year, that was our rallying call. But by the time our debut LP came about we were bored with Act Of Love, it got thrown aside. We thought, 'We'll come back to it one day'. Well here we are, over 40 years on, coming back to it."
Human Traffic is another in which dark subject matter – a JG Ballard-inspired tale of a "world high on fumes and misery" – is put through the filter of one of Simple Minds' most unabashed pop songs to date (complete with cameo from Sparks' Russell Mael, who they approached after Kerr heard his own demo from another room, and thought that it was Sparks).
Having emerged from Glasgow's burgeoning punk scene as Johnny & The Self-Abusers, both Jim and Charlie admit to having had a love-hate relationship with the P-word.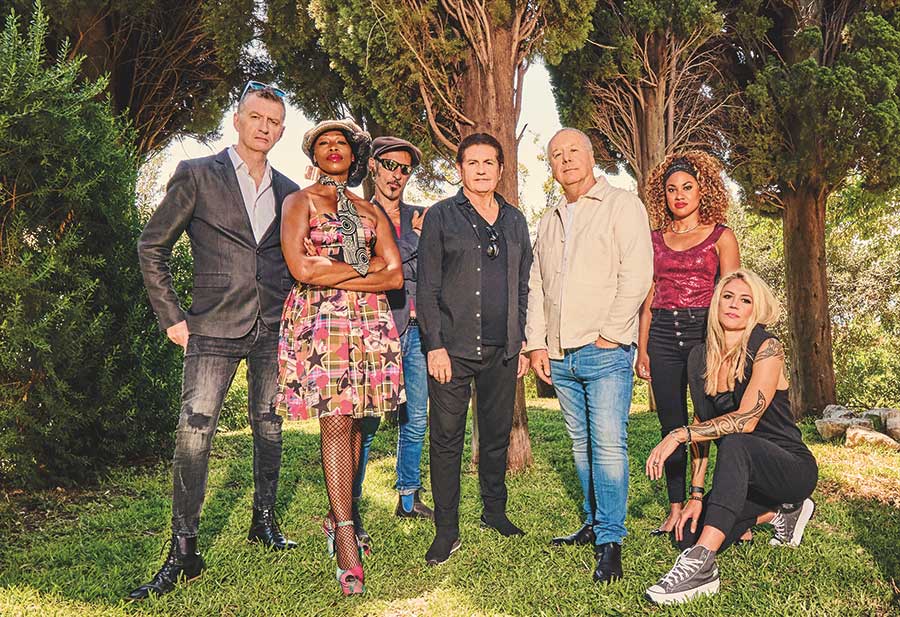 "When we were growing up, pop meant The Beatles, and they were your mum and dad's band," smiles Kerr. "We wanted to be underground and alternative but we just couldn't help ourselves. Melody was pouring out of us.
"Our second single was Chelsea Girl – if that's not a perfect pop song, I don't know what is. Even so, I'd say we were always a bit wary of pop."
"It's a funny word, pop, isn't it?" muses Burchill. "When you're talking about pop, you're actually talking about melody. And some people have a real big fear of melody.
"In the past, we would have gravitated towards trying to make things 'cooler'. Then, about five years ago, I found I was taking a completely different approach. I stopped worrying and went with it."
Being honest, though, does Burchill still care a bit about whether Simple Minds are considered cool?
"I'd be lying if I said I didn't," he grins. "Nobody wants to be thought of as that old thing over there…"
'That old thing over there' is a charge that might well have been levelled at Simple Minds during their post-Live Aid comedown, when the politicised folk rock of Street Fighting Years killed their career in America, while at home they got swept away by the tides of baggy and Britpop.
But over the past decade, they've enjoyed a gratifying rebirth: 2018's Walk Between Worlds was the band's most successful album in more than 20 years, and they're back playing to huge crowds.
Though they've built a knockout new line-up around them, it's the cast-iron bond between Jim and Charlie that remains the beating heart of Simple Minds.
"As we've got older," says Burchill [he's 62, Jim's 63], "we've really appreciated that more. I know I wouldn't have been able to achieve what I have without Jim. Jim's very much the big brother, and the guy who conceptualises everything. He pulls me along, and I'm really grateful for that. Life would have been pretty different without him."
"We were very lucky," agrees Kerr. "We grew up in Toryglen, a high-rise council estate in Glasgow. My dad didn't want to move there but my mum convinced him to go and see it. On the very first day we moved in, they said, 'Get out from under our feet and go play'.
"So we went down to the bottom of the road, and because they were still building the place, there were sandcastles and cement castles and bricks all around. Charlie was sitting on top of one of the sandcastles, playing with some other boys. We said, 'Can we play?', and they said, 'Yeah, okay'. And we're still playing."
As for Direction Of The Heart, Kerr reckons that it's a fairly accurate reflection of his journey to this point.
"All the big stuff in my life – from forming a band to moving to Sicily and opening a hotel – has always been when everything was telling us, 'That doesn't make sense' or 'that could never happen'," he reflects.
"It's usually been against the grain. But it wasn't so much that I had courage or conviction – I'm just drawn to things like a magnet. You can call that what you want: direction of the heart, inner voice… whatever it is, there's something pushing you.
"Charlie and I, at the age of 16, decided to stick out our thumbs and go hitchhiking. And all the other hitchhikers we met would have their equipment and their maps and stuff, whereas we had fuck all. We were just like, 'Wherever the first lift's going, that's where we're going.'
"And sure, we've strategised and planned at times over the years. But in a broader sense, we still see ourselves as sticking out our thumb, and going wherever the flow is gonna take us…"
Direction Of The Heart is out now via BMG
Paul Kirkley
Paul Kirkley is an award-winning writer, interviewer, TV critic, columnist and composer of self-aggrandising mini biogs. His favourite bands include Marillion and Girls Aloud, and not many people can say that. His proudest CP achievement is memorising all 23 members of Bucks Fizz (and associated spin-offs).