Get 3 issues for the price of 2!
By Neha Baveja | August 31, 2023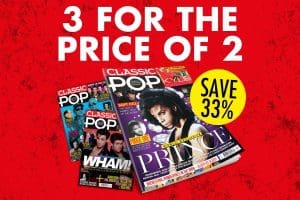 With the very best features, interviews, and reviews of pop and chart music from the late 70s to the early 90s (and everything in between), Classic Pop is here to bring you the ultimate pop entertainment.
Subscribe today and get 3 issues for the price of 2, saving 33% off the cover price.
As a subscriber, you'll get every issue delivered direct to your door – as well as exclusive subscriber covers, special discounts, and complete digital access. This offer won't be around for very long, so subscribe today to claim your discount!
GET 3 ISSUES FOR THE PRICE OF 2 ➜
Terms & Conditions: Offer is available for subscribers paying by Direct Debit, continuous card payment, or PayPal. The savings are calculated from the local cover price of the magazine. There are 6 issues of Classic Pop published in a year. Offer code: SEP23CLPWEB. Offer ends: 30th September 2023.
Neha Baveja