Ultravox – The Complete Guide
By Classic Pop | February 7, 2022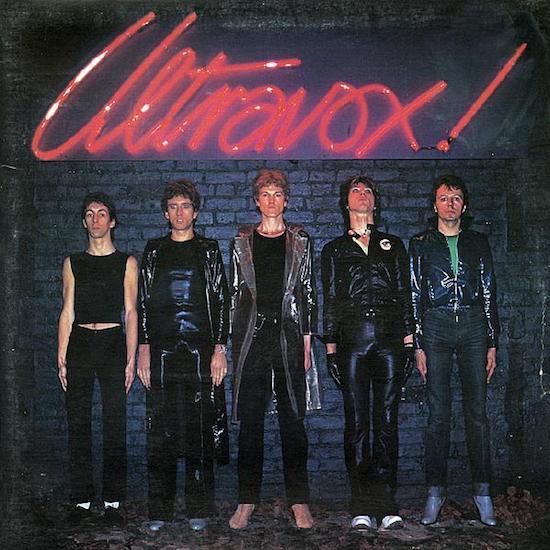 From their origins as art-rock innovators with John Foxx to their seminal success as synth-pop saviours with Midge Ure, Ultravox may have changed their sound and their line-up but their ability to produce quality pop was continual… By Mark Lindores
Beginning life in 1973 as Tiger Lily, a glam rock band who wore their influences − Bowie, Roxy Music and the New York Dolls a little too literally, they released just one single, a cover of Fats Waller's Ain't Misbehavin', before establishing a style of their own, scoring a deal with Island Records and deciding to call themselves Ultravox!
With lead singer/songwriter John Foxx at the helm, the band became known for their off-the-wall lyrics and their willingness to incorporate elements of glam, prog-rock and electronica into their music, assisted by producers such as Brian Eno, Steve Lillywhite and Conny Plank.
However their reputation as a formidable live act failed to translate into commercial success and the departure of John Foxx to pursue a solo career and being dropped by Island Records left Ultravox in a state of limbo at the end of the 1970s.
Following a period in which remaining members had worked with acts they had been an inspiration for (Gary Numan), Ultravox reformed with new recruit, Billy Currie's Visage bandmate Midge Ure taking over Foxx's lead singer role.
With a new line-up and new vision in place, the 80s incarnation of Ultravox leaned heavily towards an electronic sound, something that brought them the commercial success that had previously eluded them, with fans seduced by the seminal synths and strings of their defining hit, Vienna.
The new line-up garnered a reputation as being po-faced poseurs by purists alarmed at the reinvented Ultravox's live act which saw them immobile behind their synthesizers. However, any fans that the band lost due to the changes, they more than made up for, going on to score an incredible run of success, notching up 16 Top 40 singles and 10 Top 40 albums, becoming one of the defining acts of the decade. 
By 1984, inter-band tensions jeopardised their future with Midge's involvement in Band Aid and Live Aid and solo success proving to be its eventual finale, leaving behind a legacy encompassing both the art-rocker experimentalism of the Foxx era or Ure's electro-imperialism which continues to excite and inspire fans over four decades later.
The Must-Have Albums
Ha!-Ha!-Ha!, 1977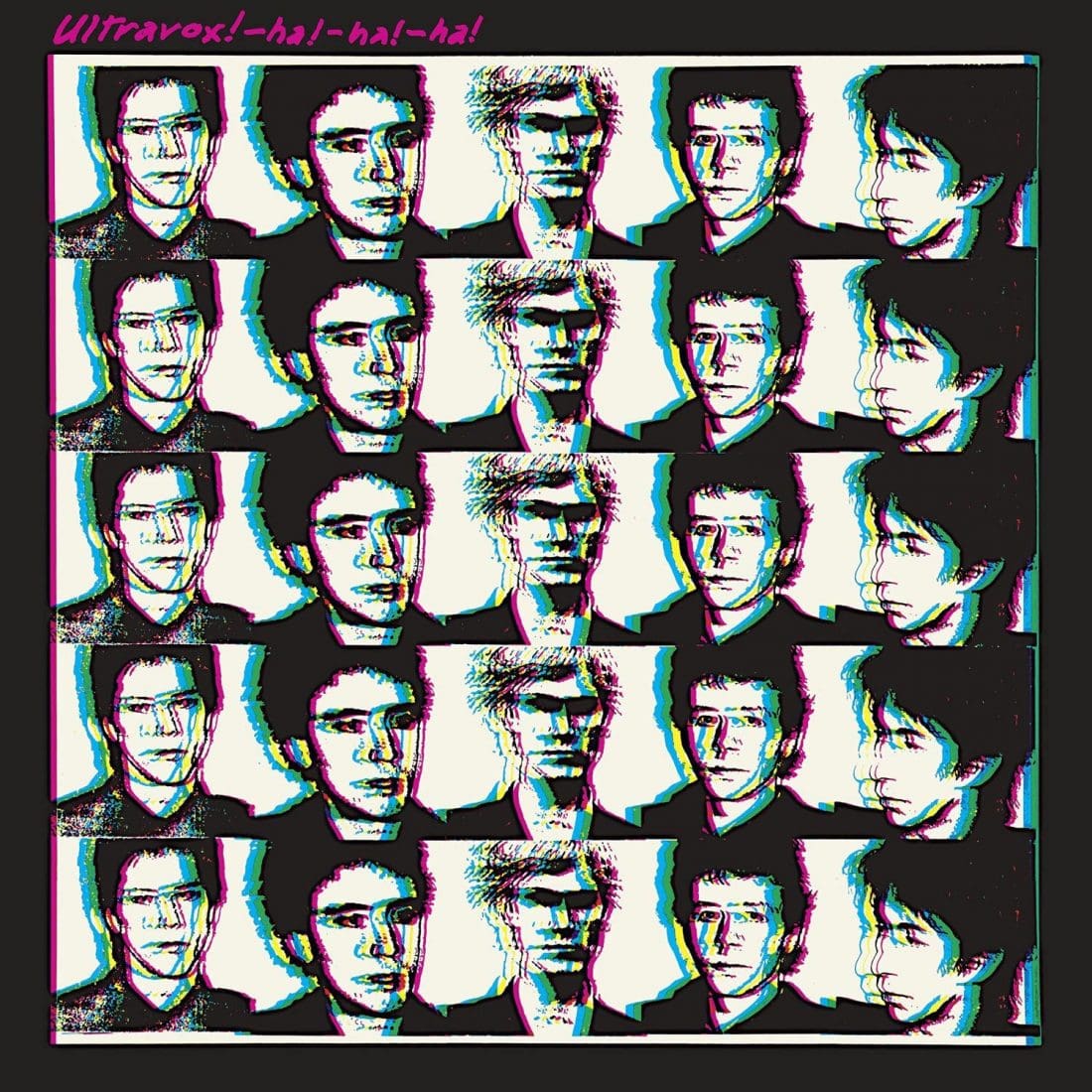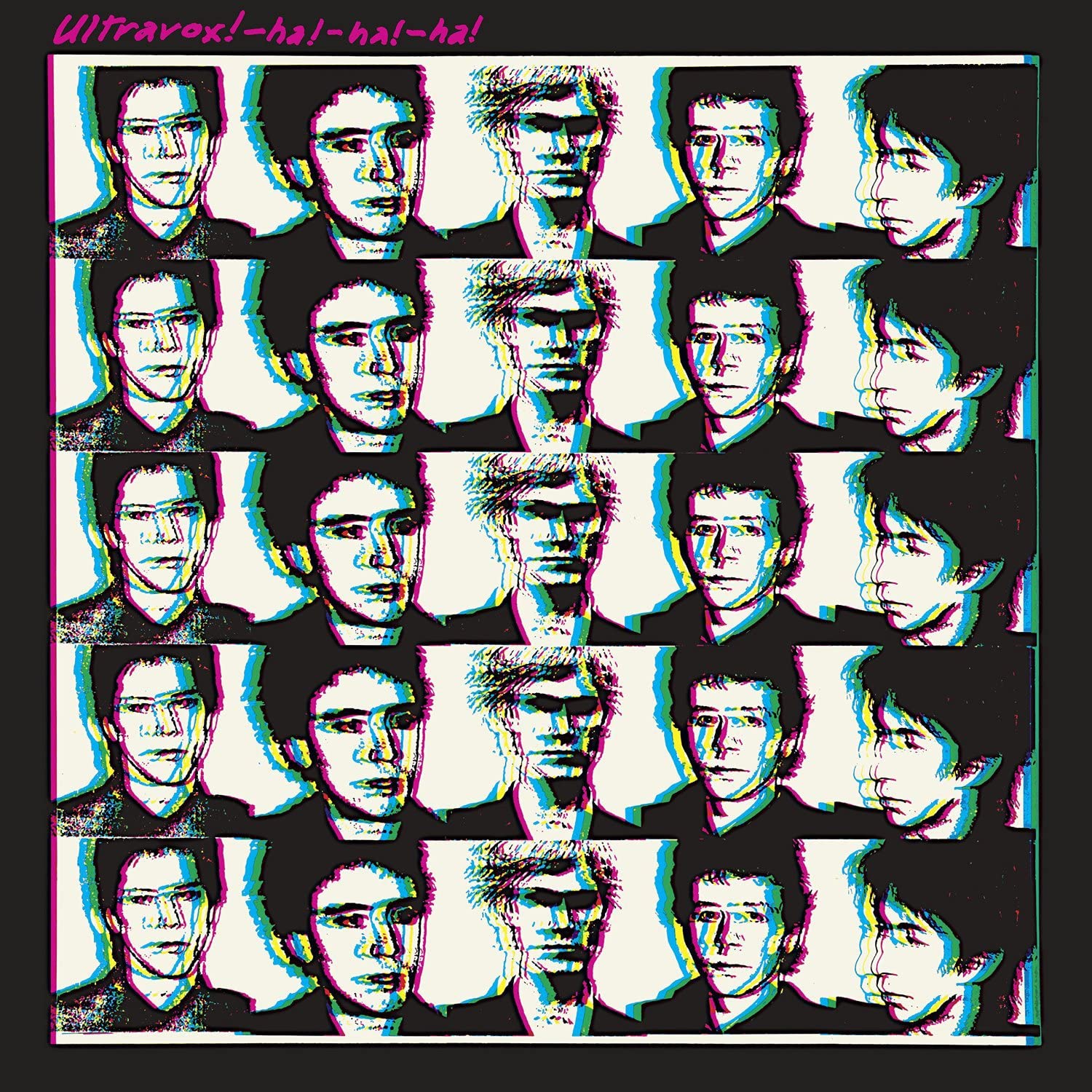 Bruised by the commercial failure of their debut album, Ultravox! quickly brushed themselves down (it was released just eight months later) and adopted a "what have we got to lose?" attitude which freed them to experiment more with their music, lacing their frantic punky rhythms with electronic flourishes and experimental sounds, with screaming guitars and distorted violins vying for precedence. 
Perhaps sensing the end of punk was in sight, Ultravox!, again with Steve Lillywhite, jumped ship from being part of a dying trend by introducing different styles and influences including hypnotic, robotic beats and atmospheric peaceful waves to ferocious punky pop laden with distortion.
Of the album's highlights are chugging opener ROckWrok and Fear In The Western World, Distant Smile − with its gorgeous piano intro and The Man Who Dies Every Day, but the best is saved until last with the superbly sparse electro of Hiroshima Mon Amour, a teaser of where the band were heading.
Like its predecessor, the album was a commercial failure on release, its brilliance and originality only realised in hindsight.
Systems Of Romance, 1978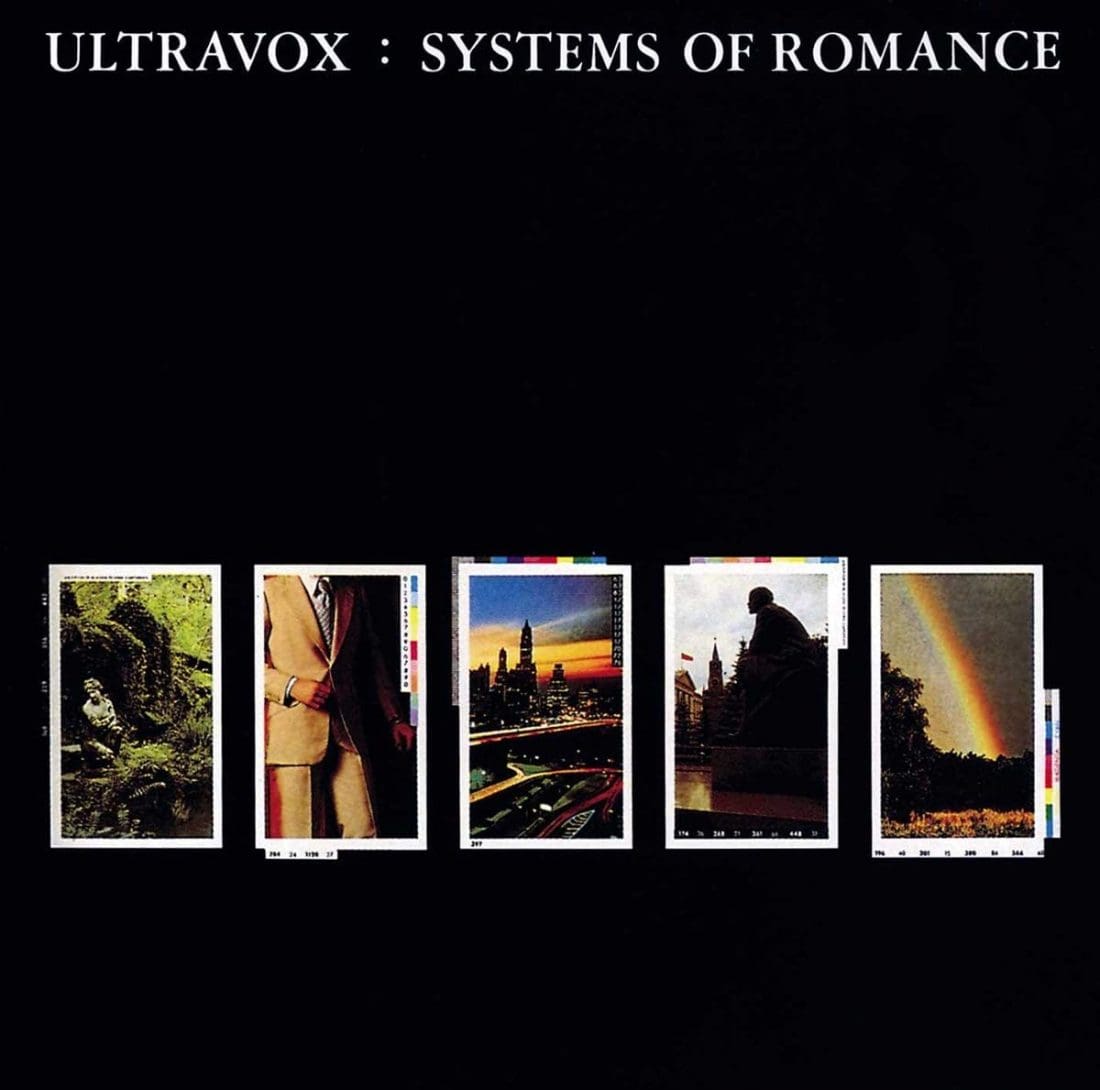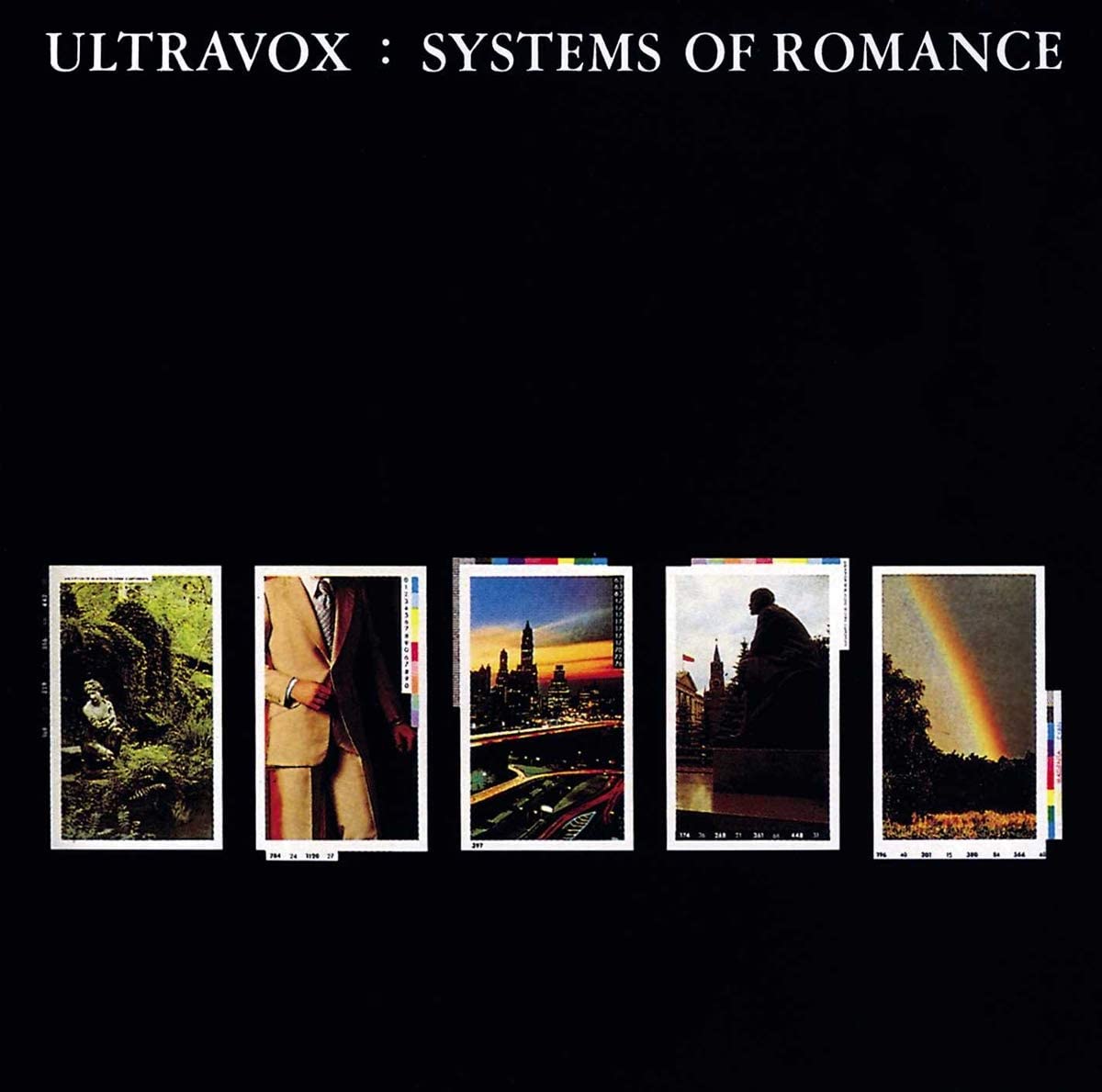 Having failed to achieve any semblance of success outside of their small fanbase, Ultravox took a fresh approach with their third album, discarding the punk and glam influences in favour of a more streamlined, European electronic sound, achieved with the help of Kraftwerk producer Conny Plank.
Recording in Cologne with new guitarist Robin Simon, the band embraced a new approach with the mechanised sounds that had been hinted at on their previous work now brought to the forefront, creating an enveloping wall of sound, at times an interesting juxtaposition with Foxx's quintessentially British delivery.
Singles Slow Motion and Quiet Men are both highlights, though the album as a whole is cohesive and of consistently high quality with tracks such as Maximum Acceleration, Some Of Them, I Can't Stay Long and Just For A Moment ranking among their very best.
Quite possibly one of the most underrated and influential albums of all time, Systems Of Romance is an obvious influence on Gary Numan and The Human League, who went on to achieve the success that continued to elude Ultravox at this point.
Vienna, 1980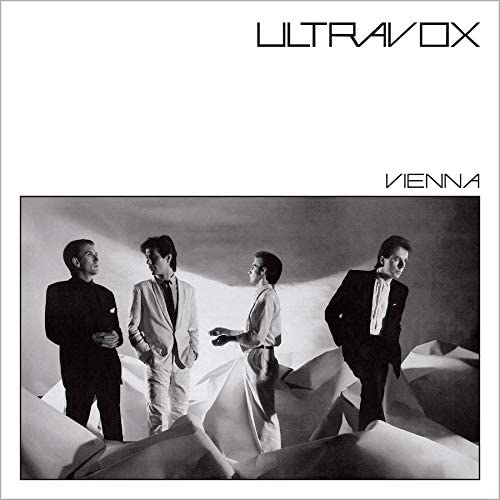 New line-up, new sound, Vienna was the turning point for Ultravox. Having failed to achieve any commercial success, Island Records released Three Into One, a best-of compilation album and dropped the band. This led to John Foxx and Robin Simon departing the group, leaving them in limbo until Midge Ure joined, marking a new phase in their career.
Now signed to Chrysalis Records and once again with Conny Plank at the helm, Vienna signalled the rebirth of Ultravox, this time with an eye on success, honing their experimental tendencies into mainstream hits with a succession of melodious melodramas, housed in a stylised package featuring the photography of Anton Corbijn and the design of Peter Saville.
At its strongest on New Europeans and the sparse synth-pop of Sleepwalk, Mr X and the title track, Vienna is a snapshot of its time, synonymous with the posturing, preening New Romantics.
Establishing Ultravox as an entirely different beast from the John Foxx years, Vienna gave them the chart success they had craved reaching No.3 in the chart.
Lament, 1984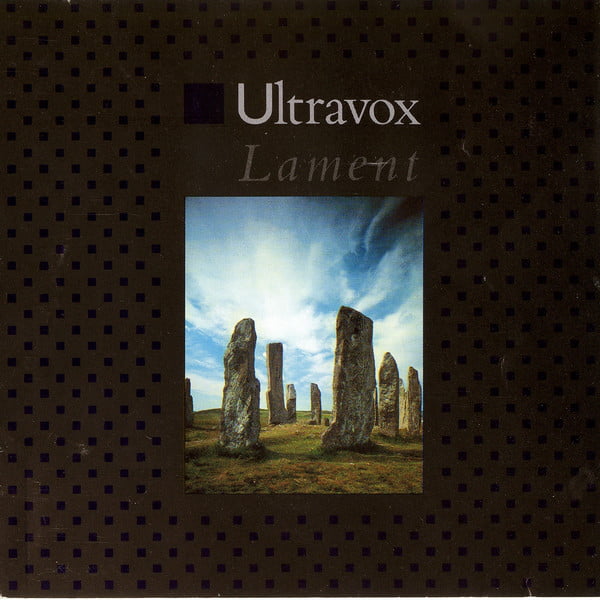 Having adopted a rockier element to their sound on 1982's Quartet, by 1984 they expanded those influences into a more traditional rock/pop direction, mirroring the career paths of fellow art-poppers-turned-stadium rockers U2 and Simple Minds. 
While songs such as the title track, One Small Day, When The Time Comes and A Friend I Call Desire are all personal tales of break-ups, depression and feelings of inadequacy, the band also incorporated global affairs on tracks such as White China, Man Of Two Worlds, Heart Of The Country, which dealt with issues affecting China and Scotland while the album's biggest hit Dancing With Tears In My Eyes considered the prospect of nuclear war. 
Despite being one of their more harmonious records, Lament belied the behind-the-scenes tensions within the band. When Midge Ure co-wrote and produced Band Aid's Do They Know It's Christmas? later that year, they were barely speaking and Warren Cann and Billy Currie weren't invited to the recording of the song. With a title that proved prophetic, Lament was, in many ways, their swansong.
And The Rest…
Ultravox!, 1977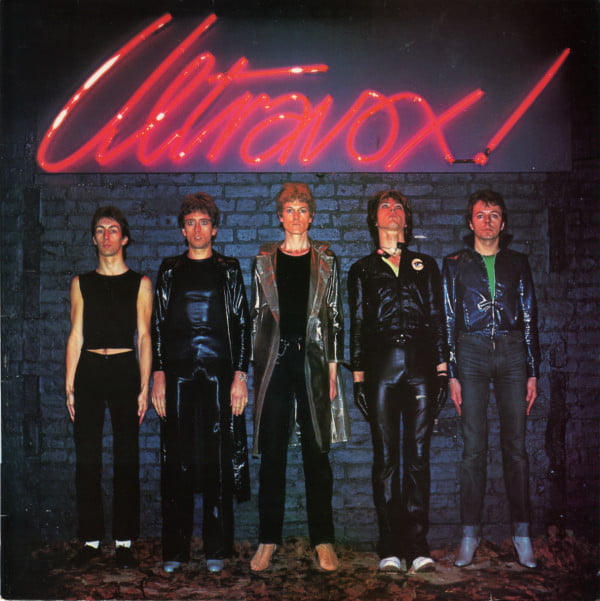 Having established a reputation as a solid live act, the yet-to-be-named Ultravox! signed to Island Records in 1976 and began work on their debut album, much of which had already been written while the band were functioning as Tiger Lily.
Influenced by fellow art-school rockers Bowie and Roxy Music, Ultravox!, together with producer Steve Lillywhite, crafted a set of songs bristling with a punky/glam fervour in line with their heroes.
While Eno's involvement has been subsequently overplayed (he was enlisted initially as a "name" to get the band noticed), the album's helmsman is undoubtedly John Foxx, whose vulnerable voice and lyrics bring to life the tales of alienation, destruction and disillusionment resulting in a promising debut, particularly Wide Boys, My Sex, The Wild, The Beautiful And The Damned and I Want To Be A Machine.
Rage In Eden, 1981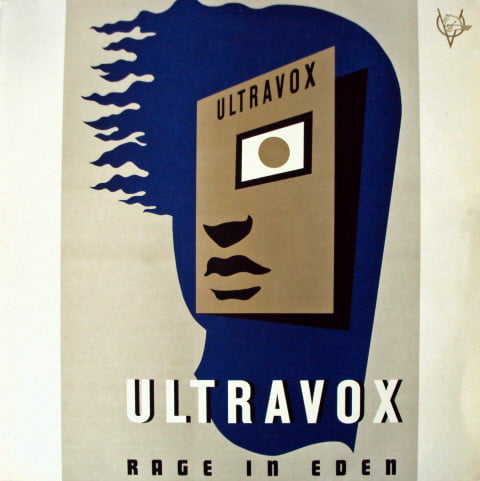 Having finally broken through to the mainstream with Vienna, Ultravox continued their run of success, both creatively and commercially, with Rage In Eden. While the previous album had been a relative breeze, Rage In Eden was a much more prolonged affair, taking three months to complete.
As well as feeling pressure at the prospect of repeating or topping Vienna, Midge and Billy were still working with Visage and Warren Cann suffered a broken arm in a car crash.
Once again produced by Conny Plank, the album came from the same sonic palette as its predecessor, hooky-synth-pop with cinematic flair. Opener The Voice set the bar high, matched only by the upbeat I Remember (Death In The Afternoon). The absence of an instrumental is compensated for by many tracks akin to extended versions.
Quartet, 1982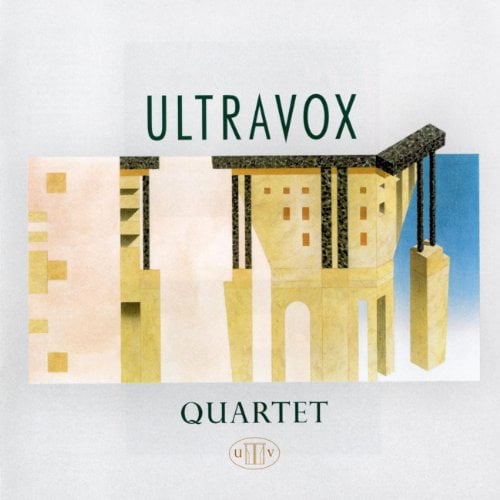 Firmly established as one of the leading lights of the synth-pop scene, 1982's Quartet was a major departure for the band, heading in a rockier direction, which Midge Ure claimed was as much to keep things interesting for the band as it was for their fans. Following three albums with Conny Plank, Ultravox enlisted George Martin to steer them in their new direction. Martin agreed to work with them as his daughter was a fan.
Much lighter in tone than Ultavox's previous two albums, Quartet dispensed with the experimental arrangements keeping the songs to the point with mixed results. Visions In Blue, Hymn, Reap The Wild Wind and We Came To Dance are among the highlights, the latter an ode to the New Romantic movement. The shift in style proved successful with Quartet becoming the band's biggest seller internationally.
Brilliant, 2012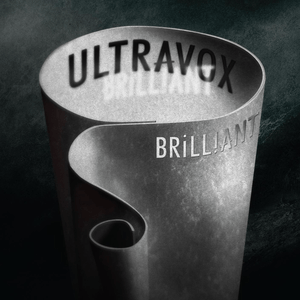 A full 28 years after the Lament album, the "classic" (ie. the Vienna-era) line-up of the group reformed for the Return To Eden Tour. Originally planned as a one-off venture, the tour's success was the catalyst for the band getting together in the studio to see if they could write and record new material without past problems resurfacing. 2012's Brilliant was the result. 
While not quite living up to its title, Brilliant did contain some tracks which stood up next to vintage Ultravox, namely Rise, Flow, Live and the title track. Unfortunately, they fail to maintain momentum and the album suffers from too many overwrought ballads.
Always a band that prided itself on being unique, on Brilliant Ultravox managed to retain their identity without ever falling into the trap of creating a pastiche of former glories.
The Essential Singles
Young Savage, 1977
Unsettled by the failure of their debut album, Ultravox! immediately headed back into the studio, experimenting with various styles and sounds in preparation for what would become their second album, Ha! Ha! Ha! Though Young Savage didn't make the final tracklisting of the album, it served as a taster of the direction in which the band were headed.
Despite the inclusion of a psychedelic keyboard line from Billy Currie, Young Savage is a straight-up punk song with a lyric so poetic it makes the underbelly of society sound romanticised. With its infectious guitar riff, Young Savage has remained a fan favourite and was always a frenzied highlight of their gigs, though it was also the moment where one of the most unpleasant audience rituals was at its zenith – being the point in the set where the audience would spit at the band to show their appreciation.
ROckWrok, 1977
Released in October 1977 as the lead single from the Ha! Ha! Ha! album, ROckWrok (its unique spelling using random capitalisation was insisted on by John Foxx as that's how he'd written the title while composing the song) is a Roxy Music-inspired slice of glam rock based on a beat "borrowed" from Chubby Checker's Let's Twist Again and achieved the rare feat of garnering airplay on Radio 1 despite featuring the F-word in the chorus – inaudible to the censors apparently due to John Foxx's vocal delivery.
Even more impressive than ROckWrok itself was its B-side, an early version of Hiroshima Mon Amor, a song which was rearranged in its more electronic form for the album after the band began using the Roland TR-77 drum machine. Based on the 1959 French film of the same name, the rockier, demo version of the track is favoured by fans over the album version.
Sleepwalk, 1980
The first single from the Vienna album, Sleepwalk is the song that jump-started Ultravox's career. Following three brilliant though unsuccessful albums with John Foxx and being dropped by Island Records, Ultravox regrouped with Midge Ure and adopted a more electro sound.
Sleepwalk was the song that secured them their deal with Chrysalis. Having been asked to submit a demo cassette, rather than record three demo tracks, the band made the decision to fully realise one track instead. Again with Conny Plank on production duties, the band went into the studio and wrote, recorded, mixed and mastered Sleepwalk and submitted that to Chrysalis.
As the first song completed in their new line-up it was a natural choice for opening the Vienna album and as its first single. Released in June 1980, Sleepwalk gave Ultravox their first chart success, reaching No.29.
Vienna, 1981
Ultravox's signature song, Vienna spent four weeks at No.2 in January 1981 − famously held off the top of the charts by John Lennon's Woman and Joe Dolce's Shaddup You Face. The song has regularly topped polls as the greatest song to stall at No.2 in the charts.
Widely believed to have been inspired by the 1948 film The Third Man, Midge Ure has since revealed that he made that story up and the song is actually about a holiday romance he'd had. Released as the third single from the Vienna album, the band had to fight to have it released as a single.
"We knew it was the musical high point of the album and were determined that it would be a single and fought with Chrysalis over it," says Warren Cann. "They thought it was far too long at six minutes, too weird for a Top 30 chart hit, and too depressing and too slow."
Hymn, 1982
As tensions between the band members continued to marr the recording sessions of 1982's Quartet album, Midge Ure later claimed that producer George Martin "smoothed things over". 
Feeling their sound and process of working was becoming stagnant, Quartet saw Ultravox attempt to shake things up, replacing Conny Plank with the aforementioned Martin steering them to a much more polished, expansive sound.
Hymn, the second and most successful single from the album dealt lyrically with self-realisation, corruption and the struggle to hold on to faith in an increasingly faithless society, emphasised by paraphrasing the Bible and its terminology in its lyrics. 
Dancing With Tears In My Eyes, 1984
Ultravox scored their second biggest hit with 1984's Dancing With Tears In My Eyes, the second single released from the Lament album. While impending gloom had been a consistent theme in some of the band's lyrics up to this point, Dancing With Tears In My Eyes brought it to the forefront, setting the song in the face of an impending nuclear disaster – their social commentary being a key factor of Bob Geldof approaching Midge to co-write and produce the Band Aid single.
The song eloquently evokes a man taking comfort in the memory of a night spent with the love of his life while he awaits the inevitability of his life ending. It reached No.3 in the UK and was their final Top 10 hit.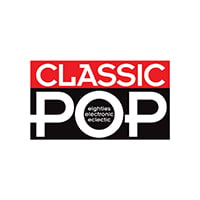 Classic Pop
Classic Pop magazine is the ultimate celebration of great pop and chart music across the decades with in-depth interviews with top artists, features, news and reviews. From pop to indie and new wave to electronic music – it's all here...