Madonna: The Blond Ambition Tour – the greatest show on Earth
By Mark Lindores | October 23, 2023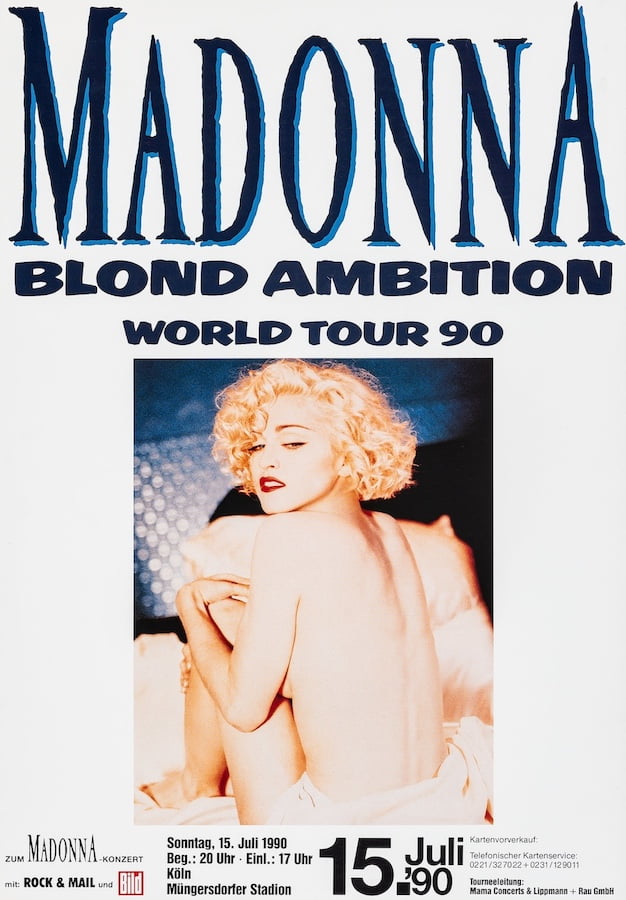 Hitting the road to promote her confessional opus Like A Prayer, Madonna's Blond Ambition Tour was a non-stop erotic cabaret blending sex, religion and spectacle. Taking elements of Broadway, high fashion and underground gay culture to sports stadiums, it remains one of the most innovative and influential productions of all time…
Madonna's 2019 Madame X tour may have thrilled fans due to the fact that they were given the rare opportunity of seeing their idol in such close proximity, but it's also been by far her most divisive live show among the star's admirers.
A quick scroll through the comments sections of her various social media platforms or fan forums and you'll see the infighting; the most common criticisms being that she was too political, too theatrical, and has drawn too heavily on the tour's parent album at the cost of classic hits.
Frankly, if anyone goes to a Madonna show in 2023 expecting her to merely "play the hits", they've not been paying attention for the past three decades, which is how long these criticisms have been levelled at her.
Like her idol David Bowie, Madonna refuses to "play to the gallery", citing it as "the death of any artist".
And it all started over 30 years ago when Madonna launched her seminal Blond Ambition World Tour – one of the greatest and arguably most influential live shows of all time.
Boasting intricate sets, contemporary dance, avant-garde fashion and controversy, it remains a groundbreaking spectacle to which every major pop production since is indebted.
Officially planned as the Like A Prayer world tour and due to take place in 1989, the collapse of Madonna's Pepsi contract – which included a lucrative tour sponsorship deal – sent her gigging plans up in smoke along with those burning crosses in her video.
Instead, she postponed her live plans to star in Dick Tracy and record a soundtrack album while her manager Freddy DeMann arranged alternative sponsorship from Japanese electronics giant Pioneer for a summer 1990 world tour.
Since her previous tour in 1987, Madonna had starred on Broadway and used her music as catharsis, a platform for conveying a message. She viewed applying this approach to her live act as a natural progression.
Bored by the notion of "standing in front of a band", the star wanted her next stage show – now entitled Blond Ambition – to be a theatrical presentation of her music, polished enough to resemble a live action music video and packed with a variety of scenarios to reflect her own short attention span.
Breaking the rules
After the recruitment of her designer and artist brother Christopher to create the stage and work as artistic director, Madonna enlisted Jean-Paul Gaultier to design her costumes and renowned director/choreographer Vincent Paterson to co-direct the show with her.
"The first thing Madonna said to me was: 'I want you to break every rule you can think of, then when those are done, make up some more and break those, too.' So that's how I went into the tour; with complete artistic freedom to do whatever I wanted," recalls Paterson.
"At that time MTV was huge and people were becoming accustomed to having a vision created for a song. We wanted every piece to be completely different than the last and every piece to be as strong as the one before or one after that. I wanted the images that Madonna and I created to be even more iconic than the videos – that was my dream."
The show was conceived as a totally different beast to a traditional rock concert ("We don't stop at the end of every number for applause or rely in any way on audience interaction like many concerts do – we could actually perform it without an audience." Madonna explained), so was the process of casting supporting players, with dancers as integral to the tour as musicians.
A six-piece band plus musical director Jai Winding were hired but were informed that for much of the show they'd be hidden from view, the exceptions being background singers Niki Haris and Donna De Lory, who would join Madonna in much of the choreography.
"I likened my musicians to an orchestra in a pit servicing my show" Madonna told MTV's Kurt Loder. "It's like when you see a Broadway musical, the orchestra is an integral part of the show but you don't see them.
"Because I was intent on this being a theatrical presentation, I needed dancers and actors to act out things, and as the musicians need to focus on playing their instruments, I couldn't really ask that of them, so you don't really see them."
When it came to casting those dancers, Madonna hired a diverse troupe with experience in various styles. An ad in Variety reading, "Open auditions for fierce male dancers who know the meaning of troop style, beat boy and vogue.
Wimps and Wannabes need not apply!" drew thousands of dancers to the auditions, among them Luis Camacho and José Gutiérrez – two New York dancers personally invited by Madonna after they introduced her to the underground dance style 'voguing', a staple of the Harlem drag ballroom scene which inspired her latest single and which she wanted to feature in the Blond Ambition show.
Strike a pose
As well as a variety of styles (the show featured voguing, hip-hop and classical ballet), it was important to Madonna that the dancers were also of different ethnicities to reinforce her show's message of inclusivity.
José and Luis were Spanish/American, Kevin Stea was Chinese/American, Salim 'Slam' Gauwloos was Belgian and Carlton Wilborn, Gabriel Trupin and Oliver Crumes were Black. With the exception of Crumes, all were also openly gay.
"We were representatives of a new generation that kids could relate to," says dancer/associate choreographer Kevin Stea. "Diverse outsiders with nothing to lose, and a powerful champion by our side at the height of her career."
With her touring "family" immediately placed in an intense rehearsal timetable, Madonna and Vince began piecing the production together. "The show formed an emotional arc," Madonna explained.
"I'd come up with vignettes for each song and discuss with Vince how I wanted to present the song and work out how they'd fit into the set.
"Choreographically, all of the dancers had their own strengths and styles. If one was more experienced in a particular style, then they'd work with everyone else to get them up to scratch."
If the dancers were feeling the pressures of being put through their paces, that was nothing compared to what Madonna was undergoing. She'd rehearse with the dancers for six hours daily, then go to band practise with the musicians for another three or four hours.
In between, she'd attend costume fittings with Jean-Paul Gaultier at New York's Carlyle Hotel or fly to his showroom in Paris. She later admitted that she found being so hands-on throughout the creative process particularly tough.
"It really took a lot out of me," she told MTV in 1990. "Because I wanted the show to affect people in the same way theatre does, it's a real personal statement so I had to put a lot of myself into it.
"That really wore me out. It was much more theatrical than anything I've ever done so I had to pay extra attention to every detail, from the sets to the costumes, the dancers and the lighting – everything."
Corsets and bras
The hard work paid off and the Blond Ambition world tour premiered on 13 April 1990 at the Chiba Marine Stadium in Japan to a rapturous reception from the usually reserved Japanese audience.
A tabloid storm in a c-cup ensued the following day when Madonna, dressed in her Gaultier corset complete with conical bra, made the front pages of seemingly every newspaper under headlines such as 'Yes, of corset's her'.
Meanwhile, serious critics applauded the show's dynamism, the like of which had never been seen on the stadium rock circuit before.
Split into five acts, the spectacle took its varied references from Fritz Lang's Metropolis to Liza Minnelli, Middle-Eastern bordello to West Side Story dance-off, Harlem jazz clubs to drag balls – all given the unique Madonna stamp.
A giant ruched curtain dropped at intervals to allow for the elaborate set pieces to be constructed for the next number.
From the fast-paced opener Express Yourself, which recreated the Metropolis-inspired fantasy world of the video to a velvet brocade bed in a Middle-Eastern harem for Like A Virgin, it was a breathless affair.
The show also incorporated Corinthian pillars and prie-dieu for the religious segment, a smoky jazz club for torch ballad Sooner Or Later, a beauty parlour for Material Girl and an underwater fantasy with a troupe of mermen for Cherish.
Other highlights from the show included a sleek Art Deco chorus line for Vogue, and a Cabaret-meets-Clockwork Orange performance of Keep It Together. Blond Ambition was a kaleidoscopic amalgamation of Broadway, Hollywood and MTV.
Outrageous costumes
Dressed in a succession of revealing get-ups (practically every song was performed in a different outfit) and clip-on ponytail which was discarded for the European leg as it was damaging Madonna's hair, the superstar held court as the charismatic Mistress of Ceremonies, surprising even those that knew the show inside out having performed it with her hundreds of times during rehearsals.
"The blast of energy from the crowd was crazy – they were so loud we could hardly hear the music," recalls dancer Carlton Wilborn.
"We had done so much training at this point – the rehearsal process was truly like boot camp and it was great to finally be in the sweat of it all. When I heard her singing to an audience for the first time: it was like: 'Oh shit, she's fucking performing now!'"
One of the most notable additions to Madonna's onstage wardrobe was the headset mic she wore that enabled her to participate in the show's challenging choreography.
While it was becoming the norm for artists to be joined onstage by background dancers, Madonna put her troupe at the forefront and matched them step-for-step, utilising the dance training she'd studied at university.
Yet even Madonna's decision to use the mic drew criticism, with reviewers suggesting it was a prop to conceal lip-syncing during the show, something the defiant singer addressed head on.
"It was never a requirement of me that I sing everything live onstage," she said. "I see myself as a politician, a performer and an artist. The tour is a theatrical presentation of my music.
"If there are parts which require me to have taped vocals while I'm doing other things onstage, that's fine. People are free not to come to see my show because of that – that's their option."
New arrangements
To complement her energetic onstage presence, Madonna insisted on new arrangements of her songs. Compiling the setlist, tracks were chosen and modified to fit the narrative rather than their chart positions.
Like A Prayer, Express Yourself and Into The Groove were performed in amped-up arrangements akin to their Shep Pettibone remixes.
Elsewhere, material that Madonna was already feeling a disassociation with but felt compelled to perform were given radical makeovers. Like A Virgin was staged on a bed with a slow Middle-Eastern arrangement while Material Girl was performed with a comedy accent under a hairdryer, a not-so-subtle hint at her disdain for the song.
Naturally, Madonna's propensity to "break useless taboos" meant that the show was packed with controversial imagery and references.
The abundance of sexual and religious motifs, along with Madonna's liberal use of the F-word ensured trouble followed her round the world.
In footage later released in her Truth Or Dare documentary, Madonna admitted she likes "pushing people's buttons", forcing them to confront their feelings about things they were perhaps uncomfortable with.
The most controversial sequence of the show was Like A Virgin, which landed Madonna in hot water with papa, police and the Pope.
Performed on a giant bed, she played a harem girl flanked by two hermaphrodite slaves. As the song reached its, erm, climax, Madonna simulated masturbation before the voice of God was heard, the curtain rose, a crucifix descended from the roof and the stage was lit up like an altar.
When Madonna's father asked her to tone down the scene on the night he saw the show, she refused, saying it "compromised her artistic integrity".
In Toronto, the police attended the concert to see if there were grounds to arrest her for "lewd and obscene behaviour" and in Italy, the Pope described the show as "Satan being re-released into the world".
In comparison, the threat of a lifetime ban from the BBC for repeatedly using the F-word during a live broadcast of the Wembley Stadium show and criticism for pairing her male dancers into same-sex couples during the Dick Tracy suite paled into insignificance.
AIDS awareness
As she intended her show to ultimately be a celebration of life, love, tolerance, acceptance and unity, Madonna was aware the themes that she was exploring in her work could be seen as controversial but refused to back down from highlighting causes she was passionate about, most notably AIDS awareness.
Her close friend Keith Haring had died of the disease during tour rehearsals and Madonna's raw grief nullified any flack she'd get for being controversial. In a flippant moment of the show before Into The Groove, Madonna urged her audience to practice safe sex and use condoms, "Hey you, don't be silly, put a condom on your willy."
However, in a chilling twist of fate, the three male dancers featured in that number were later revealed in the 2016 documentary Strike A Pose, which catches up with the dancers 25 years after they were thrust into the spotlight by Madonna, to all be hiding their own HIV-positive statuses from each other and from the star.
Despite the headlines generated by the tour – or maybe because of them – Blond Ambition was a mammoth success. A total of 57 shows across Japan, the US and Europe generated over $62 million.
Even more impressive, is the tour's legacy. It's been adopted as the blueprint for almost every subsequent major pop show since and heralded as a pop-culture landmark.
Blonde legacy
In 2019, US television drama Pose, which is set in the New York ballroom scene, dedicated an episode to a fictionalised account of two dancers auditioning for the tour, while on Strictly Come Dancing, RuPaul's Drag Race star Michelle Visage recreated Madonna's performance of Vogue from the 1990 MTV Awards – the swansong of the Blond Ambition 'family' choreographed by Vincent Paterson, who isn't surprised that Madonna is still commanding attention after all this time.
"She wasn't the 'Queen' yet, but I knew when we were putting the Blond Ambition Tour together that it was going to push her over the top," he says. "So much of what she did on that tour had never been done before. That's why we're still talking about it.
"She's not afraid to make statements, she's not afraid to make comments on political situations, or sexual role-playing, or cross-dressing, or fantasy. I think the most important thing is she's true to herself and what she believes in – that's what makes her controversial and that's what gives her more freedom."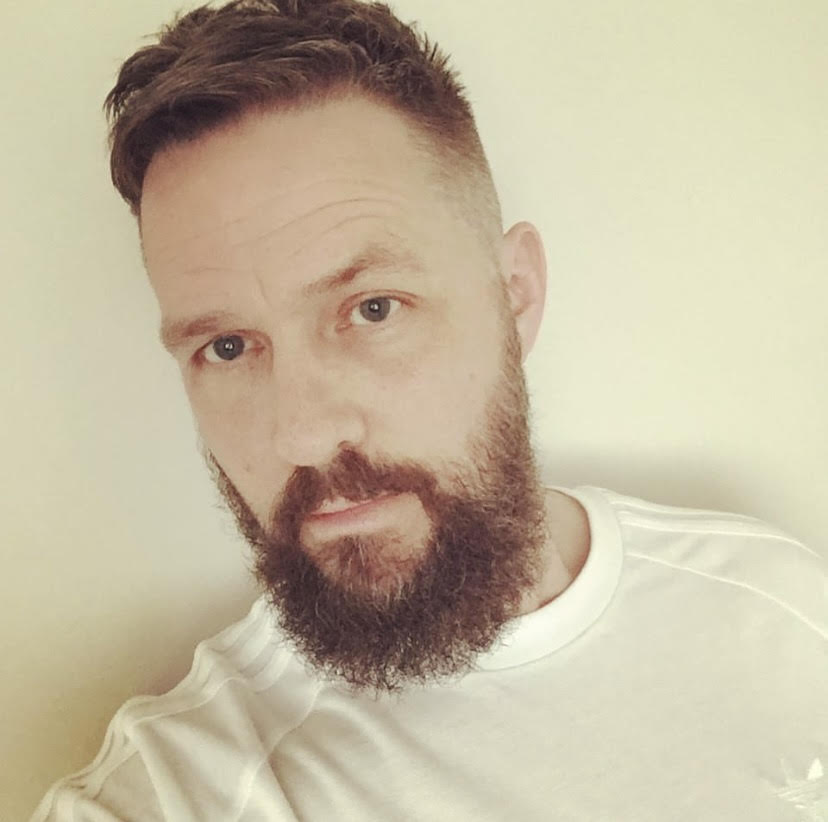 Mark Lindores
Raised on a diet of Smash Hits and Number One mags (literally, he used to save his school lunch money to buy them), Mark Lindores never entertained the idea of doing anything other than writing as a career. After writing for publications including the British and Australian editions of Vogue, Mixmag, Attitude, Total Film, Clash, Notion and Metro, he chanced upon the launch issue of Classic Pop in 2012 and, thrilled with the discovery of a magazine that featured his favourite artists, pitched an idea for issue 2 and has written for the magazine (and Classic Pop Presents) ever since.