The Lowdown: Duran Duran
By Classic Pop | August 3, 2018
Classic Pop explores 40-plus years of Duran Duran fever, noting the must-have albums, essential singles and must-watch music videos… By Paul Lester
Duran Duran are virtually synonymous with the Eighties. Name a buzz-phrase from that decade – nightclubbing, nouveau riche, new romantic – and it has an attachment to Duran; quite a turnaround for a band who formed primarily in Birmingham, hardly a hotbed of glamour.
John Taylor and Nick Rhodes got together in 1978. Enamoured of punk, they would go and see the likes of The Sex Pistols and The Clash at a local venue named Barbarella's; the place was named after a Sixties sci-fi movie, and the band found their own name amongst the film's list of characters.
Originally, their lead singer was Stephen Duffy, who later enjoyed solo success as Stephen "Tin Tin" Duffy and then with the folk-infused The Lilac Time; their bassist was Simon Colley (at this formative stage, John Taylor was on guitar), and they had a revolving-door policy when it came to frontmen.
They also had a lot of Taylors: it was the arrival of Roger Taylor and Andy Taylor – and finally Pinner boy Simon Le Bon – in 1980 that signalled the true emergence of the Fab Five.
With a keen eye for avant-garde style during this most fashion-forward of periods, they worked with designer, i-D magazine editor and, later, manager of King, Perry Haines, as well as Anthony Price, who had been responsible for affording Roxy Music one of the defining looks of the previous decade.
In a way, after getting the new romantic look out of their systems, Duran became the Roxy of the Eighties, all suave élan with a distinctive yuppie edge.
If they had arty imaginations, they also managed to ride the era's musical changes. They began as prime movers on the synthpop scene along with Depeche Mode, Soft Cell and Human League, with hints of disco and electronic funk, as purveyed by ABC, Spandau Ballet and Heaven 17.
Before long, they were dominating the singles and albums charts and becoming key players in the MTV revolution. And they were almost alone – Depeche being one of the few other exceptions – in making the transition into the Nineties and beyond.
With 14 Top 10 UK singles and an alleged 100 million total record sales worldwide, Duran Duran have earned their place in the pantheon of all-time pop greats.
Duran Duran – The Must-Have Albums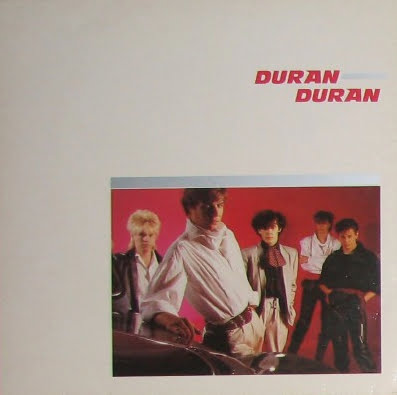 Duran Duran (1981)
Boys on vinyl
Duran Duran's start was hardly tentative – their self-titled debut album reached a spectacular No. 3 on its release in June 1981, and it stayed in the UK Top 100 for an impressive 117 weeks.
In a way, Duran Duran almost seems like a compilation, containing as it does the singles Planet Earth, Careless Memories and Girls On Film, as well as a slew of other tracks that could equally easily have been hits.
The album was produced by Colin Thurston, who had been co-engineer with Tony Visconti on David Bowie's Heroes and Iggy Pop's Lust For Life, and was producer of two key 1979 releases: Magazine's second album Secondhand Daylight and Human League's debut Reproduction.
Thurston brought a crispness and sheen to the production. To The Shore's languid electronic ambience suggests a band who have cocked an ear to Bowie and Eno's late-Seventies work in Berlin while the equally atmospheric and eerily FX-laden The Night Boat features Mick Karn-ish bass – Japan were, at the time, recording their album Gentlemen Take Polaroids down the hall at AIR Studios… and you can tell.
---
Rio (1982)
The difficult second album
Duran Duran's hegemony continued unabated with their second album, which became one of the LP soundtracks of summer 1982… quite a feat when you consider it was up against the polish of ABC's The Lexicon Of Love and the popularity of Dexys Midnight Runners' Too-Rye-Ay.
If the debut album contains familiar material, Rio is a veritable Greatest Hits: you'll find Rio, My Own Way, Hungry Like The Wolf, Save A Prayer and New Religion here.
The latter was described in the liner notes as "a dialogue between the ego and the alter-ego" – next to today's boy bands, they were visionary geniuses.
There were ideas aplenty on Rio, then, but if you just wanted to sing along and dance, there was no shortage of that, either.
Rio was the barnstorming opener. My Own Way was a slowed-down version of the late-1981 single. Hungry Like The Wolf matched Girls On Film's Top 5 position, while Save A Prayer reached No. 2.
As with their debut LP, it's a measure of Rio's greatness that several other tracks – notably Hold Back The Rain and The Chauffeur – could have been hits as well.
---
Seven And The Ragged Tiger (1983)
Why-ay-ay don't you use it?
The third Duran album was, surprisingly, not just their first but their only No. 1 album in the UK – not to mention the last album from the original lineup for 21 years.
Rio's success made them tax exiles, and so for the recording they decamped to Cannes with producer Ian Little (Roxy, OMD, Sparks), with assistance from the late, great Alex Sadkin.
Talking about the album, Simon Le Bon described it as "an adventure story about success", which makes sense, because Seven And The Ragged Tiger captured the band at their peak.
It featured The Reflex, which became, after Nile Rodgers remixed it, their second UK No. 1 after Is There Something I Should Know? and their first to reach pole position Stateside.
Rodgers would later work with the band on the Wild Boys single, 1986's Notorious album and several tracks on 2004's Astronaut.
Meanwhile, the infectious New Moon On Monday, sinuous Union Of The Snake and propulsive Shadows On Your Side helped make Duran Princess Diana's favourite band – the favourite band, in fact, of most of the world's female populace.
---
Astronaut (2004)
Five go mad. Again
Astronaut was an absolute feast of firsts: it was the band's first studio album since 2000's Pop Trash, their first featuring the original lineup since Seven And The Ragged Tiger (1985's Bond theme A View To A Kill was their last actual recording), and their first Top 3 album since 1983.
Steered by a slew of top-name producers including Dallas Austin and Nile Rodgers, it was evidently the work of a seriously re-energised band, and arguably the strongest 21st-century comeback by any Eighties legends.
The song (Reach Up For The) Sunrise was chosen as the lead single, and although diehard fans have frequently insisted that the honour should have gone to the superior Nice, it provided Duran with their first UK Top 10 hit since Ordinary World in 1993.
What Happens Tomorrow was the second single, reaching No. 11 in February 2005. Want You More! was fast and sleek – Duran's electronic funk updated.
From the sublime Taste The Summer to the hi-tech Chic disco of Bedroom Toys and the title track, Astronaut was the sound of a band not just revisiting their peak but hitting a new one.
And The Rest…
Notorious (1986)
Duran's fourth album (the three-year gap allowing for the members' Arcadia/Power Station spin-off projects) found them in a period of transition, with guitarist Andy Taylor fed up and frustrated, and drummer Roger Taylor frankly exhausted.
High-class, studio-savvy options were found; producer Nile Rodgers picked up the slack on guitar, aided by new boy Warren Cuccurullo, with session player Steve Ferrone filling in on drums, leaving Simon Le Bon, John Taylor and Nick Rhodes as the crucial original three.
Released in November 1986, Notorious peaked at 16 in the UK and No. 12 in the US, the new funk direction alienating many of their pop faithful.
Nevertheless, the title track reached No. 2 in the States, and even if the Prince-ish Skin Trade's relative failure (it peaked at No. 22) signalled the start of a downturn in the band's fortunes, there was much to recommend here.
---
Duran Duran (1993)
The band's second self-titled album is also often referred to as "The Wedding Album", because the sleeve features photos of the four band members' parents getting married.
Although their previous two albums – 1988's Big Thing and 1990's Liberty – had fared quite respectably in the UK charts (reaching, respectively, No. 15 and No. 8), this felt like something of a comeback.
This is partly because it was such a big hit around the world, propelled to multi-platinum status by the success of the single Ordinary World. The latter, a ballad, was an epic strings-drenched anthem that had a hint about it, oddly, of the stadium-friendly Britpop to come in the shape of Oasis.
Also a hit was the darkly rousing Come Undone, while Drowning Man nodded to developments in house music and Too Much Information and Love Voodoo were infectious dance-pop.
---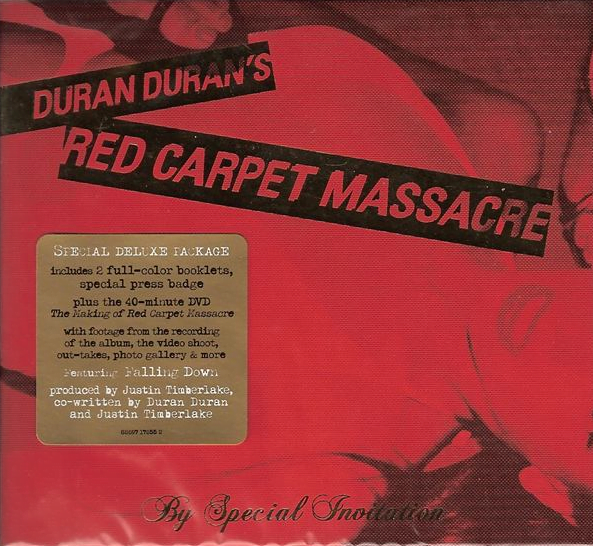 Red Carpet Massacre (2007)
This was the album that emerged from the wreckage of the scrapped sessions for Reportage, their unreleased LP intended as the follow-up to Astronaut.
With hip hop super-producers Timbaland and Danja at the helm and the involvement of Justin Timberlake, Red Carpet Massacre sounds in places like a super-slick R&B album.
With cameos from Kelis and Scissor Sisters' Ana Matronic, it is a far cry from the rock album that the Youth-produced Reportage would have been.
Despite being the second lowest-selling record in Duran history (after Pop Trash), it features Nite-Runner, Skin Divers and Falling Down – shiny beat-driven tracks that, by pursuing a contemporary dance quality, end up with a sound in keeping with the band's original nightclubbing aesthetic.
Not that they agreed. "That whole project was a fucking nightmare," stated John Taylor.
---
All You Need Is Now (2011)
Duran's 13th album was their first not released by a major label; indeed, it was initially issued in December 2010 as a download only, a sign of Duran's acuity and modernity, perhaps, but also of their diminished status.
Then again, they did manage to draft in Mark Ronson for studio duties, and he achieved the perfect blend of classic and current: Girl Panic!, issued as a single, sounded like Planet Earth updated.
No wonder reviewers talked about "a return to roots", while also acknowledging Duran's ability to remain abreast of contemporary developments.
Some decided it was their best since Rio, but it was surely the Mojo review that brought the biggest smiles to Duran's faces when the magazine awarded the album four out of five stars and declared: "Take Roxy Music, add Kraftwerk, and sprinkle on some Chic, and the result is Duran Duran".
Duran Duran – The Essential Singles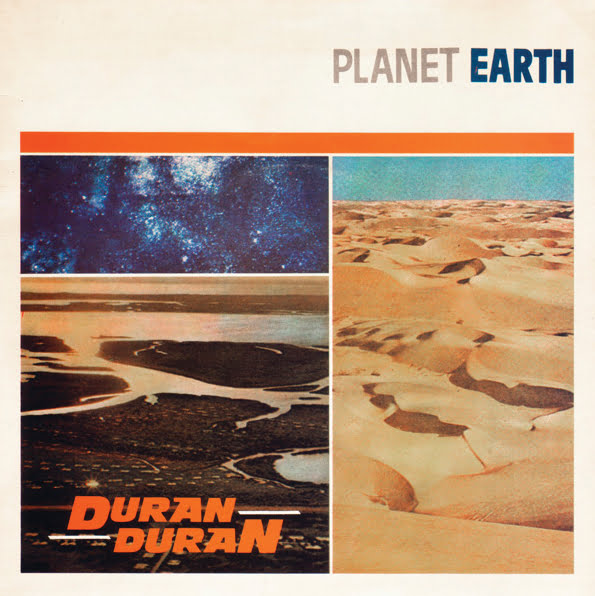 Planet Earth (1981)
Look now, look all around
Even given the synthpop/Eurotronic/white funk competition – Depeche Mode's New Life, Soft Cell's Memorabilia, Spandau Ballet's Glow, Human League's The Sound Of The Crowd – Duran's debut single stood out.
Released in February 1981, it was part of a wave of music ushering in a brand new era.
From the opening synthesiser approximating the sound of an approaching helicopter, the song was four minutes of sheer sonic urgency. It seemed to know exactly what it was doing, as though Duran had a strategy, and this was always destined to be Step 1.
It even contains a reference to "some new romantic", cementing the idea in the popular imagination of the flamboyant, frilly/floppyshirted, alienated fop.
Meanwhile, the song was all hooks, both musical and lyrical, from the low-flying synth drone to the bit where Simon Le Bon sings, "Bop bop bop bop bop bop bop bop". Here were the young men…
---
Is There Something I Should Know? (1983)
Easy as a nuclear war
By the start of 1983, Duran were in their element and feeling the confidence of a band in total creative and commercial control.
The way they dropped this single – their eighth – in March, free of any attendant album, oozed self-belief (it was subsequently made available as an extra track on the 1983 US reissue of their debut album).
And that assurance paid dividends, as it became their first single to enter the charts at No. 1. It also reached No. 4 in the US, selling over a million copies.
No wonder; from the audacious intro – it effectively opened with the chorus – to the outrageous allusion in the lyric to love as a battlefield ("You're about as easy as a nuclear war"), Is There Something I Should Know? demanded your attention.
And the "please please" bit couldn't help recalling The Beatles, which was appropriate, because Duranmania was now in full effect.
---
A View To Kill (1985)
The name's Duran. Duran Duran
How big were Duran Duran in the mid-Eighties? So big that they were invited to produce a James Bond theme song for the movie A View To A Kill… although actually, according to legend, they invited themselves: lifelong Bond fan John Taylor apparently drunkenly approached producer Cubby Broccoli at a party, and slurred: "When are you going to get someone decent to do one of your theme songs?"
Soon, they were sitting in Taylor's London flat with John Barry, where Simon Le Bon recalls the celebrated Bond composer briefly becoming a de facto sixth member of the band.
Like Is There Something I Should Know?, A View To A Kill was a standalone single, and remains the only James Bond theme song to have reached No. 1 in the States.
It was historic in another way: it was the last track recorded by the original five members until their 2001 reunion.
---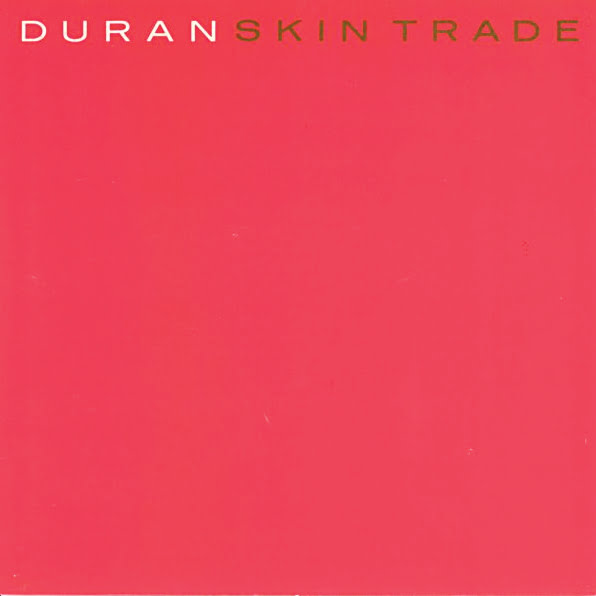 Skin Trade (1987)
Great song, bad sales
Skin Trade – its title lifted from Dylan Thomas' unfinished short story collection, Adventures In The Skin Trade – was the second single from the band's 1986 album Notorious.
It was also the first Duran single not to do as well as expected. Released in January 1987, it only got to No. 22 in the UK, and only just dented the US Top 40, making it their worst showing there since they first broke big with Hungry Like The Wolf.
Skin Trade's relative commercial failure hit the band hard, and instigated much head-scratching, because it was one of their best singles to date, although in retrospect its very difference from its predecessors may have caused confusion among fans: Simon Le Bon sang in a Prince-ly falsetto while The Borneo Horns parped away as though this was a Defunkt record. The blow to their confidence could be felt until at least 1993's Wedding Album.
---
Ordinary World (1993)
They learned to survive
Though Duran Duran appeared to dominate the Eighties, they were only massive in the first half; after Notorious, their star waned.
So the success, three years into the new decade, of Ordinary World – No. 3 in the States, No. 6 in Britain – felt like a bolt from the blue, a blast from the distant past from a strange, ancient relic.
But true to form, Duran (still minus Andy and Roger Taylor) came back in grand style, with an ornate, slow, stately ballad.
Far more conventional than their early work – which was bound up with adventurous, futurist electro and funk – Ordinary World could almost have been a Beatles or John Lennon song… which makes sense because, in a way, it was a rousing harbinger of Britpop things to come.
---
Girl Panic! (2011)
A view to thrill
Thirty years after Planet Earth, Duran Duran proved themselves the most enduringly creative band of their era with Girl Panic!.
Originally titled variously Home Wrecker, Ice Breaker and Pale Blue Planet, its name changed after producer Mark Ronson insisted the song should be about the fairer sex, prompting Nick Rhodes to go home and adjust the words.
When asked whether the band were embarrassed to be singing about girls at 50, John Taylor reasoned that Rhodes was single and "out there experiencing the passions of early love".
But then, that's what was so great about the single, and what is so great about Duran as they proceed through their fourth decade: they still sound up for it, energised, switched on and plugged in.
Only For The Brave…
Thank You (1995)
Widely lambasted on its release (and routinely reviled ever since) was this album of covers of everything from Iggy Pop's Success and The Doors' Crystal Ship to Grandmaster Flash's White Lines and Public Enemy's 911 Is A Joke. Maybe the joke was on us?
Medazzaland (1997)
Their ninth album, and the one that saw the departure of John Taylor, leaving Rhodes, Le Bon and Warren Cuccurullo to complete it. Angular, clattering, tracks like Electric Barbarella are almost too harsh. Only diehards stand by it… unlike EMI, who dropped the band.
Need To Know
Owners of The Rum Runner in Birmingham, Paul and Michael Berrow, became the band's managers. They used to pay their new recruits to work as doormen, DJs and glass collectors.
For the NME, especially Paul Morley, Duran were the epitome of Eighties escapism and empty glamour, a bunch of clothes horses fiddling while London rioted. "As a response to grievous, turbulent times," Morley
said in 2012, "Spandau Ballet, Wham! and Duran Duran preferred the dolled-up posing in pampered cliques inside VIP sections of exclusive nightclubs."
Simon Le Bon appeared on Do They Know It's Christmas? He sang: "It's hard, but when you're having
fun/There's a world outside your window". Then with Sting: "And it's a world of dreaded fear/Where the only water flowing is a bitter sting of tears/And the Christmas bells that ring there are the clanging chimes of doom".
Duran are subjects of a plethora of fan fiction, penned by grown women and much of it sexual in nature, with band members in various gay plotlines in which, for example, John Taylor and Simon Le Bon are lovers.
Duran Duran – The Must-Watch Videos
Girls On Film
Directed by GODLEY & CREME
One of the earliest examples of the controversial, media attention-grabbing video, this was directed by the two ex-members of 10cc – Kevin Godley and Lol Creme, later responsible for Frankie Goes To Hollywood's
Two Tribes
– and featured the band performing the song live, interspersed with footage of mud-wrestling and pillow-fighting topless females.
It was banned by the BBC and edited by the newly-founded MTV, although that didn't stop the fledgeling TV station making Duran Duran one of the key acts of their formative years. Still, the Girls On Film video was soft porn, even if it did arguably help make the band and propel this, their third single, to No. 5 (especially after previous single Careless Memories stalled at No. 37).
"It was damned by the British press," said Simon Le Bon. "It was the best coverage we'd had so far!"
---
Rio
Directed by RUSSELL MULCAHY
For its sheer wealth of period signifiers,
Rio
can't be beaten – it is without doubt the quintessential early-Eighties video, capturing proto-yuppies and international playboys indulging in some seriously conspicuous consumption… and that's before you get to the sax solo.
Duran Duran travelled to the island of Antigua in May 1982 to film the video, which featured iconic images of the band in colourful Antony Price silk suits and ill-matching ties, singing and larking around on a yacht sailing the Caribbean.
There is a body-painted vixen, the members humorously debunk themselves – Roger Taylor's toe, for example, gets bitten by a crab – and Nick Rhodes blows his horn on a raft. There is no better document of the times, compressed into five minutes of artful glamour, from the director of Planet Earth, My Own Way, Hungry Like The Wolf and more.
---
The Wild Boys
Directed by RUSSELL MULCAHY
At a cost of over one million dollars – a colossal budget for a pop video even at the time –
Russell Mulcahy
created an enormous set which filled one entire end of the 007 Stage at Pinewood Studios.
It included a metal pyramid and a windmill over a deep enclosed pool, not to mention a robotic face, numerous costumes, prosthetics, stunts, makeup and fire effects, and advanced computer graphics.
The dance scenes were choreographed by Arlene Phillips, and the ragged outfits worn by the band were designed to make them look like extras from the cast of Mad Max 2: The Road Warrior.
But whose decision it was to show them being tortured – by images of their childhood (John) or strapping them to a spinning windmill which dunks their head underwater with each turn (Simon) – is not known. It won Best British Video at the 1985 Brit Awards.
---
Girl Panic!
Directed by JONAS AKERLUND
The director responsible for Madonna's
Ray Of Light
and The Prodigy's
Smack My Bitch Up
videos here created a mini-classic, or rather, one that recalled classic videos.
To evoke Duran's famous Eighties promos with their models and assorted glamorous women and locations, he enlisted the help of supermodels Cindy Crawford, Helena Christensen, Yasmin Le Bon, Eva Herzigova and Naomi Campbell to play the various members of Duran Duran (Domenico Dolce and Stefano Gabbana also feature).
Shot around central London in locations such as the Savoy Hotel, Westminster Bridge and the Embankment, the girls are shown meeting fans and being interviewed by journalists (played, in a neat twist, by John Taylor et al) and by the end of the nine-minute film the supermodels perform the track in a nod to Robert Palmer's iconic Addicted To Love video.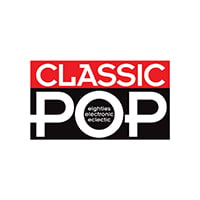 Classic Pop
Classic Pop magazine is the ultimate celebration of great pop and chart music across the decades with in-depth interviews with top artists, features, news and reviews. From pop to indie and new wave to electronic music – it's all here...