Goldfrapp Albums – The Complete Guide
By Mark Lindores | November 8, 2021
A rundown of all the Goldfrapp albums, from 2000's Felt Mountain to 2017's Silver Eye…
Felt Mountain
Released 2000
Label Mute
Chart position
UK: No.57 US –
For an album so deeply entrenched in the past, Goldfrapp's debut still sounds fresh and innovative more than two decades after its release.

Taking in classical, leftfield electronica, Brechtian cabaret, folk and 60s pop, Felt Mountain is an ambitious piece of work, a feat made even more remarkable by the fact that Alison Goldfrapp and Will Gregory were still virtual strangers when they began recording it in the autumn of 1999.
Alison, who had previously collaborated with Tricky, Orbital and Dreadzone, and Will, who'd worked with Tears For Fears, Portishead and Peter Gabriel, were introduced by a mutual friend after Will heard one of Alison's early versions of Human and thought her voice would be perfect to sing on a score he was working on.
That project didn't come to fruition, but the pair realised that they shared similar musical tastes and developed a working relationship by sending each other tapes of songs they were into and began writing together.
A deal with Mute Records was signed in September 1999 and the duo rented a secluded bungalow nestled deep in the Wiltshire countryside where they immersed themselves for six months to create their debut LP.

The decision paid off with the countryside permeating the feel of the music – the lush and sumptuous soundscapes conjuring up imagery of dewy meadows and misty woodlands, wildlife and snowy drifts, all enhanced by Alison's astonishing vocals, which veer effortlessly from hushed sensuality (Paper Bag) to operatic grandeur (Utopia), with a hint of whistling and even yodelling.
Album opener Lovely Head creates the ambience, with its distinctive lonesome whistle hook and gentle shuffling drum beat luring the listener into a seductive, cinematic experience that transports us from the pastoral baroque of Paper Bag to the sinister, mambo-esque Human and soaring Pilots, both of which evoke John Barry's best Bond themes, while the sparse Deer Stop and Horse Tears are piano-based songs with distorted vocals resulting in an eerie, haunting atmosphere. The glorious opera-meets-electronica of Utopia is transcendent. 
Released on 11 September 2000, Felt Mountain stalled at No.57 in the UK, a rather disappointing position for an album of such quality. Alison Goldfrapp later explained that the band failed to receive radio support on account of the music being too slow and difficult to categorise. 
The album sold subsequently on the back of Goldfrapp's later successes and benefitted from a nomination for the Mercury Music Prize. It remains a firm fan favourite.
Black Cherry
Released 2003
Label Mute
Chart position
UK No.19 US –
After a year on the road in support of Felt Mountain, Will and Alison found themselves frustrated with their "static" live show, not only because they had just nine songs of their own, but because of the emotional toll it took to perform those intense torch songs, night after night. 
It was particularly frustrating for Alison who, before getting into music, had studied fine art and toured Europe with a theatre company and was keen to introduce more of a performance aspect into Goldfrapp.
In a bid to lift the mood, they closed their sets with radical reworkings of Olivia Newton-John's Physical and Baccara's Yes Sir, I Can Boogie (on which Alison famously performed a theremin solo with her crotch).
It was these performances, as well as a foray into DJing for Alison, that proved the catalyst for the daring new direction in which they headed on their second album, the sublime electro-eroticism of Black Cherry.
More complete departure than progression from Felt Mountain, Goldfrapp's second album is a glam, erotic cabaret which casts Alison as a disco-fied dominatrix barking demands to "put your dirty angel face between my legs and knicker lace" over banging beats, manic synths and orgasmic moans (on LP highlight Twist).
Just as their debut had conjured up lush dreamscapes and film-noir, Black Cherry is equally transportive, except this time we join them in a seedy S&M underworld of Soho strip clubs and sex dungeons (the crack of a whip is littered throughout the album).
The Donna Summer-meets-Doctor Who glam stomp of Strict Machine updates the euphoric bliss of Summer's I Feel Love while the throbbing, hypnotic Train explores themes of indulgence and obsession as well as the self-disgust that comes from lack of self-control over them. 
Elsewhere, the album's mellow moments, the ethereal balladry of the shimmering title track, Forever, Deep Honey and Hairy Trees are a pristine progression of the Felt Mountain vibe with sumptuous soundscapes and soaring melodies – unfairly overshadowed by the sheer power of the dominant triumvirate of Train, Twist and Strict Machine.
The album is completed with Crystalline Green and Tiptoe, two exquisite tracks on which Alison manipulates her vocals into myriad mutations over pulsating dance rhythms, analogue synths and industrial beats. 
The album's artwork, which featured Alison and a pair of wolves included references to fairytales such as Red Riding Hood, Judy Garland's ruby slippers from The Wizard Of Oz and various hybrids of humans and animals. On the Strict Machine single, a naked Gwendoline Christie (later of Game Of Thrones fame) appears with her face obscured by a rabbit mask.
The theme translated into a scintillating live show in which Alison performed wearing a horse's tail, while dancers in nipple tassels, mirrored animal heads and little else joined her onstage. 
Black Cherry may have been subsequently overshadowed by Goldfrapp's more commercially successful records, but it remains a gleaming pinnacle of their impeccable discography.
Supernature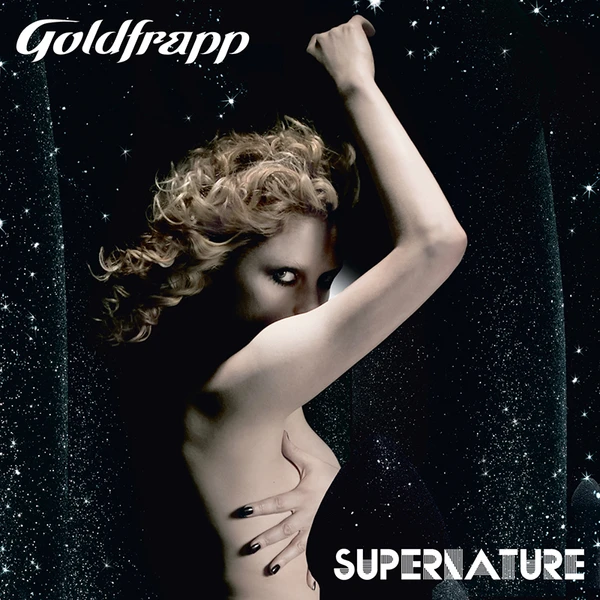 Released 2005
Label Mute
Chart positions
UK No.2 US No.138
Having found the sumptuous 70s sounds of disco and glam rock such a comfortable sonic fit on Black Cherry, Goldfrapp chose to stick with them as a starting point for their third album – even the title references Cerrone's disco classic from 1977. 
However, anyone expecting a velvet goldmine of 70s pastiches and glam-pop floorfillers on Supernature may have been surprised once they got beyond lead single and album opener Ooh La La.
Undoubtedly an unabashed homage to Marc Bolan with a hint of Norman Greenbaum's Spirit In The Sky, its shuffling beat and slap-delayed vocal is an authentic nod to glam rock.
Beyond that track (which remains Goldfrapp's biggest UK hit single to date), the retro 70s influence is a lot more subtle, as are the songs themselves, with big choruses replaced by an array of nuanced hooks.
The record unfolds to reveal itself as an amalgam of different styles – most prominently exhilarating synth-pop and spacey soundscapes influenced by Blondie, Gary Numan, Air and The Human League among others, described by Alison Goldfrapp as "an electronic/glam cross between Berlin, New York and North-East Somerset".
Despite Supernature's international flavour, Will and Alison once again retreated to the cottage in a small village near Bath where they had constructed Black Cherry. Work began in August 2004, almost as soon as they had finished touring, bouncing ideas back and forth to develop the music to which Alison would later write the lyrics. 
Emboldened by the critical and commercial success of their previous album, they felt liberated to be even more experimental and set out to make the biggest-sounding record that they could. 
Banks of fuzzy synths and guitars vie for prominence on Lovely 2 C U, Slide In and Koko, the latter of which emerges as the most successful experiment, thanks to its central sitar and grandiose synth stabs that evoke Tubeway Army's Are 'Friends' Electric?.
The disco influence continues with Ride A White Horse, the title of which summons the infamous image of Bianca Jagger entering Studio 54 astride a white horse. 
Teaming a hard dance beat with a Moroder-esque bassline, icy, robotic vocals and the cracking of a whip to manifest a monster of a track, it's much more successful than the album's other dance-centric number, Fly Me Away.
Lacking the punch of Ride A White Horse, its generic beat and floaty vocal is the first time Goldfrapp sounded contrived and appear to have been purposely seeking a hit.
It's when the duo play up to their eccentricities and uniqueness that Goldfrapp excel, such as on the superb Satin Chic – a glam rock-meets-cabaret track with honky-tonk piano and opulent reverbed vocal, the dreamy Time Out From The World, which builds to an incredible orchestral climax or album closer Number 1, a sublime synth-pop ballad which could pass for a lost Human League classic from 1982.
Not as innovative as its predecessors, Supernature instead takes its cues from the previous two albums and presents them in a more polished, less abstract way. 
However, the move paid off as it became their most successful album, charting at No.2 in the UK, held off the top spot only by James Blunt's unstoppable Back To Bedlam, and their first LP to chart in the US.
Seventh Tree
Released 2008
Label Mute
Chart positions
UK No.2 US No.48
By the time Goldfrapp began work on their fourth studio album in October 2006, a number of factors, both personal and professional, were leading Alison and Will in a different direction for their next record.
Supernature had granted them a level of success and fame they were unprepared for and Alison was physically and mentally exhausted as well as increasingly uncomfortable with the persona being created around her as an icy disco chanteuse. 
As well as that, a distillation of their sound had worked its way into the music of everyone from Madonna to Rachel Stevens and Sugababes and wasn't exclusive to them anymore.
The seed was sown for which way they were to proceed after they played a few acoustic radio sets and backstage sessions at festivals while promoting Supernature.
"I think we both felt the need to shut things down a bit," Will Gregory told IGN Music in 2008. "With Supernature, the voice had been sort of caricatured or stylised and processed.
"We wanted to go back to a much more intimate and personal solo voice where the character of the music and the emotion is coming from that. Sometimes we did some jams which were just with one instrument and Alison's voice to do the writing with, and that just felt really nice."
Using an acoustic guitar for the first time proved to signal a major change in the material, indicating a more organic feel, structurally and sound-wise.
As much of Goldfrapp's previous work had relied on sequencers and ambience, the folk-tinged songs they were writing for Seventh Tree were far more stripped-down and conventional, resulting in what Alison describes as an "intimate, dreamy, more introspective album".
Drawing influence from surreal children's books, folklore, paganism, The Wicker Man and personal experiences for its lyricism, sonically Seventh Tree references Nick Drake, Kate Bush and the Cocteau Twins. 
As always, nature and the English countryside are prevalent in the album, too, but a refreshing twist are the nods to 60s and 70s Californian sunshine which recalls The Mamas And The Papas and Fleetwood Mac. 
Opener Clowns is a gentle track that evokes lazy summer days, while Little Bird swirls in a psychedelic haze. Happiness is, on the surface, a 60s-inspired, joyous anthem but masks cultish, darker work at play. 
The carefree Caravan Girl is a euphoric ode to escapism and the noir-ish, dark glamour of A&E is a delight. Standout Cologne Cerrone Houdini channels Air in its layered majesty. 
A radical reinvention of their sound, Seventh Tree – the title of which came from a dream that Alison had – revels in its confessional folktronica, reflecting a different side of the band than heard before. 
While opulent sonics have perhaps been the only constant of Goldfrapp's previous work, Seventh Tree's greatest stylistic strength is that, by stripping everything back, Alison's voice is allowed to shine.
Entering the chart at a more than respectable No.2 in the UK, Seventh Tree spawned four singles in A&E (a Top 10 hit on home soil), Happiness, Caravan Girl and Clowns. It also became the duo's highest charting album in the United States to date as their profile increased across the Atlantic.
Head First
Released 2010
Label Mute
Chart positions
UK No.6 US No.45
Another album and a further shift in direction. A direct reaction to the low-key, intimate Seventh Tree, Head First was announced by the band in a press release at the beginning of 2010 as "our most powerful trip to date, a speedy rush of synth optimism, euphoria, fantasy and romance. With life-affirming lyrics and stellar production, it lifts off at full tilt and takes us on a journey to the heart of 2010."
Explaining that Seventh Tree had reflected a difficult period in her personal life, by the time the group began Head First Alison was in a much better space personally and wanted to celebrate that by making an upbeat record.
During the interim between albums, they had scored the soundtrack to John Lennon biopic Nowhere Boy and worked with Christina Aguilera for her Bionic album.
Enthused by both experiences, Will and Alison set out with the intention of making a warmer, less aggressive version of Supernature, reconvening in their cottage in Bath for the latter half of 2009 to work on the album.
The resulting record marks the first time in their career that Goldfrapp were following trends instead of setting them. They had shaken off their association with the brief electroclash fad but a wave of acts, such as La Roux and Lady Gaga had moved in on their territory for female-fronted synth-pop.
Sounds Goldfrapp once pioneered, which fizzled with originality and a knowing wink to their influences, are at times too literal. It's hard to hear opener Rocket, for example, without singing Van Halen's Jump or Laura Branigan's Gloria over it.
Which isn't to say that Head First is a bad album – far from it, its appeal only pales when compared to the decade of plush, pristine pop that preceded it.
Goldfrapp have always excelled at creating music which intrinsically transports the listener to another dimension, be it dancing around a maypole on Seventh Tree or a stripper pole on Black Cherry. On Head First they take us to a neon-lit roller rink via Xanadu, a location that was already pretty crowded
in 2010. 
Once over the initial shock that Head First is 'safe' (a first for Goldfrapp) and doesn't deviate far into unexpected territory, it reveals its beauty through danceable beats, sugar rush melodies, shimmering synths and gorgeous vocals.
Alive, a pulsating dance track, is an arms-in-the-air euphoric singalong, Believer bounces along like Erasure's Blue Savannah, the title track and I Wanna Life are passable nods to The Visitors-era ABBA and the floaty, Italo-disco-inspired Dreaming are all great pop songs.
That being said, the welcome quirk of Shiny And Warm, which recalls Supernature's Satin Chic, is by far the standout of the album.
Despite the success of the record, their third consecutive UK Top 10 album and their highest charting LP in the US (also landing them a Grammy nomination), Will and Alison later expressed dissatisfaction with Head First due to record label interference from EMI (Mute's parent label) steering it in a more commercial direction and forcing them to release it before they were ready – an experience they vowed never to repeat.
Tales Of Us
Released 2013
Label Mute
Chart positions
UK No.4 US No.75
As a duo whose work has been described as cinematic from the very beginning of their career, in many senses Tales Of Us is the album Goldfrapp were always destined to make – it forsakes the traditional approach to an LP and instead sees Alison inhabit a series of fictional characters.
Having re-signed to Mute Records (as an independent label again after it severed its ties with EMI), Goldfrapp were afforded complete creative freedom and able to work at their own speed (they bought themselves time between albums by agreeing to release a singles compilation) in order to ensure the record was exactly how they intended it, thus avoiding the conflict and interference that marred their previous release. 
With a gestation period of two years (as opposed to the five months they were given for Head First), Alison immersed herself in hundreds of books and films, selecting characters and making them the focus of Tales Of Us' 10 tracks.
Drawing its influences mainly from filmmakers such as David Lynch, Ingmar Bergman and Michelangelo Antonioni as well as musicians Jacques Brel, Françoise Hardy, Leonard Cohen and Bon Iver, Tales Of Us mainly sticks to a sparse sonic palette of acoustic guitar, piano and lulling strings in order to allow Alison to showcase the stories.
Tasked with conveying vulnerability, identity, madness, loss and forbidden love, she excels in her beguiling narrations, which are as much acting performances as they are musical.
Drawing from wide-ranging source material, the stories include Annabel, which portrays an intersex child raised as a boy, Clay – the heartbreaking tale of a World War II soldier's love for a fellow serviceman and Laurel, a doomed Hollywood actress pursued by a serial killer gleamed from Dorothy B Hughes' 1947 novel In A Lonely Place. Although each is a standalone piece, Tales Of Us is cohesive enough to enjoy as a body of work.
An album that Alison and Will were obviously very proud of, Tales Of Us was launched with a series of special events including a show at the Manchester International Festival with a full orchestra and a cinema link-up to premiere a set of short films for five of the tracks along with a live performance from AIR Studios.
Silver Eye
Released 2017
Label Mute
Chart positions
UK No.6 US No.118
Tradition dictates that a sombre, atmospheric Goldfrapp album is followed by a return to the dancefloor. It also dictates that Goldfrapp are unpredictable, and although Silver Eye is much more upbeat than Tales Of Us, it takes the essence of the group and presents it through a different prism than previous work.
In the four years since their last studio album, Goldfrapp had gone through something of a transformative experience. While all of their previous LPs were written and recorded in an insular fashion with just Will and Alison, the opportunity to score the National Theatre's production of Medea (starring the late Helen McCrory) opened them up to the idea of collaboration with other musicians.
Finding the experience fulfilling and inspiring, they carried it into their next studio album, enlisting producer John Congleton, who had worked with St Vincent, Blondie, John Grant and Bobby Krlic of The Haxan Cloak.
The result is a very different record for Goldfrapp, which swaps the lavish arrangements for a more minimal approach and a much harder sound – almost industrial beats, though their identity still dominates.
The pair of slinky dance tracks that open the album, Anymore and Systemagic, buzz and fizz like something from Black Cherry while the shadow of Depeche Mode looms over much of the album, never more so than on the fantastic Everything Is Never Enough – at least until Dave Gahan hopped on a remix of Ocean for the deluxe edition of the record that is. 
Other highlights are Become The One, which was inspired by a documentary about a transgender girl and delicately explores the notion of identity, and Faux Suede Drifter which revives the moody atmospherics of Felt Mountain.
While Silver Eye seemed to mark something of a new chapter for the band, that new energy seems to have dissipated.
Several years on, fans are still waiting for what will come next. However, with 2022 earmarked for the postponed Felt Mountain 20th anniversary tour, it looks like new music could still be far off the horizon.
Mark Lindores
Raised on a diet of Smash Hits and Number One mags (literally, he used to save his school lunch money to buy them), Mark Lindores never entertained the idea of doing anything other than writing as a career. After writing for publications including the British and Australian editions of Vogue, Mixmag, Attitude, Total Film, Clash, Notion and Metro, he chanced upon the launch issue of Classic Pop in 2012 and, thrilled with the discovery of a magazine that featured his favourite artists, pitched an idea for issue 2 and has written for the magazine (and Classic Pop Presents) ever since.