Duran Duran's Medazzaland – a look back
By John Earls | January 19, 2023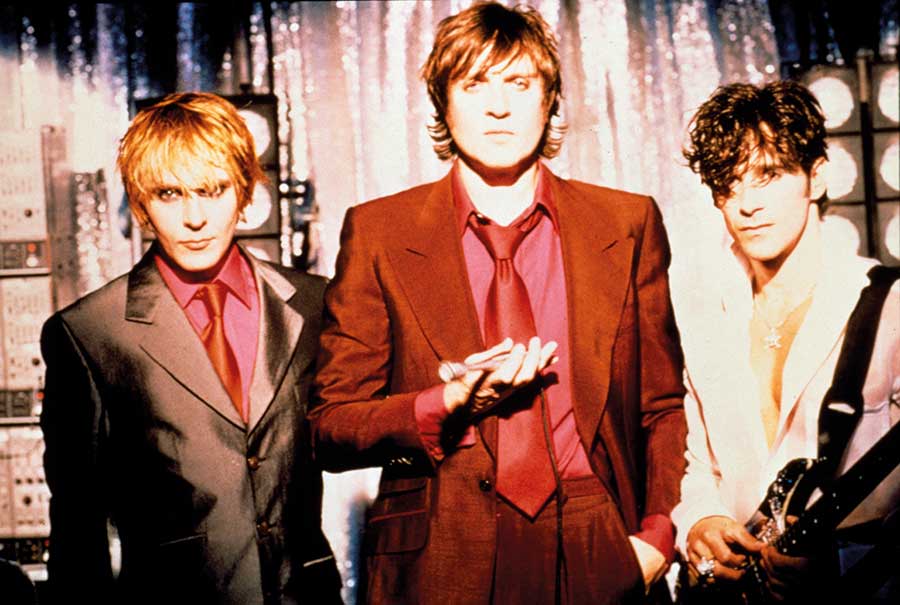 Medazzaland is Duran Duran's great lost album – until now. Finally getting a physical release 25 years after it was due out, it's the record that could have easily sunk the band – especially when John Taylor left. But, as Nick Rhodes tells Classic Pop, they continued with a bold and brilliant experiment, despite writer's block and personal heartbreak at the loss of friend and inspiration, Michael Hutchence…
Duran Duran and Britpop were never going to get along. Sci-fi dance visionaries in an era of rockist laddism? That's a tough one, even for a band as indestructible as Duran.
As Nick Rhodes recalls: "Britpop had some great songs, but it hadn't exactly changed the face of music." So, following 1995's covers album Thank You, Nick, Simon Le Bon, Warren Cuccurullo and John Taylor set out to make a statement.
"Britpop's indie scene hadn't really done a lot for us," frets Rhodes. "Aside from hip-hop and R&B, the music of that period wasn't particularly interesting. So we were looking to do something based on the craziness and arrangements of the music that we'd grown up with: David Bowie, Iggy Pop, Lou Reed, The Beatles, Cockney Rebel, Sparks.
"On Bowie's run of albums from Aladdin Sane to Scary Monsters, anything goes, often within one side of the same record. I'm not saying Medazzaland is anything like it, but 'The White Album' was another model. The diversity of that is key, and I've always loved John Lennon's idea that a song is a postcard."
Although Duran were making decent headway in assembling a collection of diverse musical postcards depicting numerous different landscapes, the band had a massive problem to address: John Taylor wanted out. The bassist had just met fashion designer Gela Nash and then planned to set up home with her in California.
Making a new album in Cuccurullo's home studio in Battersea, South London, was proving impossible to square with personal happiness.
"John came to my house and we had a conversation of 'Are you sure about this?'" recalls Nick. "It was emotional for both of us, because it was all we'd known. I'd met John when I was 10 and he was 12, and here we were, John separating from it."
Nick understood John's reasons – the bassist and Juicy Couture founder Gela have been married since 1999.
"John wanted to get his life together in California," concedes Rhodes. "He needed to make that decision. I resisted as much as I thought was sensible, but clearly John's decision had been made. But it felt very strange just having Warren, Simon and I."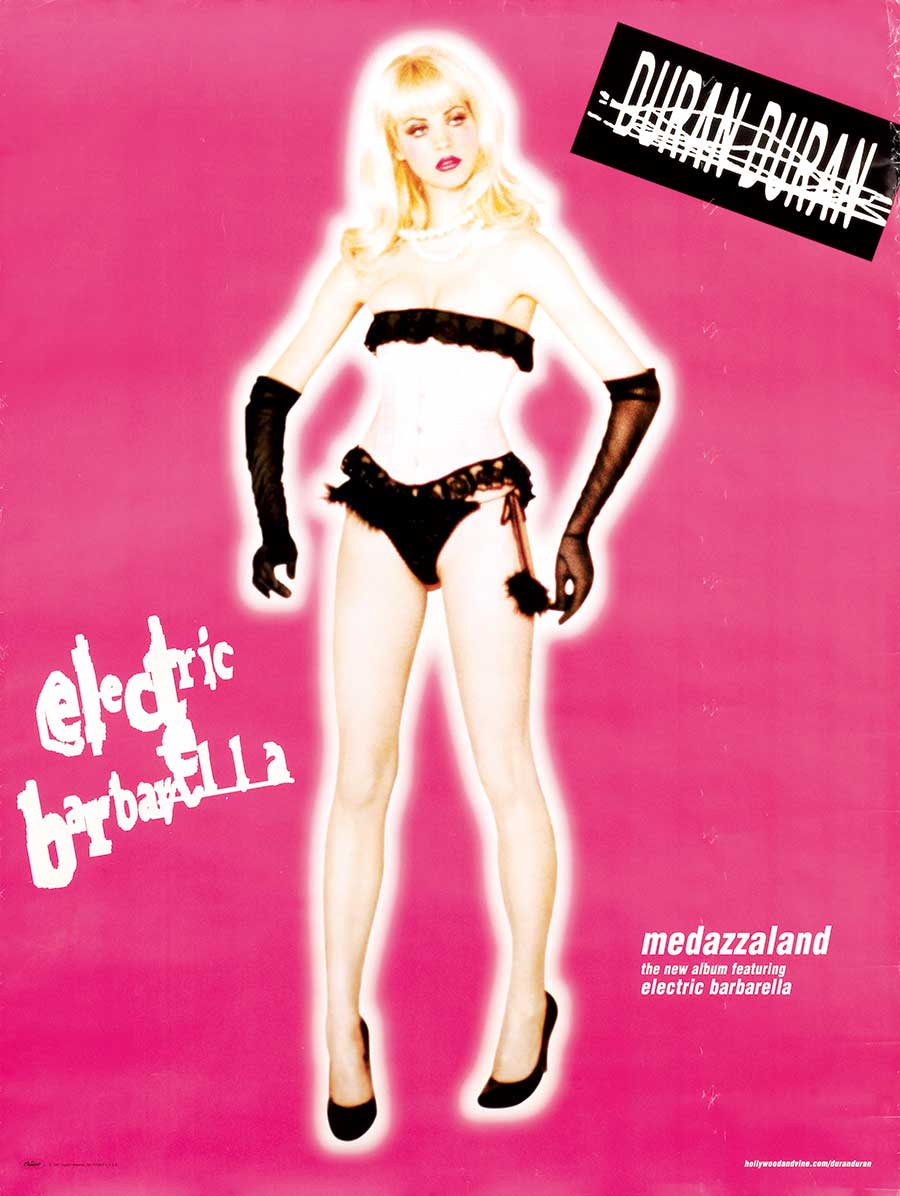 When John quit the band in January 1997, he'd already co-written and played on three songs. "My instinct is to never, ever give in," insists Nick.

"I always try to move forward, and we were already halfway through the album, so we continued. I had a lot of ideas, and we all wanted to continue on the path we'd set."
John's departure is addressed on the meditative, Eastern-influenced Buried In The Sand. "I wanted to say goodbye to John," Rhodes reveals.
"Buried In The Sand is the truth of our conversation. It felt as though John had buried himself in the sand, because he didn't want to listen to anyone. But I didn't mean that in a scolding way, it was: 'I realise you've made your decision.'"
The fact that Nick wrote the lyrics to John's farewell is indicative of the other big problem in making Medazzaland: Simon Le Bon had major writer's block. Duran's sole lyricist since the start, he had simply run out of things to say.
"Simon had never had writer's block until that point," Rhodes recalls. "He tried to find ideas for a couple of weeks but just hit a brick wall. He said: 'I don't know what to write about. We've written so many songs, I don't know where to go.'
"As I've always done, I tried throwing ideas for subject matter at Simon: a line, a title. But none of it stuck. I started writing lyrics for the music we had, but it wasn't that I particularly wanted to take on the mantle of lyricist. That was simply a case of necessity."
The title track is unique in Duran's history. Not only does Rhodes write its lyrics, it's the only Duran Duran song to feature the keyboardist on lead vocals, intoning an atmospheric, somewhat sinister voiceover against a retro sci-fi sonic backdrop.
"The song is an ironic look at writer's block," explains Nick. "It's about someone losing their words, of words not coming out." It was also inspired by a trip to the dentist.
Famously in Duran Duran lore, the album title arrived when Le Bon came to the studio after he was given dental drug midazolam during an operation.
The singer seemed joyfully high, but couldn't remember the previous three hours. Rhodes remembers: "I really liked the idea of someone going to Medazzaland, where they've forgotten everything they knew from their past.
"That tied into Simon's writer's block. There's obviously humour in the song, but I was very worried, too, as I wanted Simon to be able to continue doing what he'd always done so brilliantly."
Le Bon wasn't totally stuck for inspiration. He wrote lyrics for around half of the album's 12 tracks including the beautiful ballad, Michael You've Got A Lot To Answer For.
It was inspired by his friendship with Michael Hutchence, which began when Duran were recording Thank You in the south of France and INXS were making Elegantly Wasted.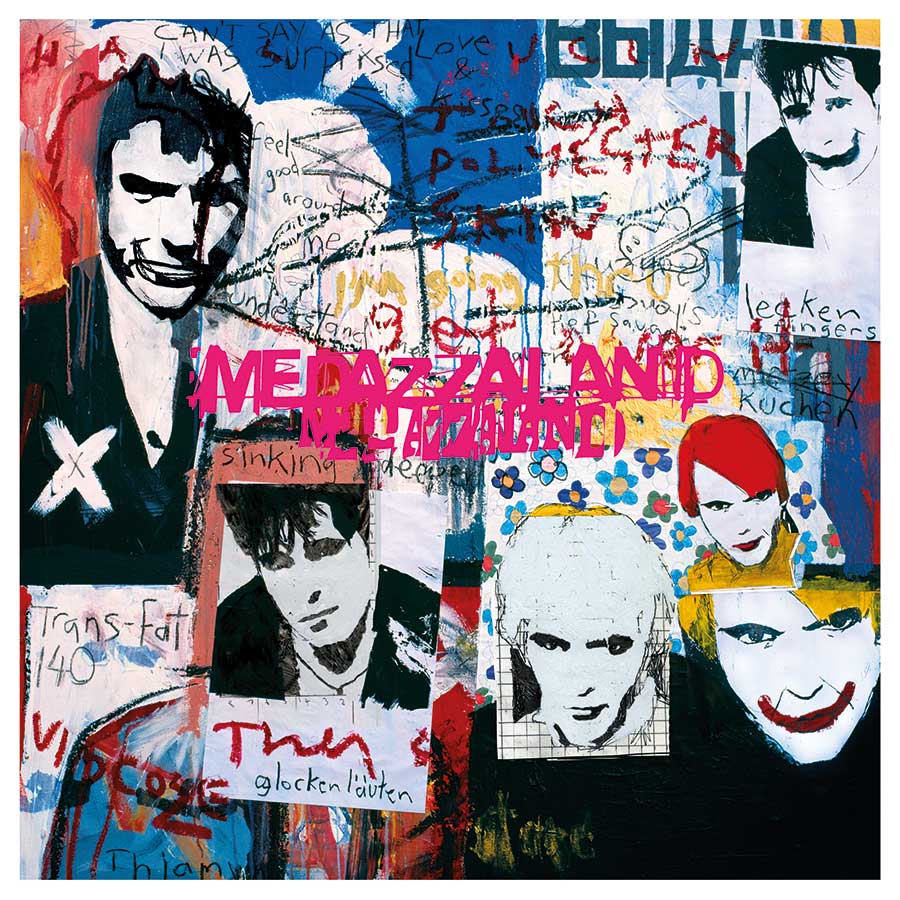 "Some of the U2 boys were there, too," says Nick. "We all had a few interesting evenings together, but Simon and Michael had a really special relationship. They were Tweedledee and Tweedledum for a while, like brothers.
"Simon absolutely adored Michael, and Michael You've Got A Lot To Answer For was written as a little bit of a love song to him.
"The song reminds me of Simon And Garfunkel. I've never been a massive Simon And Garfunkel fan, but I admire songs like The Sound Of Silence, which is an absolute masterpiece.
"We'd never written a song that was so simple before, like a folk song. That's what I like about it, Simon floating with that lovely sentiment over Warren's guitar riff."
Tragically, the INXS singer died in November 1997, just a month after Medazzaland was released.
"The news that Michael had passed away was shocking, unbelievable," sighs Rhodes. "He was so full of life and energy, he just wasn't the kind of person you'd expect that to happen to in any way. We'd only seen Michael weeks before."
Michael You've Got A Lot To Answer For isn't the only song to pay tribute to a rock icon, with So Long Suicide written about the death of Kurt Cobain.
"Kurt's death was another shocking moment," says Nick of the Nirvana singer's suicide in 1994. "We didn't know Kurt, but his death really affected Simon. He related to Kurt as a singer and lyricist in a way I hadn't seen him relate to another singer in many years. Like everyone else, we thought: 'Here's the first songwriter in a number of years who's finally changing things.'"
Nirvana influenced a song from the time that didn't make Medazzaland. In 1995, promoting Thank You on a Canadian TV show, Duran played the thrashy P.L.Y.O.U., Warren introducing it as: "Here's a song that's going to be on our next album."
"Gosh, I'm surprised you know about that one," laughs Rhodes when Duran's unreleased grunge anthem is mentioned. "We'd been fiddling around with that song in soundcheck. Warren came from the Frank Zappa school of loving experimentation, and it was fine for him to say: 'Let's just play it on TV today.'
"Simon said: 'What a great idea!' and I thought: 'Oh, for goodness sake, it's never going to sound right.' That was its only performance. It's got that grunge element and we tried recording it once, but it never got completed."
Part of Medazzaland's eclecticism is due to the differing lyrical sides of Simon and Nick. While the lyrics Le Bon was able to write were doubly heartfelt around that period, Nick's were more sardonic, influenced by the album he and Warren were making as TV Mania.
"Electric Barbarella is about a future sex doll," Nick smiles. "Well, really it's about loneliness. I thought: 'We're being anaesthetised by a lot of things right now' and I thought people's relationships were something that would for sure be affected by technology. Electric Barbarella is a very darkly humorous look at that."
Rhodes also picks out Silva Halo as a favourite on Medazzaland, noting: "It's a song about never giving in. It's such a strange piece of music." The closing Undergoing Treatment, a bleakly funny lyric of Simon's about Duran seeming irrelevant, resembles Beck, a rare contemporary favourite from the time.
Nick ponders: "A little of Beck probably rubbed off in the album, but Undergoing Treatment is a homage to George Martin's string arrangements in The Beatles."
An album that fits more in 2022's genre-free world than competing against Be Here Now by Oasis, Medazzaland was only released in Japan, North America and Latin America. "It wasn't fun," is Nick's dry response when asked about the British and European cancellation of Duran's ninth album.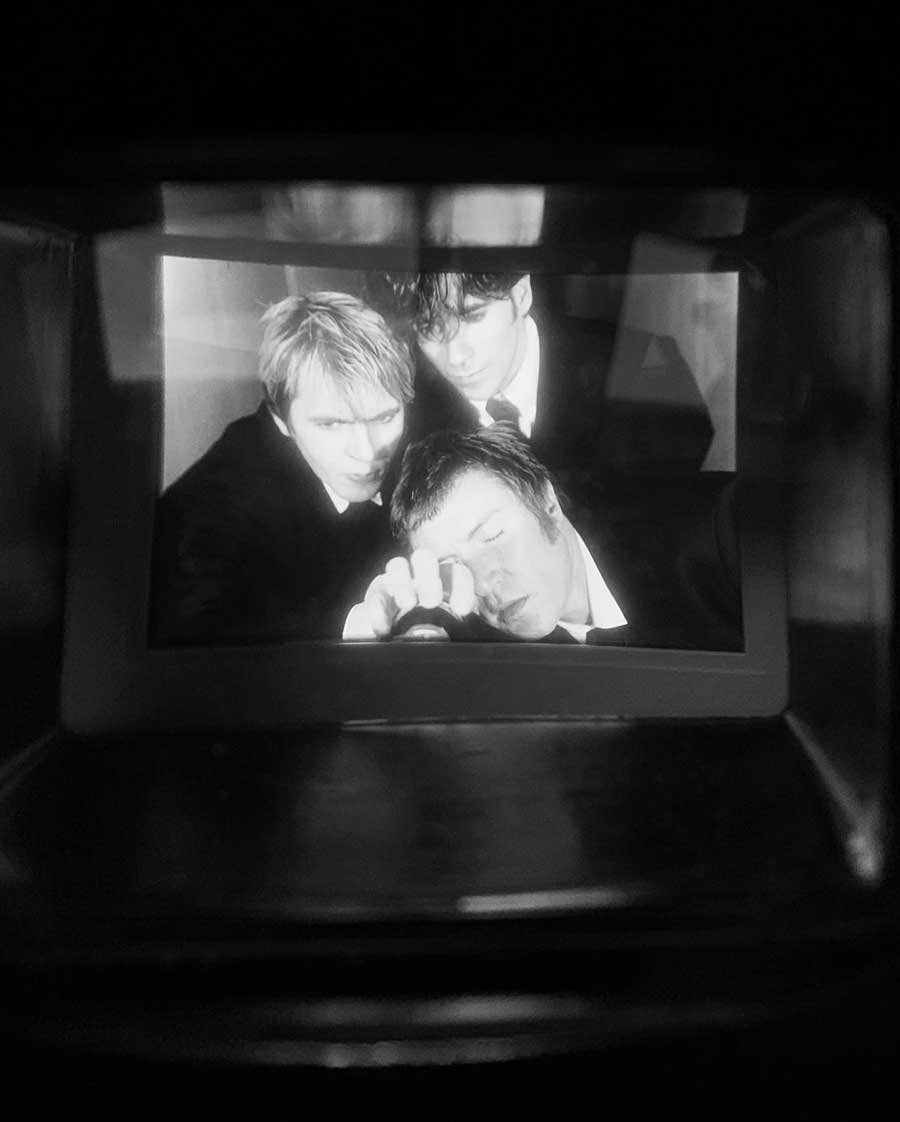 "It was an awful period when I had to manage the band, because it wasn't possible to continue with our previous management. I was having to deal with record labels, and record labels loathe nothing more than dealing with artists, because artists don't understand anything beyond what they're making and won't make any commercial decisions."
Despite that clash, Rhodes is respectful of how EMI boss Ken Berry handled Medazzaland, saying: "Ken was thoroughly decent. We could tell the relationship had gone wrong at EMI. Ken was very artist-friendly, so we had a serious chat and agreed: 'I think it's time we part.' We got the rights to the album back and it was just the right thing to do."
Even in the few countries where Medazzaland was released, Nick cheerfully admits Duran managed to stuff it up for themselves.
Six years before iTunes, Electric Barbarella became the first commercially released download-only single.
Rhodes remembers: "I thought 'We can't fight this download world. Why not figure this out and make it a legal service?' The labels didn't want to know, but Capitol eventually allowed us to do a download single. But every record store, already terrified of illegal downloading, disliked our idea even more and took our records and CDs out of their shops."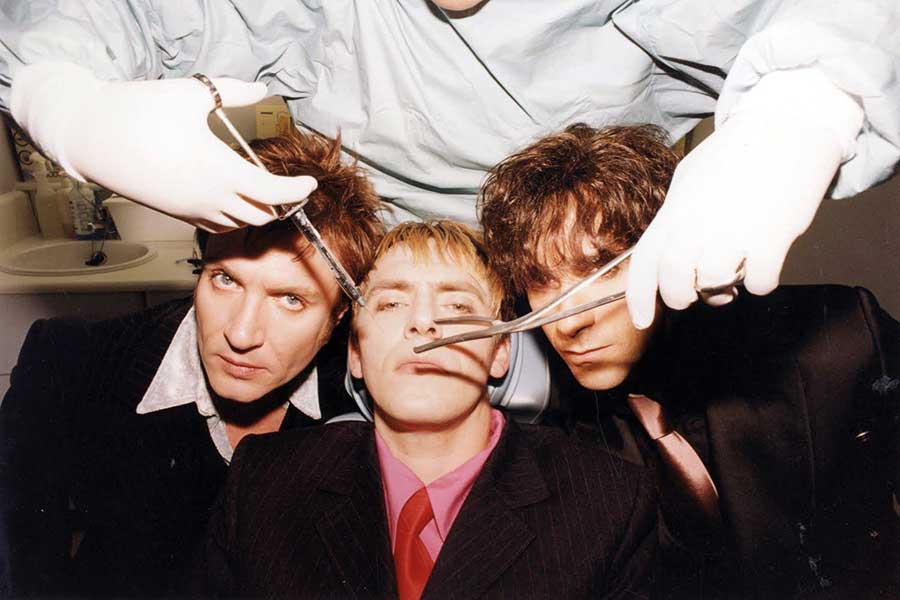 To top it all, the Electric Barbarella video, directed by photographer Ellen von Unwerth, was banned for its depiction of a sex robot.
"It couldn't have been more tongue-in-cheek if it tried," fumes Nick. "But there was a general sense of humour failure."
The Medazzaland tour is where even the bullish Rhodes began questioning Duran's future. "The band sounded good, but it was a very different dynamic without John," he admits.
"We got through Medazzaland pretty well, but it wasn't the same. We struggled through Pop Trash, but then Simon and I looked at each other one day and said: 'We need to make some decisions here, because this is slowly withering on the vine.'
"And then came the opportunity to put the original band back together again – something we never knew could happen, but which made total sense at that point."
As part of Duran Duran's current deal with BMG, Medazzaland was finally released in Britain in 2021 on streaming and now gets its physical release on CD and vinyl.
"I think it's held up well and I like most of the songs on it," is Nick's 2022 assessment.
Indeed, he's so keen on Medazzaland that an expanded edition will follow next year, hopefully featuring some of its contemporaneous remixes from the likes of Todd Terry and Paul Oakenfold as well as a rare glimpse into Duran's demos and unreleased songs.
"We created a lot of material for Medazzaland," reveals Rhodes. "More so than for many of our albums. A lot of the demos will be lyric-less and we need to sift through it all to see what's listenable. But if anyone wants to wait until next year, all of this will be on there and more. The material's there for a boxset, for sure."
Medazzaland is out now on BMG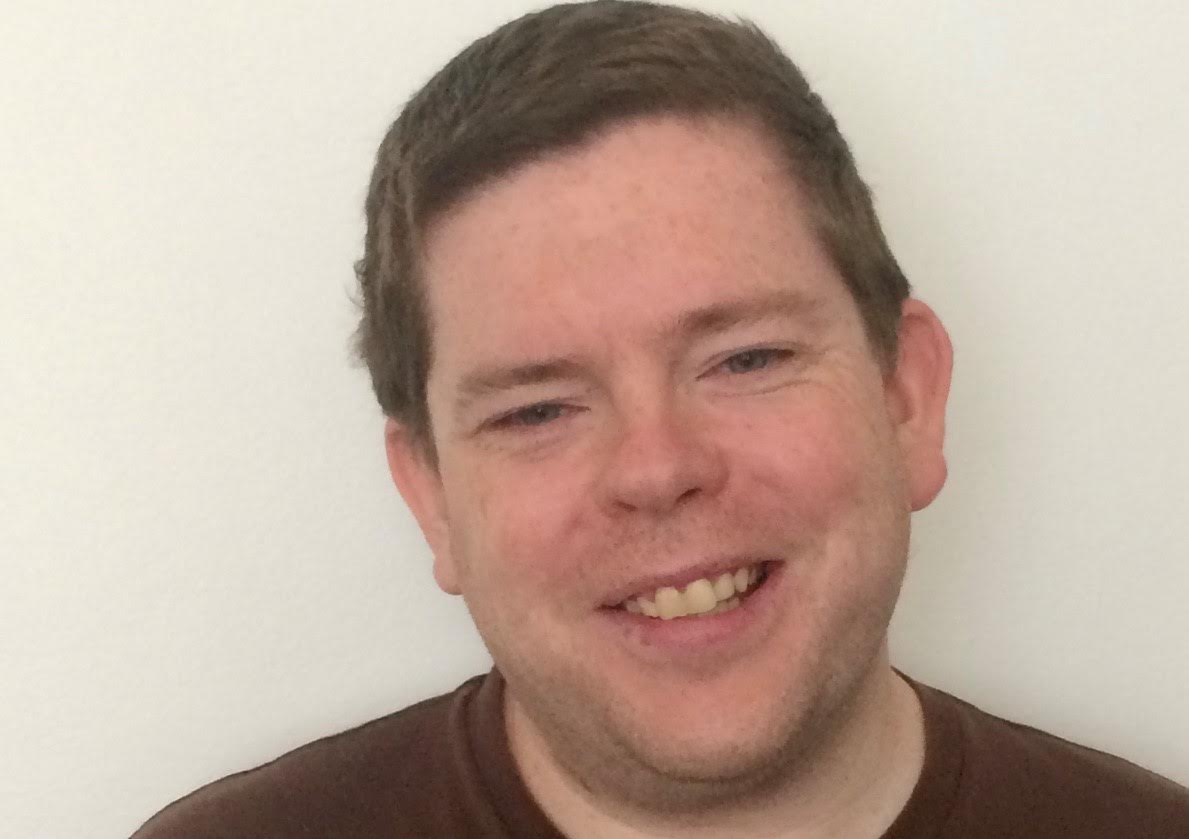 John Earls
Writing for Classic Pop since our first issue, John has been to Adam Ant's house, sworn at by Bob Geldof, touched Johnny Marr's favourite guitar, interviewed Richard Coles on his vicarage bed and serenaded with Last Christmas by Shirlie Kemp. John first specialised in writing about music as editor of Teletext's Planet Sound music column from 2000-09 and now writes about pop for a range of magazines and national newspapers. A Luton Town fan, John also writes about football. His bucket list interviews for the magazine are Grace Jones, Kylie, Siouxsie Sioux and Andrew Ridgeley.