Album By Album – Duran Duran
By Mark Lindores | September 18, 2023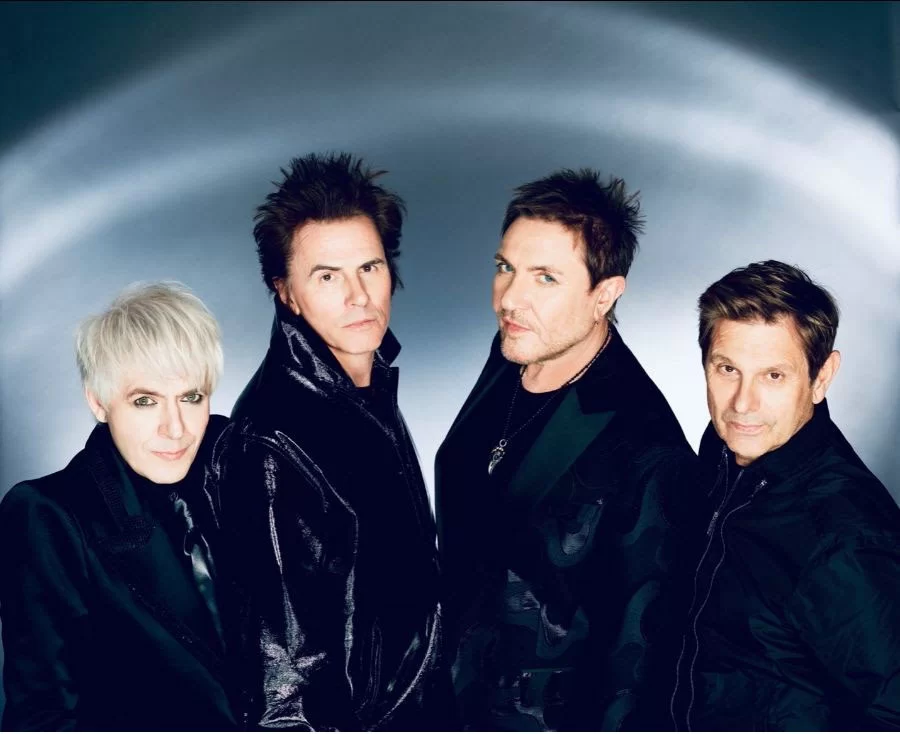 Quickly transcending their new romantic roots, Duran Duran helped define the 80s sound and across 40 years have evolved into one of the most important pop bands of all time…
Duran Duran, 1981
For all the excitement and optimism that typically accompanies the dawning of a new decade, the 80s began at something of a musical crossroads. The implosion of punk and the death of disco had left a gaping void.
And with London throbbing to the sounds of icy synth-pop and Manchester championing the dark post-punk of Joy Division, the country's musical landscape was as bleak as its political climate.
Fortunately, a glimmer of hope was on the horizon thanks to a Birmingham-based quintet intent on escaping England's grey industrial heartland.
The Duran Duran story had begun in 1978 when Nick Rhodes and John Taylor, two schoolfriends with a mutual love of David Bowie, Roxy Music, Chic and the Sex Pistols, formed a band with Stephen Duffy, based out of Birmingham's Rum Runner club – the epicentre of the city's live music scene.
They were joined in the ensuing months by a succession of musicians before settling on what would be known as the classic line-up.
That formation coalesced into Nick on synthesizer and John on bass as well as two more Taylors (no relation), Andy (guitarist) and Roger (drums), plus Simon Le Bon (singer and lyricist).
Brothers Paul and Michael Berrow, the well-connected owners of the Rum Runner agreed to manage the band, landing them a support slot on Hazel O'Connor's tour and securing them a deal with EMI Records, who put Duran straight into the studio.
Producer Colin Thurston was the man tasked with honing their eclectic influences into a cohesive sound.
Released in June 1981, just six months after they signed to EMI, Duran Duran's eponymous debut album bristles with a creative synergy – its seamless blend of tight beats, danceable grooves and swirling synths reaching a standard that belied their rookie status.
From the galloping lead single and Top 20 hit Planet Earth to the groove of Friends Of Mine and yearning Anyone Out There, the record barely falters.
Careless Memories deserved much better than its UK No.37 peak, though its lowly chart position perhaps reflects the fact that record buyers sensed the debut single hadn't been a fluke and bought the album instead – helping it to No.3 (the US didn't embrace the album until it was repackaged post-Rio).
Duran Duran's third and final single, Girls On Film, a glossy exploration of the fashion world, proved a game-changer, giving the band a No.5 hit, thanks in part to its controversial video – a lesson in savvy marketing that would prove invaluable.
Rio, 1982
Though the band had been regarded as one of the leading lights of the New Romantic scene – Planet Earth notably namechecked the movement early on – Duran had global stardom and longevity in their sights.
And sensing that New Romanticism was a trend that would soon pass, they were keen to distance themselves from it.
Building on the foundation laid by their debut album, the band were determined to maintain momentum, juggling a hectic touring schedule with writing sessions for a follow-up.
Aiming to further the potential of one of the decade's most promising acts so far, EMI doubled the budget to ensure the second album outshone its predecessor.
For the early gestation of Rio, the group retreated to the Rum Runner, convened in EMI's basement studios in London and took a brief detour to a French château to write the album, so that by the time they got to George Martin's AIR Studios at the beginning of 1982, the songs were ready to record.
With producer Colin Thurston at the helm once again, the sessions ran smoothly and, in a matter of weeks, the group had cultivated a future classic.
Sharing a sonic identity with the debut LP, Rio uses that record as a template and builds on it – the melodies are stronger, the music punchier and the hooks catchier, resulting in a masterclass of pop precision.
By sticking largely to basic instrumentation – albeit embellished by Nick Rhodes' keyboard wizardry and the odd sax solo – Rio, although a defining record of the 80s, still sounds timeless today.
Although it houses three of their strongest singles in the confident swagger of Hungry Like The Wolf, the exotically transporting Save A Prayer and its frenetic title track, Rio has plenty more to offer, most notably the anthemic Hold Back The Rain and atmospheric closer The Chauffeur, the latter one of the band's finest moments.
Given the album's impact and legacy, Rio will forever be seen as a pop culture landmark associated with its string of MTV-monopolising music videos and stunning Patrick Nagel portrait art – elevated by impeccable sleeve design from Matthew Garrett, too – as much as it is an album.
Disregarding all of that, though, and taking the music on its own merit, Rio affirmed that Duran Duran were a band with an abundance of substance as well as style.
Seven And The Ragged Tiger, 1983
By 1983, Duran Duran were inescapable. Rio had been a global phenomenon that elicited mania not seen since The Beatles wherever they went, with fans clamouring to see the teen heartthrobs that dominated the covers of Smash Hits, Number One and Look-In.
Standalone single Is There Something I Should Know? had given them their first No.1 and though it appeared that the boys had the world at their feet, the glossy veneer hid darkness and despair.
Seven And The Ragged Tiger, (the group and their two managers are the 'seven', the 'ragged tiger' referenced is fame) was an album made to sustain momentum rather than any kind of artistic pull, and it showed.
Having worked non-stop for two years, Duran were facing burnout and, on the advice of their management, had agreed to spend a year abroad as tax exiles to record their third album, adding homesickness to the mix.
Short on ideas, with a new producer and experimenting with cutting-edge tech to give them a more dance-oriented sound, the album sessions in France, Australia and the Caribbean were fraught with tension.
While their first two LPs had sparked with confidence and vigour, the material on the third was laboured and unoriginal with its singles streets ahead of everything else.
Bowie had always been cited as an influence and it was never more evident than on the China Girl cosplay of New Moon On Monday or the Let's Dance-aping Union Of The Snake.
As those two borrowed so heavily from Nile Rodgers' sound, it seemed only logical to ask him to remix The Reflex for its release as a single. It topped the charts both in the UK and the US, reinvigorating sales of the parent album.
Despite its lukewarm critical reception, the LP became Duran's sole No.1 studio album in the UK (Rio had stalled at No.2 behind Madness' singles collection).
Duran Duran may have achieved success beyond their wildest dreams but unfortunately for them the titular ragged tiger had all but consumed them.
Notorious, 1986
A gruelling world tour had taken its toll on Duran Duran, prompting them to split for side projects Arcadia and The Power Station before the planned reunion in 1986 commenced minus two Taylors.
Roger left the music industry completely and Andy exited the group after a few sessions to work on a solo career, leaving Simon, Nick and John to continue as a trio with contributions from Warren Cuccurullo and Steve Ferrone.
Following the success of The Reflex and Wild Boys, Nile Rodgers was enlisted to co-produce the record.
The result is a sorely underrated collection of soulful, funk-filled jams such as the title track, second single Skin Trade (a bona fide Duran classic with one of Le Bon's best vocal performances) and Proposition.
Tender ballads A Matter Of Feeling and the gorgeous American Science with its sensual synths and stabs of brass provide texture while the moody atmospherics of Winter Marches On complete what is a focused and incredibly well produced collection.
Whether it was the confusing discourse of what was happening in the world of Duran Duran, the underwhelming previous album or the changing tastes within the music scene at the time, Notorious' disappointing commercial performance is no reflection of the quality of its content. It's well worth revisiting.
Big Thing, 1988
Against all odds, Duran Duran had survived the 80s – almost. Sure, they'd lost a couple of members and a chunk of their fanbase had gravitated toward a-ha, Wet Wet Wet and Bros, but the fact they still existed as a unit at all when their peers Culture Club, Wham! and Frankie Goes To Hollywood had all fallen by the wayside, was nothing short of a miracle.
John Taylor later revealed that the latter half of the decade was a tough period for the group and that they were close to calling it a day on numerous occasions.
As well as their mixed fortunes professionally, they had suffered personal losses (including Seven And The Ragged Tiger producer Alex Sadkin to whom the album was dedicated) and were by this point managing themselves.
The self-awareness that the band were no longer the golden boys of pop provided them with a sense of liberation and freedom to be more daring in their music.
Co-produced by Jonathan Elias and Daniel Abraham with the band, the first half of Big Thing, including singles, All She Wants Is and I Don't Want Your Love, as well as the title track and Drug (It's Just A State Of Mind), are bold and thrashy continuations of what Duran had done on Notorious but lack the warmth of that album. They also misrepresent a large proportion of what Big Thing actually is.
Much more successful is the latter half of the record that, interludes aside, forms a suite of sparse ballads such as Land, Palomino and The Edge Of America, which reveal those killer melodies that the band are expert at. Meanwhile Too Late Marlene and Do You Believe In Shame? hark back to their earlier triumphs.
Aware that the Duran Duran name didn't hold the prestige that it once did, the band launched Big Thing with promos credited to the pseudonym The Krush Brothers, a moniker under which they had performed some warm-up live dates before embarking on the Electric Theatre Tour to promote the album.
A smaller scale jaunt of much more intimate venues, the Electric Theatre Tour saw guitarist Warren Cuccurullo and drummer Sterling Campbell enlisted as full-time members of the group having played on the last two studio albums.
Liberty, 1988
As the 80s ended, Duran Duran brought their first chapter to a close with the aptly titled Decade in 1989, a compilation of their singles to date.
The collection, along with the fact that the band's records were selling in far fewer quantities than previously, prompted speculation that Duran were about to split but instead they revealed they were working on their sixth studio album with producer Chris Kimsey.
The resulting record surfaced in August 1990 but illustrated a rapid decline in quality control.
Over-produced, dated and directionless with few redeeming features, Liberty jumps from the awful Violence Of Summer (Love's Taking Over) – a terrible lead single which killed the album before it was even released, to the embarrassingly overblown First Impression, Venice Drowning, Read My Lips and Hothead.
Liberty's positive elements arrive with gentle ballad My Antarctica and the beautiful Serious, one of Duran Duran's strongest singles featuring a riff that Johnny Marr would be proud of, which stands out immeasurably in this tracklist.
Retrospectively, the band have expressed their disappointment with how Liberty turned out, admitting that they lost focus and confidence during its creation while John Taylor was pretty much checked out as he was experiencing the worst of his drug addiction.
An immense disappointment.
'The Wedding Album', 1993
Although Duran had consistently released music, the beginning of the 90s proved a tough period for them to navigate with diminishing record sales, line-up changes (Sterling Campbell's departure left them as a four-piece) and an identity crisis over where they fitted into a scene that was increasingly dominated by rave, grunge and hip-hop, none of which was a musical match.
Disappointed with their last LP, they faced a crossroads as to what their future held.
With no clear direction, the band holed up in Warren Cuccurullo's home studio Privacy in London with producer John Jones to experiment, placing an emphasis on the art of songwriting with a proviso that the tracks had to stand up to being played by four guys in a room.
This back-to-basics approach served them well and signalled a creative rebirth, resulting in some of Duran's strongest work in years.
Although the guys were thrilled with the new material, their label held the album back for a year as they weren't sure there was a demand for a Duran Duran record in 1992.
It was a leak of first single Ordinary World that instigated the release of Duran Duran (aka The Wedding Album due to its artwork featuring the band members' parents wedding photos) in January 1993.
The album represents a huge leap in quality from its predecessor. Wistful ballad Ordinary World (about the death of a close friend of Le Bon) and the slinky seduction of Come Undone were two worthy inclusions to the group's canon of incredible singles.
Elsewhere, the album genre-hops from the MTV-baiting, Too Much Information, to the trippy-sensuality of Love Voodoo, dancefloor stomp of the club-friendly Drowning Man, Prince-inflected U.M.F and breezy bossa nova of Breath After Breath, a duet with Brazilian artist Milton Nascimento.
The revitalised group was thrilled with the reception of the album and set off on their biggest tour to date, spending the majority of the next 12 months on the road performing to a brand new generation of fans.
Thank You, 1995
As Duran languished in a musical no-man's land in 1992 whilst waiting to find out when – or indeed if – The Wedding Album was going to be released, the band came up with the idea of recording covers of their favourite songs from artists that had inspired them to potentially use as B-sides for future singles. As their repertoire grew, the idea evolved into a covers album instead.
An ill-conceived endeavour, the much maligned Thank You was hammered by critics and undid much of the goodwill that their previous album had brought them.
Taking tracks that were deemed untouchable by many (and in most cases should really have stayed untouched), Duran Duran covered artists including Iggy Pop, Led Zeppelin, Sly & The Family Stone, The Doors, Elvis Costello, Bob Dylan, Public Enemy and The Temptations.
Versions of Melle Mel's White Lines (Don't Don't Do It) and Lou Reed's Perfect Day were issued as singles. Reed himself proclaimed Duran's was the best cover of his work he'd heard and in the band's defence, a later BBC charity cover of the track was far inferior.
Undoubtedly a misstep after the return to form that was The Wedding Album, the vicious criticism proclaiming Thank You the worst LP of all-time was rather unjust. Thanks to Liberty it's not even Duran Duran's worst album.
Medazzaland, 1997
Battle-scarred and weary from the mauling that they'd endured for Thank You, the group once again found itself fighting for survival.
John Taylor left the band early in the recording process and Simon Le Bon's severe case of writer's block saw Nick Rhodes step up to contribute lyrics and even vocals on the title track.
Much of the album, it was later revealed, was material that Rhodes had worked on with Warren Cuccurullo for their side project TV Mania.
The eclecticism of Medazzaland which was initially jarring in 1997 now sits pretty comfortably in today's genre-fluid musical landscape ranging from Red Hot Chili Peppers-esque punk funk to the Odelay-era Beck-inspired Undergoing Treatment.
Loss is a prominent theme on Buried In The Sand (about John's departure), So Long Suicide (about the death of Kurt Cobain) and stunning ballad Michael You've Got A Lot To Answer For concerns Michael Hutchence, while the fun factor returns on the electro-rock Electric Barbarella.
Unreleased here in the UK until 2022, the diverse Medazzaland is definitely worth a visit.
Pop Trash, 2000
Described by Nick Rhodes as the most difficult time to be in Duran Duran after their Medazzaland album wasn't released in the UK, 2000's Pop Trash is testament to the band's resilience.
With John Taylor gone, Duran were once again down to just a three-piece, now consisting of Nick Rhodes, Simon Le Bon and Warren Cuccurullo, and had lost a vital part of its DNA.
They had also signed to Hollywood Records – a label that had no idea what to do with them – and once again Simon's writer's block saw Nick and Warren reworking more of their TV Mania material.
Like its predecessor, Pop Trash featured some highpoints, namely the swirling ballads Starting To Remember and the album's only global single Someone Else Not Me (UK No.53) but ultimately it suffered from a lack of direction and overblown production masking average songcraft.
Poorly promoted and both a commercial and artistic disappointment, the album spelled the end of their brief tenure at Hollywood Records as well as Cuccurullo's time as a member of Duran Duran.
Big changes were required if the group were to survive.
Astronaut, 2004
Following the dark times that had permeated Duran Duran's last few releases, a comeback with an anthemic, uplifting track called (Reach Up For The) Sunrise, seemingly Taylor-made for punching the air in a huge arena, was the perfect way to celebrate the reunion of the group's most famous five-piece incarnation.
Given the disastrous returns on the past three albums, it's understandable that the group had to earn their stripes whilst shopping around for a new record deal.
Having reunited in 2001 to resolve personal issues, Duran recorded sporadically throughout the next two years, accumulating over 30 songs.
With little interest forthcoming from record companies, they embarked on a successful tour to prove themselves still a bankable commodity, littering their setlists with new tracks alongside their classics. The move paid off and they landed a deal with Epic.
The reunion of the 'classic' band line-up for the first time since 1985's Bond theme A View To A Kill sparked widespread media interest and laid a solid launchpad for Astronaut. Nile Rodgers, Dallas Austin, Don Gilmore and Mark Tinley shared production duties over the album's 12 tracks.
Learning from the mistakes of their past few releases, Astronaut makes the most of their superb rhythm section, returning to an updated version of Duran's classic formula.
Crisp, danceable beats, swooshes of synths with anthemic choruses eradicate the clunky experimentalism of previous efforts.
The aforementioned (Reach Up For The) Sunrise was the perfect addition to their Essentials playlist as was second single What Happens Tomorrow on which Le Bon's vocal evokes Liam Gallagher at times.
Elsewhere, the laidback Finest Hour is a delight that comes replete with William Orbit-esque bubbling synths while Nice, Taste The Summer and Want You More! attempt to replicate the pace of the Rio era.
Riding high on a wave of goodwill, the LP peaked at UK No.3, their highest position since Seven And The Ragged Tiger, despite mixed reviews. The Fab Five were back. The question was, for how long?
Red Carpet Massacre, 2007
New album, new line-up was by now a regular occurrence within the Duran Duran camp.
Having recorded and scrapped an entire record's worth of original material called Reportage in favour of a fresh direction, the band's decision cost them guitarist Andy Taylor who disagreed with it and left the band once again.
Working with producers Timbaland and Nate 'Danja' Hills, the group's 12th studio album divided fans who weren't taken with the tough, sparse sound that the new producers were famous for.
Perhaps the group's most misunderstood musical statement, Red Carpet Massacre is a slick and polished collection. The Justin Timberlake-featuring Nite-Runner, for example, is a stylistic successor to Wild Boys, while the throbbing sensuality of Skin Divers is a hook-laden gem.
Zoom In's New Wave melody is modernised with futuristic beats and bleeps while She's Too Much and Box Full O' Honey are two of Duran's finest ballads.
Outside of the fact that the band can occasionally sound like the featured artists on their own album, Red Carpet Massacre is a case of experimentation done right.
All You Need Is Now, 2010
One of the benefits of a three-decade career is a generation that grew up on your music are now major hitters in the business and jump at the choice to work with you, bringing with them an encyclopaedic knowledge and new perspective to where your strengths lay.
Such was the case with the choice of Mark Ronson as producer for All You Need Is Now. A self-confessed superfan, Ronson's premise of "Return to Rio" proved much more than hyperbole and helped Duran produce their best album since their magnum opus.
From the meaty drum patterns, muscular basslines and prominent synths, the album contains enough sonic references to Rio to recapture the vitality of that album while still sounding completely contemporary here.
The majestic The Man Who Stole A Leopard (featuring Kelis), New Wave disco of Safe (In The Heat Of The Moment) (featuring Scissor Sister Ana Matronic) and anthemic Girl Panic! are just a few standouts from an album where the high standard rarely dips.
It was the comeback that Duran Duran had always promised but few were convinced they were capable of.

A complete triumph.
Paper Gods, 2015
As evidenced on some of Duran Duran's more experimental moments, relying on technology and over-production can sometimes translate into prioritising sounding current over sounding at your best – and this is where the main problem lies with Paper Gods.
While All You Need Is Now struck the right balance of sounding current with references to their past glories but with fine songwriting to the fore, Paper Gods' potential is blighted by outdated Eurodance such as Dancephobia and Change The Skyline, which don't seem to have a connection with what makes a great Duran Duran song.
Fortunately, there are good moments, too – maybe its predecessor had raised expectations too high?
The quirky Sunset Garage is almost modern Motown, the industrial You Kill Me With Silence evokes Ultra-era Depeche Mode before erupting into a chorus that is quintessential Duran Duran and Face For Today gives a  nod to The Reflex.
The highlight, however, is the delightful Pressure Off, on which producer Mr Hudson unites Mark Ronson, Nile Rodgers and Janelle Monáe to create a funky floorfiller to rival Daft Punk's Get Lucky with which it shares its musical DNA.
Special mention must also go to the album artwork which collects together iconic symbols of the band's career to date.
Future Past 2021
If ever a title defined a band, it is Future Past for Duran Duran, a group that has strived to move forward while being constantly reminded of, and defined by, their history.
In four decades, they have weathered whatever has been thrown at them – be it addiction, various line-up changes, label moves or falling out of fashion.
They've ploughed on, brushing off their failures and been unafraid to try new things and – regardless of the results sometimes – for that they must be commended.
It is remarkable that a band 40 years on from their debut album are still challenging themselves and making music of such a high calibre as Future Past.
Released in 2021, their 15th studio album saw them team up with Erol Alkan, Mark Ronson, Giorgio Moroder and Blur's Graham Coxon for an incredibly strong set.
An eclectic mix which includes standouts such as the futuristic ballads of the title track and Wing, the haunting Nothing Less and carefree groove of All Of You.
The sublime Moroder magic of Beautiful Lies and Tonight United soar, while deluxe edition track Laughing Boy evokes Bowie's Ashes To Ashes and Invisible summons 1999-era Prince.
Sonics aside, the lyrical themes of emotional crises, intimacy and isolation took on extra resonance in a post-lockdown world. The record was warmly received by critics and peaked at No.3 in the UK, earning them the distinction of having scored a Top 5 album in five consecutive decades.
Benefiting from its release and coinciding with the 40th anniversary of Rio and their induction into the Rock And Roll Hall Of Fame, Future Past was regarded as a well-deserved victory lap.
During the RHOF ceremony, a letter from Andy Taylor read by Simon Le Bon explained that his absence was due to him battling pancreatic cancer.
Putting the past behind them, Duran's future includes Andy who is currently working with the group on a new project, restoring the original Fab Five once again.
Mark Lindores
Raised on a diet of Smash Hits and Number One mags (literally, he used to save his school lunch money to buy them), Mark Lindores never entertained the idea of doing anything other than writing as a career. After writing for publications including the British and Australian editions of Vogue, Mixmag, Attitude, Total Film, Clash, Notion and Metro, he chanced upon the launch issue of Classic Pop in 2012 and, thrilled with the discovery of a magazine that featured his favourite artists, pitched an idea for issue 2 and has written for the magazine (and Classic Pop Presents) ever since.