Depeche Mode interview: "I've never felt we were like any other bands"
By Classic Pop | May 16, 2022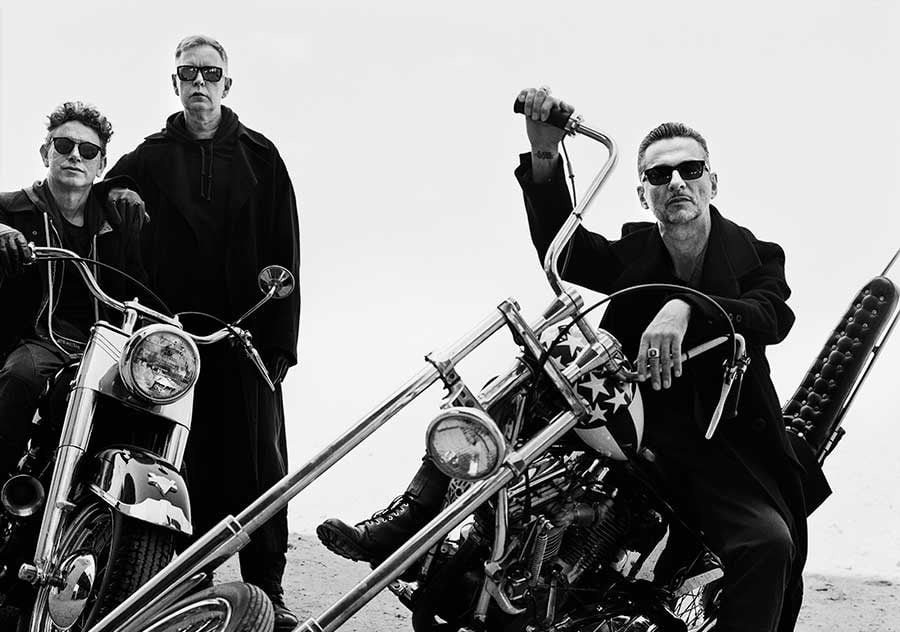 Back in 2017 Classic Pop packed its dictaphone and headed off to enjoy extended chats with Martin Gore and Dave Gahan on the occasion of the launch of the then-latest album by Depeche Mode, Spirit – conversations that would take in subjects such as songwriting, stagecraft, conflict, politics, the revolution, and hope… By Rudy Bolly
Depeche Mode certainly have staying power. Despite those rare but crucial line-up changes, countless hairy escapes and being taken off mainstream radio playlists, they still remain one of the universe's biggest acts.
Four decades in, the trio are enjoying some of the best reviews of their career with Spirit, while its accompanying stadium tour is cementing their status as a major box office draw. "People never took us seriously," says Martin Gore. "But eventually they have come to accept us." 
"I've never felt we were like any other bands," Dave Gahan adds. "Especially with those we first appeared on the scene with in the 1980s, like Duran Duran and Spandau Ballet or those others who had success at the time. We never felt we were anything like them." 
Basildon's finest are back in the UK on a fleeting visit, conducting interviews – individually – in a very upmarket Mayfair hotel. Outside, a clutch of patient teenagers dressed from head-to-toe in black and parading a range of piercings fry gently in the sunshine.
It's an impressively young crowd for an act 37 years into their career, but the frontman is right – Depeche Mode are no ordinary band. They seem to have more in common with heavy metal or alternative rock acts, those timeless names who consistently attract new generations of admirers, almost like a rite of passage.
"We probably had more in common with Fad Gadget, The Normal or Kraftwerk," Gahan continues, listing a number of other cult acts that used to grace the back pages of the now defunct Melody Maker. "We definitely have survived and been through a lot together. Ups and downs, marriages, divorces."
Unlike most of those aforementioned chart rivals from yesteryear, Depeche Mode command stadium-sized audiences in 2017, yet they kicked off their latest Global Spirit Tour with an unusually intimate date at Glasgow Barrowland as part of the BBC Radio 6 Music festival.
Gahan considers small shows "more terrifying", but Gore – who once required verbal assurance he wouldn't pop his clogs on stage – is over any superstitions. "It was fun because even though it was smaller than people are used to us playing, it was the biggest gig we"d played in three years," reflects the songwriter. "It felt like a real show."
It's currently feeling a lot more 'real' now the band are in the throes of European stadium dates, playing to more than 1.5 million fans in 32 cities. With further gigs in the UK, US and across the rest of the world still to come, it must be a daunting undertaking… 
"We look forward to it, really," says Gore without flinching, "because we've been on this four-year schedule thing now for a while, which we fell into more than anything else. It's quite good because when we finish an album it's usually been a long time since we'd played live, so you're itching to do that bit again. And then when you finish the tour you take a break and you haven't been writing songs for a long time, so you're feeling more creative."
The band have been on that remarkably consistent 'four-year cycle' ever since 2001's Exciter LP. Subsequent studio albums were solid fan-pleasers, but some accusations of treading water were beginning to be thrown their way. After more than a decade recording with Ben Hillier, the trio decided to shake things up a little and enlist producer du jour James Ford, one half of Simian Mobile Disco.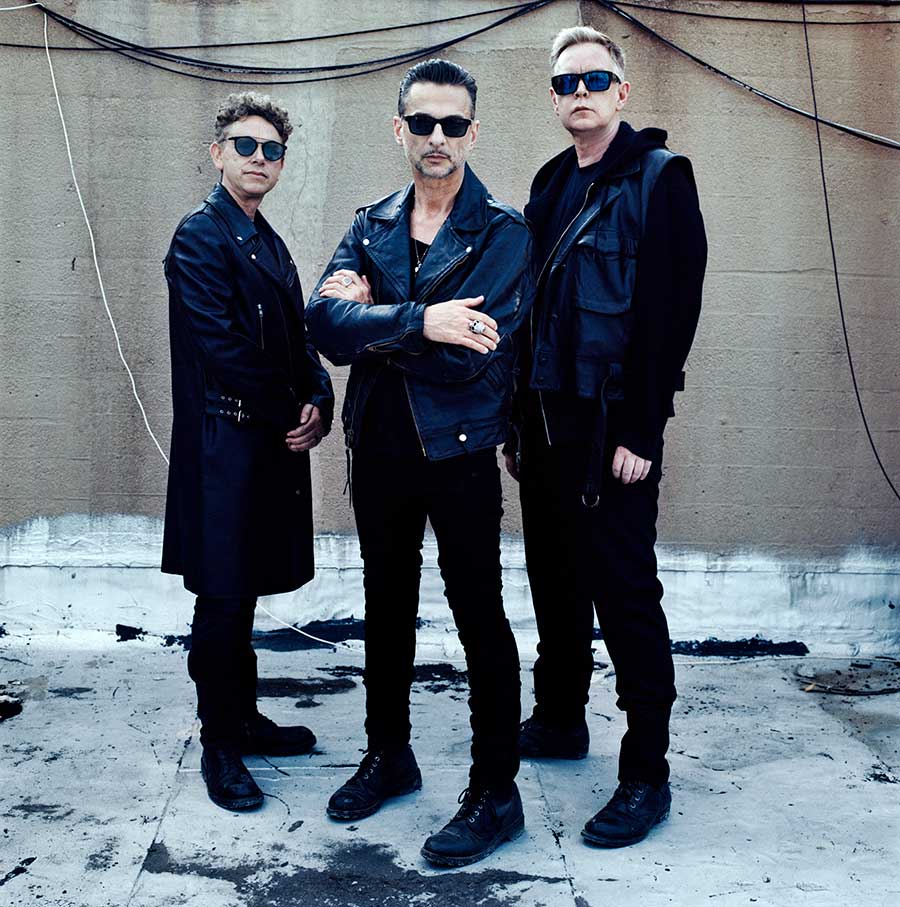 "It was time to make a change, to challenge ourselves," Gore articulates carefully. "Maybe freshen things up, even though we loved doing those albums with Ben. It was actually Daniel Miller – who has been with us since day one – who recommended James. He knew him, so felt we would get on quite well personality-wise. And Daniel also knew everything that James had been working on.
"We were aware of the obvious stuff, but we got sent some of the other albums we didn't know about and the thing that impressed us most was that he had worked with a lot of different bands in different genres; but they all just sounded great."
Ford might be synonymous with Arctic Monkeys, but his impressive CV also includes records by Florence + The Machine, Little Dragon, Foals and Mumford & Sons. It's 22 years since the departure of Alan Wilder, but Depeche Mode have always sought a fourth member to record with. Besides founder Vince Clarke, they have worked with Mark Bell and Tim Simenon along the way; so is making an album solely as a three-piece an impossibility?
"James did so much on the record, sound-wise. He's very talented," says Gore, swerving the question expertly. "We definitely do need that 'referee', for want of a better word."
Ford did more than simply produce Spirit; according to Dave, he practically became a group therapist. Gore remains more coy: "As a band, we need to give authority to somebody to oversee us because we can all have differing opinions and it's very hard to come to a joint decision. So sometimes it's easier to give someone like James the deciding card. Once that happened, everything fell into place." Dave agrees: "He was able to guide us and take our demos to another level."
Devoted followers of Depeche Mode have long hypothesised over band dynamics, sensing or, more likely, imagining tensions at various points in their career. Gahan believes collaboration helps them exist. "Sometimes our albums have reflected internal conflict," he says.
"Something that's more personal and then sometimes our music reflects what is going on around us. I believe music does bring people together… it brings Martin and me together. Sometimes in very mysterious ways, I don't know why."
Spirit is arguably their most fluid work in many years. There are great moments on every Depeche Mode album, but this one feels like a complete piece of work, and the world's media seem in agreement. Gahan smiles: "We've always remained sort of a cult thing, although that's changed a bit with this new record."
Reluctant to analyse his work too much, Gore concedes they may have inadvertently captured the zeitgeist: "I suppose the first decision that I made when I came to songwriting was to go down the social commentary slope stroke political route, which I felt was a dangerous route to go down. But there was so much going on in the world, to just put blinkers on it felt a little bit criminal."
Call it luck, or bad luck depending on your political allegiance, but Spirit's songs feel incredibly pertinent today. Agreeing, Gore says: "It feels so relevant now. Maybe that was fortunate, but when I was writing the songs in 2015 I felt the world was in a bad place, in a bit of mess.
"That's how I started off, I couldn't have predicted that Trump would become President, but the whole electoral process goes on for ages in the US and there were warning signs. Watching the whole debacle from the early days to the end is very disheartening. Humanity… you wonder where we are going sometimes."
Opening track Going Backwards with its haunting "we feel nothing inside" refrain sets the despondent mood of Spirit. "For me, the overwhelming message is we have lost our way a bit and lost our spirit if you want – that's why we called it Spirit," explains the Gore. "We need to find our way back to the path."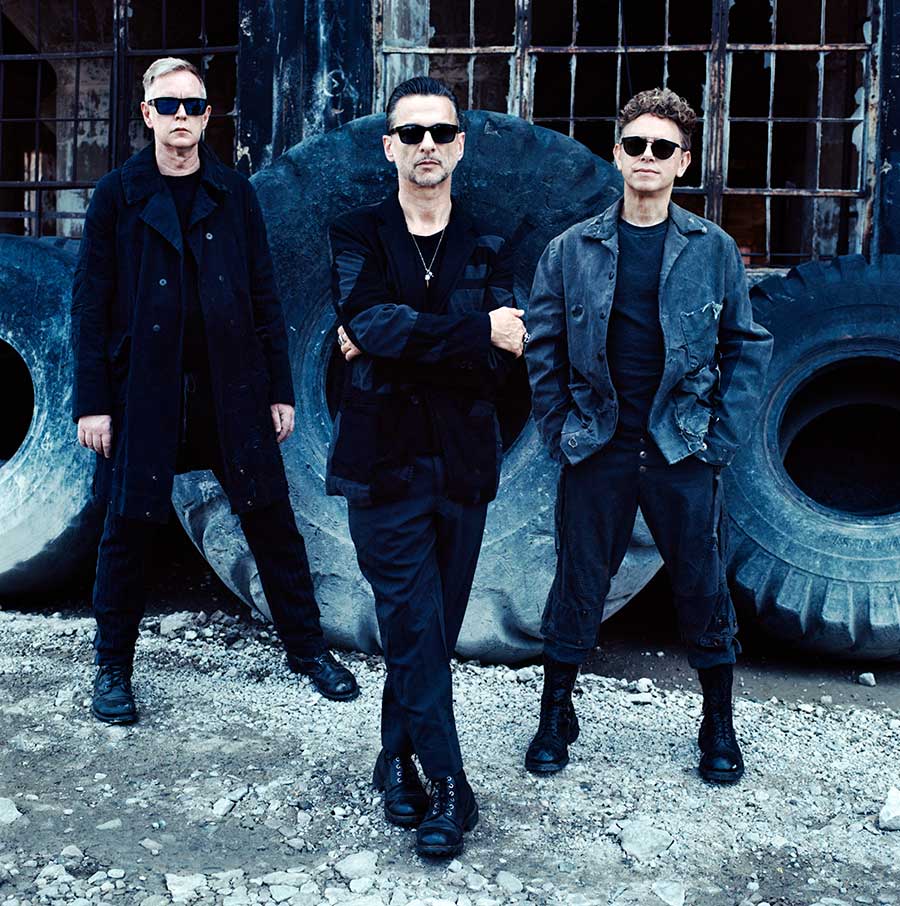 Gahan hopes it will encourage listeners to think differently, too. "Spirit is something that's within all of us, it's a feeling that you have to listen to. You find all the answers you really need there."
The new album's lead single, Where's The Revolution, is a particularly rousing call to arms in an anaesthetised world. Gahan continues: "I don't know where the revolution is today, but I know it's got to come from within. You won't find it in someone else. When you really get in touch with yourself, the revolution begins from within.
"You start to question, how do I treat people? How am I treating my family, my friends? Am I really being kind? Am I being tolerant of their differences, and am I trying to understand? That's the revolution in our thinking. We are kind of brainwashed to feel this a certain way and quite often we act out of fear."
Many have accused today's youth of giving up caring, but surely it's always been that way. Were DM any more militant as kids growing up in Essex? 
"When I was 18 in 1979 I was young and probably not into politics back then," acknowledges Gore. 
"We grew up when we first started making music," adds Gahan. "It was hard for young people to find new jobs, Britain was a tough place to live in the years of Thatcher. When I was a teenager I grabbed music by The Clash – it became my soundtrack. I'm very lucky, trust me… it could have been very different when I left school at 15 years old. We grew up on these council estates in the poorer part of town – where if you're told enough times: 'you will amount to nothing', you react. We found a way out by making music."
Social commentary isn't new for a Depeche Mode album. Gore points out: "I suppose the only other time when we have dealt with it over a whole album was in 1983 with Construction Time Again, and I think that was because we had got out of our shells and become more worldly because we had travelled extensively."
Spirit doesn't just point a finger at others, it takes responsibility for mankind's actions on a wider scale. At first, The Worst Crime's ominous lyrics appear to refer to a specific event in past history: "There's a lynching in the square/ You will have to join us". However, as the song unfurls the listener becomes engulfed in a much bigger current issue.
"Usually I don't talk about the songs too much but I will about this one a little bit," says Gore. "It's metaphorical and about climate change and us destroying the world, and how we are all guilty… so the lynching is us, we are all being lynched." 
Spirit paints a damning vision of the future, and Depeche Mode revel in it right up to the bleak finale, Fail where Gore concludes, 'Oh, we're f***ed'. "It sums up the album in a way," he chuckles. "The good thing about it is the lyrics might be depressing but the music is so pretty. Once the lyrics stop it ends on this nice lilting gentle piece of music. That's the bit of hope."
The uninitiated have always accused DM of being miserable, and it's something Gore attempted to address with So Much Love. "I felt the other songs were so damning about humanity and it was maybe too bleak. I came up with So Much Love because I wanted to write something that said: 'it doesn't matter what's going on, there is still a lot of love inside me and you can't take that away'."
In reality, DM's music has always offered more than a modicum of hope. Gahan agrees: "I try to look for hopefulness in things as much as possible but lately that seems to be hard."
Since 2005's Playing The Angel, Gahan has picked up songwriting credits on every Depeche album, contributing fan favourites like Suffer Well and Should Be Higher. He modestly describes it as "nudging my way in" and, using a basketball analogy, scoring the "occasional three pointer". However, it's a development that was tricky for Gore – chief songwriter since Vince Clarke left in 1982 – to adapt to. "It was hard," he admits. "I've got used to it more and more."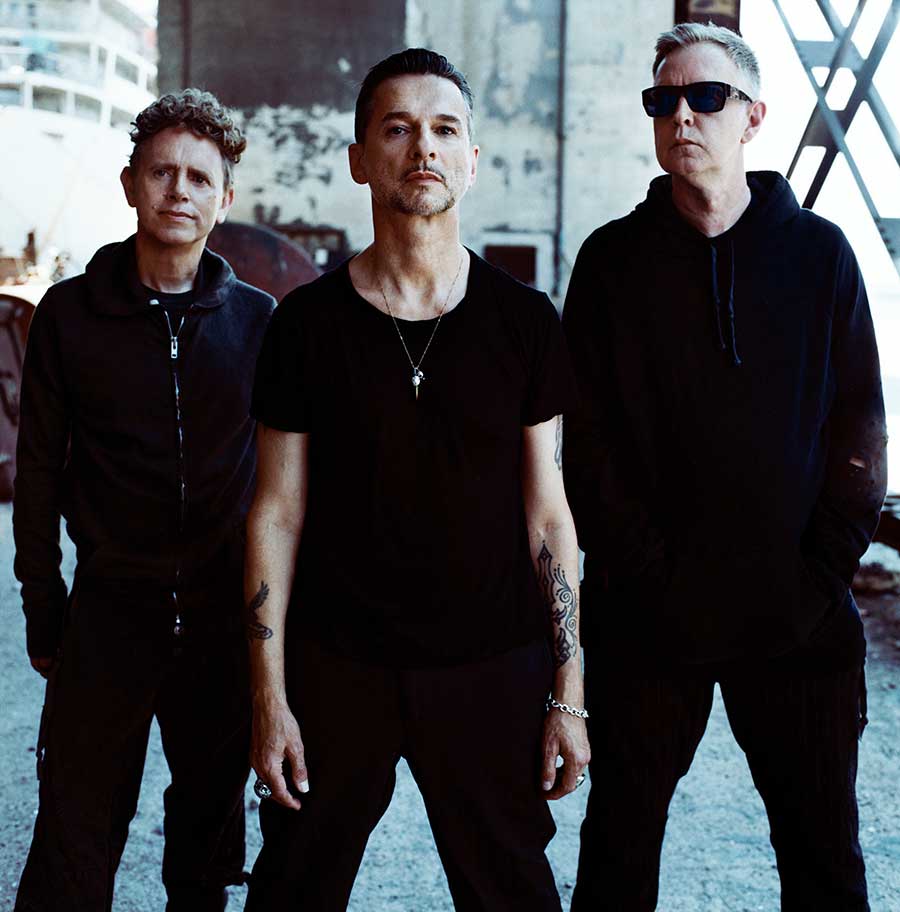 The songwriting democracy went a stage further on Spirit where Gahan has a hand in four tracks and, more tellingly, a co-write with Gore titled, You Move.
"It's not the first one – we co-wrote one on Sounds Of The Universe and Delta Machine, but they were on the deluxe editions," explains Martin. "When I write with Dave it's usually an idea that's very basic that I send to him. Then in his studio in New York he will come up with some words and a vocal melody, send it back to me and then I'll do some more work on it and so on. This time that was it, he sent it back and it was finished. It was a similar process with Vince on VCMG."
Gahan had a collection of his own songs prepared for Spirit, but when he heard the quality of Martin's demos he knew many wouldn't make the cut: "I wanted to sing these songs as well."
Ultimately, it's collaboration that Gahan enjoys most of all: "I came to songwriting late and for me I do like to be part of some sort of creative process. You can have great ideas but the interesting part is when other people get involved with that idea. That's the exchange of two human beings actually communicating with music. It makes me feel human and part of something."
The Global Spirit Tour's only UK visit was at the London Stadium, home to West Ham football club. As Gore and Andy Fletcher are rival Arsenal and Chelsea fans respectively, did the former Olympic stadium seem a safer bet? "When we first started talking about it, it was going to be the Emirates and nobody had a problem with that," Gore grins. "Then for some reason it fell through. So in a way it's good that it ended up at the Olympic stadium as it's closer to home for us."
It was Depeche Mode's first stadium show in the capital since they played Crystal Palace Sports Ground on 1993's Devotional Tour… a period when drug addiction was taking hold of Gahan's life. "There was a point where I didn't think I would reach 35, I thought if I'm going to go out, I'm going out with a bang," he says.
"It's important to be honest about who you are, who you were and coming out the other side. There's plenty of pivotal moments in the life of Depeche Mode… we've all been through stuff. Somehow the music has always managed to pull us together."
On stage, Gahan is a master at pulling fans together. "I go to see Iggy Pop and I'm not there yet," he says, insisting it took 20 years to learn his craft. "When I go on stage and I get into the guy I like to be, all bets are off. I don't know where it's going to go. But sometimes you hit this extra spot and you don't know why. There's something in the spirit world that is way beyond you. I watch a lot of basketball and when those guys come out they are in the zone. I identify with that, for two hours that's their thing."
The fans play their part, too. "I think we're spoilt by our fanbase, you watch them and they sing along and sometimes they won't shut up unless Dave cuts them short," Martin says. "It's always a joy, no matter the size of the venue. I don't have a favourite place to play, I just look forward to getting in front of our audience."
Now with 14 albums of material to choose from, the setlist is getting harder to decide, but Depeche have done well to avoid just churning out the same greatest hits. "It's always difficult to choose the setlist and we all have different favourites as well," says Gore.
"We play a good cross-section. The only time I listen back to old stuff is if I have to do acoustic versions in the middle of a set, so it's interesting to go back to listen to albums that I haven't heard in years and see if there's a gem that could be revisited acoustically." 
Gahan adds: "But there are certain songs I can't imagine not singing, like Personal Jesus, I Feel You, Walking In My Shoes, Never Let Me Down… these, to me, have to be part of when we perform."
Gore concludes: "On the first leg we're mainly playing big outdoor places and stadiums, so in a way we feel more constricted because there's a lot of real die-hard fans there, but some of the audience will be more lukewarm fans so you have to take them into consideration, too." 
Depeche Mode's enduring success means they need not write that West End musical so many of their peers seem intent on peddling, yet. If the theatre doesn't interest them, how about a Bowie Is-style museum event, touring their old leather jackets and synths?
Gore, who has a warehouse lock-up packed full of musical equipment, guffaws: "There's probably enough stuff, but for us it would be really boring. Jonathan our manager just threw away a tonne of stuff recently because it was taking up so much room."
They certainly aren't nostalgic, and with things going so well it seems a little churlish to bring up the subject of retirement, but inevitably people wonder how long they can keep this going. Gahan isn't fazed: "I'd like to think I'll know when it's time. I always want to be able to do it the way I want to." 
Gore is equally adamant: "We are enjoying ourselves and just as passionate about music as when we first started. We never talk about this being the last album or the last tour, but I will always say you can never guarantee there being another album because you don't know what's going to happen. I'm not being negative when I say that, because I've been saying it since 1986!"
It's reassuring for Depeche Mode fans to know the band's career, and personal relationships, are probably in the rudest health they have been for 25 years. Gahan agrees: "There never has been or is any real leader in Depeche Mode, it's a family. At times, we are completely at odds in different corners of the room and not understanding each other at all. But everybody has their place, you have to be part of something. It's a group of people and not just the band. It's a bigger picture."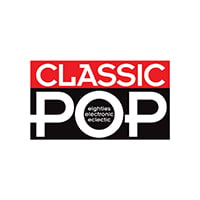 Classic Pop
Classic Pop magazine is the ultimate celebration of great pop and chart music across the decades with in-depth interviews with top artists, features, news and reviews. From pop to indie and new wave to electronic music – it's all here...