We remember some of the best B-sides of the 80s… By Barry Page
It's easy to forget in today's era of streaming and downloading just what a treasure trove of additional material the flipsides of vinyl singles offered in the creatively fertile 80s.

If you were unlucky, your favourite 45 would include either an instrumental, a live track, or, worse still, a previously released album cut, but for every dud there was a veritable gem. The humble B-side offered many acts the opportunity to experiment in the studio and present themselves in a different light, while others treated it as an art form, delivering exemplary non-album material in the tradition of their musical heroes.
20
BLONDIE –
SUSIE AND JEFFREY
On their eclectic fifth studio album, Autoamerican, Blondie embraced a number of musical genres – even hip-hop. A cover of The Paragons' The Tide Is High found them in more familiar territory, but its unusual B-side was inspired by a bizarre incident at their recording studio. "All of a sudden we were called outside because these kids had driven their Audi through the wall," guitarist Chris Stein told Boulevards magazine. "They weren't hurt, though, and
the cops didn't take them away, so we talked with them."
19
FLEETWOOD MAC –
YOU AND I, PART 1
Fleetwood Mac returned in 1987 with the hit-packed Tango In The Night, an album noticeably low on input from a troubled Stevie Nicks. Fortunately, Christine McVie was on hand to chip in with the memorable hits Little Lies and Everywhere, but it was Lindsey Buckingham who did much of the heavy lifting, applying the experience he'd acquired during the band's hiatus – see 1984's DW Suite, a tribute to McVie's ex, Dennis Wilson – on tracks such as the two-parted You And I, the first part of which was sadly wasted on the B-side of Big Love.
18
THE HUMAN LEAGUE –
YOU REMIND ME OF GOLD
The success of 1982's Motown-influenced Mirror Man seemed to indicate that Sheffield's finest were going to have no trouble following up their chart-topping Dare album. Equally promising was its squelchy B-side, You Remind Me Of Gold, which hearkened back to the group's experimental origins, whilst still retaining the aura of modernity provided by their visionary producer, Martin Rushent. But, following his work on the equally lustrous (Keep Feeling) Fascination single, Rushent quit working with the League.
17
GARY NUMAN –
NOISE NOISE
Following the mixed reaction to his experimental Dance album in 1981, Gary Numan came back fighting the following year with the hit-filled I, Assassin. On the B-side of Music For Chameleons was the gritty, proto-industrial Noise Noise, which included a breathy vocal from one Thereza Bazar, who'd just enjoyed a run of hits with Dollar. Criminally cut from the album, the track enjoyed a fresh lease of life in concert the following decade as the synth-pop pioneer reconnected with his fanbase after a run of below-par albums.
16
ECHO & THE BUNNYMEN –
DO IT CLEAN
Keen to keep the momentum going following the positive reaction to their debut album, Crocodiles, Echo And The Bunnymen rush-released standalone single The Puppet in September 1980, but it failed to chart and was later disowned by its creators. However, its thrilling B-side – replete with oblique drug references – was a post-punk classic and a favourite with both the band and their fans. "It was the song that took me down a certain road as a performer," remembered Ian McCulloch. "I learnt to be a frontman on that song."
15
THE SPECIALS –
FRIDAY NIGHT, SATURDAY MORNING
One of the greatest singles of the decade, The Specials' Ghost Town painted a gloomy picture of Thatcher's Britain in the early 80s. Interestingly, the value-for-money 7″ included not one, but two B-sides. Lynval Golding's hard-hitting Why? was a plea for racial equality inspired by his brutal attack by National Front thugs, while Terry Hall's typically downbeat Friday Night, Saturday Morning vividly – and comically – described a mundane night out at Coventry's then-premier nightspot, the Locarno.
14
ABBA –
CASSANDRA
By the time it came to recording the follow-up to The Visitors, Björn Ulvaeus and Benny Andersson had not only both remarried, they'd also been distracted by a potential collaboration with Tim Rice. Although their enthusiasm for a new ABBA album would soon dissipate, there was still enough material in the can to use on a new compilation and single B-sides. On the flip of The Day Before You Came was Cassandra. Though less experimental than the epic A-side, the lyrics – steeped in Greek mythology – confirmed the pair's evolution as songwriters. 
13
JAPAN –
EUROPEAN SON
In terms of both their electronic sound and their image, Japan were certainly well ahead of the musical curve in 1979. Keen to leave their glam rock roots behind, they'd agreed to work with Giorgio Moroder, whose recent work with Donna Summer they'd admired. But when Moroder turned European Son down as a potential title track for the band's third studio LP, David Sylvian et al recorded it with Simon Napier-Bell instead and released it as the B-side to their non-album single, the sweet cover of Smokey Robinson's I Second That Emotion. 
12
PRINCE AND THE REVOLUTION –
17 DAYS
Testament to his prolificacy, Prince stockpiled a number of additional tracks throughout the 80s, some of which were either distributed to other acts or used as B-sides. Arguably the best of these was 17 Days, the flip of 1984's globe-conquering hit, When Doves Cry in the United States. Featuring an irresistible "Let the rain come down" refrain and a more conventional structure than the experimental A-side, the track had originally been conceived in 1983 during a warehouse jam with his backing band, The Revolution.
11
ADAM AND THE ANTS –
BEAT MY GUEST
This spiky number was recorded in 1980 and later included on the reverse of the chart-topping Stand And Deliver, but it was actually one of Adam And The Ants' oldest songs, even predating the material on debut album Dirk Wears White Sox. It was also the first track that the former punk outfit performed publicly (at the ICA in London in May 1977). Adam Ant – who'd actually been in a band called The B-Sides – later released the B-Side Babies compilation, which boasted Beat My Guest and a plethora of other quality non-album tracks.
10
THE STONE ROSES –
STANDING HERE
The Stone Roses found their perfect producer in John Leckie. Recognising the quality of the material on offer, he applied the same focus to every track, whether it was a potential hit single, album keeper or B-side. One of the band's greatest songs, Standing Here – the flipside of She Bangs The Drums – begins with a burst of Hendrix-inspired jangly pop, before Reni's shuffling beat signals the beginning of an astonishing coda, with John Squire's dreamy guitar work perfectly complementing Ian Brown's tender vocals. 
9
KATE BUSH –
UNDER THE IVY
After recovering, both mentally and physically, from the making of her previous studio album, The Dreaming, Kate Bush returned in 1985 with Hounds Of Love, a part-conceptual masterpiece frontloaded with hit singles. Whilst much of the opus demonstrated Bush's increasing prowess with new technology, the beautiful ballad Under The Ivy – somewhat wasted on the reverse side of comeback hit Running Up That Hill – was a far more stripped-back affair, boasting an elegantly simple piano and vocal arrangement.
8
YAZOO –
SITUATION
Following his surprise exit from Depeche Mode in 1981, Vince Clarke teamed up with singer Alison Moyet to form Yazoo, immediately striking gold with debut single Only You. On its B-side was Situation, a short, but equally rousing track that marked one of the duo's rare songwriting collaborations. They were reportedly incensed when their US label favoured it over the A-side, but a dynamic François Kevorkian remix rewarded them with a surprise dancefloor smash. 
7
DURAN DURAN –
SECRET OKTOBER
Despite their recent successes, tensions were running high in the Duran Duran camp in 1983 with John Taylor and Andy Taylor becoming increasingly dissatisfied with the band's musical output. So it was left to frontman Simon Le Bon and keyboardist Nick Rhodes to step up to the plate when Duran were asked to produce a B-side for Union Of The Snake at short notice. The result was the impressive ballad Secret Oktober, which foreshadowed the pair's work in side project Arcadia two years later. 
6
PET SHOP BOYS –
PANINARO
Originally included on the flip of the Suburbia single, this Europop classic was inspired by a promo trip to Italy where the duo discovered a youth subculture known as Paninaro, known for their love of fast food, designer brands and dance-pop. It was also notable for a rare vocal from Chris Lowe, plus an amusing sample from an Entertainment Tonight interview in which the keyboardist drolly revealed his likes and dislikes. In 1995, whilst promoting Alternative, the prolific duo released an updated version of the track.
5
ORCHESTRAL MANOEUVRES IN THE DARK –
THE AVENUE
Following the failure of 1983's Dazzle Ships album, OMD decided they needed to jettison their "boring bank clerk" image. One of the new tracks road-tested on a short tour of the UK that year was a slow, atmospheric number titled The Avenue, whose moody aesthetic was derived from a sample of a moving train from the 1979 sci-fi movie Stalker. Redolent of the band's earlier work, the track was left off the hit-packed Junk Culture LP and placed on the 12″ B-side of the Caribbean-flavoured Locomotion. 
4
THE JAM –
TALES FROM THE RIVERBANK
Ostensibly inspired by Paul Weller's reading of Kenneth Grahame's classic children's novel The Wind In The Willows, this slice of dreamy psychedelia found The Jam's frontman reminiscing about the pastoral environs of his childhood home. Appended with customary lyrical bite, it was one of the band's greatest songs, but inexplicably wasted on the B-side of 1981's Absolute Beginners. "It never got the attention it deserved," drummer Rick Buckler told Uncut. "And because it's never been played too much, it's still got its edge."
3
DEPECHE MODE –
BUT NOT TONIGHT
Depeche Mode returned to chart action in 1986 with Stripped, a song that was representative of a darker, more industrial sound. On the reverse was the catchy But Not Tonight, a song of Martin Gore's that was promoted as the A-side in the United States, where it bombed. Later covered by Jimmy Somerville, the fan favourite has grown in stature over the years, with The Guardian voting it one of the band's best 10 songs. Reined in to just piano and Gore's affecting vocal, it was also dusted off during the Delta Machine tour.
2
THE SMITHS –
PLEASE, PLEASE, PLEASE LET ME GET WHAT I WANT
The Smiths were responsible for some of the greatest singles of the 80s, many of which included classic B-sides. William, It Was Really Nothing, released in September 1984, was enjoyable enough, but it was easily eclipsed by the two 12″ tracks. How Soon Is Now? was a veritable masterpiece and single-in-waiting, while Please, Please, Please, Let Me Get What I Want was a plaintive plea for a better life, set to Johnny Marr's stunning arrangement. 
1
NEW ORDER –
1963

 
New Order's singles compilation Substance was one of the best releases of the 80s. Aside from re-recordings of Temptation and Confusion, it also included two new tracks that had been laid down during a tense 10-day session in 1987. Overseeing the recordings was producer Stephen Hague, whose apparent brief had been to come up with a transatlantic hit for the band. Very much a hands-on producer, Hague heavily involved himself in both the songwriting and recording, minimising the contributions of both Peter Hook and Stephen Morris in the process. As for the lyrics, sozzled singer Bernard Sumner was reportedly imprisoned in the band's rented flat until they were completed. "All he had for company was some mouldy cheese and daytime TV," Hook recalled in his entertaining autobiography, Substance. "Amazingly, when we returned that evening he had managed, probably out of sheer boredom, to nearly finish the lyrical ideas for both tracks." For the lyrics of 1963, Sumner put his own theoretical spin on JFK's assassination, but the track ultimately played second fiddle to the classic True Faith. However, testament to its quality, 1963 was eventually released as a single in 1995, remixed by Confusion producer Arthur Baker.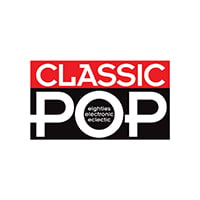 Classic Pop
Classic Pop magazine is the ultimate celebration of great pop and chart music across the decades with in-depth interviews with top artists, features, news and reviews. From pop to indie and new wave to electronic music – it's all here...