Top 15 Pop Compilations 1980-1999
By Classic Pop | June 13, 2018
Now That's What We're Talking About! Classic Pop compiles a Best Of countdown of the best of compilations… ever. Written by Paul English.
15. Now Dance '92 (1992)
Released when the format was at its lowest ebb, the double vinyl version of Now Dance '92 gives you serious bang for your buck. Of the 20 tracks on offer, 14 appear in extended form while there's also 10 extra tunes that aren't on the CD and includes East 17's House Of Love (Pedigree Mix), The Shamen's Ebeneezer Goode (Beat Edit) and Erasure's Voulez Vous (Abba-esque Version). Madonna originally auditioned for the co-vocal on Shake Your Head in 1983 but Kim Basinger's voice was recorded for the 1992 remix. The version here restores Madonna's pre-fame take.
14. Now That's What I Call Music! 17 (1990)
The first Now album of the new decade is a near-perfect snapshot from the spring 1990 charts. Side 2 of the vinyl is loaded with era-defining indie favourites by Primal Scream, Happy Mondays, Inspiral Carpets, Jesus Jones and House Of Love. Elsewhere there's a host of dance classics ranging from fiery house bangers like Everything Starts With An E to gems from Orbital, Adamski, Beats International and Candy Flip. Most memorable of all is Electribe 101's sublime Talking With Myself.
13. The Greatest Hits Of 1987 (1987)
Telstar's Greatest Hits series usually had few surprises. However, the 1987 entry bucks the trend with the compilers widening the net outside the Top 10. Here the emphasis is firmly on the dancefloor with the inclusion of rare-on-CD 7" edits like Boogie Box High's Jive Talkin', Freddie McGregor's Just Don't Want To Be Lonely, Housemaster Boyz' House Nation and Vesta Williams' Once Bitten, Twice Shy. Throw in SAW's Roadblock and the Fatback Band's infectious groove I Found Lovin' and you've got a real winner.
12. Now That's What I Call Music! 7 (1986)
Now 7 was the last volume to come out on vinyl and cassette only. Released in August 1986, it has the pick of almost nine months worth of chart action. The selection includes established acts like Peter Gabriel (Sledgehammer) and David Bowie (Absolute Beginners) mixed with brilliant one-offs from Furniture (Brilliant Mind) and Stan Ridgway (Camouflage). Other highlights included an unlisted Queen track, A Kind Of Magic (the only clue is a sticker on the sleeve) and a rare version of Pet Shop Boys' Opportunities…
11. The Hits Album 10 (1989)
Hits 10 was the last one to follow the chronological number sequence before the series imploded into repeated rebranding. We're served up a tasty menu of pop and dance from the spring of 1989. There's peak SAW – Pat & Mick (I Haven't Stopped Dancing Yet), Rick Astley (Hold Me in Your Arms) and Donna Summer (This TimeI Know It's For Real), some great house led by Ten City (That's The Way Love Is) Coldcut featuring Lisa Stansfield (People Hold On) alongside forgotten gems like Aussie pop-rockers 1927's That's When I Think Of You and Fuzzbox's glorious Pink Sunshine.
10. Now Dance – The 12″ Mixes (1985)
With the spring's big tunes carved up by Hits 2 and Out Now!, EMI and Virgin decided to release a spin-off compilation of 12" mixes. There's a definite underground feel to a lot of these choices – many were successes on the Record Mirror and Music Week disco charts rather than on the standard Gallup listing. The real diamond in the mine is the RAH Band's monstrously sad Clouds Across The Moon – it's even more harrowing in extended form… Space age soul.
9. Smash Hits '92 (1992)
This is my favourite entry in the Smash Hits franchise. Compiled by Ashley Abram, the 1992 instalment is a perfect snapshot of the year's pop action and also comes with razor-sharp sleevenotes. Starting with a boy band double whammy – Take That (It Only Takes A Minute) and East 17 (House Of Love) – there's gold from Utah Saints (Something Good), Undercover (Baker Street) and The Shamen (Ebeneezer Goode) before a cracking indie sequence on Disc 2. In amongst the collection you can find Erasure doing Abba (S.O.S.) and Björn Again then covering Erasure (Stop!).
8. Now That's What I Call Music! 26 (1993)
To keep things fresh, the compilers of Now 26 decided to go for almost 25 per cent of new or just about to be released tunes – a decision that paid off. The first half is chock-full of heavy hitters (UB40, M People) before settling into an indie/rock sequence which includes The Levellers, James, REM and Crowded House. CD2 is even better, switching from full-on dance anthems (Leftfield & Lydon, Culture Beat) to a chilled downbeat selection (Björk & David Arnold, Lena Fiagbe, Soul II Soul).
7. Now That's What I Call Music! 29 (1994)
A perfect snapshot of the period when pop music started to branch out. The seeds of Britpop are here with Oasis' first appearance and Blur's Parklife. There's a rare appearance by The Rolling Stones and some fantastic euro dance highpoints from Whigfield and Corona. We also get gorgeous pop by 2wo Third3, Lisa Loeb & Nine Stories, Sophie B Hawkins and some genuinely leftfield tunes from Sparks and Erasure. Finally, a forgotten charity single from Music Relief – What's Going On.
6. Modern Dance (1981)
Unlike any other compilation then or since, Modern Dance totally nails the New Romantic sound of 1981. It starts with Joan Of Arc, moves on to Quiet Life and then Love Action. Later there's a wonderfully downbeat sequence taking in John Foxx's Europe After The Rain, The Cure's Charlotte Sometimes and Gary Numan's She's Got Claws. The obscure alternative is A World Without Love by The News. The grand finale comes from the band who defined the year, The Human League, and Open Your Heart.
5. The Hits Album 2 (1985)
Hits 2 starts with a bang: You Spin Me Round – the first of four No.1s – before taking in smashing pop like Stephen TinTin Duffy's Kiss Me, Kirsty MacColl's A New England and Strawberry Switchblade's Since Yesterday. Big Sound Authority's mod stomper This House (Is Where Your Love Stands) is also preserved here. Let it all blow with a top drawer soul and funk selection including Prince, Ashford & Simpson, The Commodores and Amii Stewart. As well as Art of Noise's Close (To The Edit)… Fantastic stuff.
4. Raiders Of The Pop Charts (1982)
Ronco meant business with this – the sleeve stated that these were the unedited single versions. Abram's sequencing is fabulous – Madness' Our House followed by Modern Romance's Best Years Of Our Lives – and there's a marvellously diverse selection. Highlights include Incantation's Cacharpaya, Clannad's Theme From Harry's Game, Japan's Nightporter, Whodini's Magic Wand, Pale Fountains' Thank You and Lene Lovich's It's You, Only You, cleverly placed after Yazoo's Only You.
3. Now That's What I Call Music 11 (1988)
Now 11 kicks off with two massive No.1s – Always On My Mind and Heaven Is A Place On Earth – before moving from genre to genre: Morrissey's Suedehead to T'Pau's Valentine via Johnny Hates Jazz. But the last quarter is what makes it extraordinary – the utterly amazing house side. Beginning with Beat Dis and running through House Arrest, The Jack That House Built, Rok Da House and ending with the hip-hop remix of Climie Fisher's Rise To The Occasion.
2. Now That's What I Call Music 2 (1984)
A record stays at No.1 for five weeks and they don't play it on Top Of The Pops. For many people, the inclusion of Relax on the second Now album was key. Unlike the first volume, this was a proper look at the previous four months' hits. Established 80s treasures from Thompson Twins, Nik Kershaw, Howard Jones and Nena rub shoulders with forgotten diamonds like Julia & Company's Breakin' Down (Sugar Samba). Also notable for The Smiths' sole appearance – What Difference Does It Make?
1. Now That's What I Call Music 3 (1984)
The greatest pop compilation of them all. Now 3 was massive during the summer of 1984, selling over a million and topping the charts for eight weeks. It's packed with classics including the daring We Don't Want To Die 7" mix of Two Tribes, Grandmaster Flash & Melle Mel's White Lines (Don't Don't Do It) and Bronski Beat's debut Smalltown Boy. Most inspiring are the leftfield choices like Propaganda's Dr Mabuse and the closing 1-2 punch of Madness' One Better Day and David Sylvian's Red Guitar.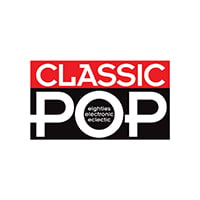 Classic Pop
Classic Pop magazine is the ultimate celebration of great pop and chart music across the decades with in-depth interviews with top artists, features, news and reviews. From pop to indie and new wave to electronic music – it's all here...